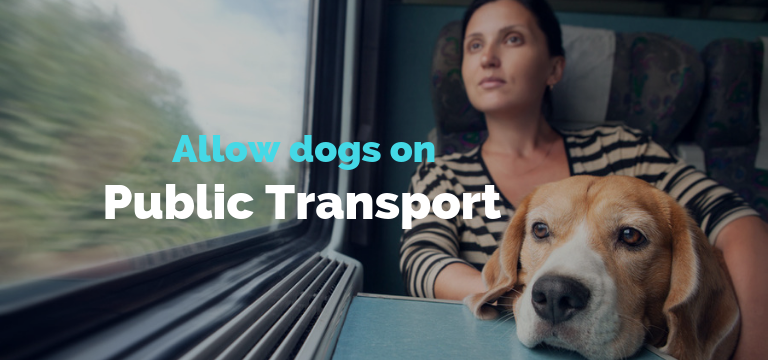 Please support this petition with your signature and by sharing it with other dog lovers!
Make sure you fill in your FULL ADDRESS as otherwise your vote won't count (e.g. 11 Example Street, 2000 Sydney)
Read the background article by Dr. Jennifer Kent:
Allowing dogs on public transport could replace millions of private car trips in Sydney every year!
Allow dogs on Public Transport
2,715
signatures = 27% of goal
Your signature will be counted and shown in the below signature list once you click the link in the confirmation email you received.
Thanks so much for your help! Didn't get the confirmation email, experienced any other problems, have questions or want to get involved?  Please email us, we are happy to help!
---

Latest Signatures
2,715
Ms. Michelle L.
2,714
Miss. Rachel K.
2,713
Ms. Negin B.
2,712
Dr. James C.
2,711
Ms. Melinda C.
2,710
Mrs. Rebekah K.
2,709
Mr. Ned S.
2,708
Mrs. Aakanksha K.
2,707
Ms. Claudia B.
2,706
Ms Danielle D.
2,705
Ms Ivy J.
2,704
Mr Gonzalo T.
2,703
Ms Carmen T.
2,702
Miss Antonia J.
2,701
Ms Jane L.
2,700
Mr Christian D.
2,699
Mrs Michelle S.
2,698
Mrs Jennifer J.
2,697
Dr. Michael B.
2,696
Ms Annie V.
2,695
Ms Cathy S.
2,694
Mr rainer r.
2,693
Mr Craig T.
2,692
Ms Louise H.
2,691
Ms Rebecca H.
2,690
Mr Tim P.
2,689
Mrs Sara D.
2,688
Ms Ingrid T.
2,687
Ms Viviana L.
2,686
Ms Barbara H.
2,685
Mrs Sandra H.
2,684
Ms Maya S.
2,683
Ms Janine C.
2,682
Ms Jane M.
2,681
Mrs Brenda S.
2,680
Ms Tonya F.
2,679
Ms Vikky L.
2,678
Miss Simone H.
2,677
Ms Samantha W.
2,676
Mr David P.
2,675
Ms Julie F.
2,674
Ms Barbara B.
2,673
Ms Pam J.
2,672
Ms Caroline D.
2,671
Ms Allie P.
2,670
Ms Amy W.
2,669
Ms Rebecca W.
2,668
Mr alois l.
2,667
Ms anne g.
2,666
Ms Jesse J.
<< < > >>