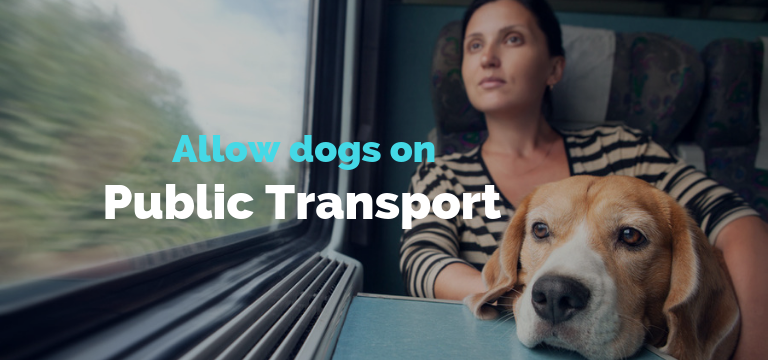 Please support this petition with your signature and by sharing it with other dog lovers!
Make sure you fill in your FULL ADDRESS as otherwise your vote won't count (e.g. 11 Example Street, 2000 Sydney)
Read the background article by Dr. Jennifer Kent:
Allowing dogs on public transport could replace millions of private car trips in Sydney every year!
Allow dogs on Public Transport
2,510
signatures = 25% of goal
Your signature will be counted and shown in the below signature list once you click the link in the confirmation email you received.
Thanks so much for your help! Didn't get the confirmation email, experienced any other problems, have questions or want to get involved?  Please email us, we are happy to help!
---

Latest Signatures
2,510
Miss Margaret G.
2,509
Mrs Liz G.
2,508
Mr Paul M.
2,507
Dr. Andrew M.
2,506
Dr. Marcela B.
2,505
Miss Demi H.
2,504
Miss Evelyn Y.
2,503
Ms Erica B.
2,502
Mrs Aleisha H.
2,501
Mrs Olga B.
2,500
Ms Theresa C.
2,499
Ms Karen C.
2,498
Ms Paulene R.
2,497
Dr. Nicole M.
2,496
Ms Yunna Z.
2,495
Mr frank d.
2,494
Ms Janine S.
2,493
Mr Gary H.
2,492
Ms Vicki H.
2,491
Mrs Chevoy S.
2,490
Dr. Deepika Y.
2,489
Mrs Jessyka J.
2,488
Ms Rose W.
2,487
Ms Elizabeth C.
2,486
Ms May W.
2,485
Ms Sarah W.
2,484
Miss Morgan H.
2,483
Mr Mark L.
2,482
Ms Karis C.
2,481
Miss Catherine Y.
2,480
Miss Edel O.
2,479
Ms Janice L.
2,478
Mr Phil H.
2,477
Mrs Pamela L.
2,476
Mr Shane Q.
2,475
Ms Julie T.
2,474
Mr Michael T.
2,473
Ms Ann F.
2,472
Mr Mitchell G.
2,471
Ms Sophie L.
2,470
Ms Julia W.
2,469
Ms Katherine W.
2,468
Mrs Joanne L.
2,467
Mrs Krista N.
2,466
Miss Elizabeth M.
2,465
Mr David G.
2,464
Ms Anne A.
2,463
Mr Joey S.
2,462
Ms Christine H.
2,461
Ms Susan B.
< >
While we are waiting for signatures to build up, here are some pawsome dog friendly TRAVEL GUIDES to explore!