Dog Friendly Beaches, Bars, Walks and Wineries in Geelong and surrounds…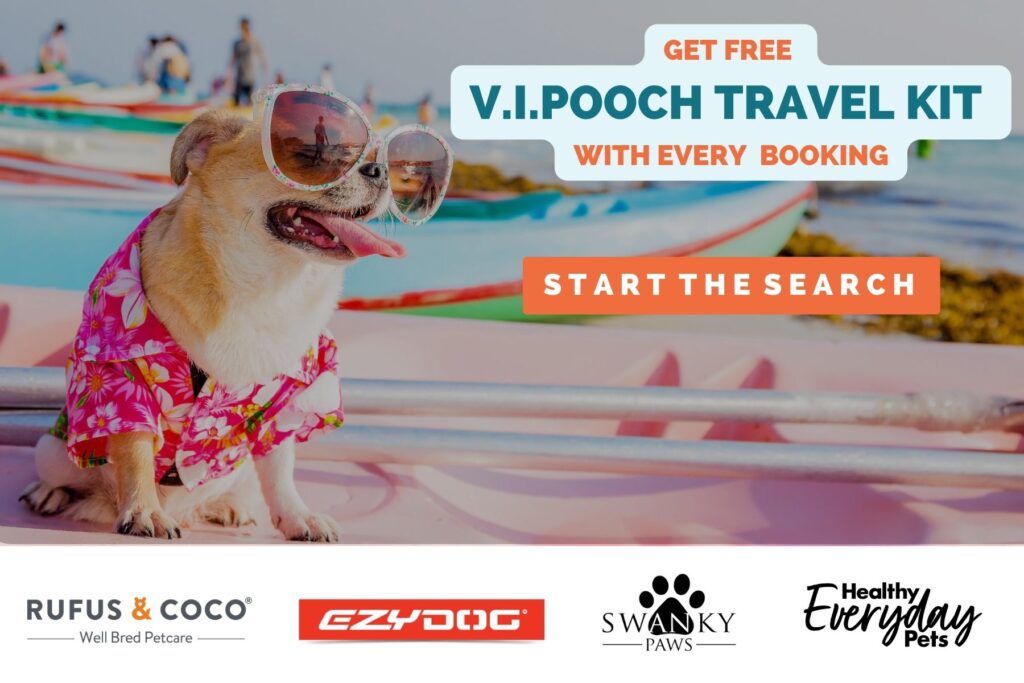 On the way to the Bellarine Peninsula and the Great Ocean Road, it is worth lingering around the city of Geelong and visit many of the dog friendly beaches, walks, bars and nearby wineries. Founded as a port in 1836, it hosts a unique waterfront that showcases eateries, public artwork and landscaped gardens along the Corio Bay. Geelong offers the vibrant diversity of a city with the relaxed airs of a coastal town. Its growing economy has attracted artisans, brewers and an array of entrepreneurs that are quickly reshaping one of Australia's largest urban centres. There is a lot of ground to cover for two and four legged fellows, just an hour drive southwest from Melbourne. 
by Carola Carcagno & Pupsy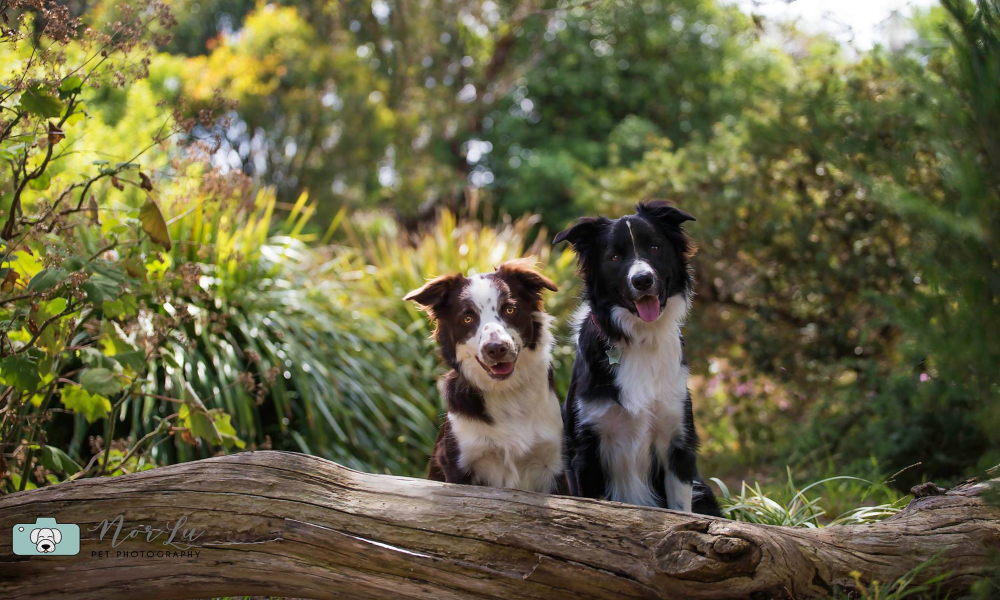 Norlu Pet Photography
Before heading to your adventures in Geelong, we can highly recommend to book a session with Kirsten from Norlu Pet Photography. Capture your furry traveller on the beach, park or urban settings. You can even book a session at the professional pet photoshoot studio.


DOG FRIENDLY BEACHES – GEELONG
There are many amazing off leash beaches in and around Geelong. Some beaches are 24h off leash, while others have some time restrictions in place. We have collected some of the best ones for you to explore with your pooch in and out of town!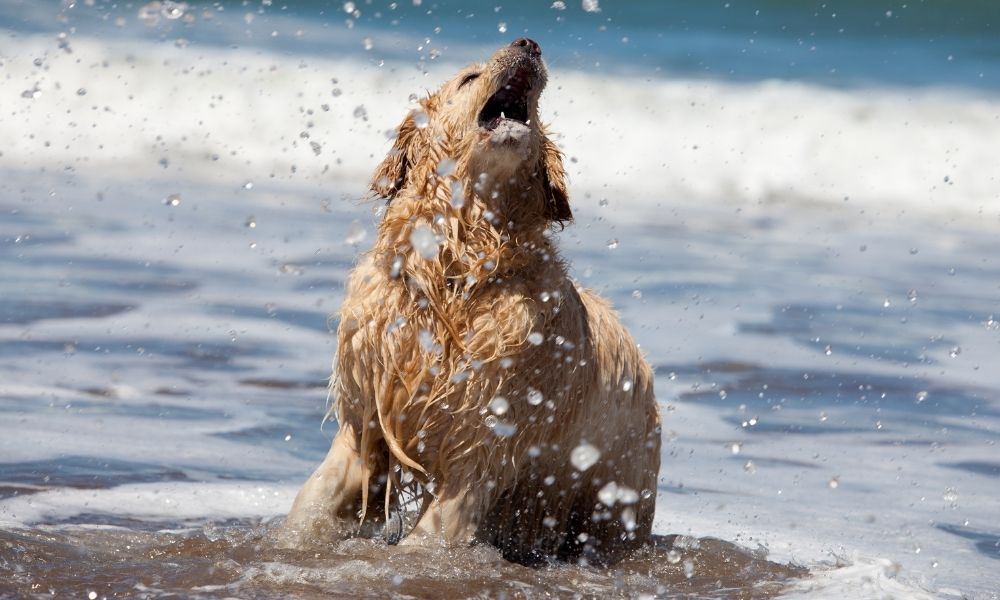 1. North Shore
If you're looking for a beach that only the locals know about, then tiny North Shore beach is for you. The golden strip of sand faces south-east and is backed by 15 metre high cliffs. There's a cliff-top path where you can take a stroll and soak up the scenery.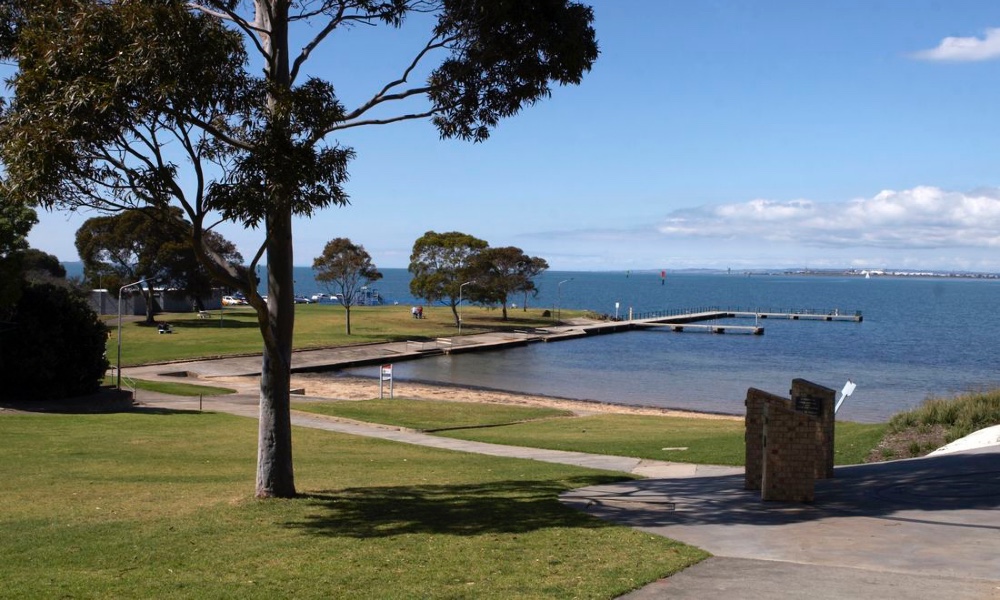 2. St Helens Park Beach
Small off leash beach with plenty of grassy areas to play as well. Off leash exercise permitted in the mornings prior to 10.00am and evenings after 5.00pm.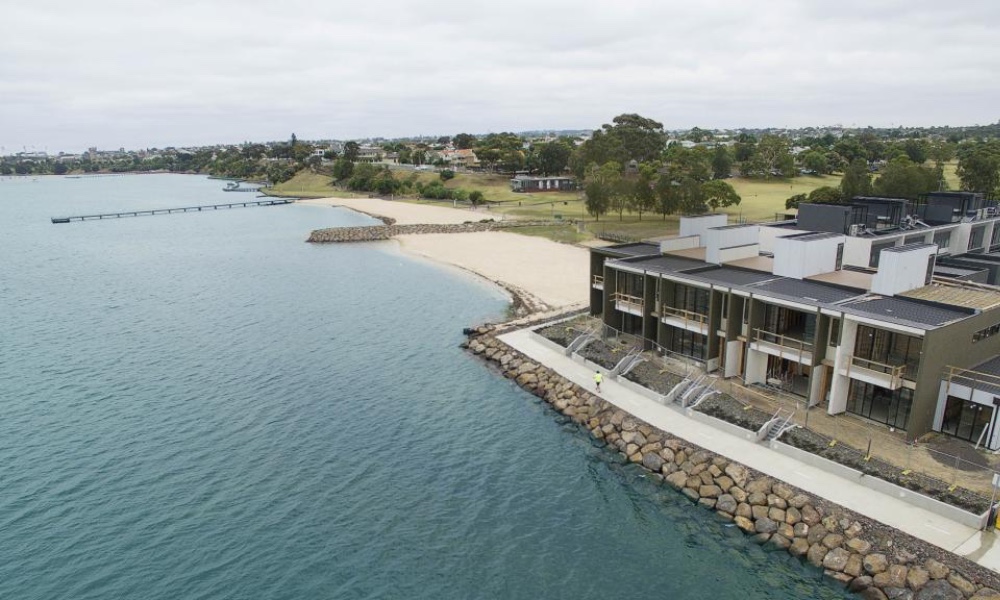 3. Rippleside Beach
Quiet beach in front of the the Rippleside Park. Off leash exercise permitted in the mornings prior to 10.00am and evenings after 5.00pm.


4. Western Beach
Short strip of sand beach along the Western Beach Foreshore. Off leash exercise permitted in the mornings prior to 10.00am and evenings after 5.00pm.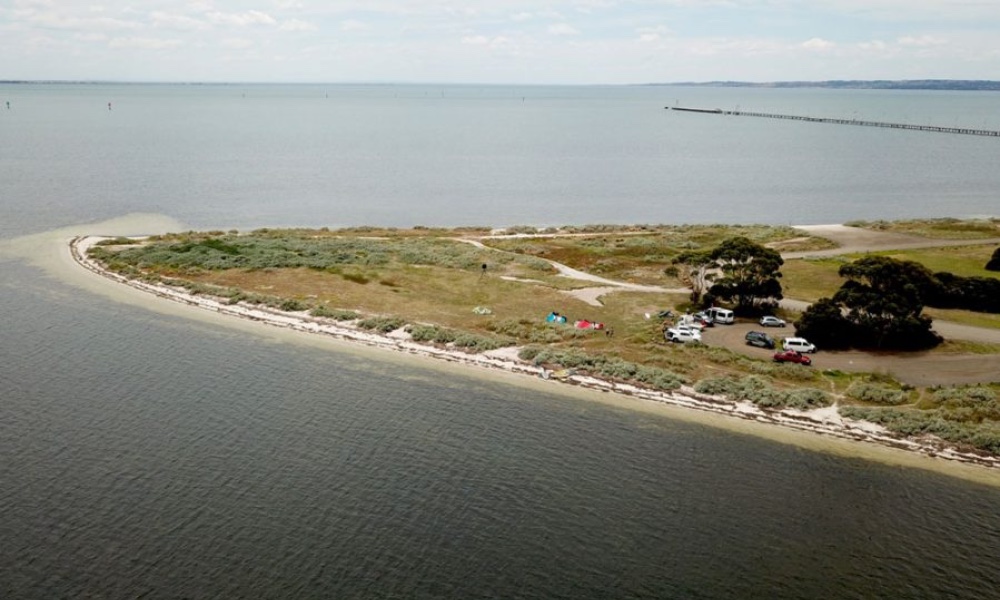 5. Point Henry
Visit this quiet reserve with your dog for a large wetland environment and beautiful views. From the intersection between Point Henry Road and the coast to Point Henry Pier, dogs are permitted off-leash at all times.


Free V.I.Pooch Travel Kit with every booking!
Dog Friendly House | Mornington Peninsula
Guests 4 | Bedrooms 2 | Bathrooms 1
DOG FRIENDLY BEACHES – OUT OF TOWN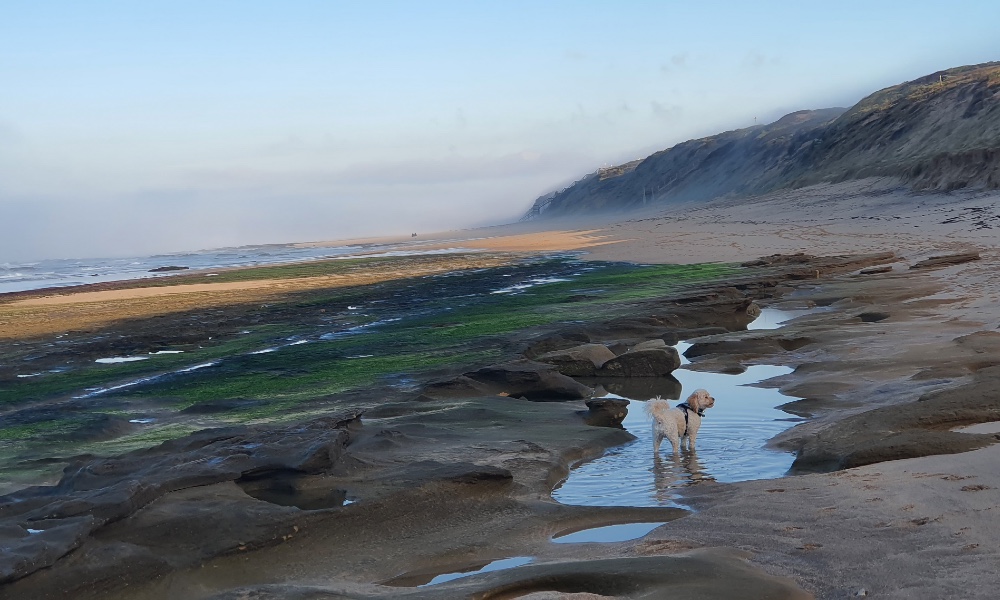 6. Thirteenth Beach
Long stretch of soft sand awaits, 24h off leash from beach marker 30W to 40W except between 34W and 35W beach markers (you are allowed to walk through the area but dogs must be on leash).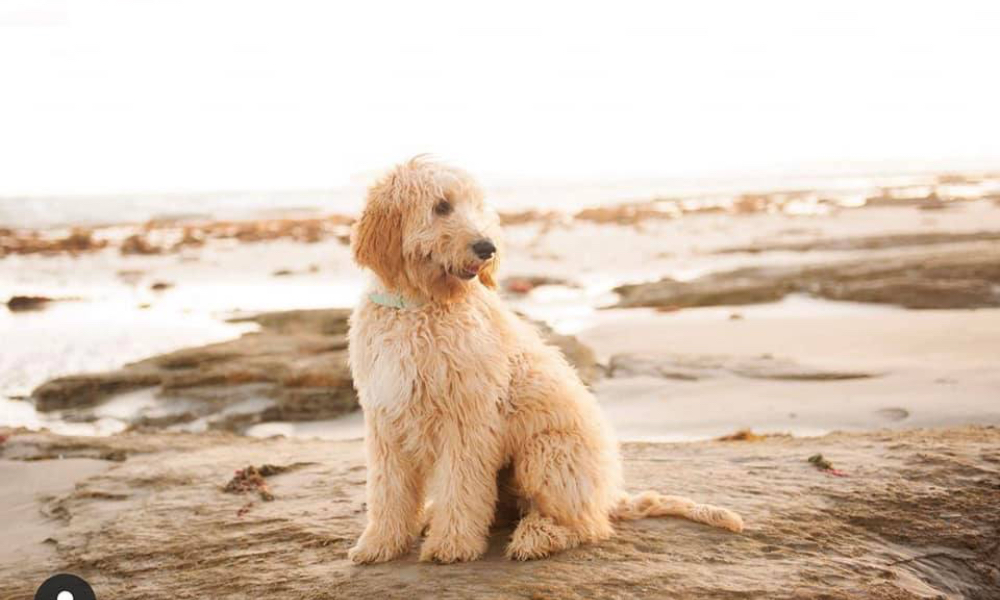 7. Ocean Grove Beach
Long stretch of soft sand awaits, 24h off leash from beach marker 30W to 40W except between 34W and 35W beach markers (you are allowed to walk through the area but dogs must be on leash).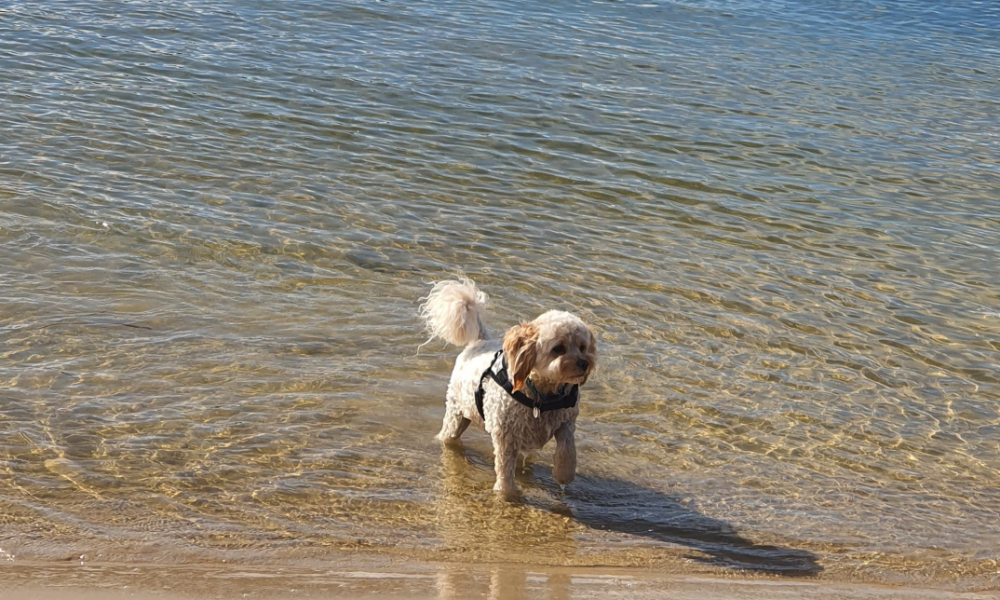 8. Barwon Heads Front Beach
Great place for puppies to have a swim. Dog are allowed on leash 7pm to 9am from Christmas to end of April and then off leash May to December.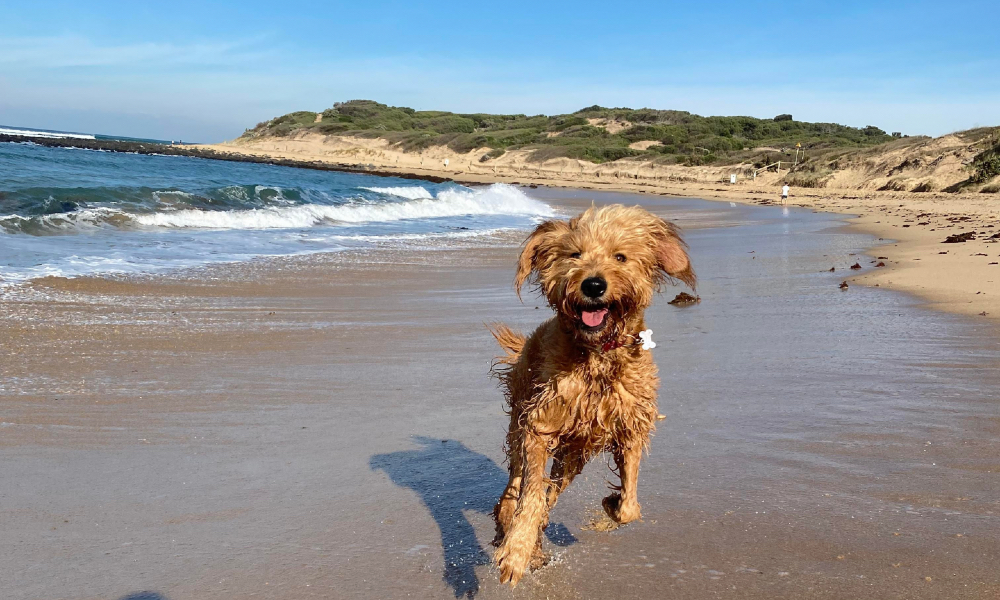 9. Breamlea Beach
Beach west from Stingray bay is a 24h off leash Dog Friendly Beach in Breamlea. Plenty of room to run and play or have a quick dip in the water. Just ask Murphy 🐶


Free V.I.Pooch Travel Kit with every booking!
Dog Friendly House | Apollo Bay
Guests 6 | Bedrooms 3 | Bathrooms 1
DOG FRIENDLY WALKS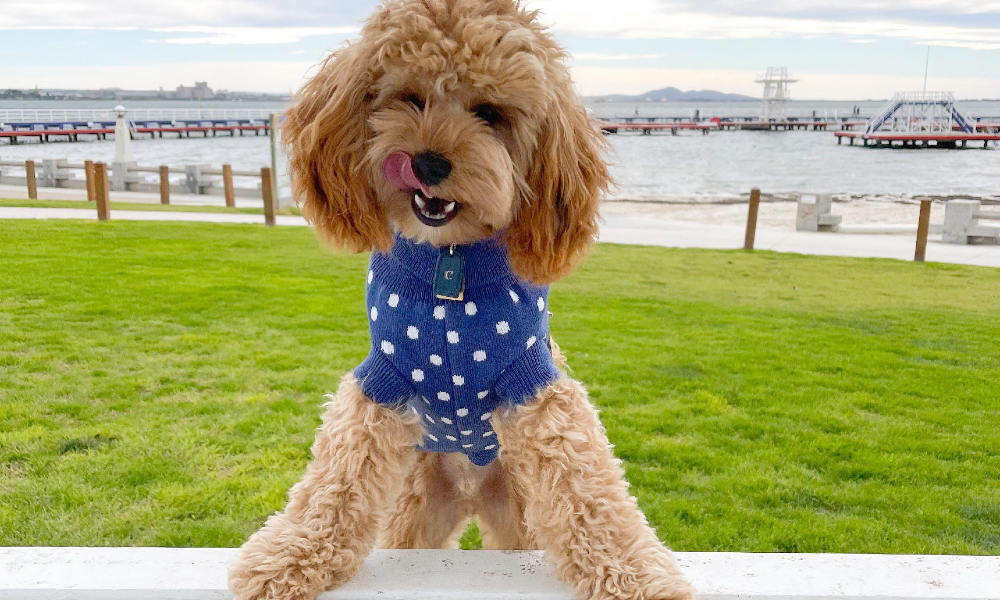 10. Eastern Beach Foreshore
Enjoy the views of the harbour, visit the Ferris Wheel or simply chill out at the beach with your dog (on lead). Easter Beach Foreshore is a great place to visit with your pooch.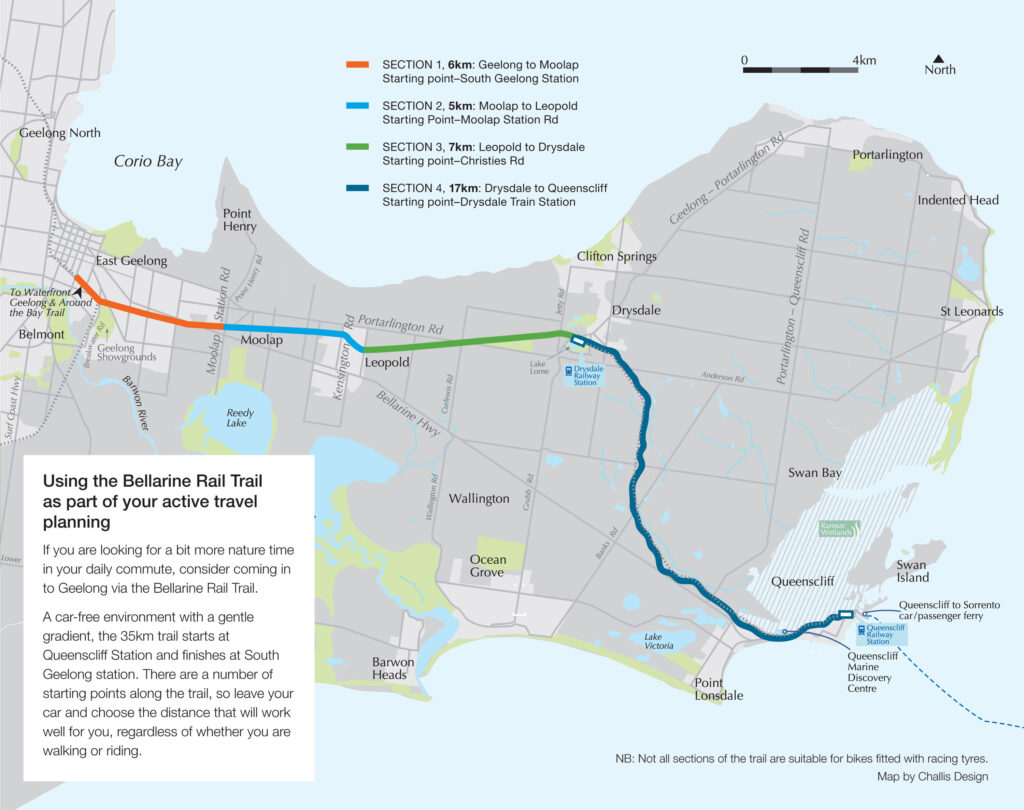 11. Bellarine Rail Trail
A 35km trail starting at the South Geelong Station and finishing at the Queenscliff Railway Station. Although it is a long walk, it is mostly flat and easy, offering a tranquil path through native vegetation. On the way back, one can catch the train where dogs on leads with muzzles are allowed for short-distance services. You can always just walk a short part of the trail as well.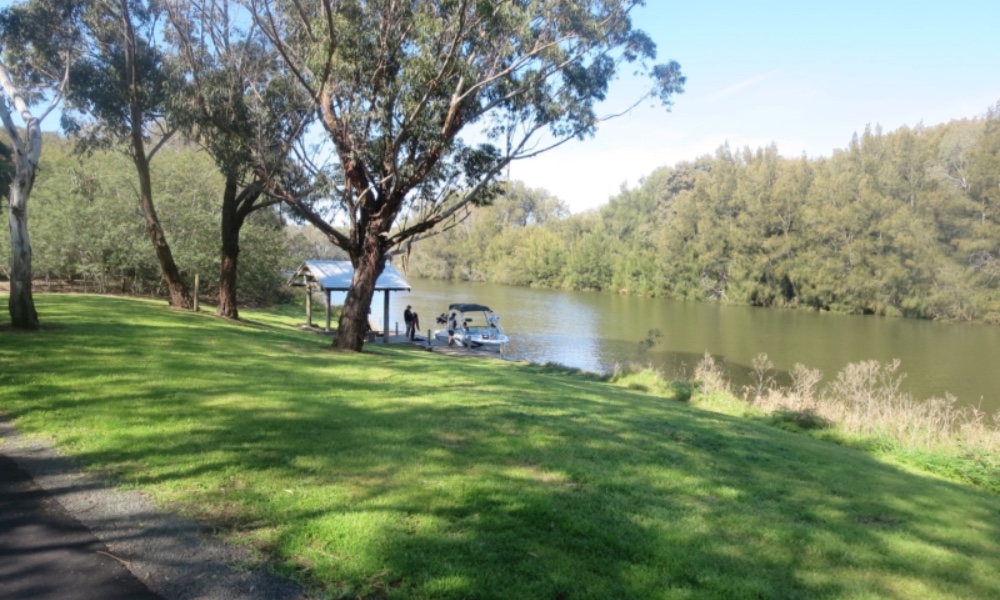 12. Barwon River Trail
20km network between Fyansford and South Geelong along both banks of the river, linking a number of reserves, playgrounds, a waterbird sanctuary, a waterfall and wetlands. Dogs must be kept on leash during the walk.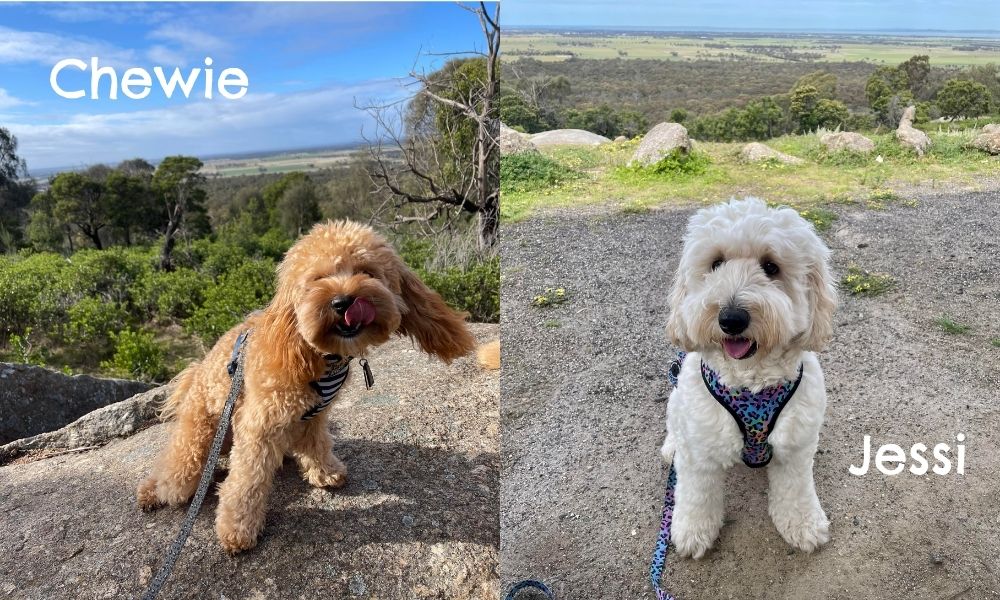 13. You Yangs East West walk
Take your dog on-leash on this 4km walk around Flinders Peak, the highest mountain within these granite ridges that rise above the flat volcanic plains of western Victoria.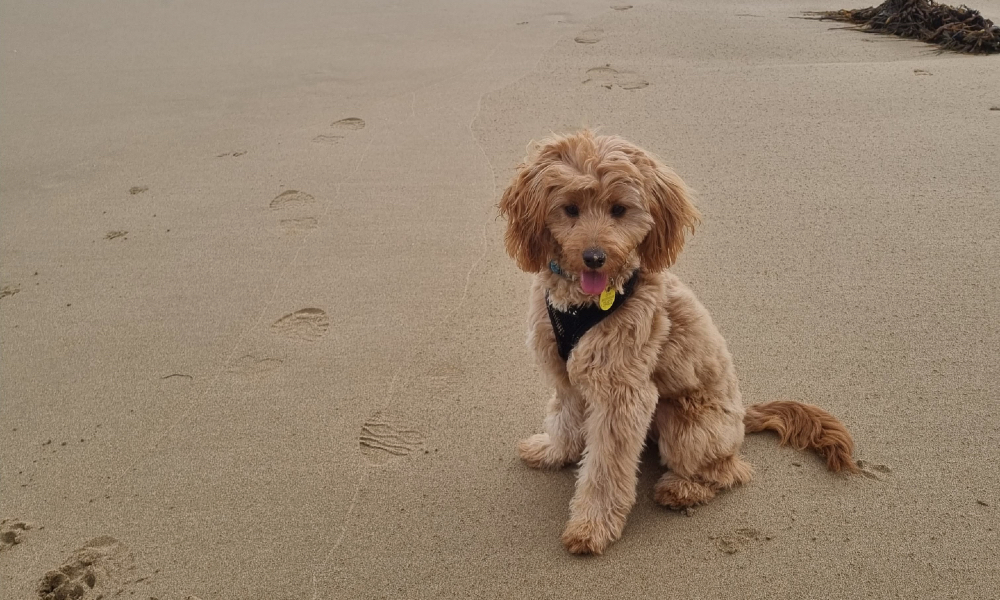 14. Ocean Grove to Barwon Heads loop walk
An easy 2.87km walk along the Barwon river on one side and adjacent to the beach on the other that crosses over the Barwon Heads Bridge. The beach in Ocean Grove and the one north from the bridge are off-leash most of the year, but check the signs for seasonal restrictions.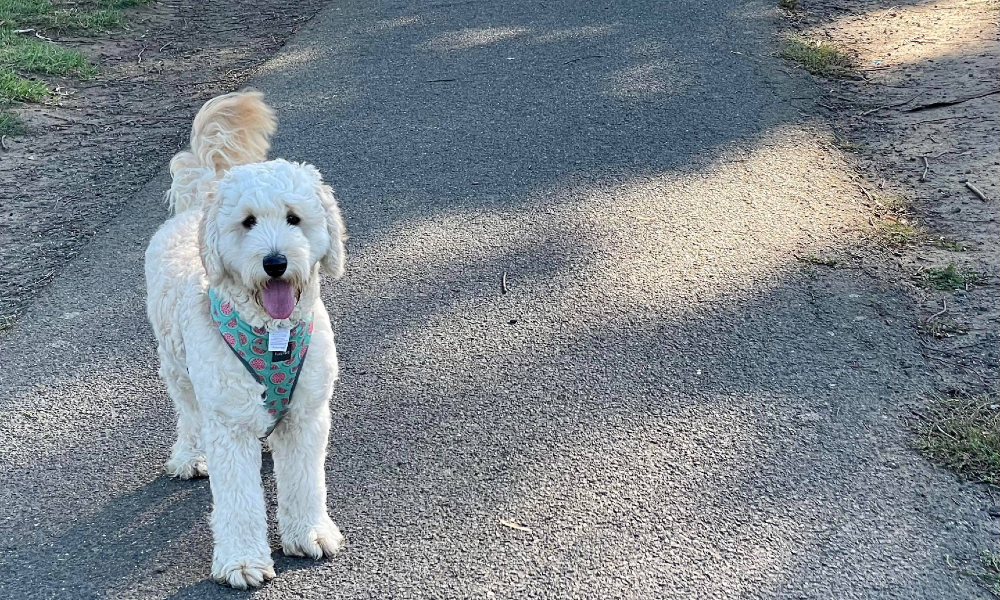 15. Queens Park
Picturesque reserve on the sets of the Barwon River, it features natural scenery, rope climbing activities, a tree house and various supervised off-leash spaces for your pup to run around.


16. Bay Trail
Follow the foreshore of Corio Bay with your pup on this two hour trail one way. Discover along the way the famous Baywalk Bollards, large painted icons of Geelong's history scattered between Rippleside Park and the Botanic Gardens. Step into any of the beaches by the waterfront central, where dogs are allowed on-lead at any time. Dogs are welcome off-lead and on-lead throughout the year on Western Beach, Corio Bay and Limeburners Bay.


Free V.I.Pooch Travel Kit with every booking!
Dog Friendly Couples Retreat | Daylesford
Guests 2 | Bedrooms 1 | Bathrooms 1
OFF LEASH DOG PARKS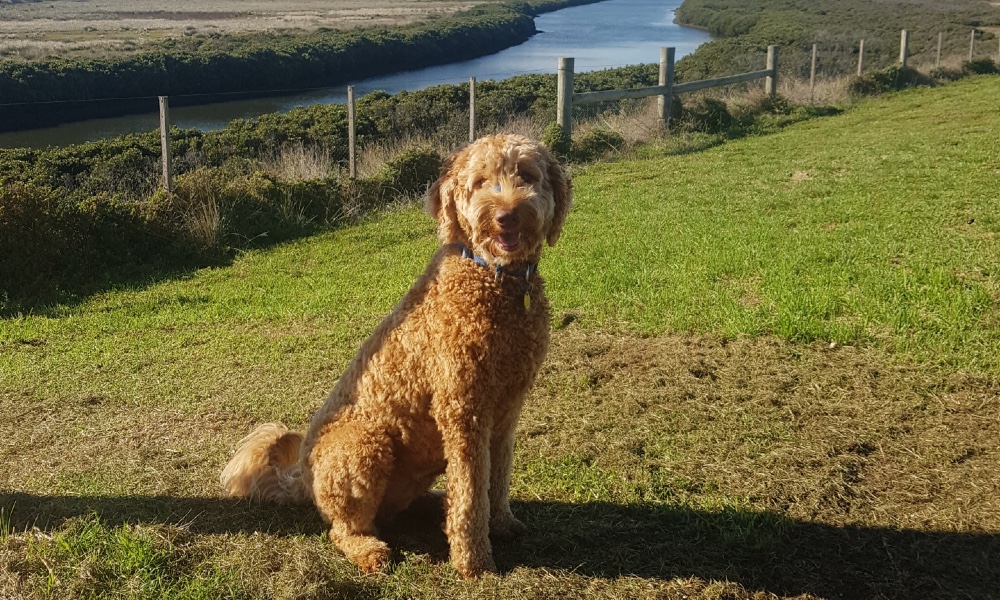 There are multiple amazing off leash parks in and around Geelong to exercise your dog. Many of the ovals welcome pooches when organised sports in not in progress and there are some great off leash areas along the Barwon River such as Fyansford Common & Belmont Common.
You can find all the official off leash areas in Geelong on Pupsy!
DOG FRIENDLY ACTIVITIES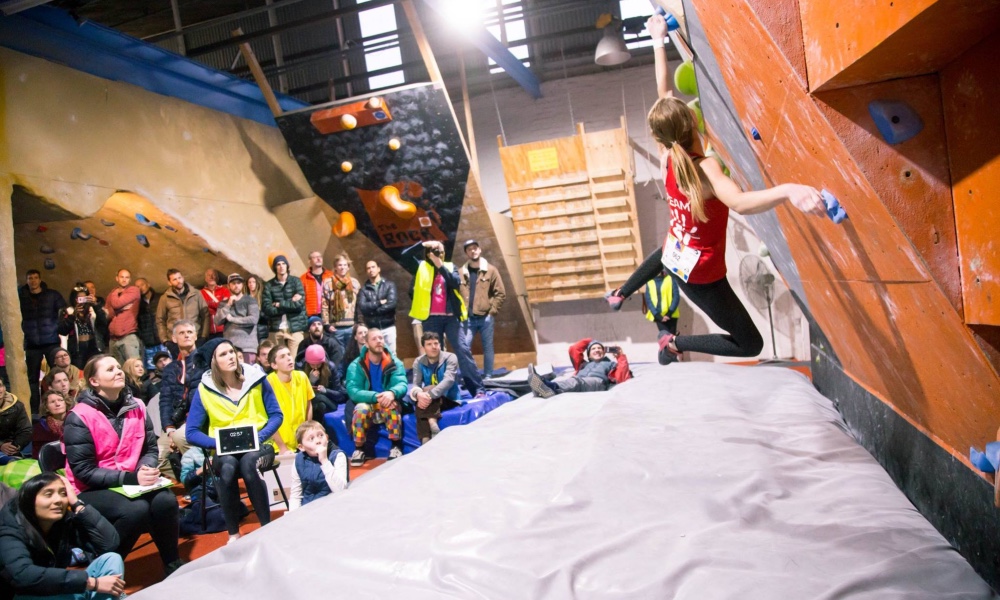 17. The Rock Adventure Centre
3 Rutland Street, Newtown
Indoor rock climbing centre offering a huge variety of climbs from beginners to experts. They love having well behaved dogs as guests.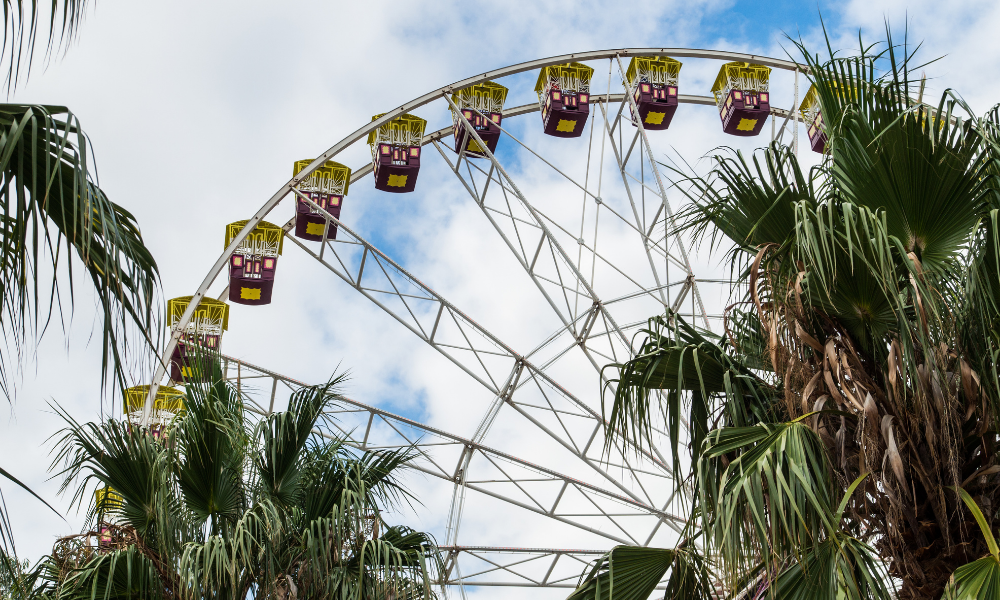 18. Geelong Waterfront Ferris Wheel
Eastern Beach, Geelong
The Giant Sky Wheel, the largest in the southern hemisphere, offers amazing views. Big dogs are prone to getting stressed out but small dogs are welcome as long as their owners can carry them.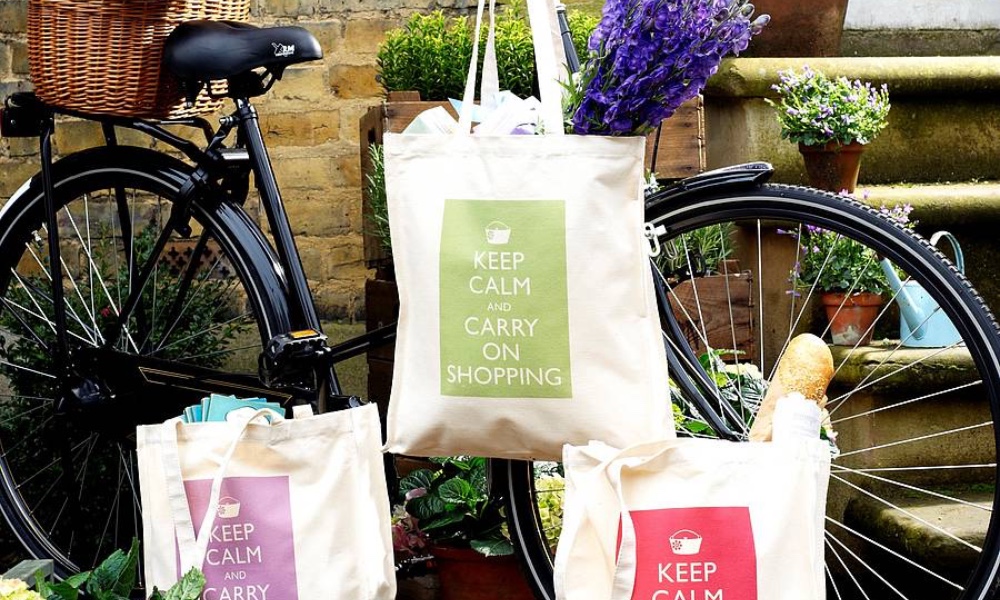 19. Beckley Park Market
40 Broderick Road, Corio
This free market next to the Greyhound Racing Club offers over 150 stalls of fresh produce, gourmet food, arts, crafts and all you can think of, every Saturday of every week. Pups are welcome on-lead to visit a number of regular stall holders who sell food and related items for dogs and other animals.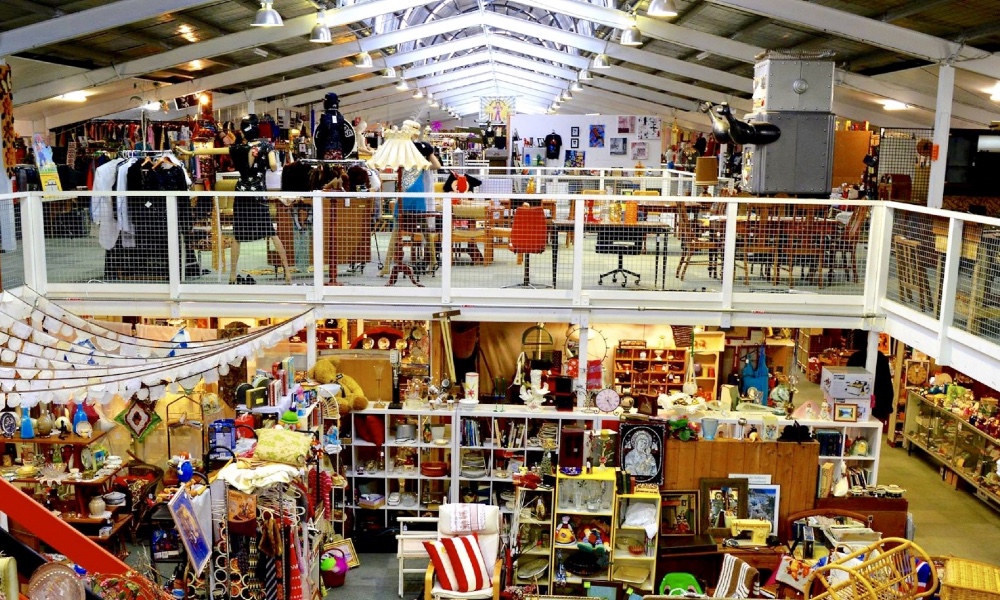 20. Geelong Mill Market
114 Bellarine Highway, Newcomb
Australia's largest variety of collectables, clothes, antiques and more, holding hundreds of stalls every day of the year (except Christmas Day). Dogs are allowed on-leash inside and in the outdoor area of the cafe. The only area that is not dog friendly is the indoor seating in the cafe.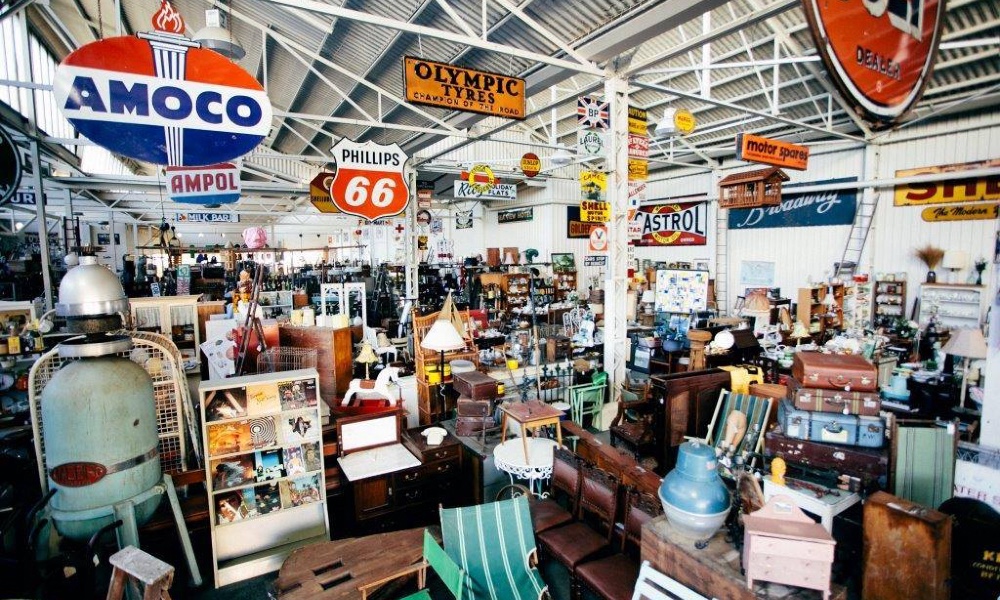 21. Geelong Vintage Market
1 Mackay Street, North Geelong
Dog friendly market offering collectable and vintage items, open 7 days a week, including all public holidays (except Christmas Day).


+ one more extra, East Geelong Golf Club
If you are planning a golfing trip to Geelong, visit East Geelong Golf Club in the heart of the city, where your pup is welcome on-lead in off-peak times.
DOG FRIENDLY WINERIES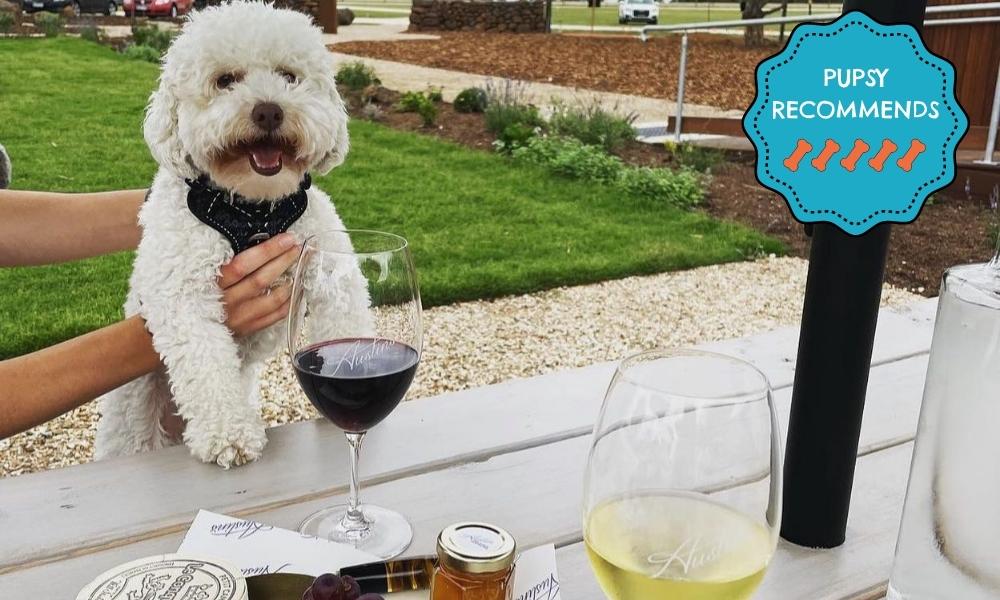 22. Austin's Wines
870 Steiglitz Road, Sutherlands Creek
Grown in the rich limestone soils and cool climes of the Moorabool Valley, our wine is perfect for celebrating life's best moments, big and small. Dogs are always welcome at the outdoor seating area with shelter provided by large market umbrellas during those hot summer days.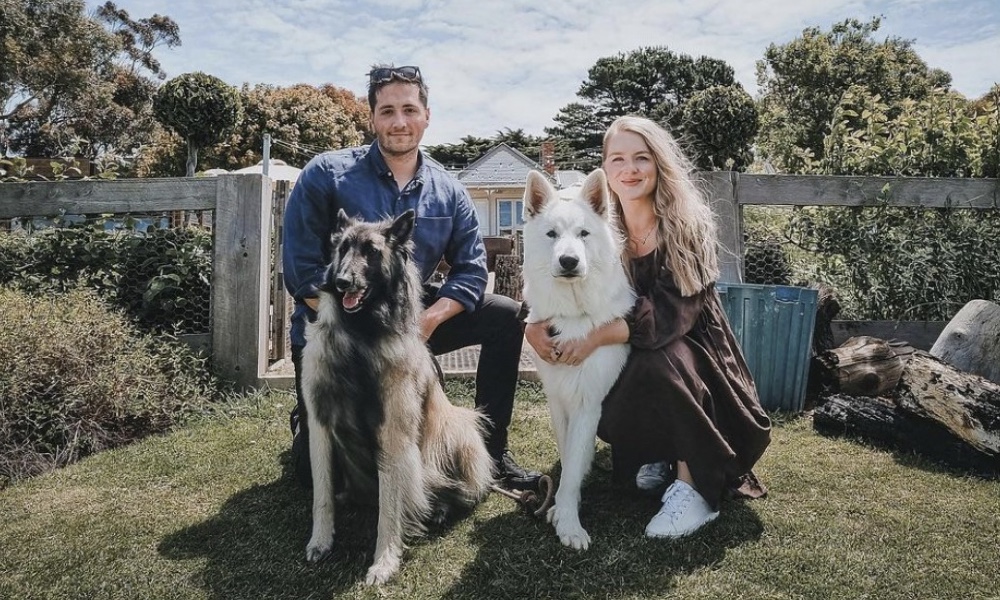 23. Basil's Farm
43 Nye Road, Swan Bay
Enjoy their fresh food made with seasonal produce from their farm, their gardens and panoramic views across Swan Bay in their spacious dog friendly outdoor seating (uncovered). Pups are welcome in the small covered verandah but it is best to book in advance.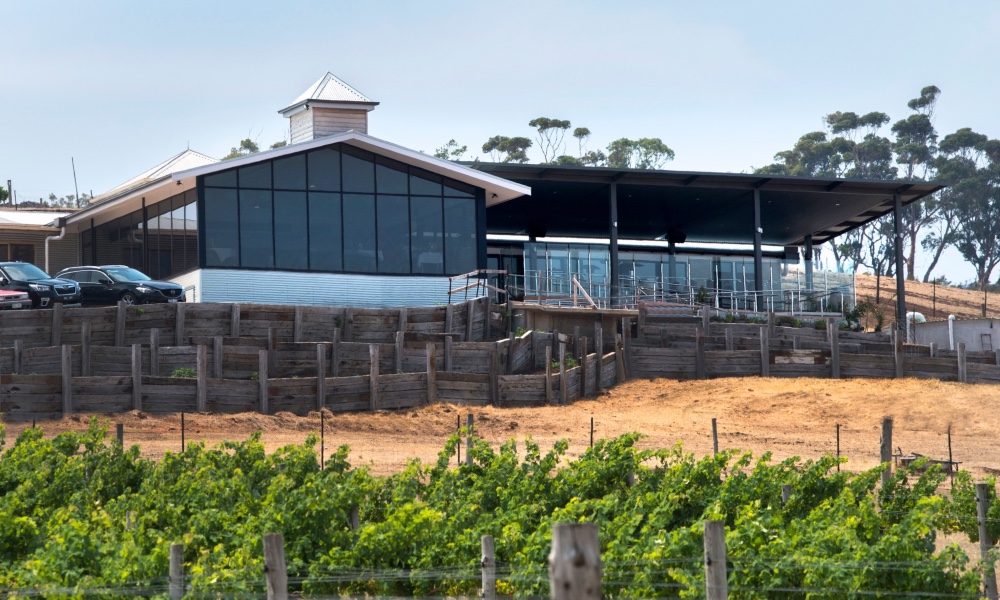 24. Del Rios Winery
2290 Geelong Ballan Road, Anakie
Premium artisan wines and high quality estate grown produce with a dog friendly covered balcony, partly heated and with blankets available.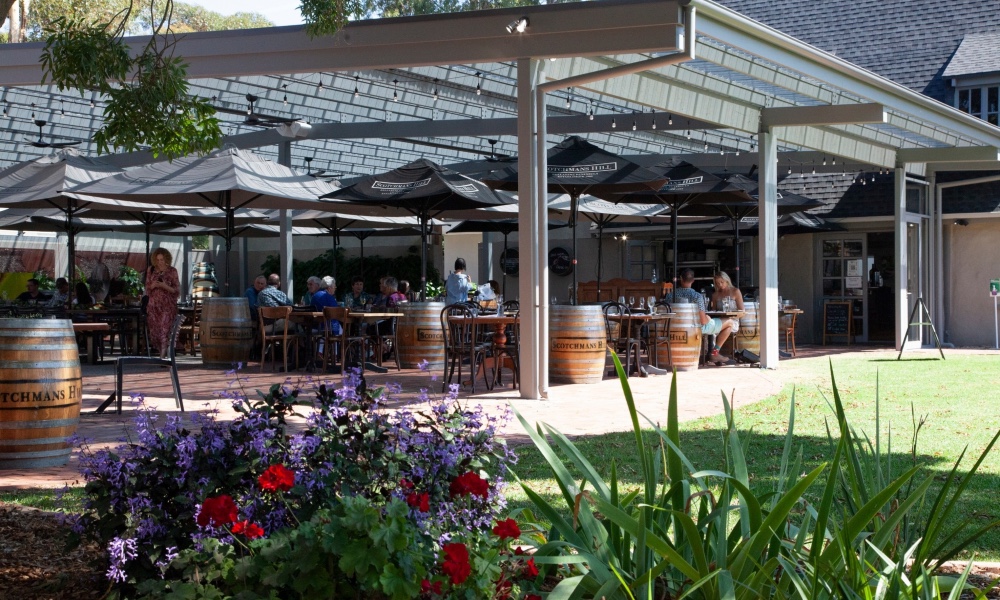 25. Scotchmans Hill
190 Scotchman Road, Drysdale
Local winery with scenic vineyards, a 30 minute drive east from Geelong. They are a dog friendly venue with shaded outdoor areas and a small space where pups can run around.


Free V.I.Pooch Travel Kit with every booking!
Dog Friendly Couples Retreat | Macedon Ranges
Guests 2 | Bedrooms 1 | Bathrooms 1
DOG FRIENDLY PUBS & BARS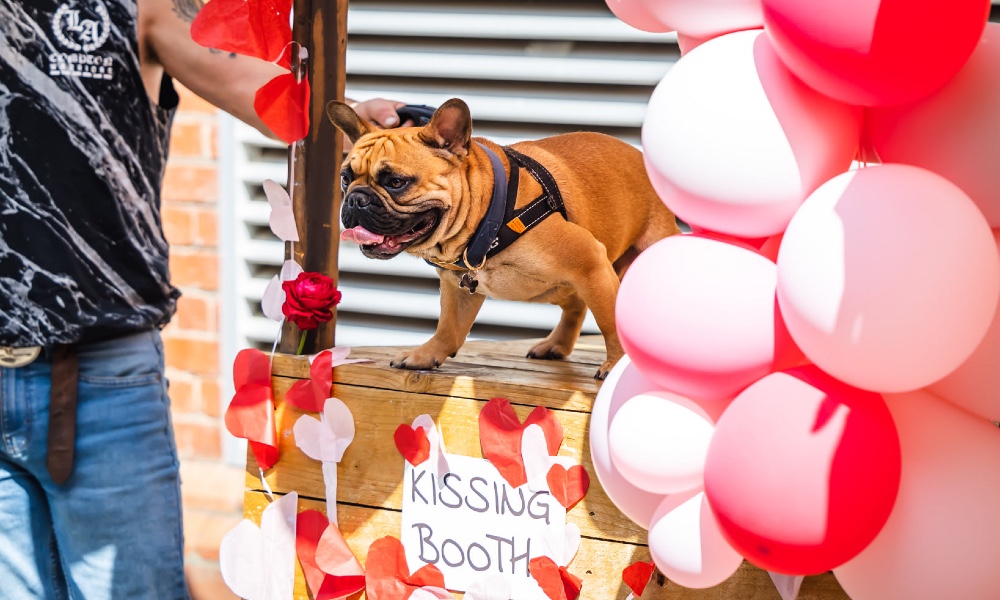 26. Little Creatures Brewery
221 Swanston Street, Geelong
Great dog friendly laneway beer garden regularly hosting events for our furry friends. Enjoy the selection of refreshing craft beers while your dog makes new friends.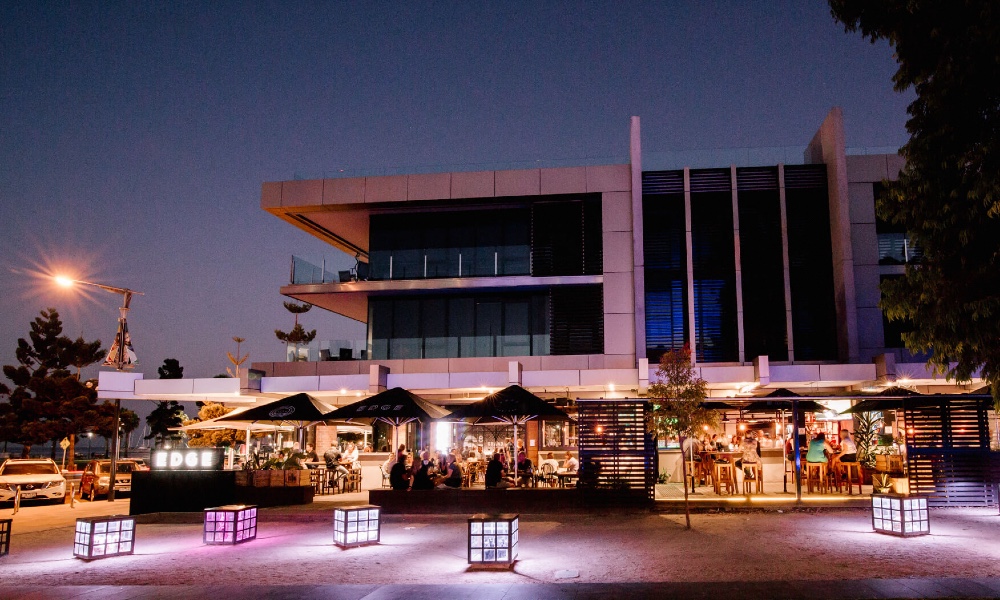 27. Edge Geelong
6-8 Eastern Beach Road, Geelong
Drink and dine on the waterfront in Geelong's hip bar with two alfresco areas in which dogs can join their families. A dog friendly deck running the full length alongside the venue has a fully retractable weatherproof roofing system.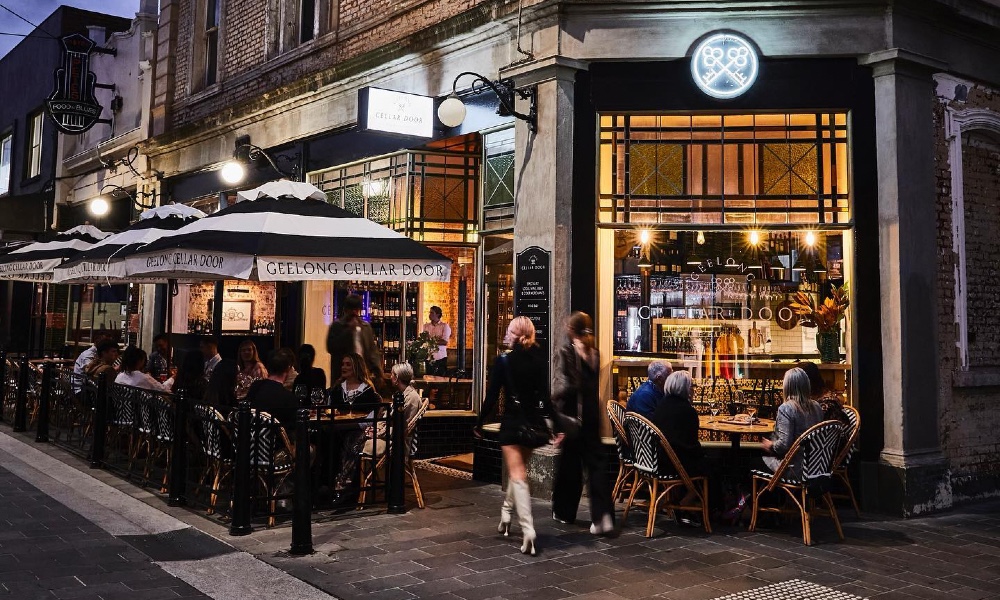 28. Geelong Cellar Door
97 Little Malop Street, Geelong
A local wine bar and retail outlet offering a specialised selection of fine wines, cheeses and charcuterie. They allow dogs in their front and rear alfresco areas with umbrellas and heating.


DOG FRIENDLY CAFES & RESTAURANTS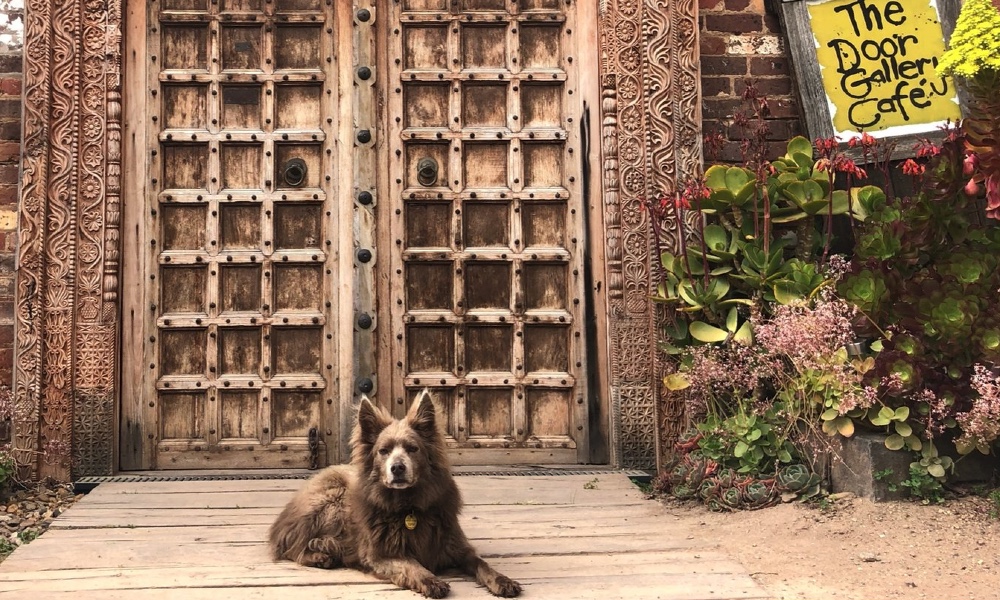 29. The Door Gallery Cafe
8/100 Lower Paper Mills Road, Fyansford
This unique cafe in the heart of the Art Precinct welcomes both antiques lovers and dog lovers. Enjoy gourmet pizzas, platters, sensational curries and home baked delights with your pup in their outdoor area with several scattered shade umbrellas overlooking the Barwon River.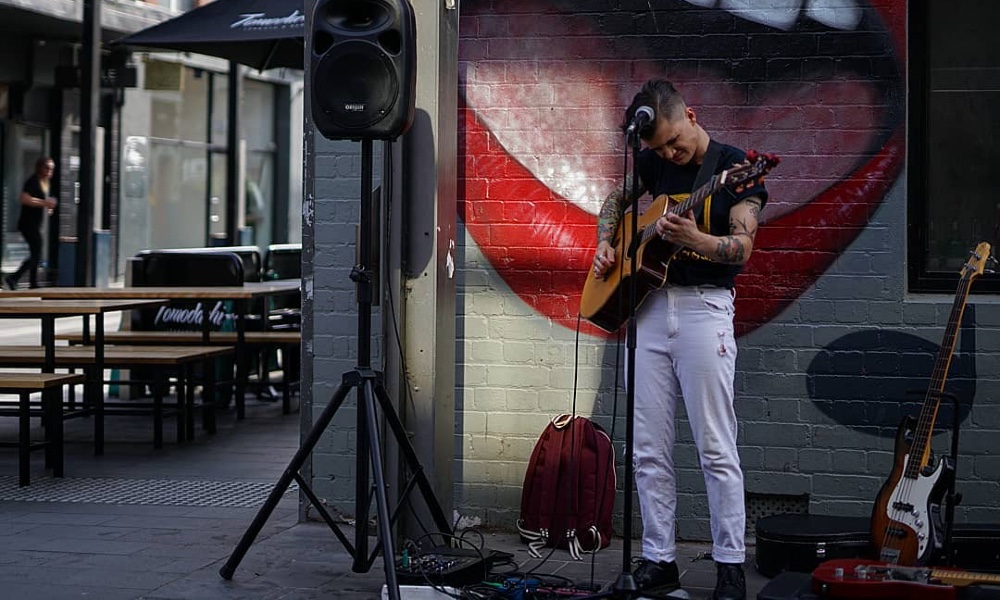 30. Sober Ramen
85 Little Malop Street, Geelong
Enjoy flavoursome ramen, dumplings, sake and natural wines in this funky venue with a dog friendly outdoor dining area.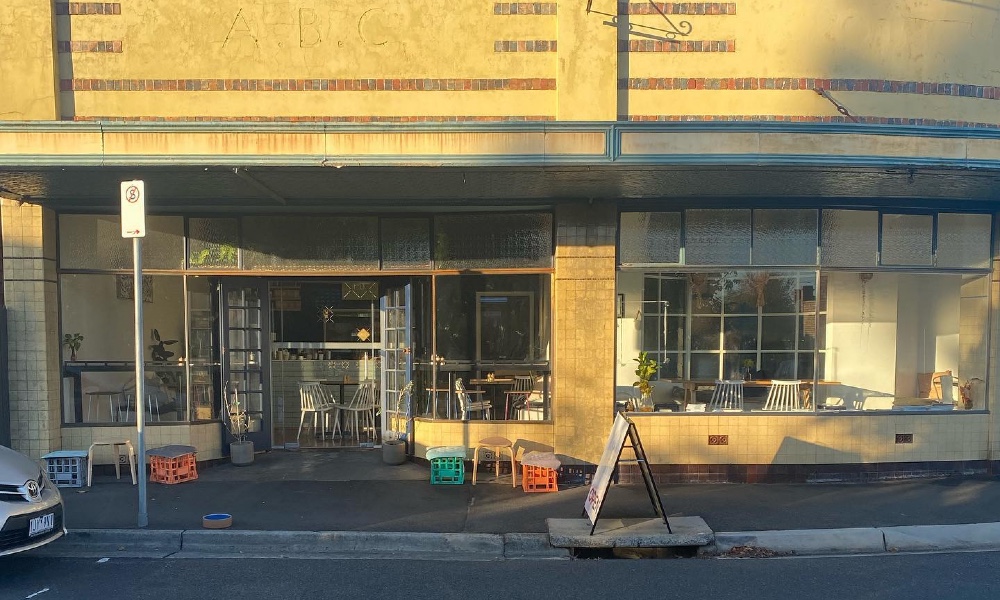 31. Newfolk
1/105 Skene Street, Geelong
Cute little cafe serving great coffee and breakfast in a nice environment. They have a dog friendly verandah out the front where you can sit in the shade through the day to read the newspaper, or enjoy your food in the back courtyard with umbrellas and natural shade.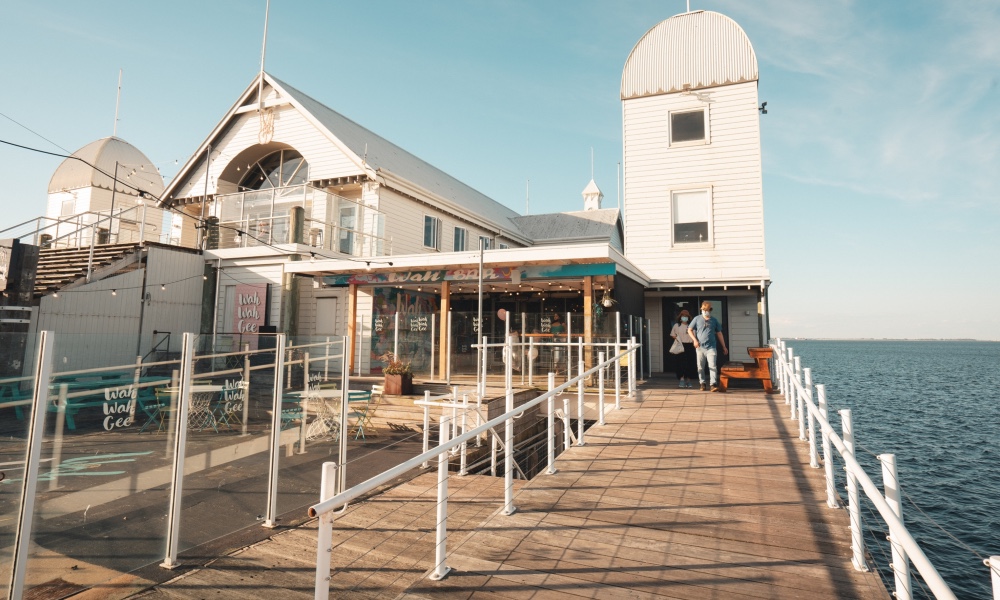 32. Wah Wah Gee
Cunningham Pier, Geelong
Enjoy quality, fresh asian inspired food at the iconic Cunningham Pier with your pup. They have an outdoor alfresco area with an undercover section.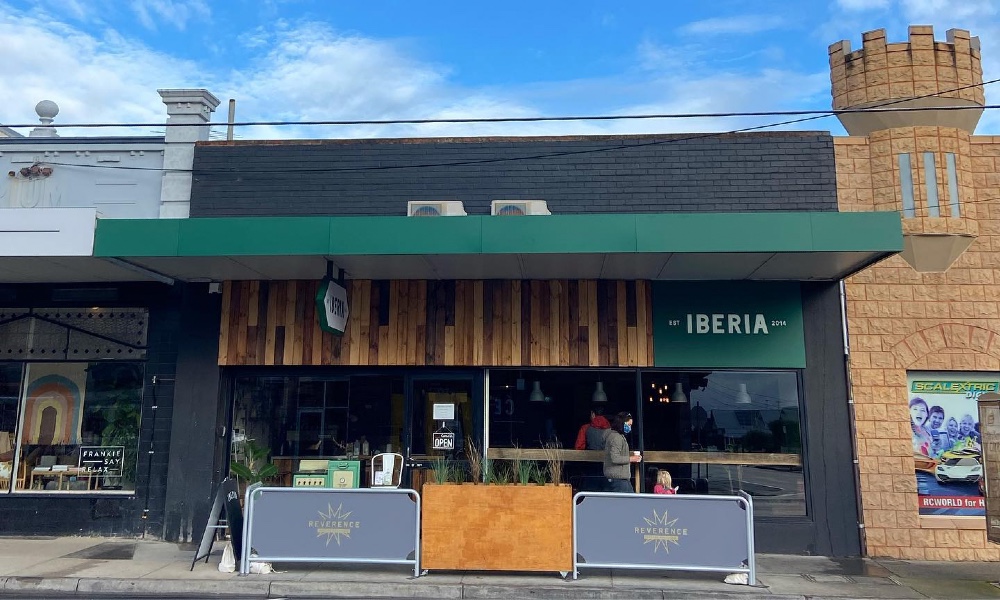 33. House Iberia
137 Shannon Avenue, Geelong
Modern Australian cafe serving simple produce and fresh ingredients. They have a big bolt to clip leads on out the front, undercover, and a water bowl always full.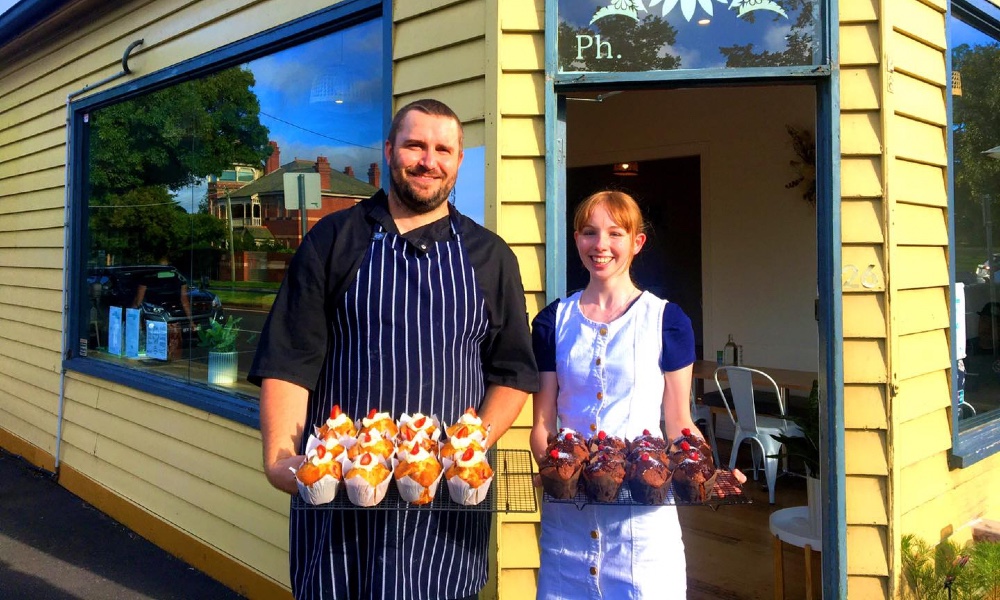 34. Orchid&Co
26 Garden Street, Geelong
Very good coffee opposite the Geelong Botanic Gardens, with a very dog friendly undercover decking area.


… out of town but worth a visit!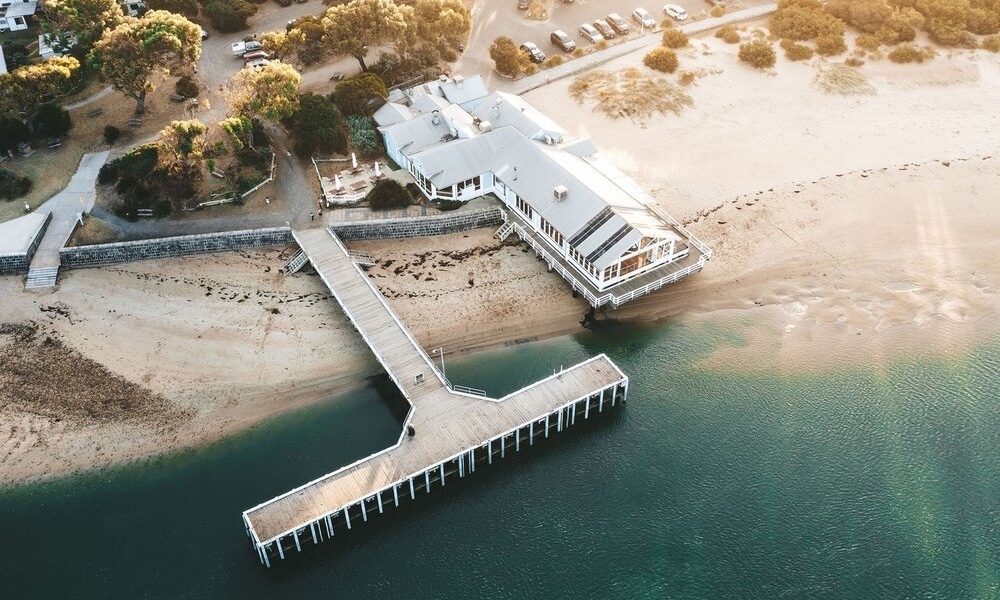 35. At the Heads
Jetty Road, Barwon Heads
Modern Australian cuisine with an emphasis on seafood. Enjoy the panoramic views of Barwon Heads Bluff in their dog friendly partly covered deck.