Dog Friendly Coal Coast, NSW
17 Best Dog Friendly Beaches, Bars, Cafes, Walks and more in Coal Coast, NSW!
Just south of Sydney you'll find one of the most pristine and under rated dog friendly coastlines in the whole country, the Illawarra's 'Coal Coast.' There are plenty of dog friendly beaches, bars, cafes and walks to discover. We have picked 17 Dog Friendly Places you really should not miss.
Landscape
Spanning the coastal fringes from Stanwell Park in the north to Wollongong in the south, this glorious stretch of coast line is nestled between the Pacific Ocean and the Illawarra escarpment. With towering sandstone and coal seamed cliffs that stretch the length of the Illawarra, this dominating landscape has supported the local indigenous population, the Wodi Wodi people, over millennia. More modern day colonial history saw the region develop into a thriving coal mining community which has up until recently supported the local population for over a hundred years.
Community
The Coal Coast, as it's been dubbed by locals, has come a long way from its working class mining days and the area is now home to artistic surf communities, young families and a rising epicurean scene to rival that of Sydney's Eastern Suburbs.
I've called the Coal Coast home for the last 5 years, my husband and I moved to the area in hopes of finding an affordable place to live with a big backyard so we could rescue a dog. We rescued Bandit, our beautiful Kelpie Cross, in July 2017 and our lives have been better off ever since. Bandit loves cruising around the streets and exploring the dog friendly beaches of the Coal Coast almost as much as we do. It's a great place to live if you have a dog and an even better place to visit with your four legged companion. It's home to many dog-friendly beaches, walks, pubs, cafes and more! So let me introduce you to the dog friendly Coal Coast.
Written and Photographed by Meredith Schofield
DOG FRIENDLY SIGHTS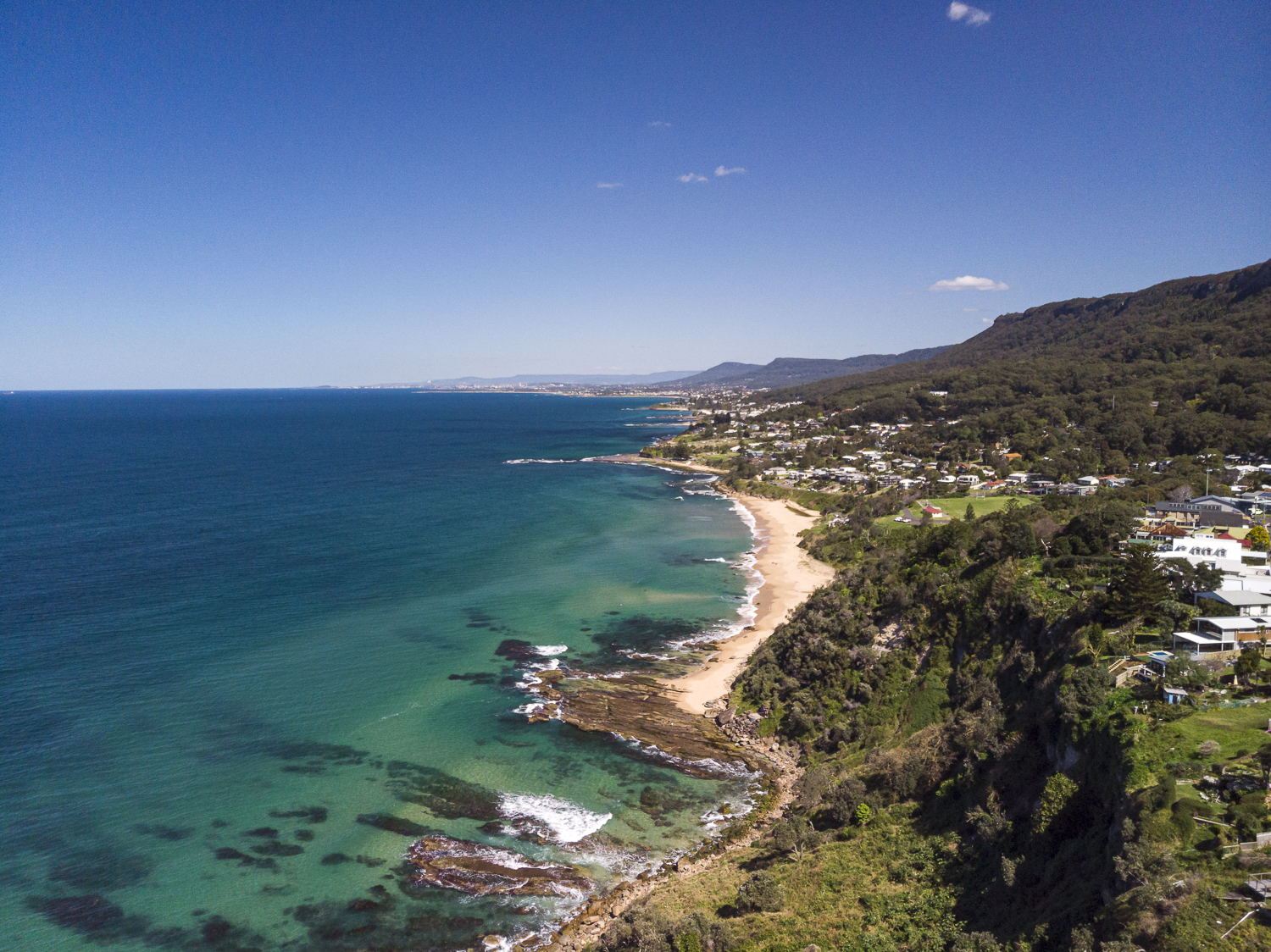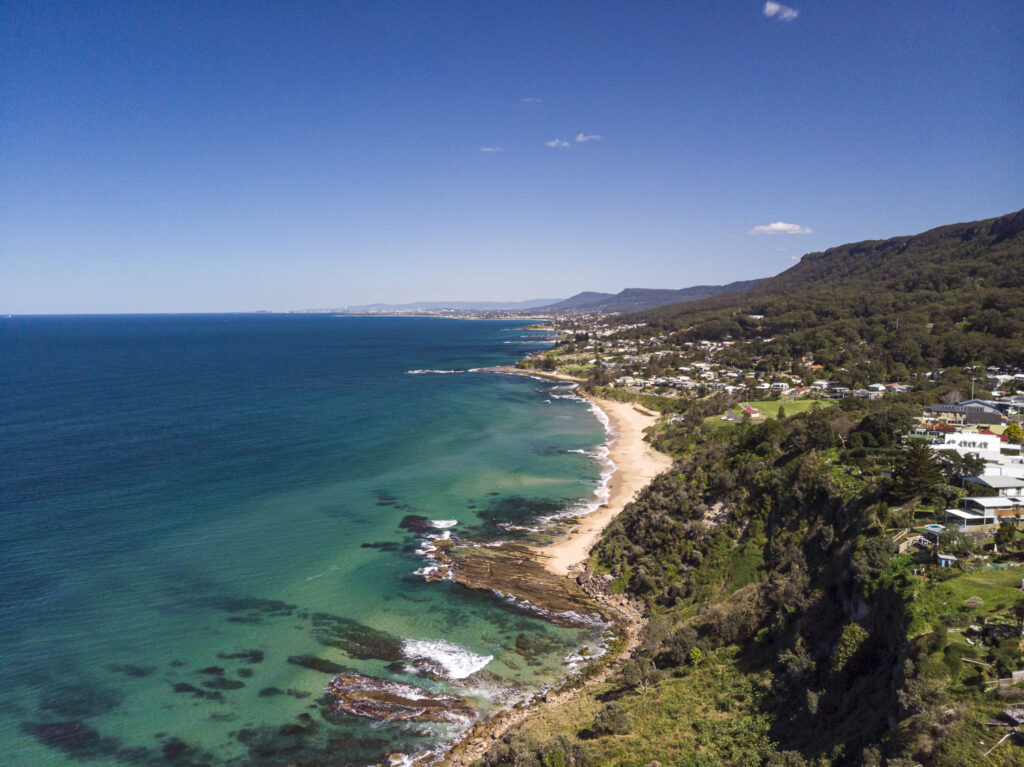 1. Bald Hill Lookout
Stanwell Park
Sitting high above the Pacific Ocean with stunning views of the entire Coal Coast is the prominent Bald Hill Lookout. As the gateway to the Grand Pacific Drive the towering hilltop overlooks the winding coastal road that runs all the way south to Port Kembla.
The lookout is one of the best places on the east coast to spot Humpback and Southern Right Whales as they make their way to and from Antarctica during their migration seasons. On the weekends you are almost guaranteed to spot dozens of paragliders over the skies as they launch from the lookout and land at Stanwell Park Beach below.
This area is on-leash only.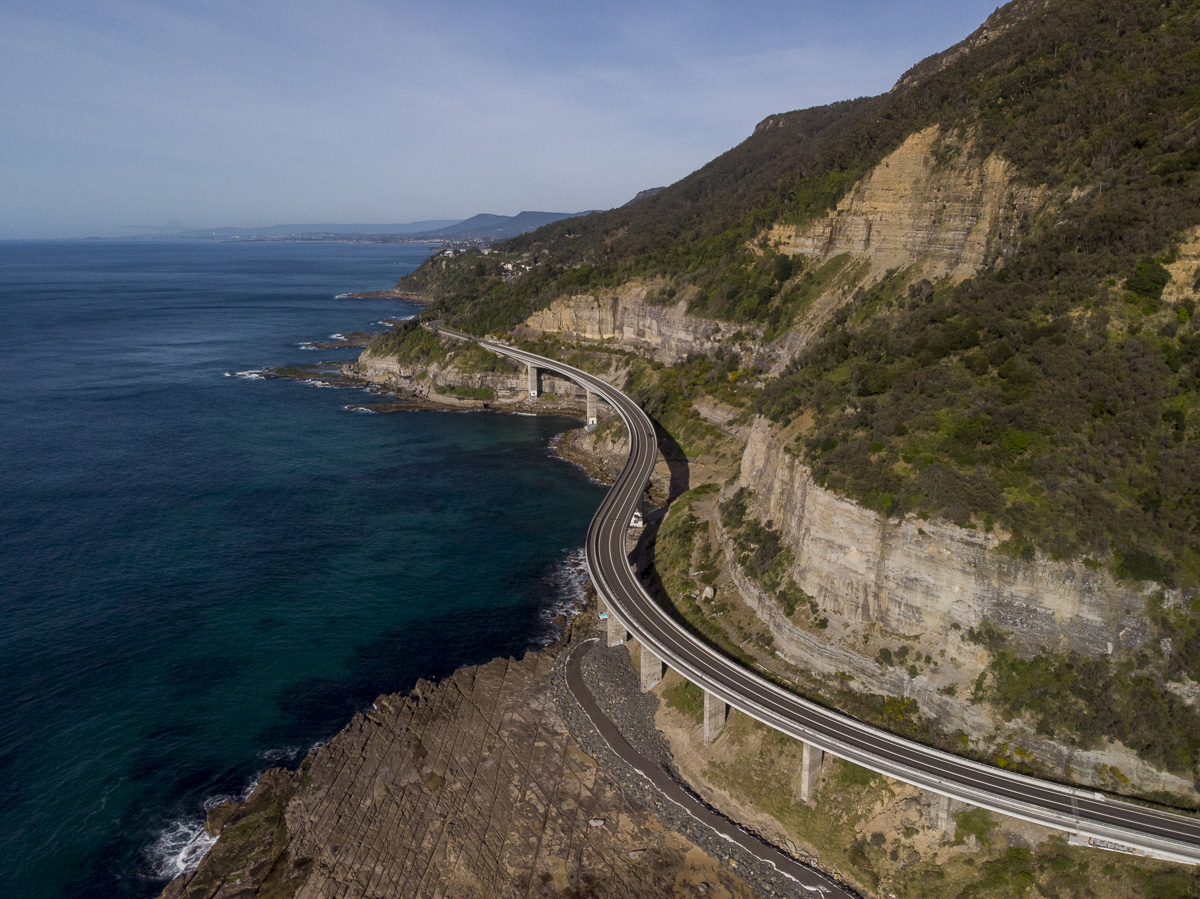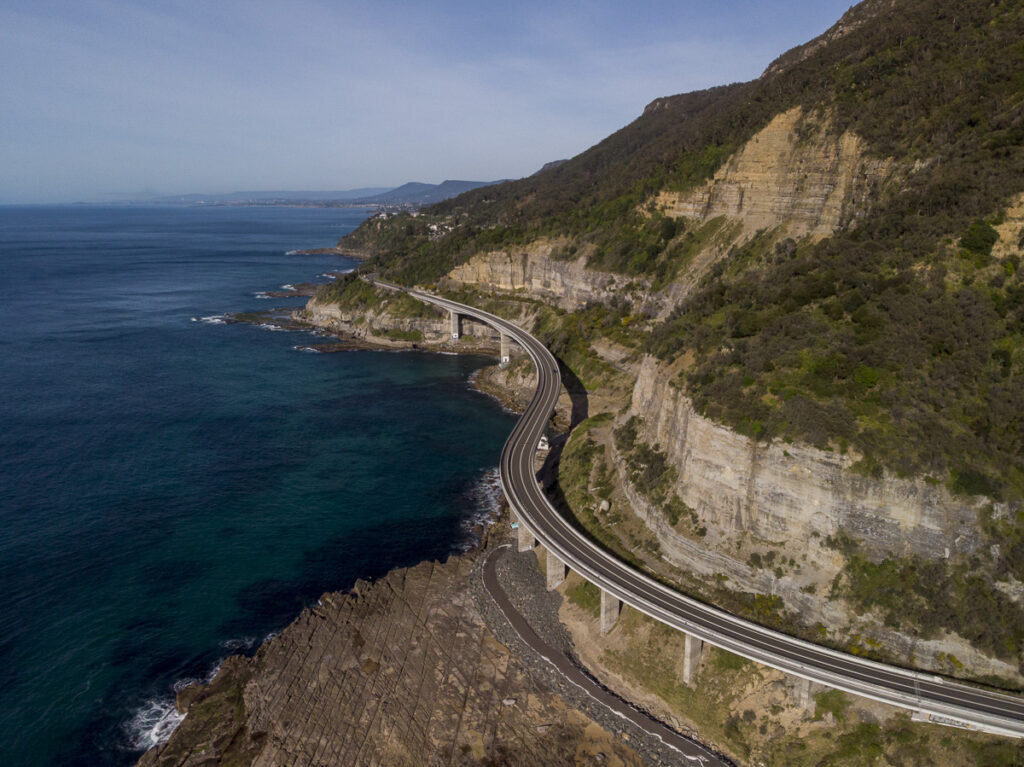 2. Grand Pacific Drive / Sea Cliff Bridge
Stanwell Park
After taking in the views at Bald Hill make your way along the best coastal road in the country (yes that's right Great Ocean Road, we are coming for the title). This magical stretch of road weaves in and out of the area's most beautiful beaches, picturesque bush retreats, famous landmarks and across one of the most photographed bridges in the world.
The Sea Cliff Bridge is a sight to behold as it snakes along the towering cliff faces at Clifton, gliding out and over the ocean as it undulates across the raucous swell below. Park at the southern end of the bridge and take a walk with your dog along the Sea Cliff Bridge walk way, you'll gain a whole new perspective of this amazing structure and surrounding ocean landscape.
The drive continues all the way along the coastline until you reach the township of Bulli. Each turn and bend has vistas that take your breath away, beaches and ocean pools to dive into, cafes and bars to quench your thirst and fill your belly and plenty of local artisan shops to explore.
The Sea Cliff Bridge Walk is on-leash only.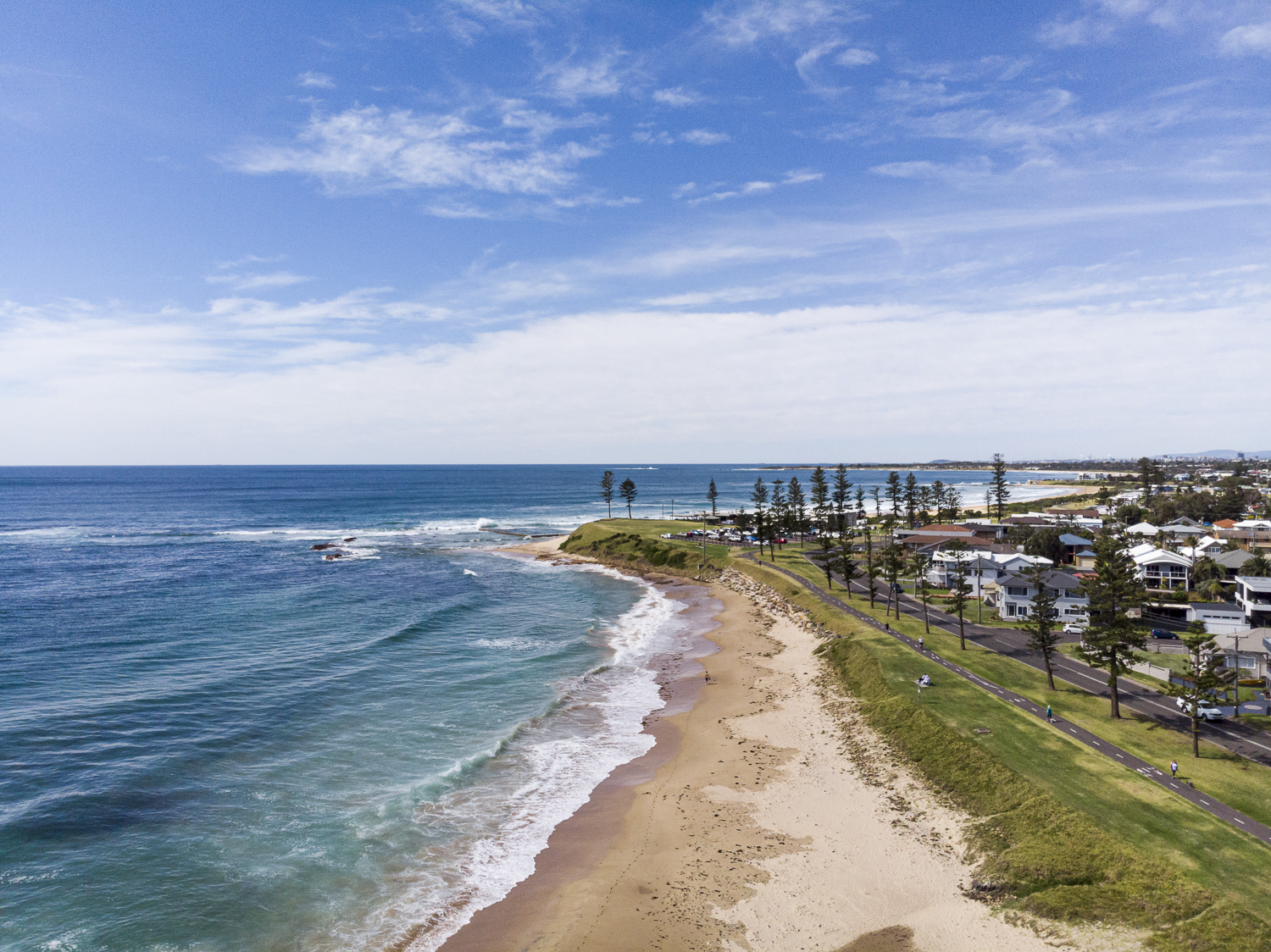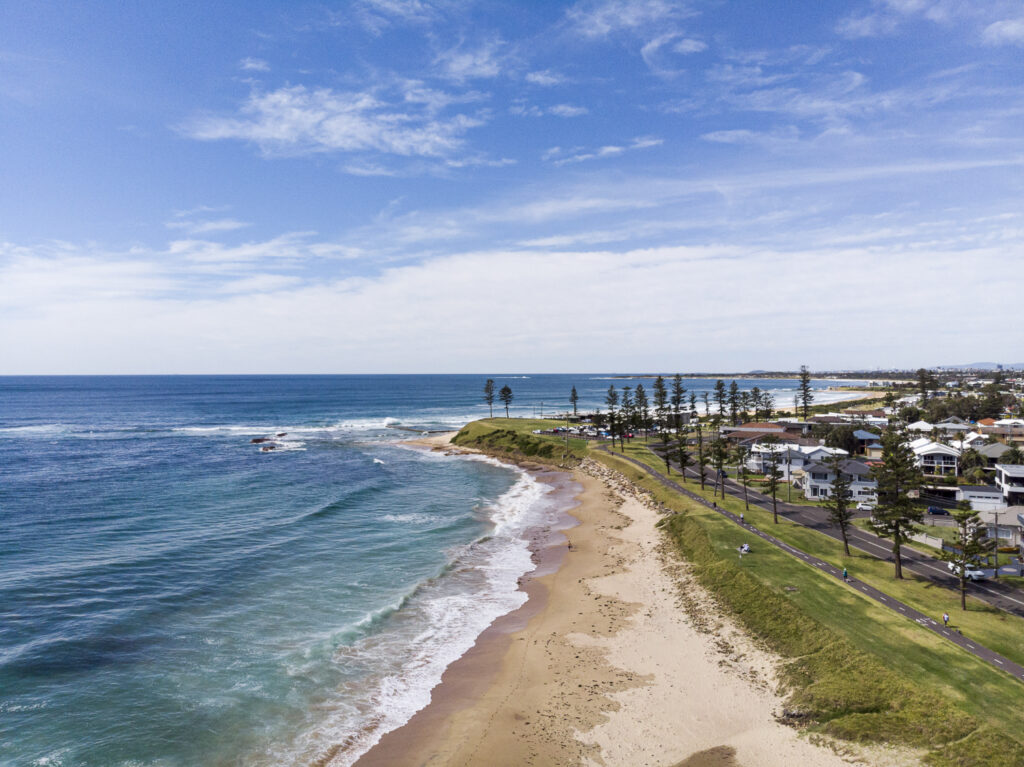 3. Grand Pacific Walk
Stanwell Park
The Grand Pacific Walk is a collection of pathways, boardwalks and bush tracks that follow the Grand Pacific Drive. This ongoing project will eventually connect the Royal National Park to Lake Illawarra with recent work connecting Stanwell Park to Wollongong. The entire walkway hugs the coastline and is dog-friendly. The walk is quite long so most locals choose their favourite sections to stroll with their latte and pooch in tow. You'll see dozens and dozens of dogs with their owners enjoying this magnificent coastal walk on the weekends and it's a great way to explore the area by foot.
The Grand Pacific Walkways are on-leash only.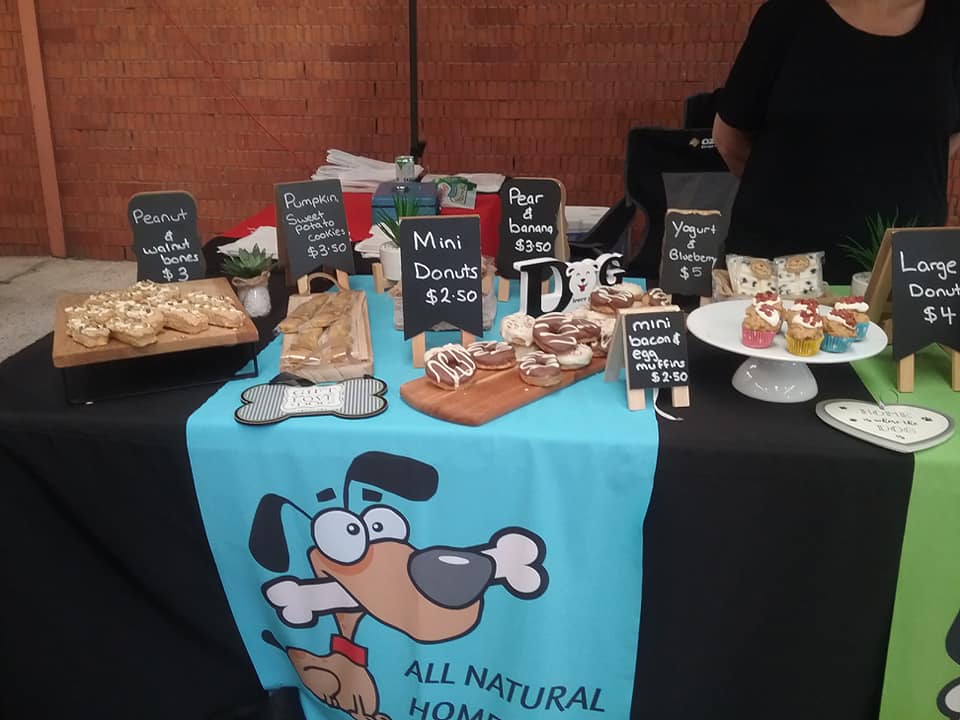 4. Foragers Markets
Bulli Showgrounds
Nestled at the foot of the Illawarra escarpment, the Sunday Foragers Markets are a must if you want to check out some of the best locally made food, produce, music, art and homewares that the region has to offer. Peruse the market stalls, sample some local treats (that's the dog) and chill on the grassy showground lawns in the sun while listening to local tunes and sipping on a homemade lemonade.
The Friday Forage and Eat Street Markets are situated in the Crown Street Mall in the heart of Wollongong city and offer fresh produce and an array of local food stalls and trucks.
Sunday Foragers Market Bulli
When: 9-2pm the second Sunday of every month at the Bulli Showground.
Friday Forage Markets – weekly food and farmers market.
When: 9-2pm every Friday in Crown St Mall Wollongong
Eat Street Markets – evening street food market.
When: 5-9pm every Thursday evening in Crown St Mall Wollongong.
All markets are on-leash only.


Free V.I.Pooch Travel Kit with every booking!
DOG FRIENDLY BEACHES
The Coal Coast has plenty of dog friendly beaches, ranging from timed access beaches to 24/7 dog access allowed.
We have done the paw-work for you to determine THE BEST beaches to take your dog, here are some of our favourites: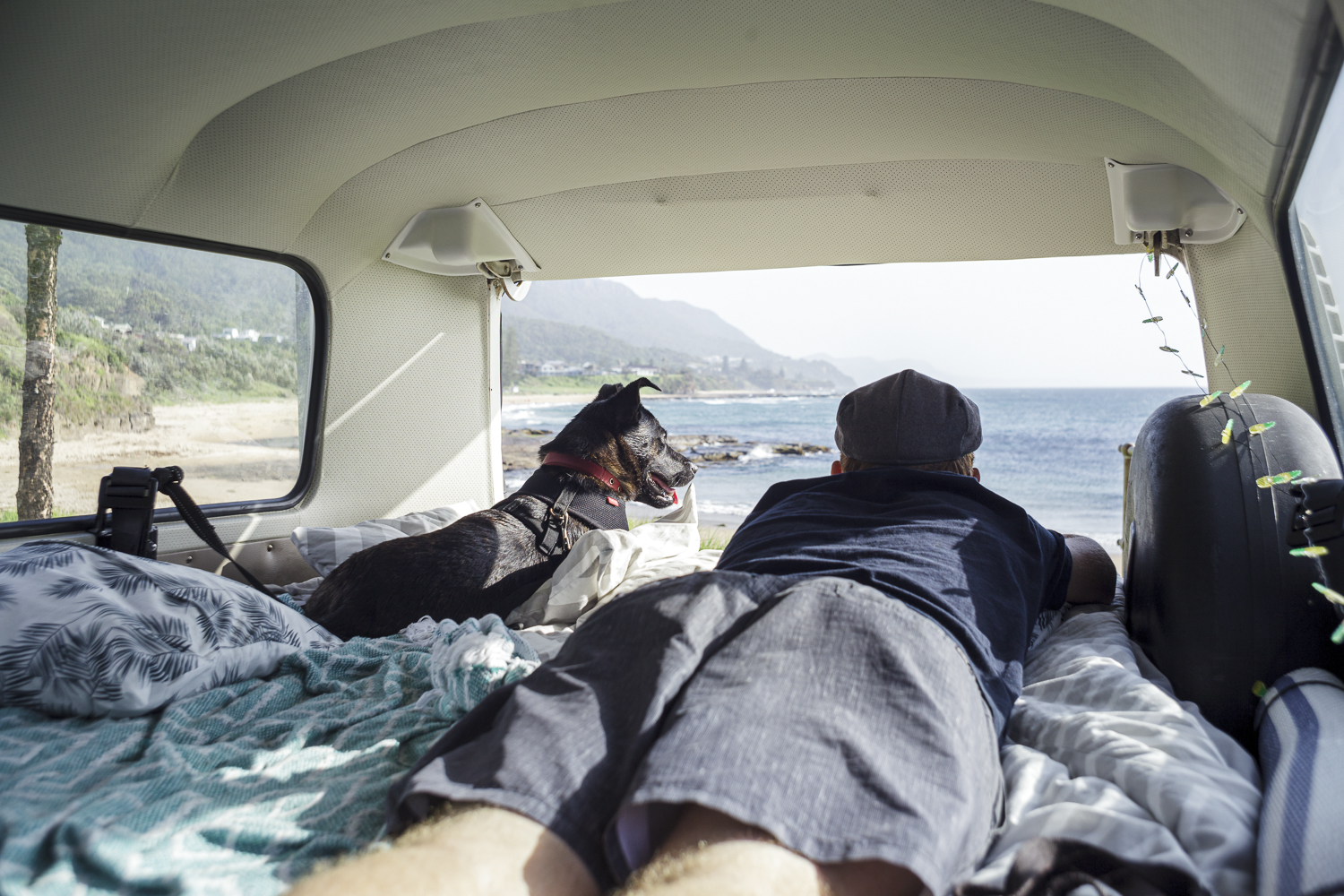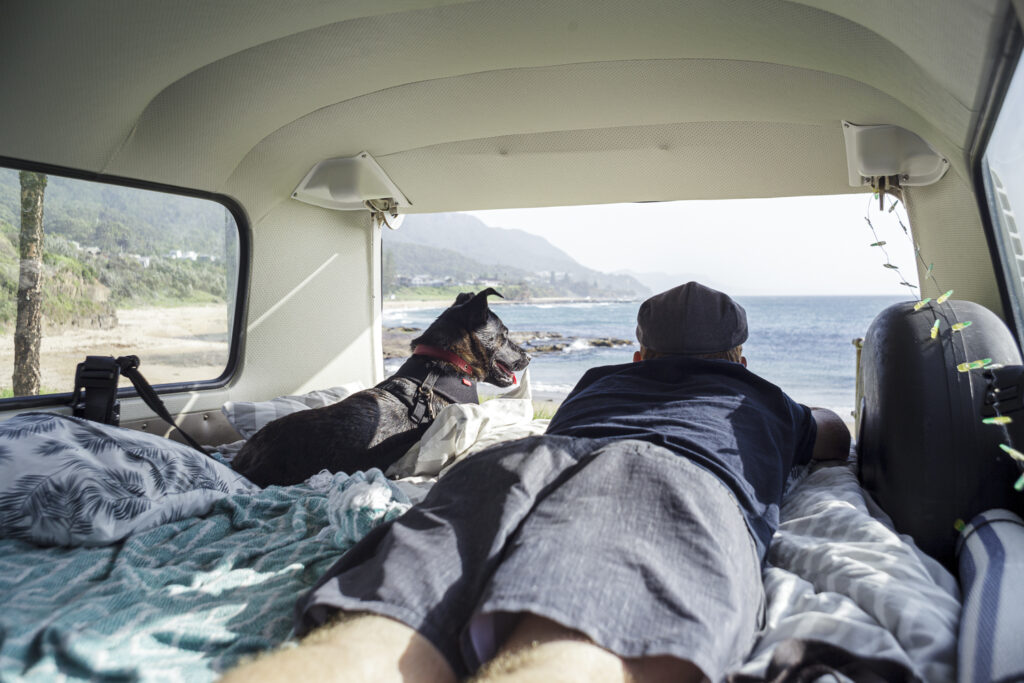 5. Sharkies Beach
Coledale
Don't let the name deter you, this beach is a dog's wonderland. Park up for the day in the beachside car park or simply stop by on your coastal walk. The grassy dunes, long sandy beach and heavenly turquoise waters will make you want to stay forever. This beach also has two of the best surf breaks on the Coal Coast.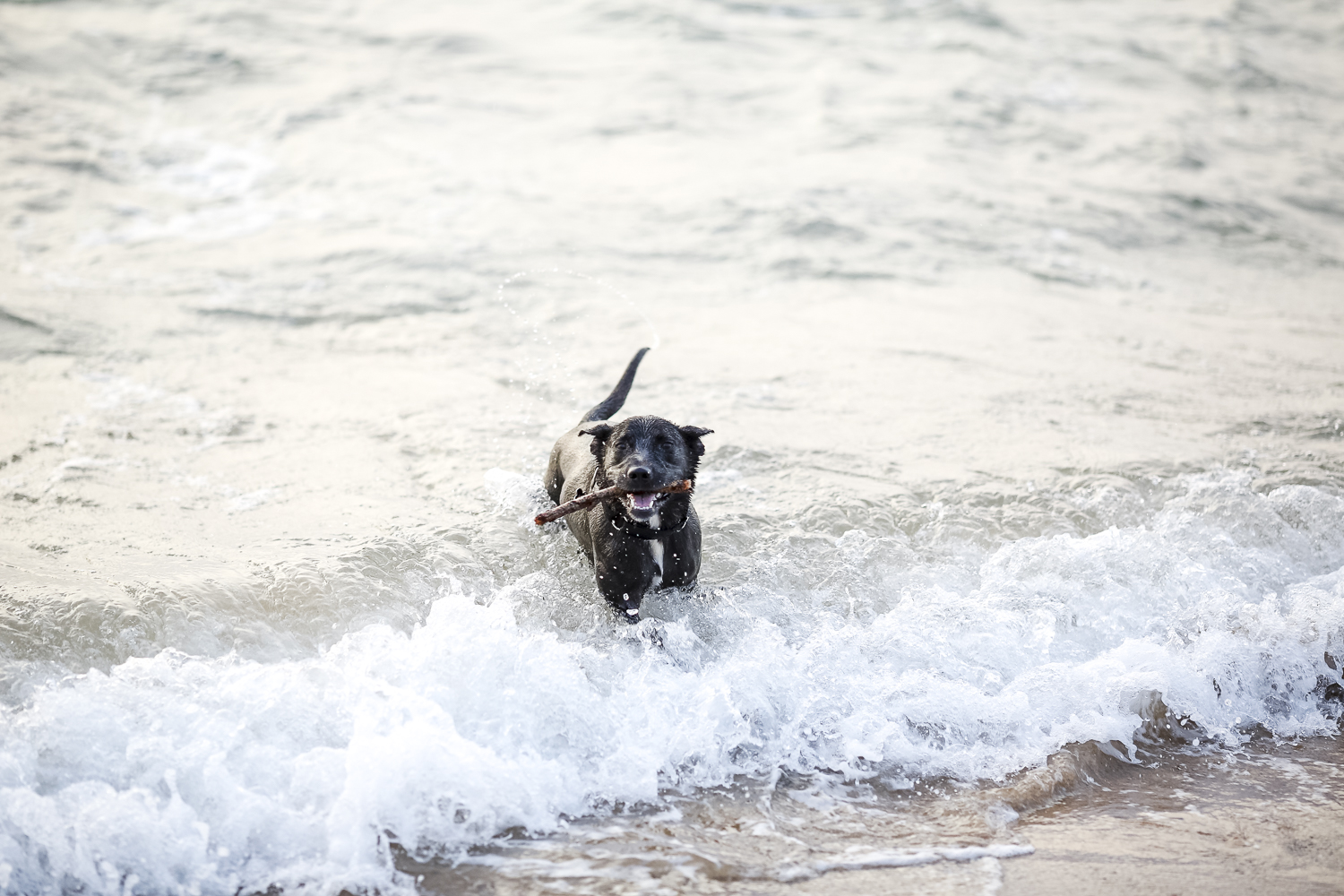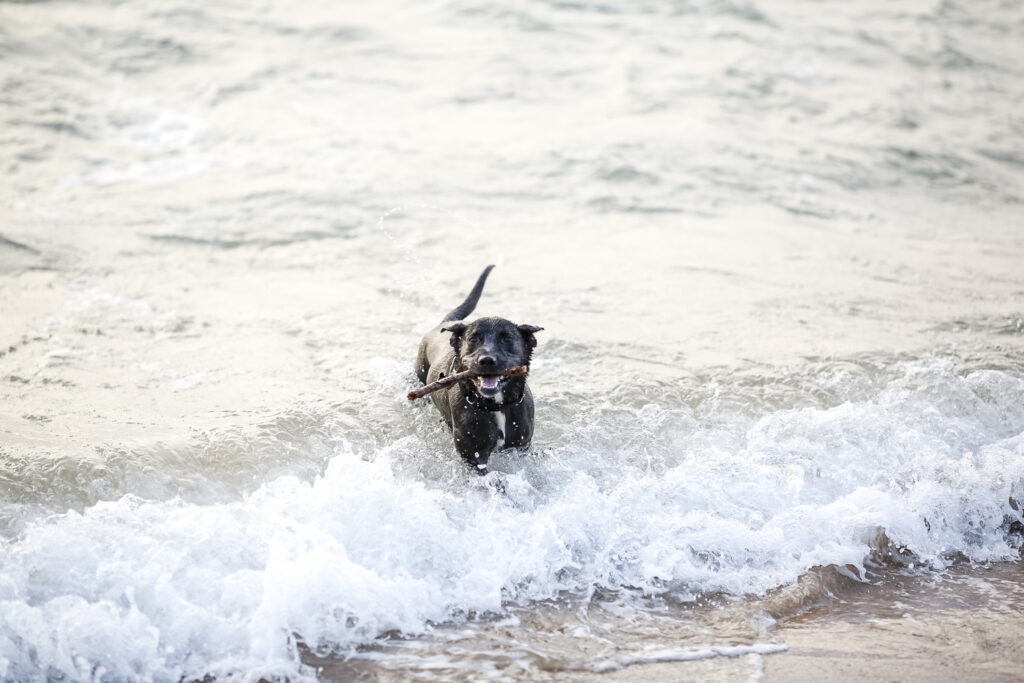 6. Little Austinmer Beach
Austinmer
If you're looking for a more protected beach with less swell, then 'Little Austi' is the place for you and your pooch. You'll find this beachside hideaway nestled in a protected cove just north of Austinmer Beach. The relatively calm waters are shallow and the beach has a great rock pool at the south end which is the perfect spot for your dog to have a swim and play.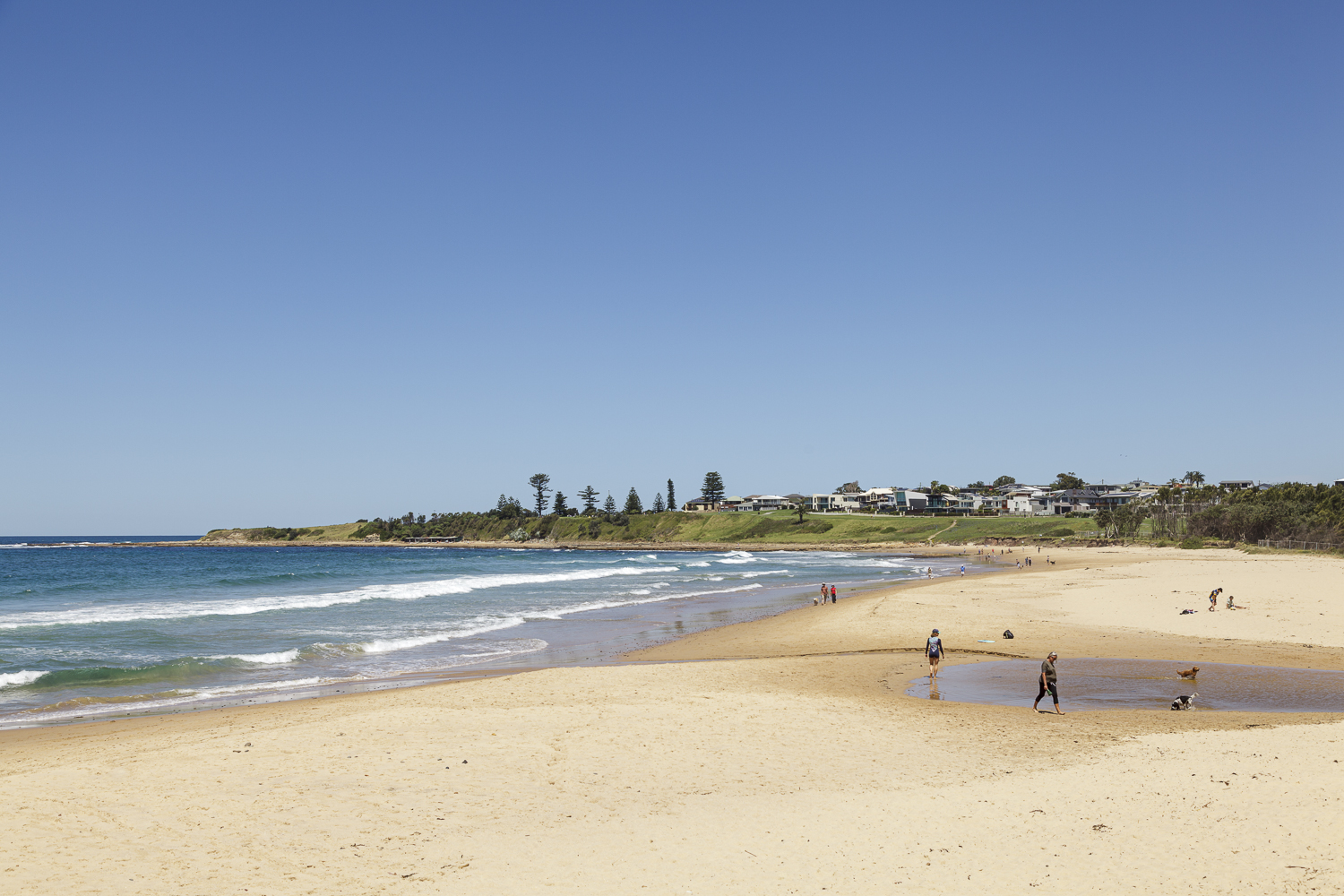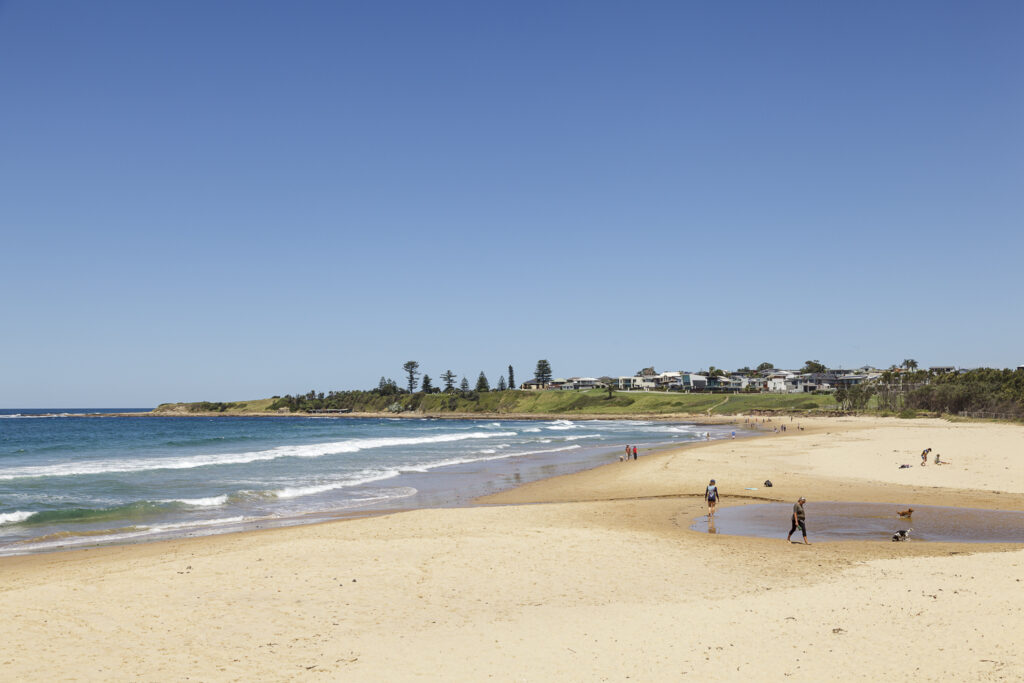 7. McCauley's Beach
Thirroul
Just south of the popular Thirroul Beach you'll find 'McCauley's.' This famous long stretch of pebbly coastline makes for a great place to walk your dog, chase balls and play in the surf. The beach leads all the way south to the famous Sandon Point boat sheds where you can head up the hill and meet up with the Grand Pacific Walk. From here you can keep heading south to Bulli Beach for one of the best sections of this iconic walk way.
Please note the Sandon Point boat sheds are not dog friendly, you can head up the hill before reaching them.


There are so many other dog friendly beaches on the Coal Coast, a few more to mention are; the northern section of Stanwell Park beach, just south of the rock pool at Bellambi Beach, and East Corrimal Beach – all are dog friendly, 24 hour off-leash areas.
Thirroul Beach timed on-leash access is a great beach to walk in the mornings and evenings if you're staying overnight and there's a secret cove between Thirroul and Austinmer Beach which you and your dog will love.
DOG FRIENDLY SHOPPING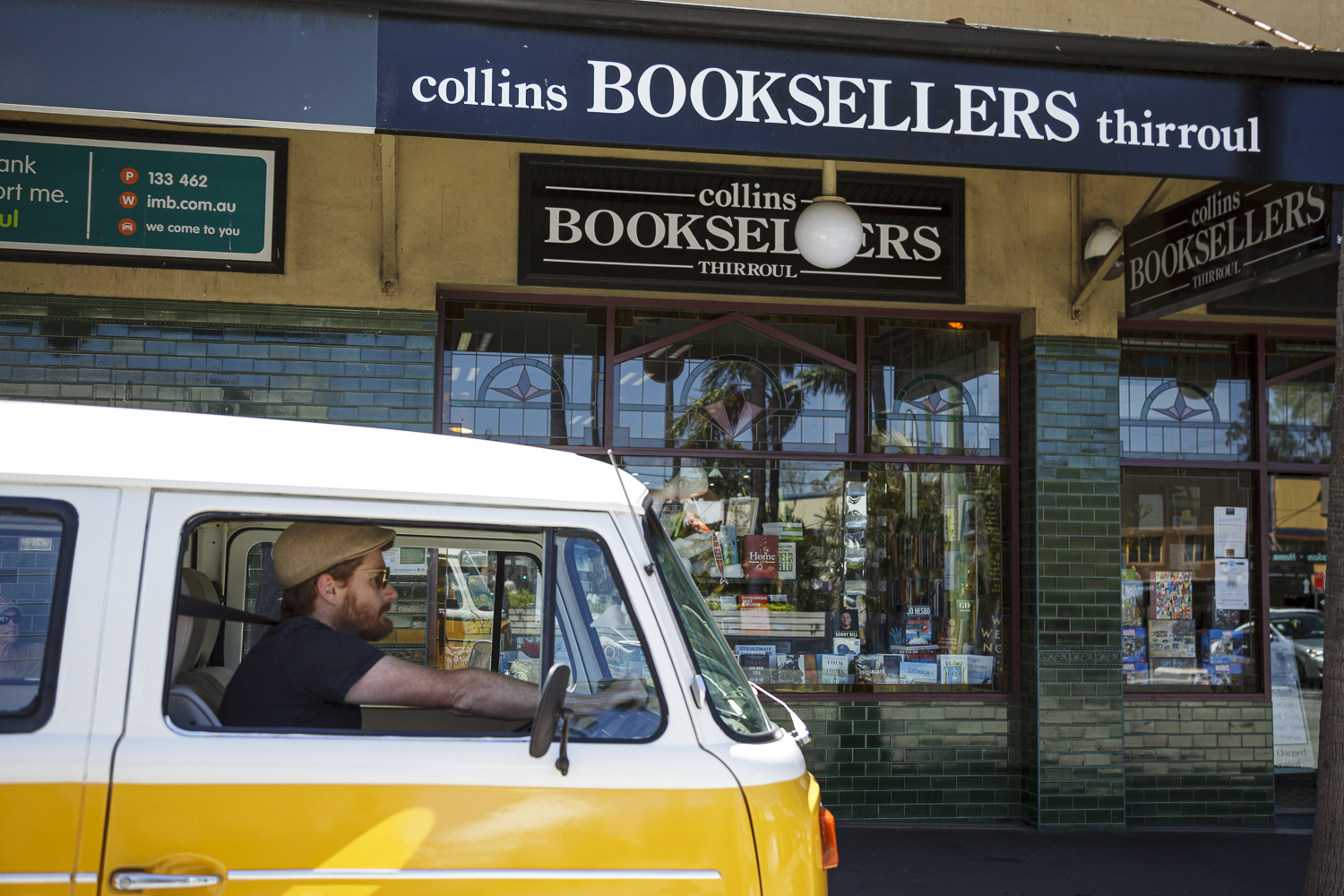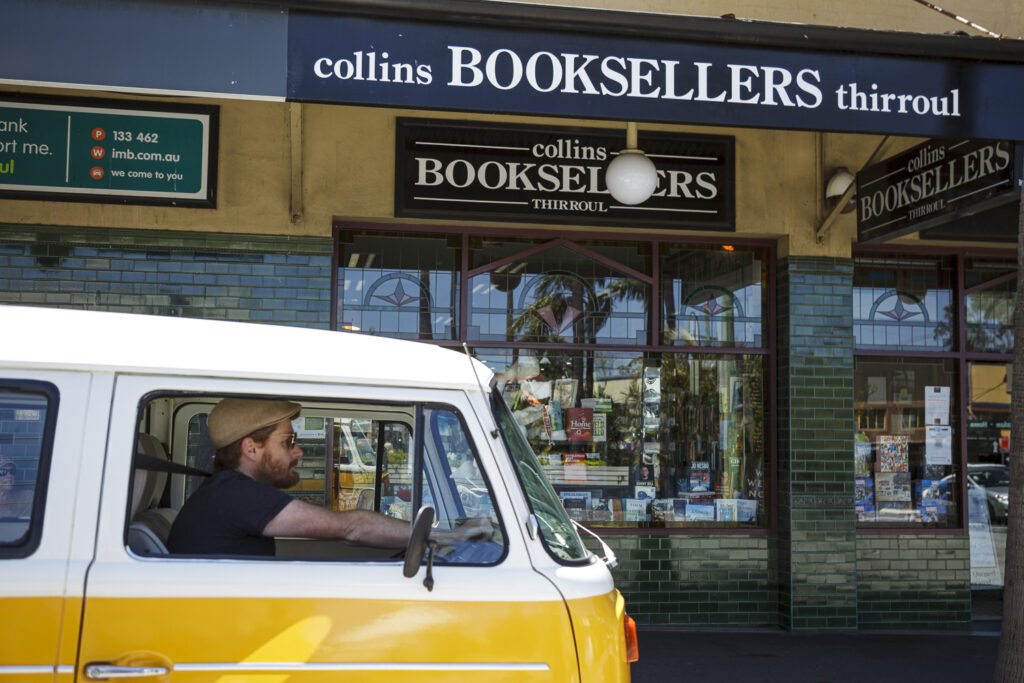 8. Collins Booksellers Thirroul
264 Lawrence Hargave Drive, Thirroul
This wholesome and perfectly curated book store on Thirroul's main drag is THE place to stock up on some fresh reads. The staff at Collins Booksellers are a delight and will help you find your next novel to devour while you're relaxing on the local beach. They even have two resident pooches in the store! You can browse the shelves or sit in a comfy chair while fingering through some of the store's new releases, all with your dog by your side.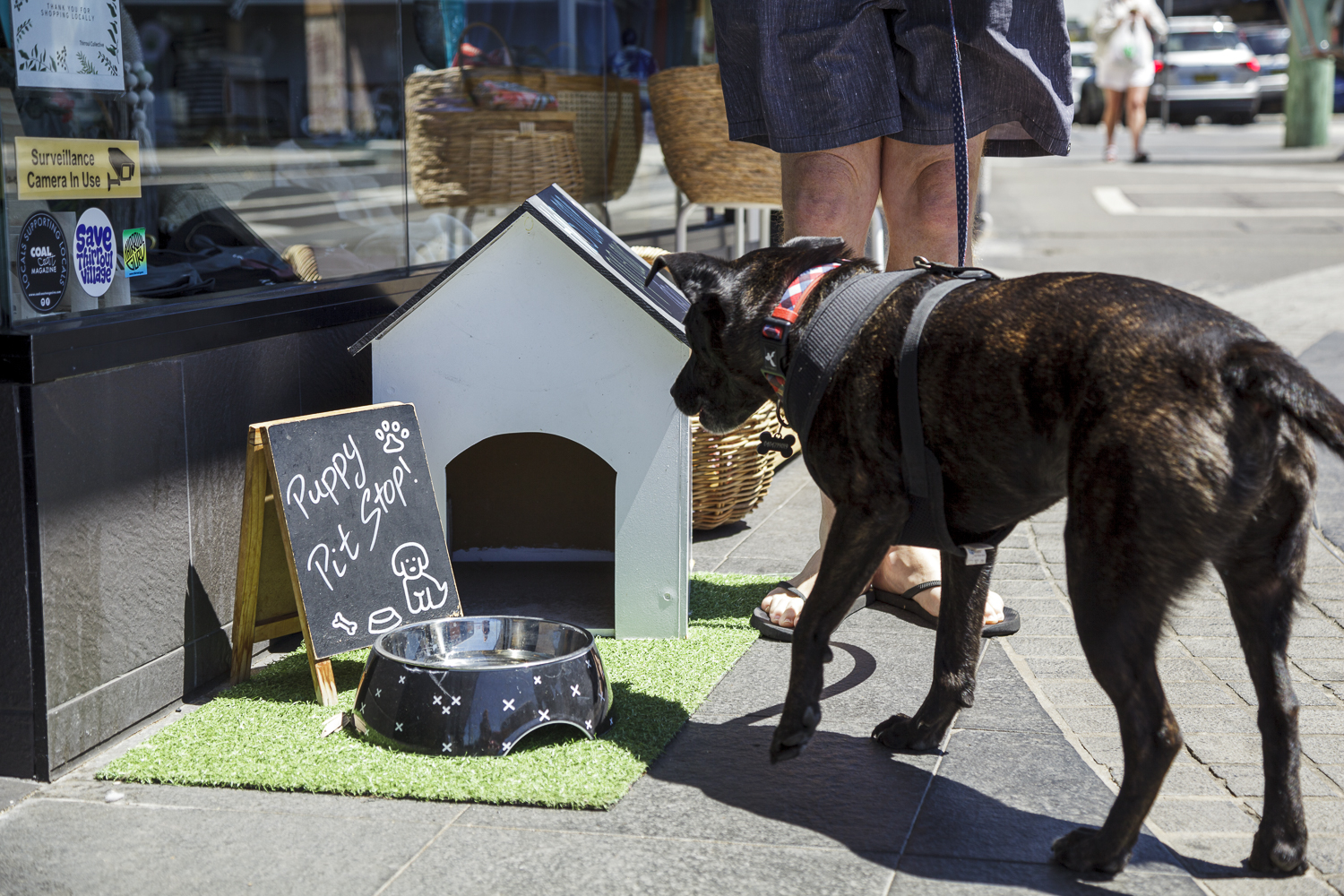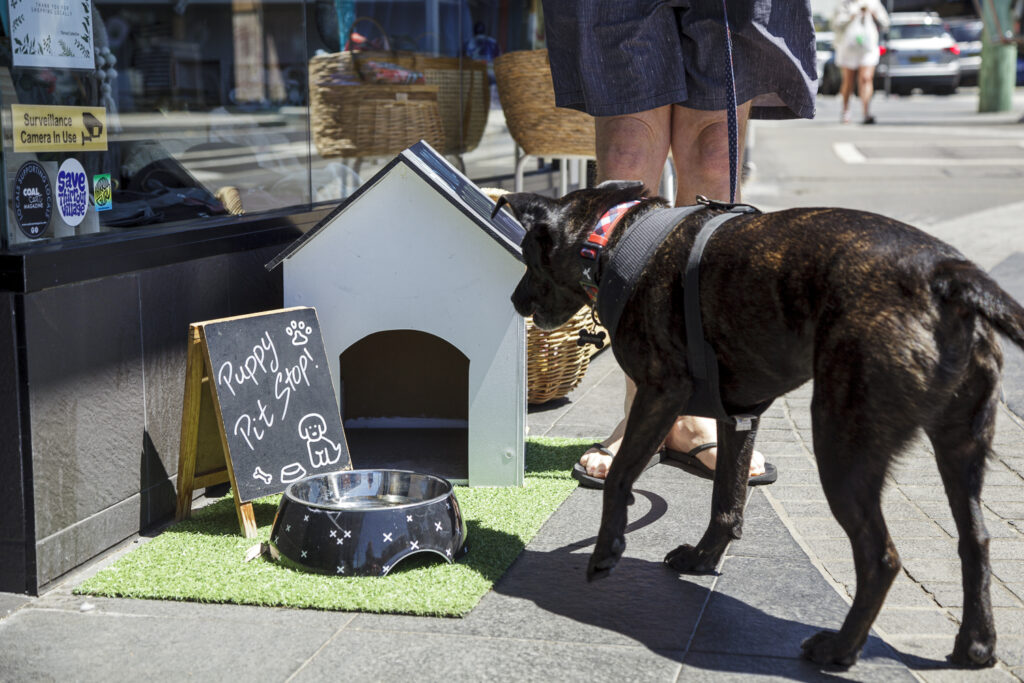 9. The Thirroul Collective
271 Lawrence Hargave Drive, Thirroul
Right in the centre of town on Thirroul's high street, Lawrence Hargrave Drive, you'll find The Thirroul Collective. A shared retail space run by local artisans selling their goods and wares. The shop has a doggy hydration station out the front and allows dogs in store.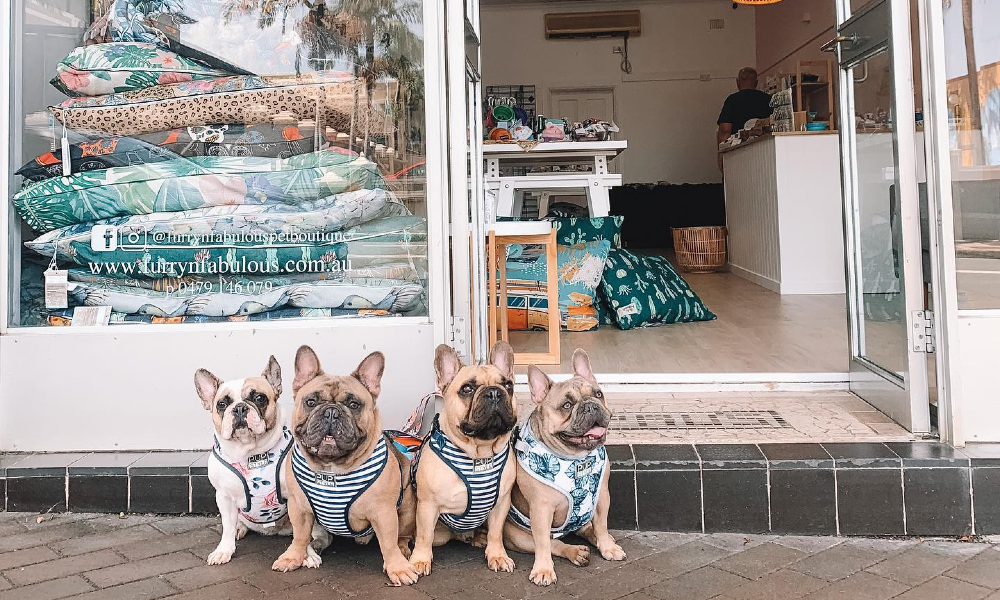 10. Furry n' Fabulous Pet Boutique
110 Railway Street, Corrimal
In the heart of Corrimal you'll find the Furry n' Fabulous Pet Boutique. This locally owned and run store has an extensive range of high quality dog wares at affordable prices. From harness, collars, dog beds, treats and more, this cute little boutique has everything your pup could ever want.


Free V.I.Pooch Travel Kit with every booking!
DOG FRIENDLY CAFES
Most cafes on the Coal Coast with outside seating are dog friendly, so you'll have no trouble finding a place to relax in the sun while you sip away on an iced latte. These Cafe's all have something special about them, from dog offers on the menu to the best coffee outside of Sydney.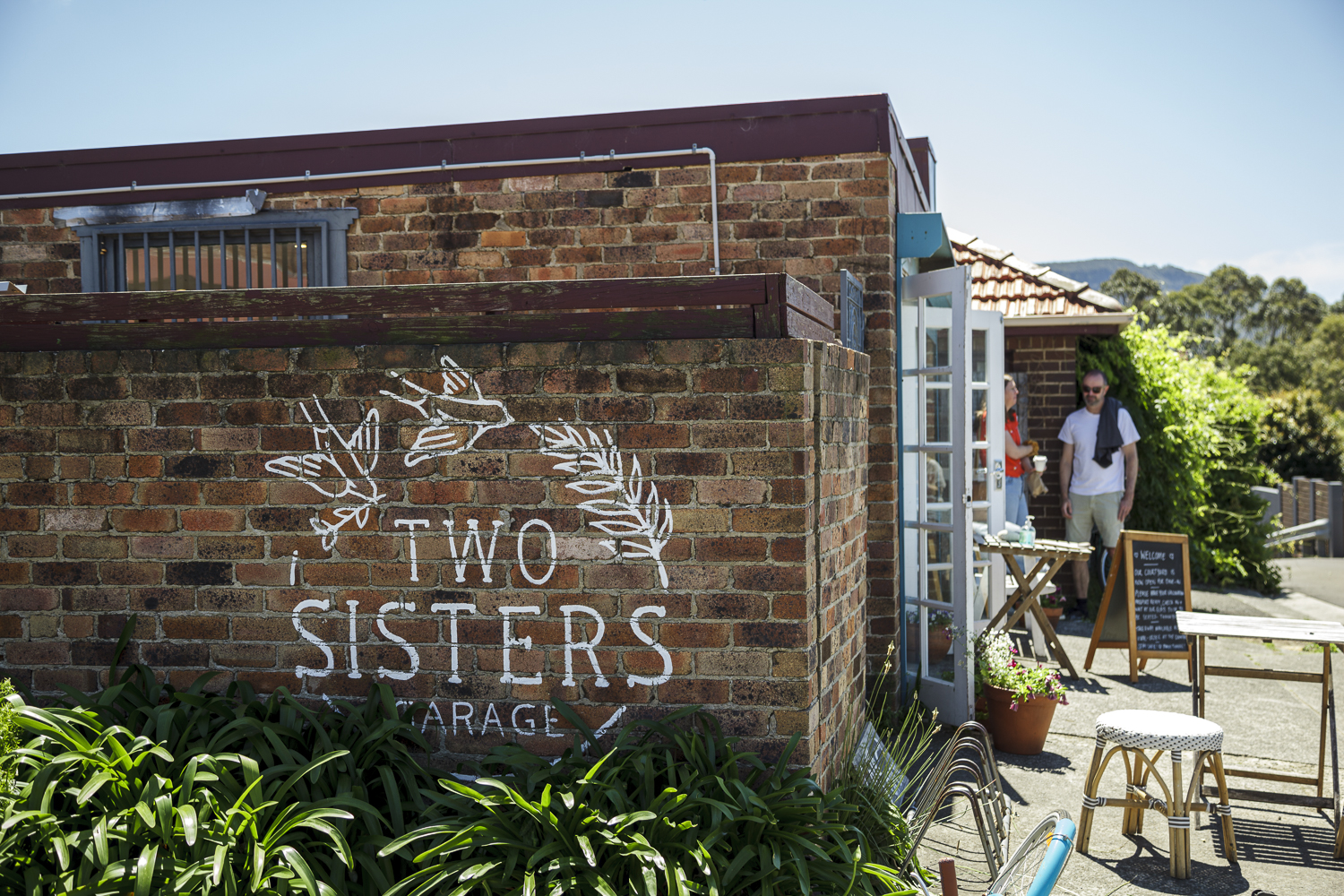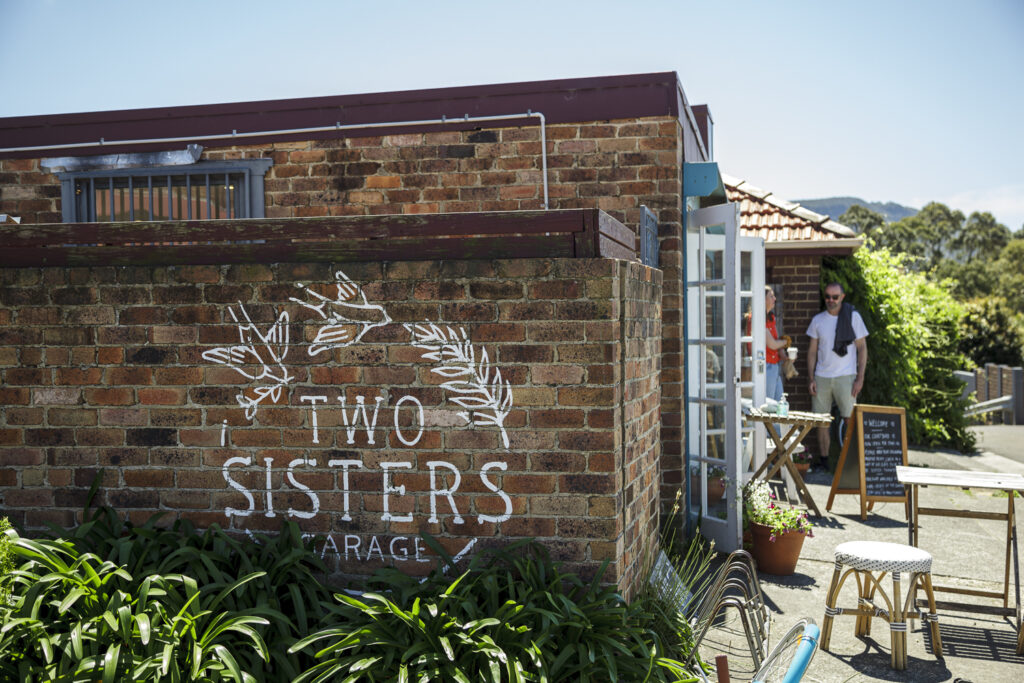 11. Two Sisters Garage
233 Princes Highway, Bulli
Serving the famous Little Marionette coffee beans you'll feel like you're back in Sydney's inner west with every sip. This all-female run cafe has a leafy outdoor courtyard where you can enjoy the beans on offer and delve into their delicious breakfast and lunch menu all with your pooch at your feet.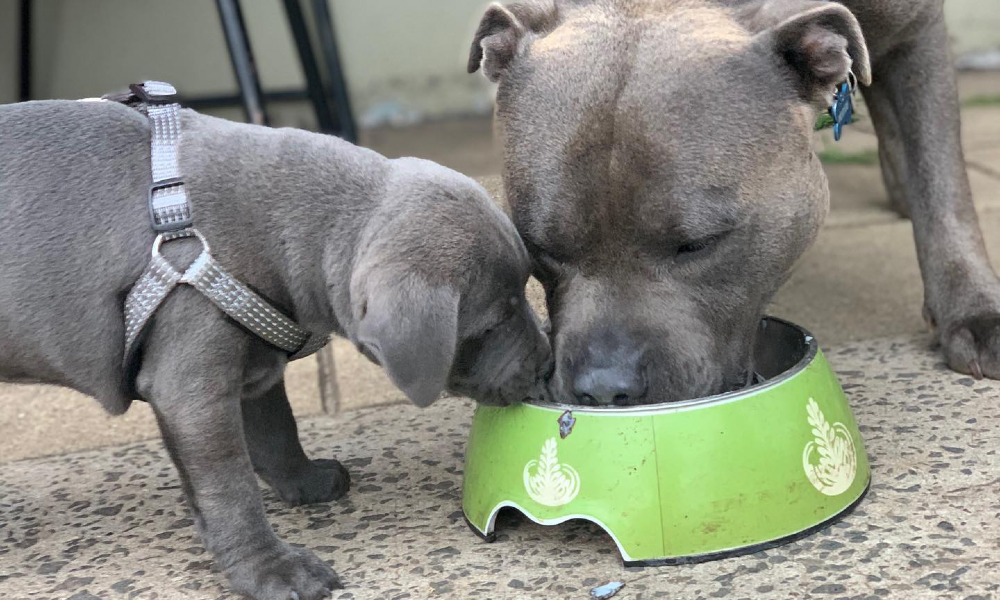 12. Honest Don's
2a McCauley Street, Thirroul
Just off the Thirroul high street you'll find Honest Don's, a tiny whole in the wall cafe with great street side seating and an epic breakfast menu. Sit back and enjoy your eggs and homemade beans as your pooch is spoiled with the cafe's famous puppuccino! Frothed milk and liver treats, just what your pup needs to start the day.


DOG FRIENDLY PUBS AND BARS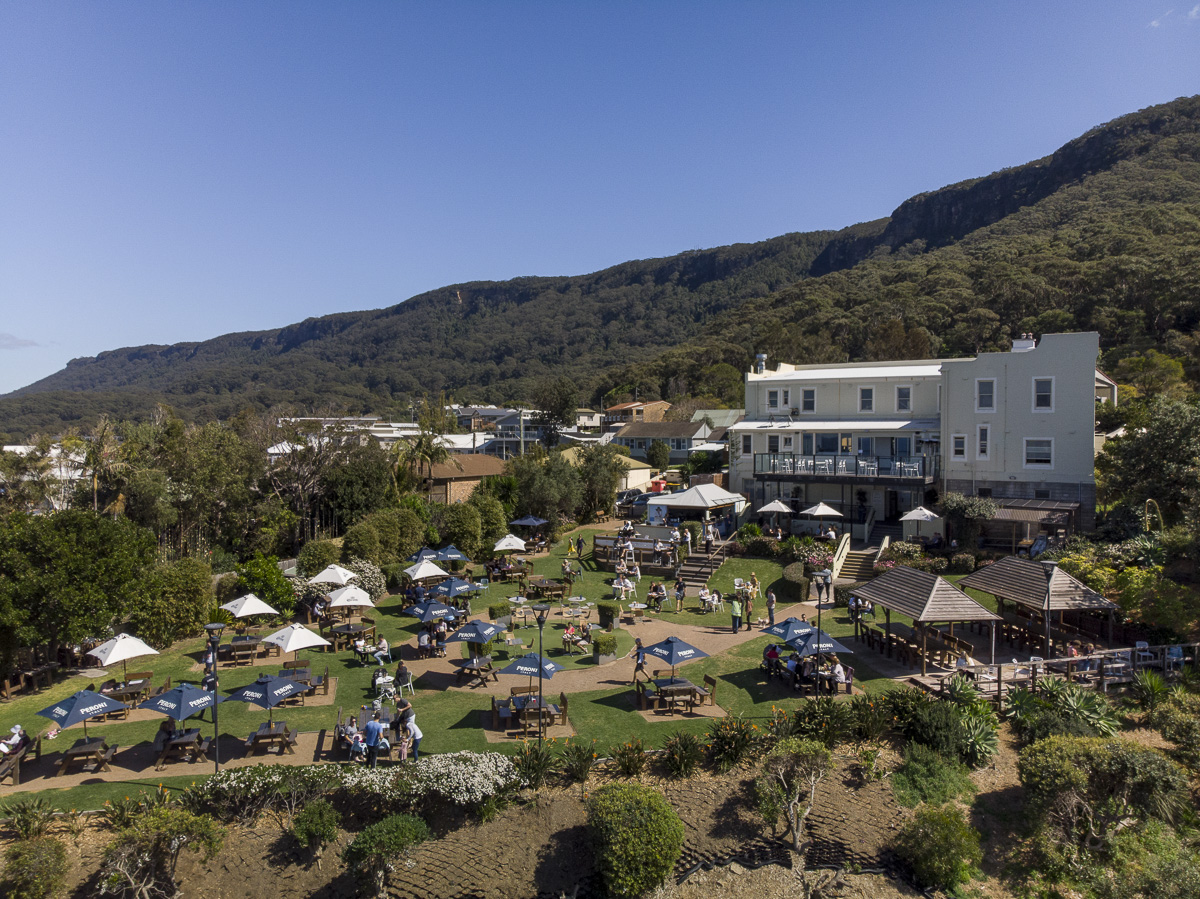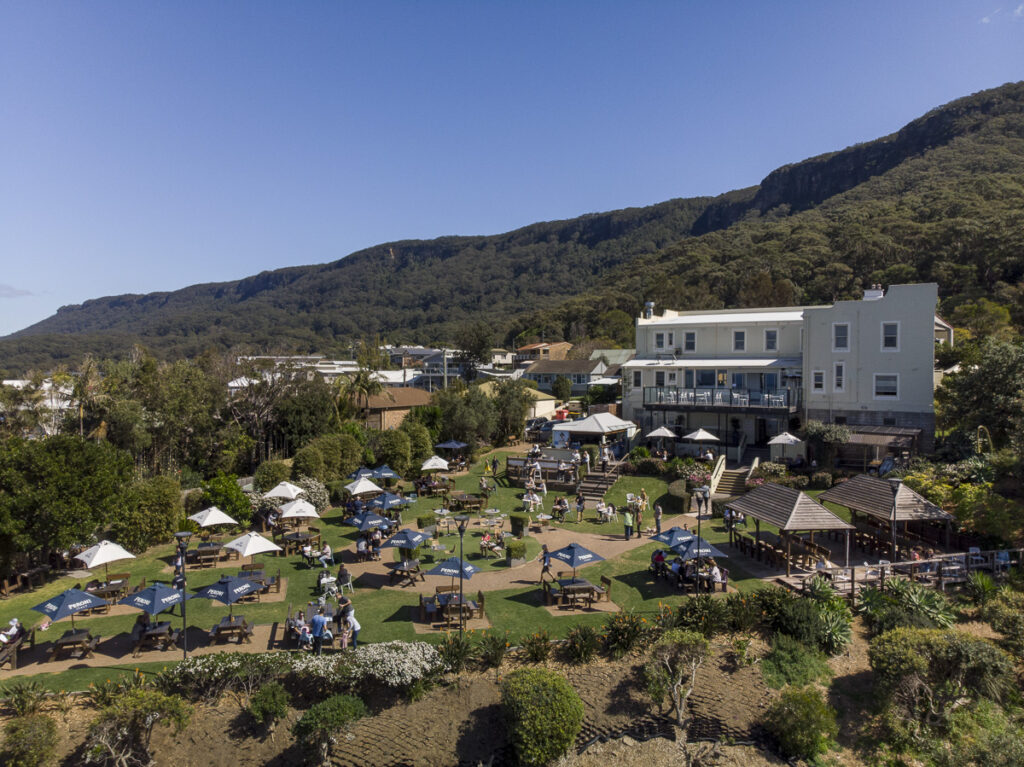 13. Scarborough Hotel
383 Lawrence Hargave Drive, Scarborough
Perched up high on the towering cliffs of Scarborough you'll find the iconic Scarborough Hotel. With its expansive sea cliff garden you can enjoy a cold beverage whilst taking in the views of the Pacific Ocean that go on forever. If you spot a whale you must ring the special bell at the outside bar to alert your fellow patrons. The sea cliff garden is dog friendly.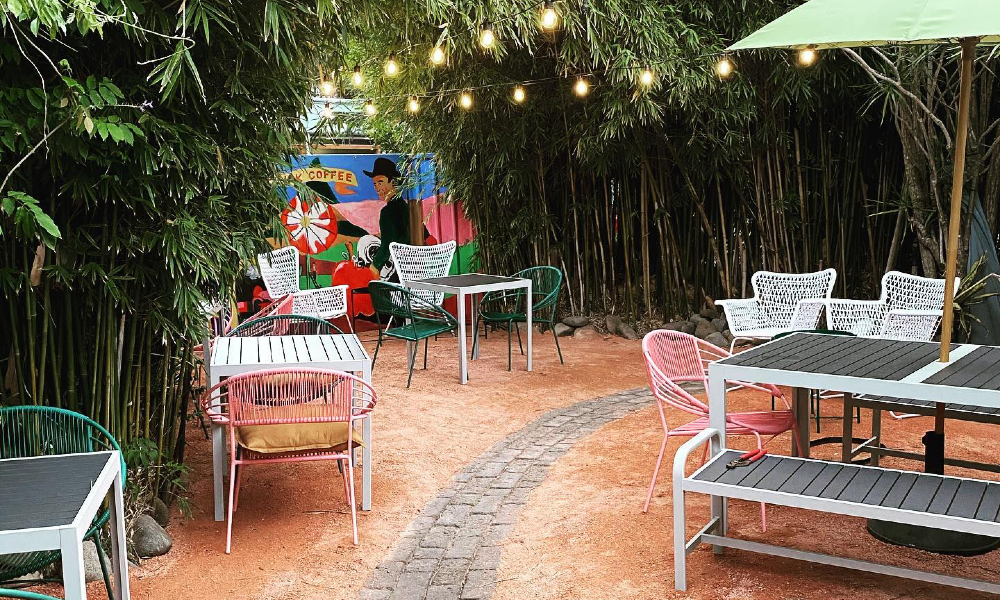 15. Two Mountains Merchant
364 Lawrence Hargave Street, Thirroul
This hidden treasure will have your dog drooling from the moment you are seated. The Two Mountains Merchant are dog friendly inside and out and the cafe gives every dog visitor a special dog sausage to enjoy while you indulge in their delightful menu.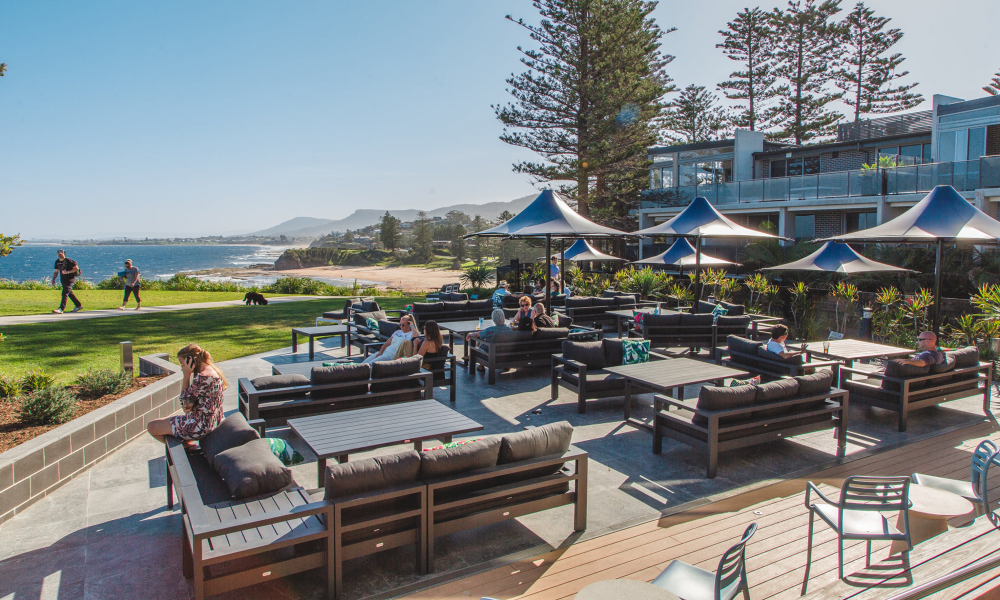 16. Headlands Hotel – Austinmer
Headland Avenue, Austinmer
Just a stone's throw away from the dog friendly beaches at Coledale and Austinmer you'll find the Headlands Hotel. Once a derelict bikie hang out, the newly built hotel has two large outdoor seating areas which are dog friendly. The garden area out the back is filled with comfy couches and looks south down the coast. Best enjoyed in the evenings when the sun is setting behind the escarpment.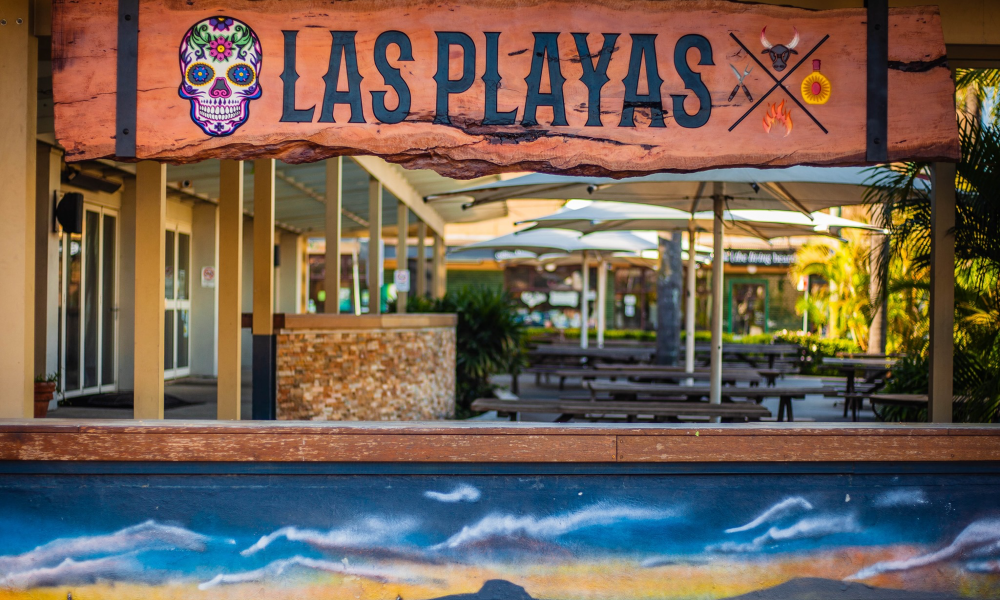 17. The Beaches Hotel – Thirroul
272 Lawrence Hargave Drive, Thirroul
The Beaches is the quintessential local hangout, this laid back drinking hole in Thirroul has a dog friendly beer garden out the front which overlooks Lawrence Hargrave Drive. Enjoy a drink in the late evening while listening to local live music.


There's a lot more to the Coal Coast than just these amazing dog friendly spots. Get down here and explore the region for yourself, you'll find so much more for you and your dog to enjoy on this unique and beautiful part of the NSW South Coast.
Written and Photographed by Meredith Schofield
For more amazing dog friendly travel advice from all around the country you can buy Meredith's new travel book 'Around Australia at 80ks' – Two humans, one dog and a bright yellow kombi on the road trip of a lifetime.' Available where all good books are sold.