Dog Friendly St Kilda, Melbourne
Dog Friendly Beaches, Parks Bars and more in St Kilda
This sunny suburb is a bustling mecca home to the famous St Kilda beach, Luna Park, and several dog friendly eateries, bars and cafes. St Kilda is a haven for people and dogs alike. The time seems to go by slower in these parts as backpackers frolic on the beach and the locals sit at cafes and sip their coffees while people watching.
Off Leash Beaches, Parks & Dog Friendly Walks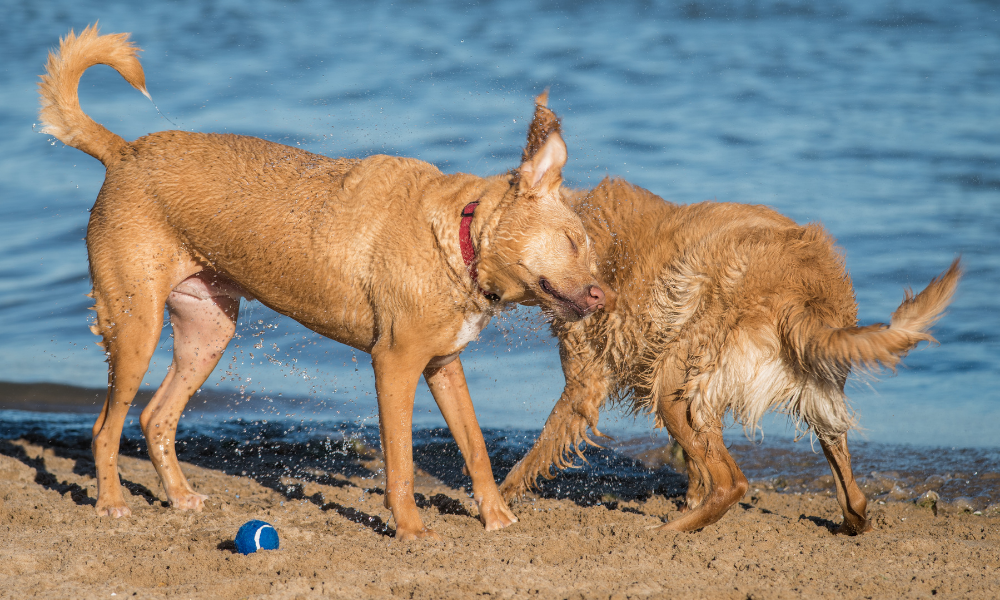 West Beach & St Kilda Harbour
West Beach and St Kilda Harbour are two beaches that are 24 hour off leash zones for your pup, every day of the year! Tucked beside St Kilda pier, these beautiful beaches are some of Melbourne's most dog friendly spots. There's lots to explore and sniff out, plus plenty of other furry friends for your pooch to greet. When you and your pup are all frisbee'd out, head on over to the nearby West Beach Bathers Pavilion, a dog friendly bar with a great vibe and stunning views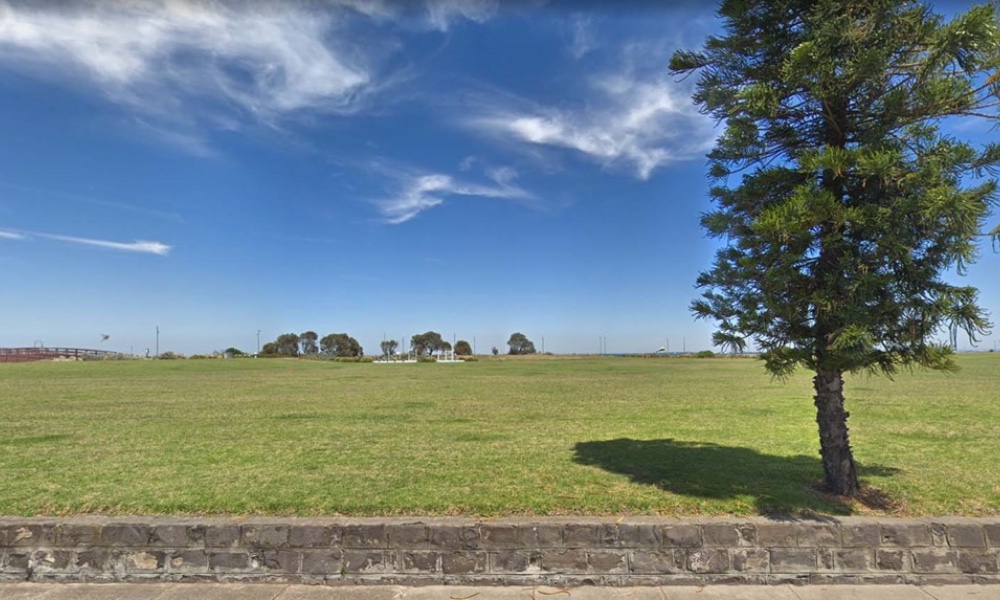 M.O. Moran Reserve
If you want a spacious, green park that has an ocean view, then be ready to fall in love. This gem lets you unleash your furry friend while you enjoy the scenery and an ocean breeze. Have a picnic, relax and watch the skydivers come flying in as it is also their landing area.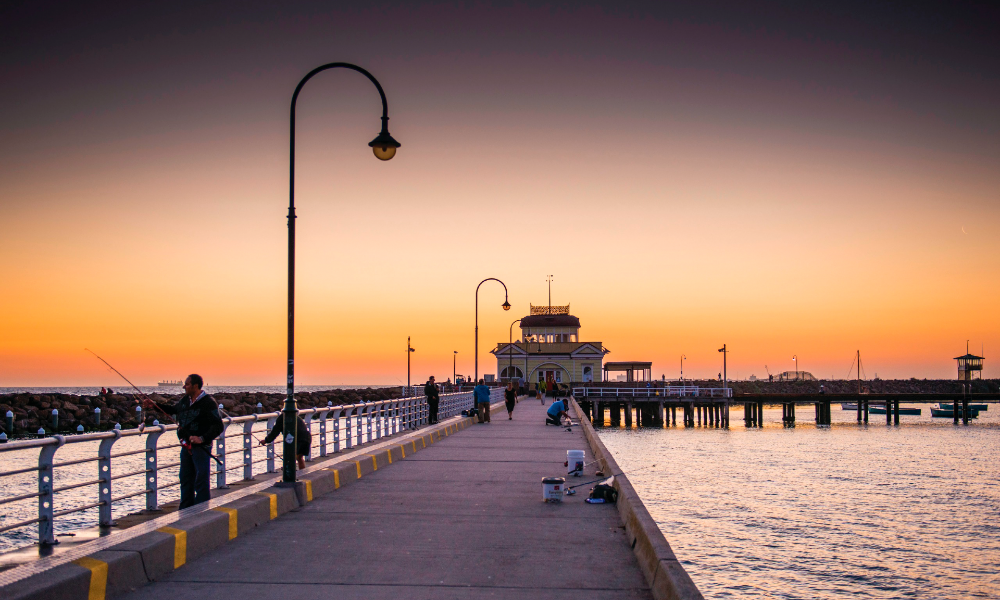 From St Kilda Foreshore to Acland Street
This lovely stretch of St Kilda is probably the most visited and well-known part of the suburb. With picturesque scenes, beach and reserves along the foreshore, you and your pup can go sightseeing while out for a walk. You can take your dog out onto the pier (it's a long one), but it must always be on a leash. Another word of note is that dogs are only allowed on the west side of the beach.
Once you have had a good stroll along the beach, make your way to Acland Street. This famous street has seen it undergo some serious changes in the last five years. With half of the street now car-free and just a walkway and tram track, you and your pooch would think you're in Europe. The street stretches for a few hundred metres, and it is where you'll find cafes, eateries and retail shops. Some retail shops are dog friendly (they'll usually have a sign out front if they are), so you can shop and get your best friend's approval.
Grab a coffee from one of the many cafes on Acland Street and head to J Talbot Reserve (on leash). This reserve has an excellent patch of greenery, and a couple of great cafes and bakeries nearby, alongside the famous 'Great Wall of St Kilda'. Your pup might not appreciate art, but you can, with coffee and leash in hand.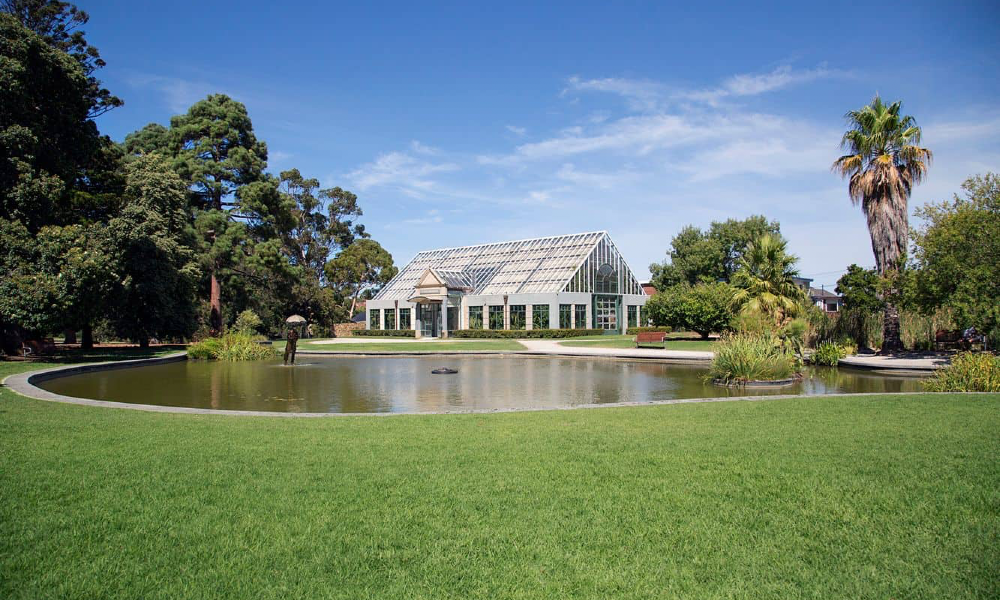 St Kilda Botanical Gardens
Botanical Gardens is a pawfect little gem that hides behind the busy streets of St Kilda. As its name suggests, this is a botanical garden with many local and rare fauna on display around the park. It even has its own little greenhouse inside the grounds. Enjoy a walk with your pooch and bask in its tranquillity.


FREE V.I.POOCH TRAVEL KIT WITH EVERY BOOKING!
Dog Friendly Pubs & Bars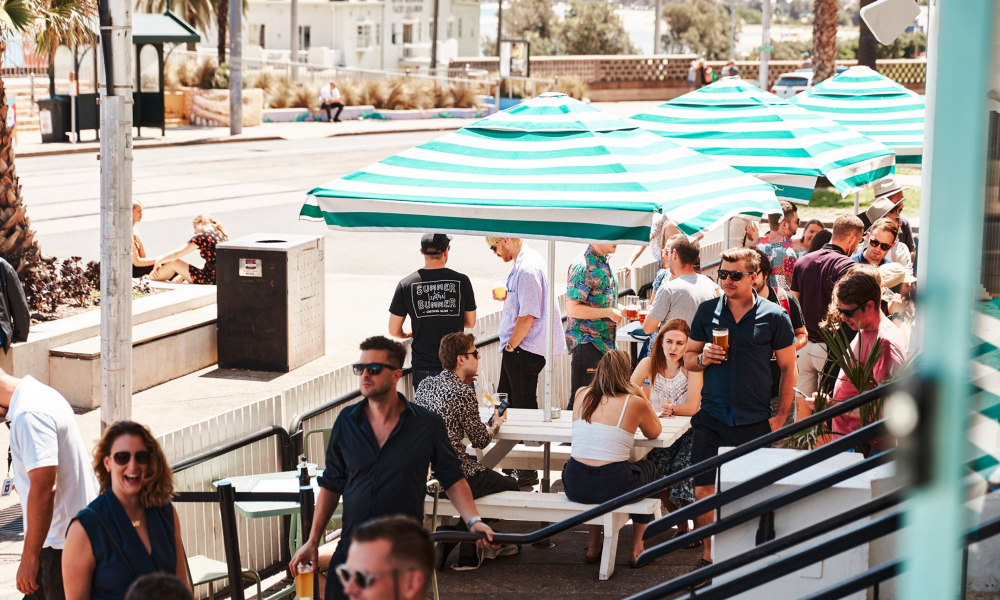 The Esplanade Hotel
11 The Esplanade, St Kilda
Let's start with the big gun here! The iconic Esplanade hotel sits near the foreshore and overlooks the bay. It has gone under some serious renovations in the last couple of years, but its soul remains intact. Housing several different eateries within the pub, you can have a meal and sit at the front beer garden, where your furry friend is more than welcome to join you.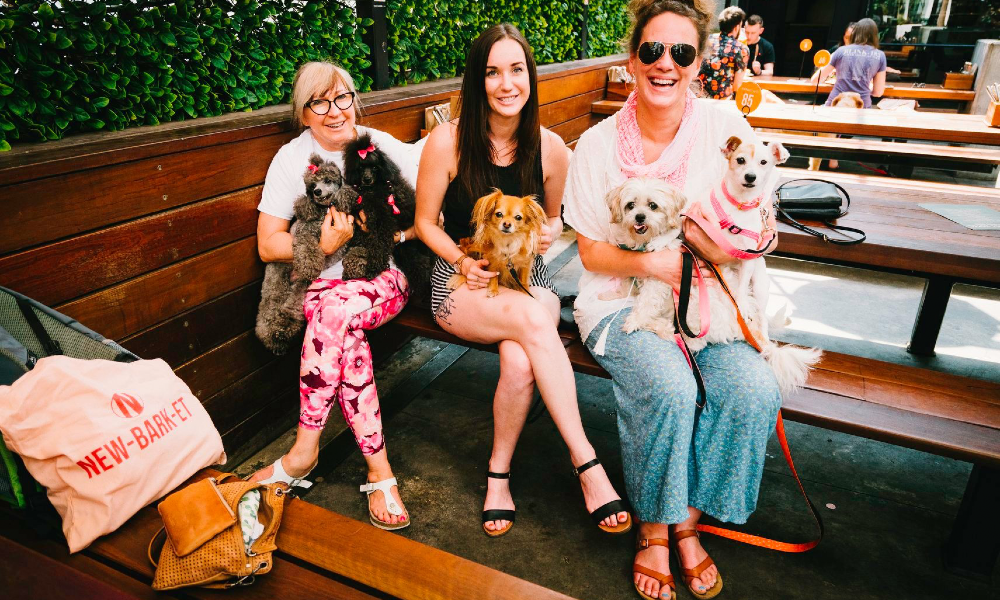 The Newmarket Hotel
34 Inkerman Street, St Kilda
Located in the heart of St Kilda, the dog friendly Newmarket Hotel nods at the St Kilda of old while boasting its own urban style. They are also a regular host for various dog parties!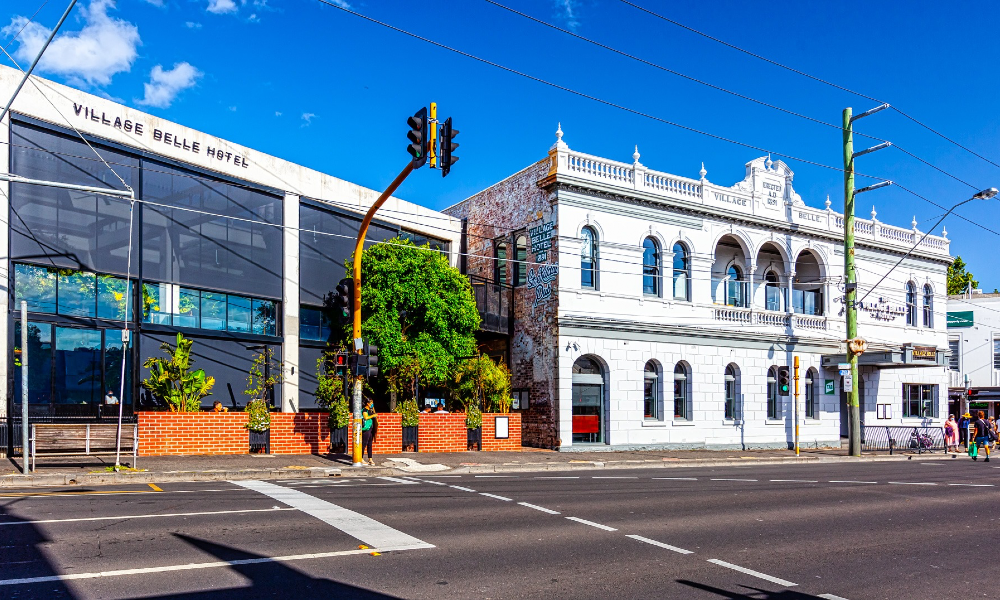 Village Belle Hotel
202 Barkly Street, St Kilda
This modern style pub has a retractable roof and sits at the very top of Acland Street. This sports-heavy venue sees a big crowd come in on game days, but it also has pub food and a warming décor. Your pup can have a well-rested pit stop in the courtyard.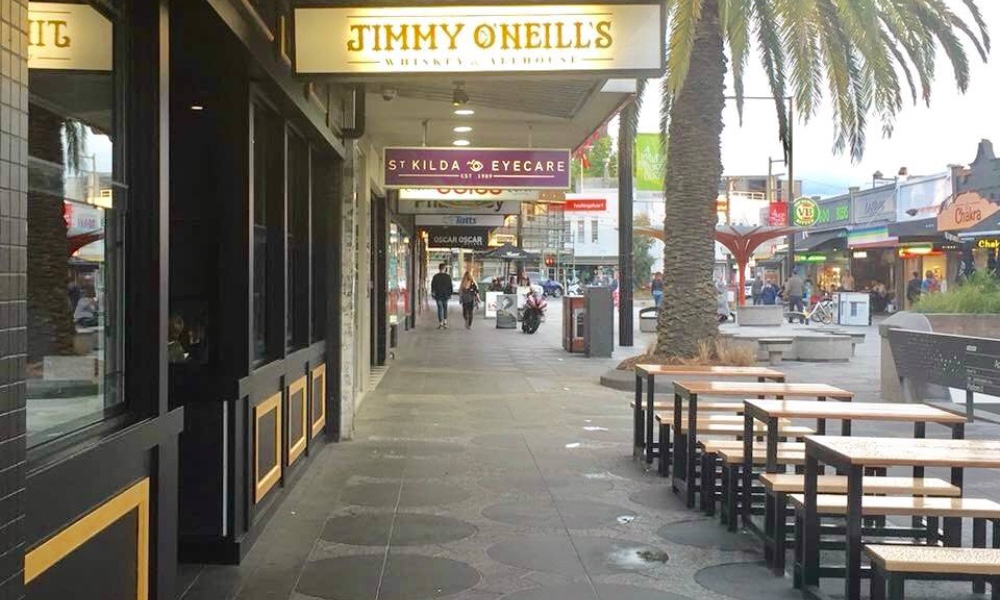 Jimmy O'Neill's Whiskey and Ale House
154-156 Acland Street, St Kilda
Although you can probably tell that this is an Irish venue, it is more of a bar made to look like a pub. Don't be fooled by its small appearance, as it packs a punch. It has food, Irish whiskey and of course, Guinness. Your dog can join in the festivities in the quaint outside area out-front while you enjoy some of Ireland's finest.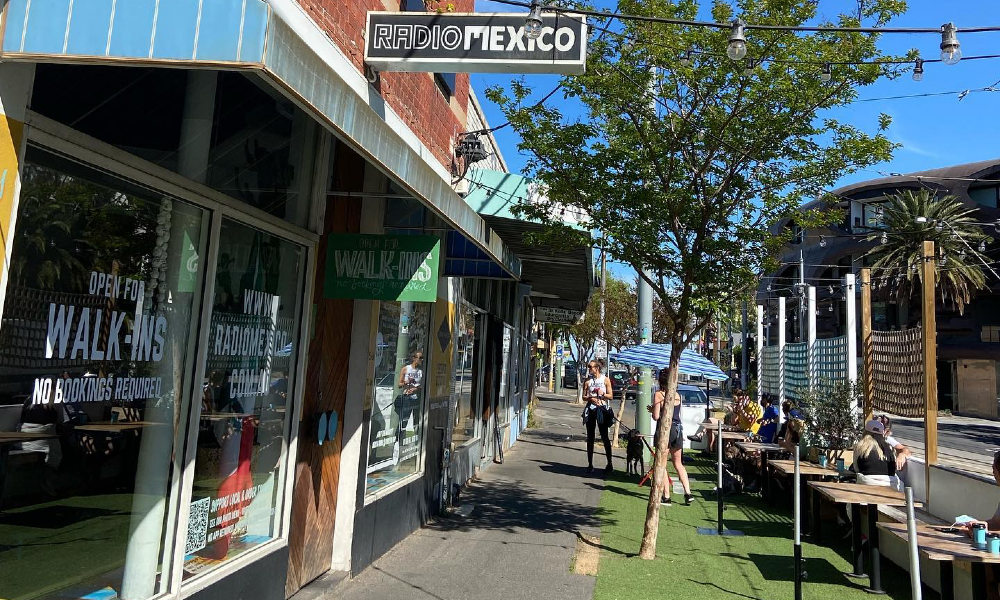 Radio Mexico
13 Carlisle Street, St Kilda
"We love our dogs at Radio!"
This dog friendly bar welcome dog on the outdoor area, which is not fully covered but shade is provided by the trees and umbrellas. Water bowls are always available.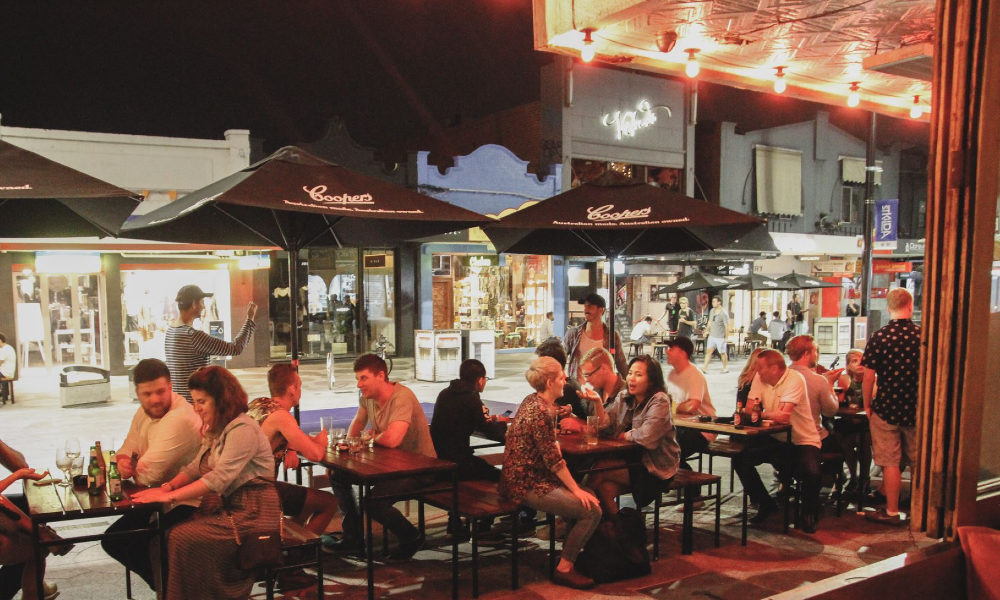 Big Mouth
168 Acland Street, St Kilda
This two-storey venue houses a pool table and games upstairs, but your furry companion can only enjoy the venue outdoors, unfortunately; but fear not, as their street seating is spacious and accommodating. It is a cocktail bar first and foremost, so it would be a shame if you didn't just drop by and enjoy a cocktail or two.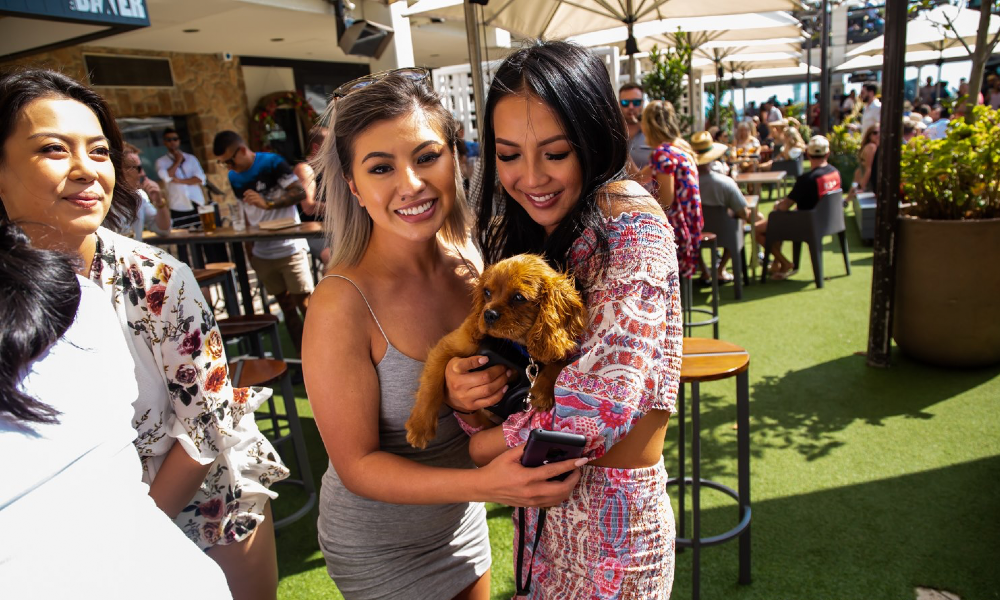 Republica
1A-1D/10 Jacka Boulevard, St Kilda
This venue is bustling during summer, and you'd be lucky to find a spare seat in the house. It houses a big beer garden out front on the waterfront and a spacious courtyard out back. A perfect place to take your furry friend and enjoy a cocktail while watching the sunset.


FREE V.I.POOCH TRAVEL KIT WITH EVERY BOOKING!
Dog Friendly Cafes & Eateries
La Roche
138-140 Acland Street, St Kilda
As casual dining goes, you won't get a more laid-back vibe than here – their parmas are massive, and their happy hours generous. Your pooch can enjoy their outdoor seating area and relax, day or night – as they also make a great breakfast.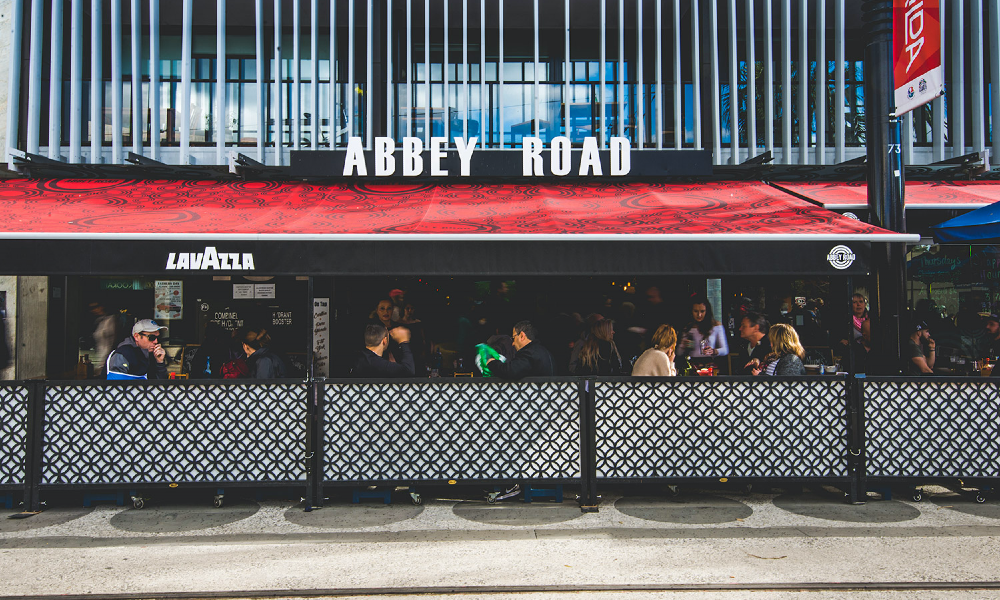 Abbey Road, St Kilda
129-131 Acland Street, St Kilda
As the name suggests, the venue is dedicated to rock and roll, which is decorated with memorabilia throughout the venue. With signed guitars, framed photos and limited-edition vinyls hanging on the wall, you'd think you were in an American diner. They have plenty of outdoor heated seating, where you can choose from an array choice of food or enjoy a cup of coffee while your dog says hello to people passing by.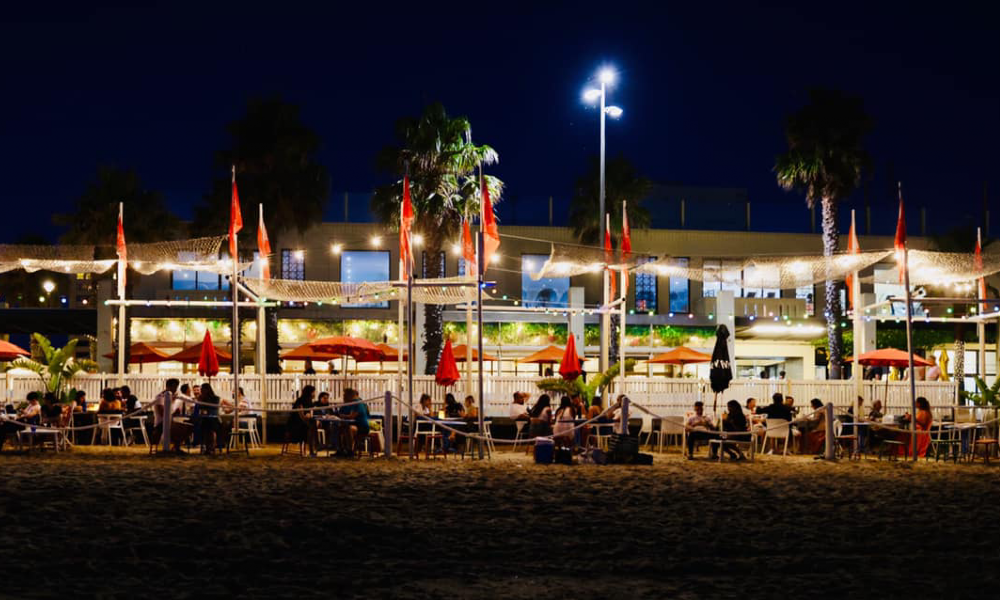 Beachcomber Café
10-12 Jacka Boulevard, St Kilda
The perfect venue if you like seafood and beachside views. Dogs can enjoy the sun in their front courtyard as you enjoy a coffee and breakfast. This place gets busy during summer, so best to book.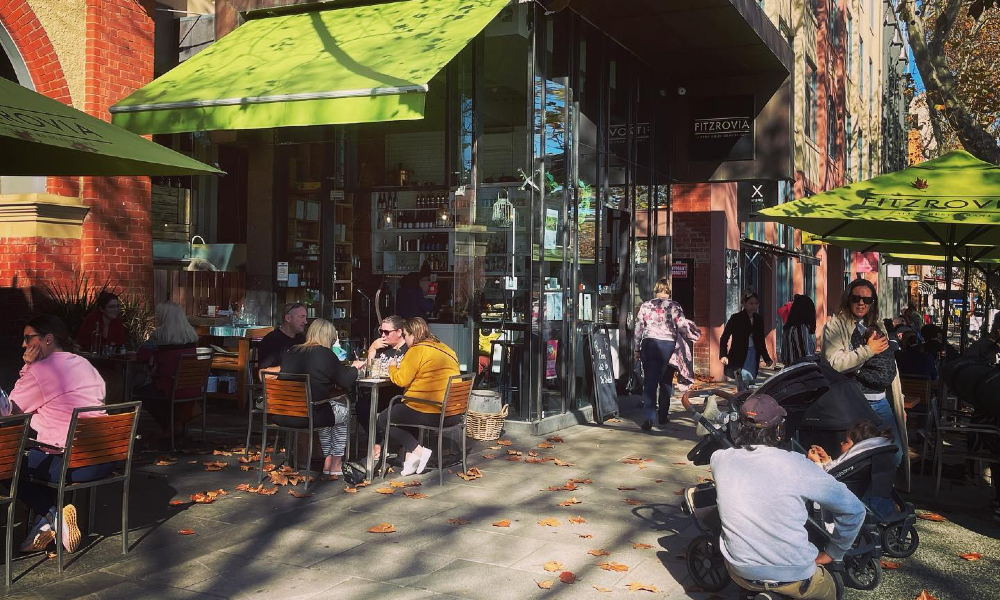 Fitzrovia
155 Fitzroy Street, St Kilda
This place serves up a great breakfast and caters for the pickiest of eaters. They have plenty of room in their outdoor area for your dog to enjoy a water bowl. It overlooks Albert Park and serves contemporary Australian meals. A great pit stop after a stroll in the park.