Dog Friendly Travel Guide: Orange & Mudgee
Dog Friendly Holidays & Travel: The Ultimate Guide To Dog Friendly Orange & Mudgee
by Rebecca Francis & Pupsy
Surrounded by valleys of vines, peaceful farmland, and rolling hills, it's impossible not to be charmed by the Central West region of New South Wales. Renowned for its exceptional food and wine, there is much to smell, taste and explore with your canine companion in tow. Discover dog friendly cafes, walks, pubs, wineries and accommodation in the historic towns of Orange & Mudgee.
A mere four hours from Sydney, and around two hours apart from one another, the regional towns are known for their cool climate wines and their sensational, fresh produce. Wander, shop, eat and drink your way around this stunning region with your furry friend by your side. Dog-friendly wineries, pubs, cafes and more are all eagerly awaiting your arrival. Coffee stops, long lunches, and wine tasting are just the beginning!
We found out just how dog-friendly the wine region of Orange and Mudgee in Central West New South Wales really is…. This is what also makes this historical town at the foothills of Great Dividing Range a pur-fect place to go on holiday with your dog.
Dog Friendly Accommodation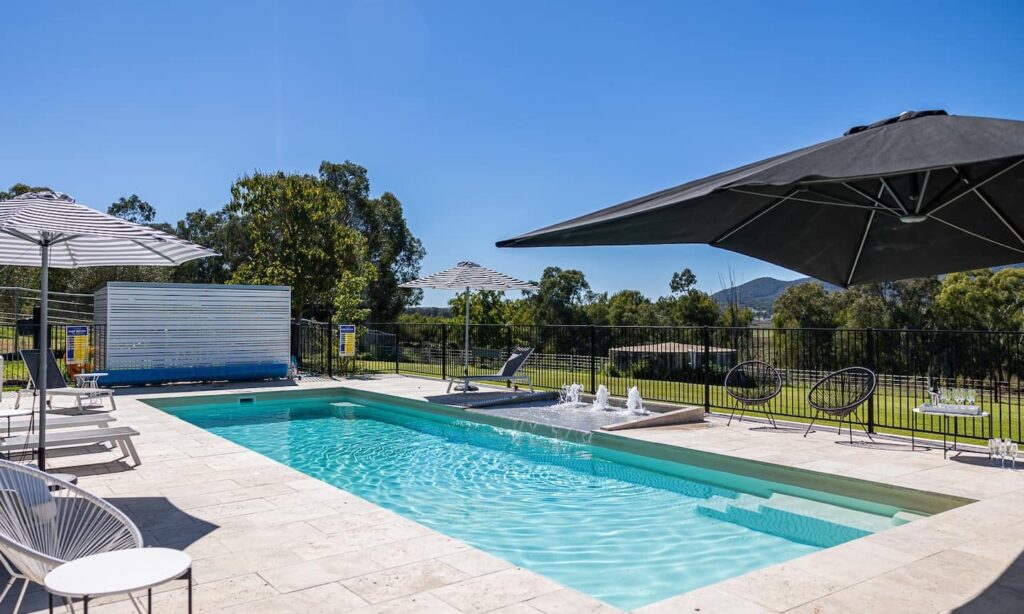 Bonnie View, Mudgee
Guests 12 | Bedrooms 6 | FROM $1300
Located in arguably Mudgee's finest street 'Bonnie View' is a magnificent dog friendly residence enjoying panoramic rural views, open light-filled living spaces. A secluded haven offering peace and privacy, with breathtaking views over farmland towards Mudgee. Sparkling in-ground pool, perfect for Summer; with ducted AC throughout. 6 BRs, 4 BRs vacation home of your dreams. Unlimited wifi and entertainment options to keep the adults and children well amused you'll want to make this home your annual escape!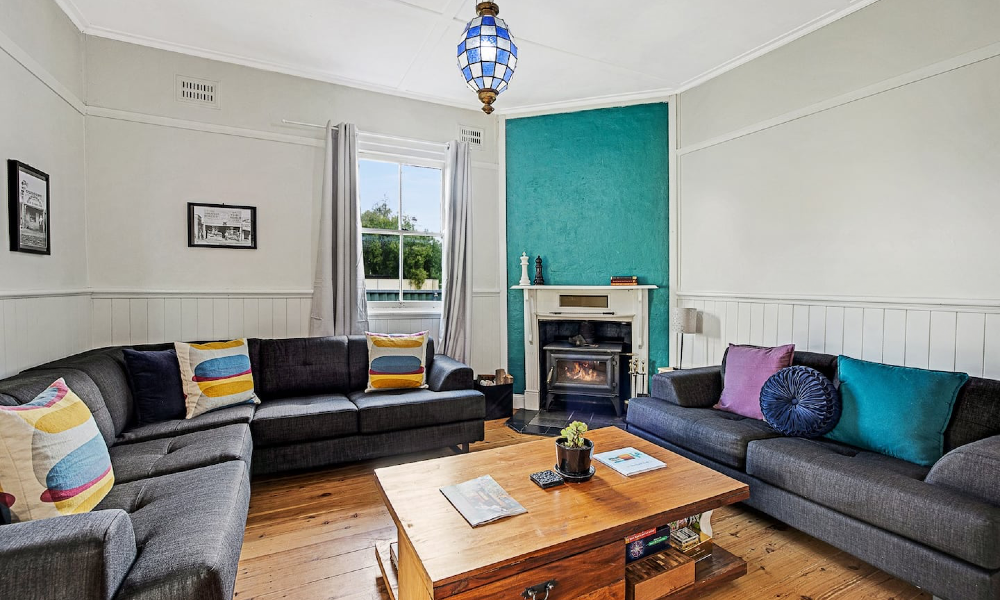 Nineteen, Mudgee
Guests 6 | Bedrooms 3 | FROM $315
Comfort awaits! NINETEEN is your dog friendly accommodation in the heart of Mudgee and only minutes from the best dog friendly wineries on offer. A stone's throw from dog friendly cafe, bars, pubs, and boutique shops at Market Street. This gorgeous 3 BDR, 2 BR charming cottage style home comfortably sleeps 6. NINETEEN has been furnished with love and stocked with quality supplies. Designed to enable families and friends to relax and reconnect.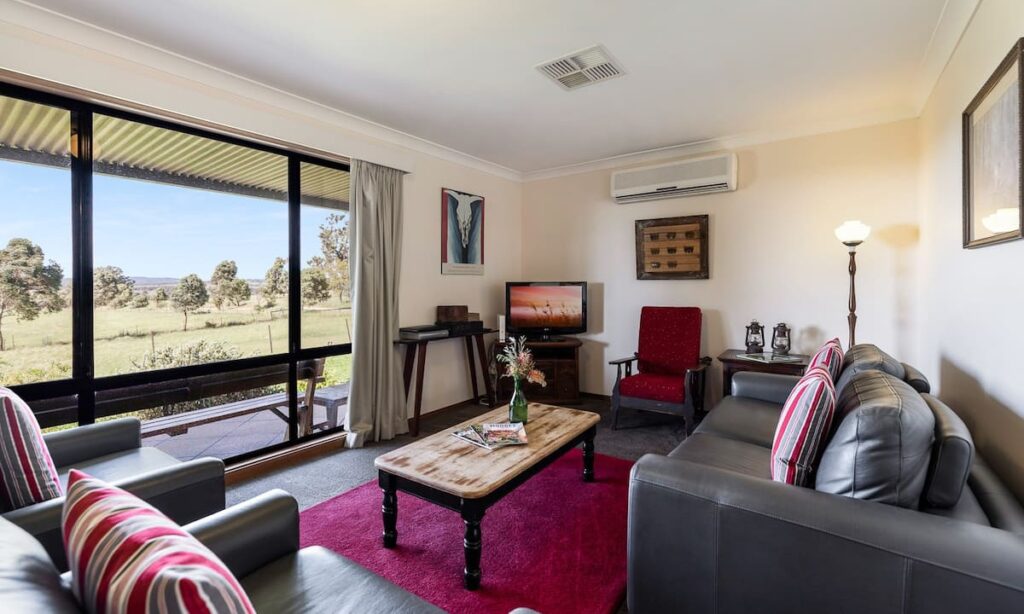 Ithaca, Frog Rock
Guests 7 | Bedrooms 3 | FROM $375
Ithaca Cottage offers a 3 bedroom, 1 bathroom dog & pet friendly accommodation, sleeping 7 with a view of the Mudgee valley and natural surrounds you will be blown away by. A well-equipped and appointed home that provides you with everything you need for a great weekend away with your family or friends (furry ones included). Rain harvested and solar-powered. With a wood-burning fireplace for winter warmth, reverse cycle AC in living rooms, and ducted evaporative AC for comfort all year round. This dog friendly cottage will provide the perfect escape to stay and relax or explore from!
Dog Friendly Wineries, Pubs & Breweries
Orange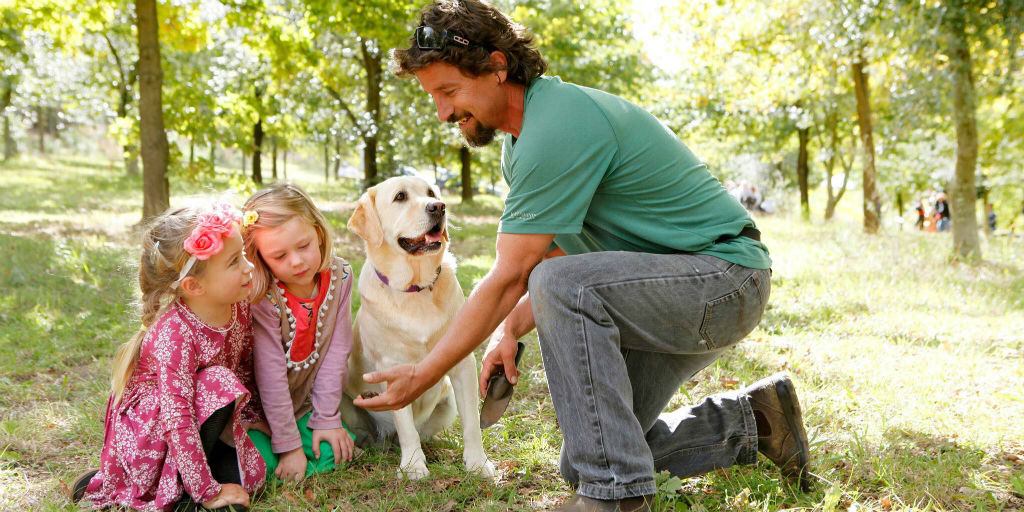 Borrodell Vineyard
298 Lake Canobolas Road, Orange
The sky is the limit at this vineyard! Sitting pretty at an altitude of over 1030 metres above sea-level, Borrodell is one of Australia's highest vineyards and is known for its stunning views, sensational cool climate wines and an abundance of fresh produce grown on the property. Dogs are welcome on the terrace with owners as long as they stay on a lead. The accomodation is also pet friendly if you decide to stay the night after a few glasses of vino.
---
Mudgee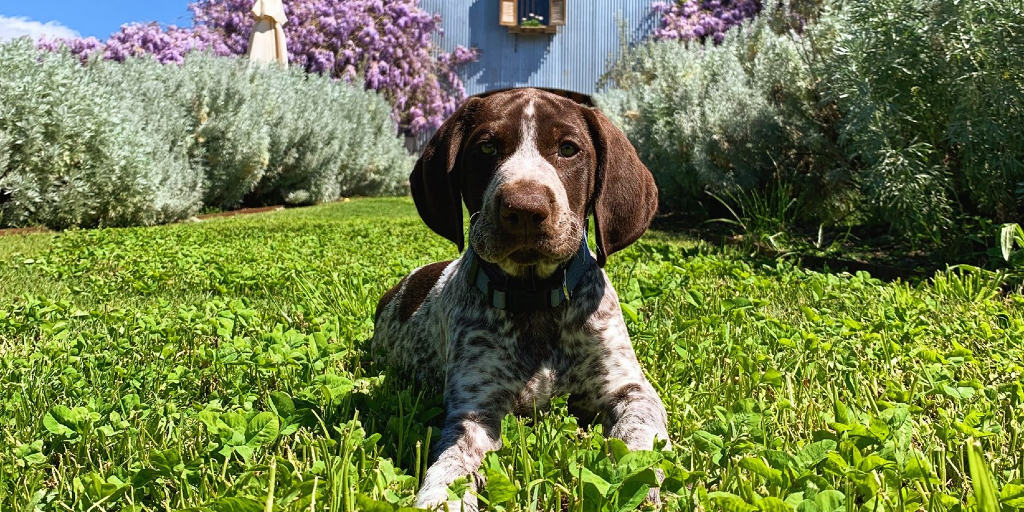 Lowe Family Wine
Tinja Lane, Eurundee
Dog friendly cellar door at Lowe Family Wine Co is a reflection of David Lowe and Kim Currie's dedication to their crafts. Made up of Lowe Wines, Zin House and The Pavilion, LFWC's focus is on providing premium regional food, wine & experiences here in Mudgee. Alongside David and Kim lies a team of exceptional people we like to call the 'Tinja Team'. With over 30 people working across the vineyards, gardens, kitchens, winery and office, each person plays an essential role in creating the ultimate Lowe Family Wine Co experience. Dogs are welcome everywhere at the venue, they even have a Doggy Dining Room in the restaurant where guests can bring their furry family members.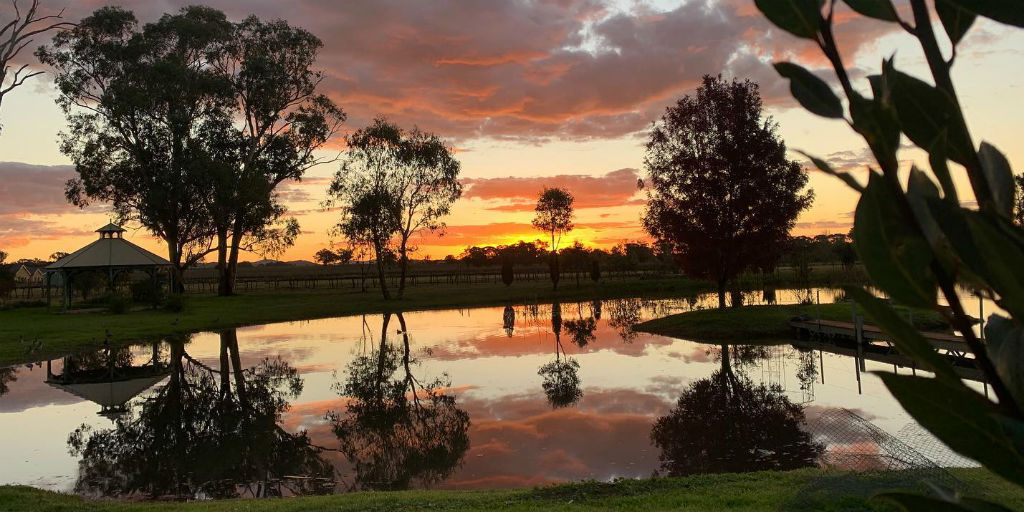 Di Lusso Estate
Eurunderee Lane, Mudgee
Just 7kms outside Mudgee, di Lusso Estate offers Australia's largest range of Italian varietal wines. The cellar door is open every day of the week and has over seventeen Italian varietals and blends available for you to try, while the restaurant is open for lunch only, Friday-Saturday, and serves up delicious wood-fired pizza and regional Mediterranean favourites. Dogs are allowed to join you in the cellar door, and water bowls are readily available at the outdoor seating area.
---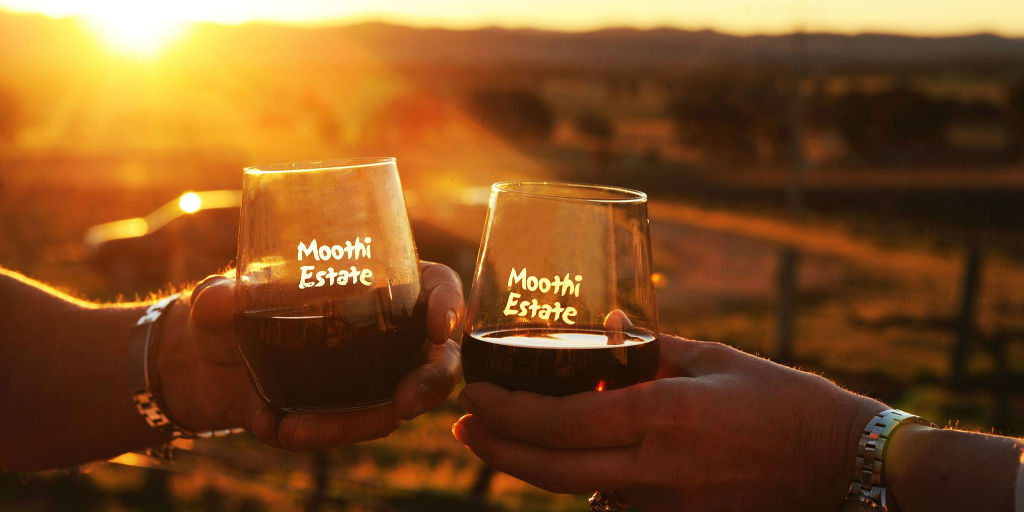 Moothi Estate
85 Rocky Waterhole Road, Mudgee
Located on the northwest facing slopes of Mount Frome, Moothi Estate offers award-winning wines, spectacular views and generous lunch platters. Dogs are welcome to join owners in the cellar door and there is air-conditioned indoor seating and heated outdoor seating for the cooler months. They even have two cellar door dogs of their own who love to play with guests.
---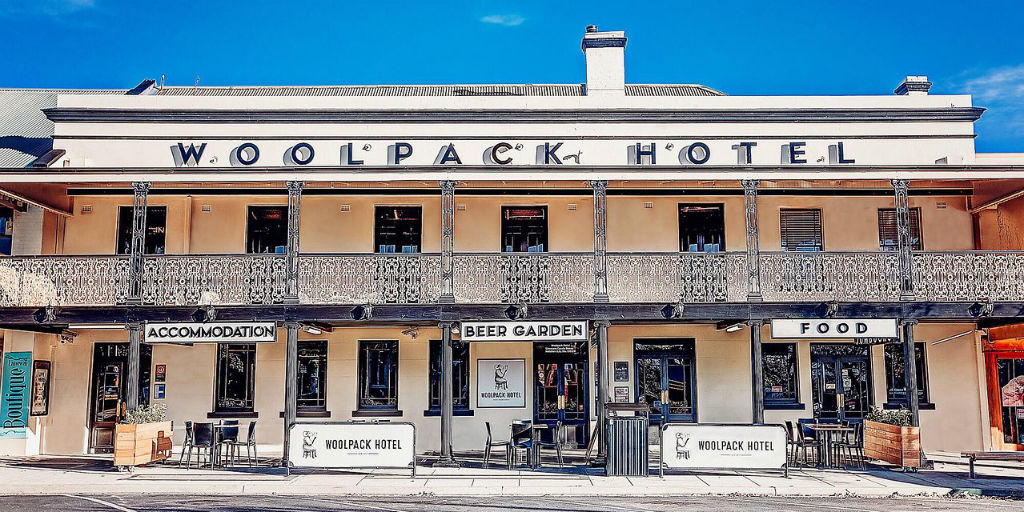 Woolpack Hotel
67 Market Street, Mudgee
Tuck in to some great pub food at the lively Woolpack Hotel, an iconic country hotel located in the heart of Mudgee. Full of country charm, there are plenty of spaces for you to enjoy a local wine, cocktail or craft beer. Your furry friend is welcome to join you in the covered outdoor area and water bowls are readily available.
---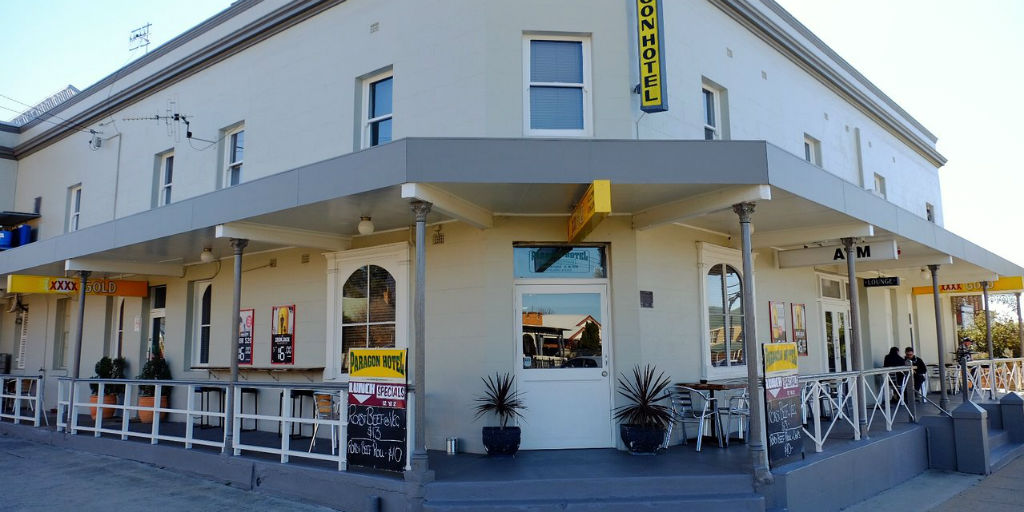 Paragon Hotel
38 Perry Street, Mudgee
A popular watering hole for the locals, the Paragon Hotel serves up some delicious meals and icy cold drinks. There is a beer garden out the back and a front verandah, both are covered and have water bowls ready to rehydrate your canine pal.
---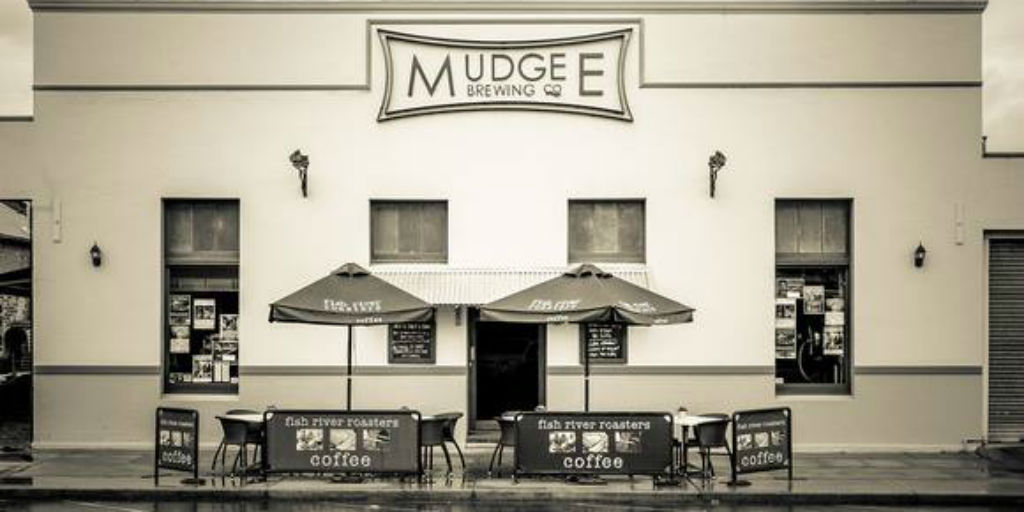 Mudgee Brewing Co.
4 Church Street, Mudgee
For a true local beer, head to Mudgee Brewing Co. just a short distance from the town centre. The brewing takes place in a rustic 100-year old red brick former wool store owned by the Anglican Church and you can learn the history of how the company established itself in 2007 following the footsteps of Dressler's Brewery, and taste the famous 'Mudgee Mud' beer. Dogs are more than welcome in the courtyard and out the front of the building. There are also dog biscuits on hand if they fancy a tasty treat!
---
FREE V.I.POOCH TRAVEL KIT WITH EVERY BOOKING!
---
Dog Friendly Cafes
Orange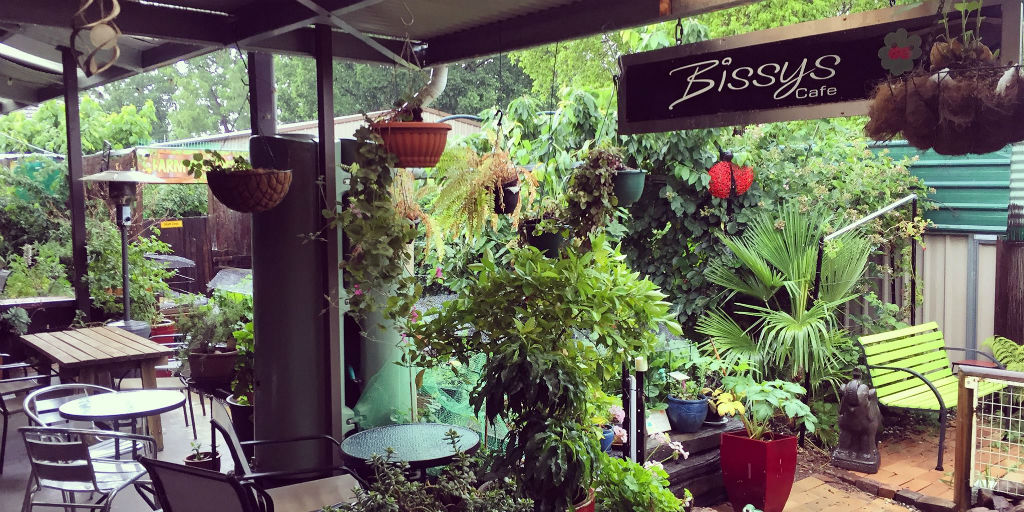 Bissy's Cafe
889 Warrendine Street, Orange
Gather for wholesome and nutritious home cooked food at Bissys, a popular permaculture cafe in the heart of Orange. Enjoy the sun with your pup out in the cosy garden area where there is plenty of shade and water available.
---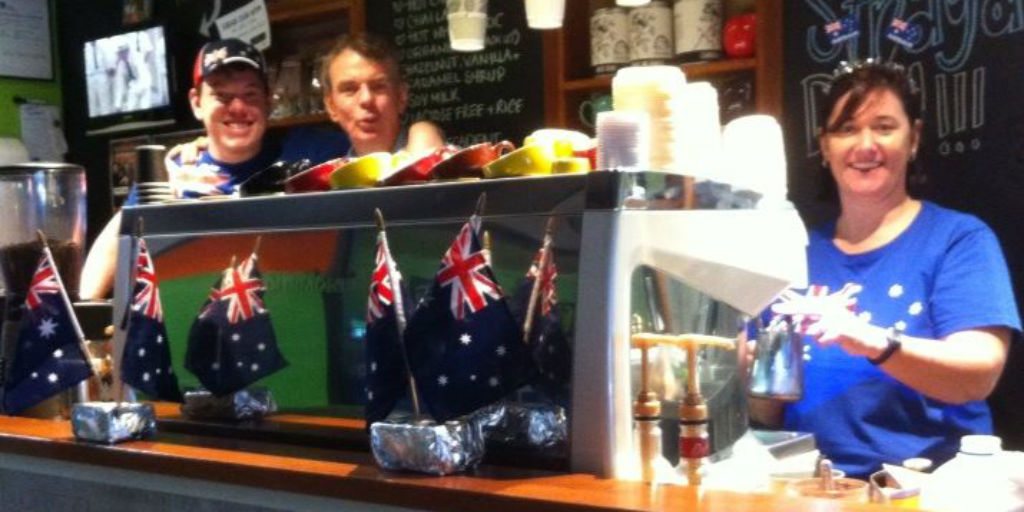 Scrumptious On Summer Cafe
142 – 146 Summer Street, Orange
With hearty, homemade food that's full of flavour using fresh produce and teamed with great coffee, this cafe certainly lives up to its scrumptious name. There are plenty of tables outside, some which are well covered in case it rains, for you to sit with your pooch as you peruse the varied food and drink menu and watch the world go by.
---
Mudgee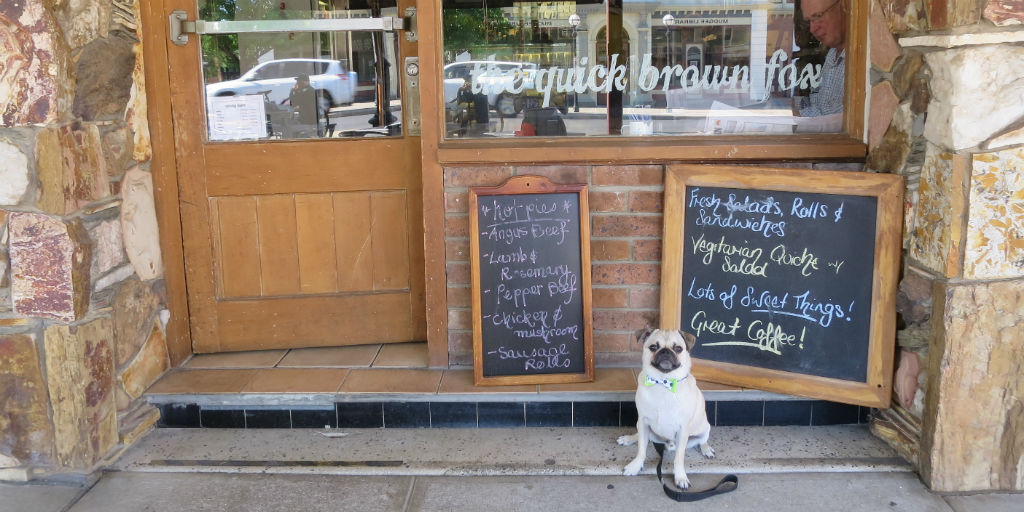 The Quick Brown Fox
79 Market Street, Mudgee
Located in the heart of Mudgee, The Quick Brown Fox should not be missed when you're on the hunt for a caffeine fix or a bite to eat. The quiet little cafe is dog friendly and there are various sized, covered tables outside where you can sit with your pet pal.
---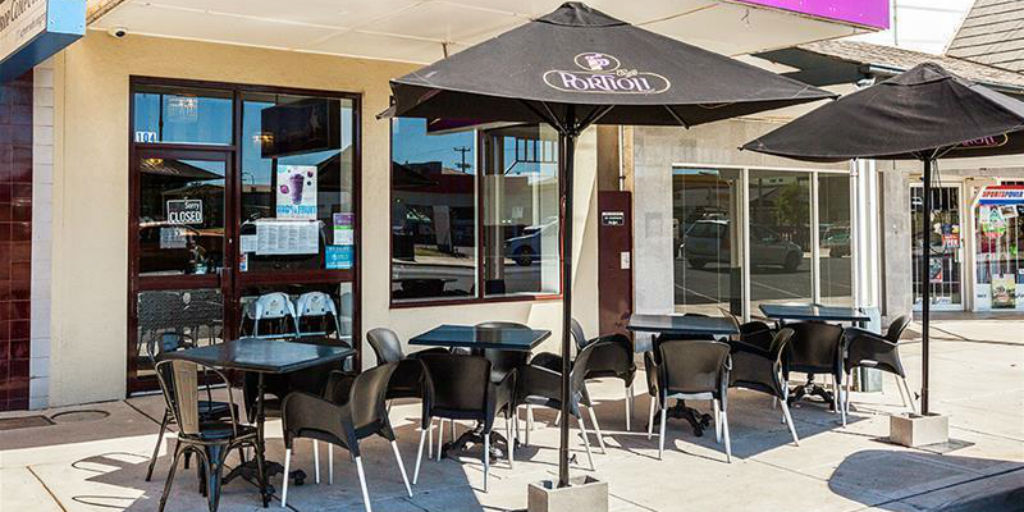 The Dancing Goat
104 Church Street, Mudgee
For gourmet food and great coffee in the centre of Mudgee, take a seat at The Dancing Goat. Known for its mouthwatering menu and friendly staff, this colourful cafe allows you to sit outdoors with your pet. The seating outside is partially covered and there are also umbrellas available in case the heavens open up.
---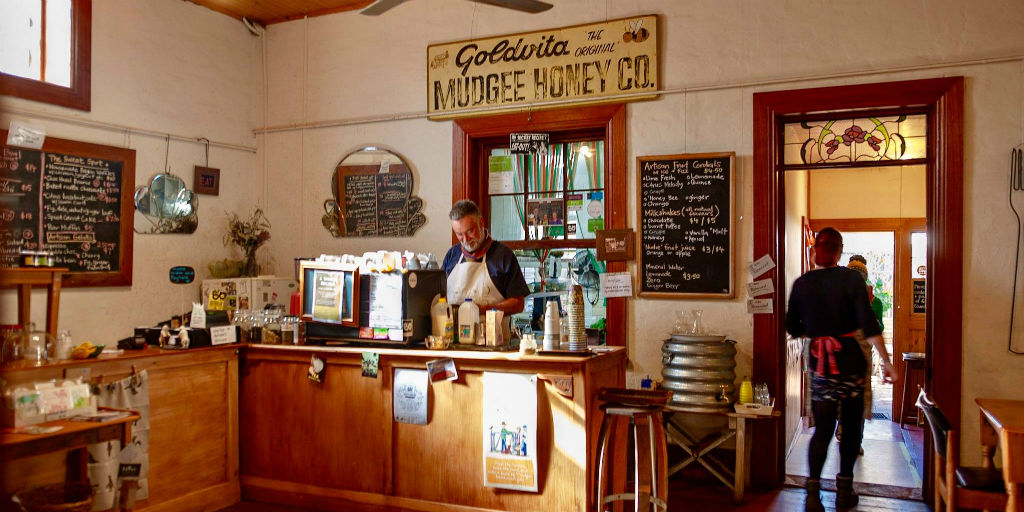 Artisan on Lewis
13 Lewis Street, Mudgee
An art space, shop and cafe, Artisan on Lewis has it all – even a dog-friendly courtyard! Monthly art exhibitions are held at the cafe, reflecting contemporary country life, and the work of several slow-craft regional artisans is showcased throughout the gallery. Your canine companion is welcome to join you in the hidden and peaceful garden as you try the local, home-made treats. Water bowls are also available.
---
Alby and Esthers
61 Market Street, Mudgee
Tucked away down a small yet inviting alley, you'll find the charming Alby and Esthers, a coffee house and wine bar. There is ample seating available in this hidden gem, both indoors and out. Dogs are more than welcome to enjoy the cobblestone courtyard area with their owners, and the leafy grapevine overhead acts as a canopy offering plenty of shade. While you sip on some artisan coffee or a delicious local wine, your pooch can cool down with some refreshing H20 from the provided water bowls.
---
FREE V.I.POOCH TRAVEL KIT WITH EVERY BOOKING!
Dog Friendly Hikes & Walks
Orange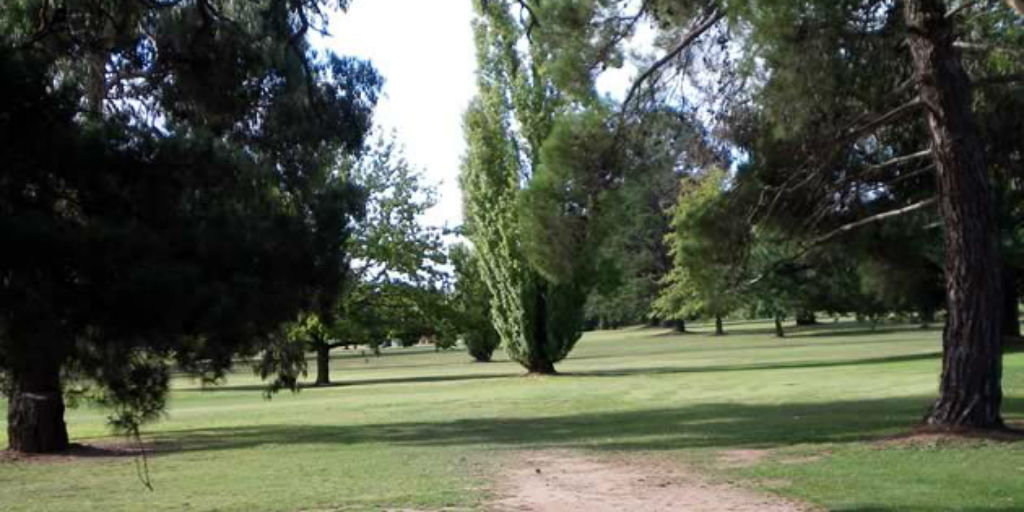 Bloomfield Park
Set on 21 hectares of beautiful parkland, and surrounded by native and exotic trees, Bloomfield Park has several areas where dogs are allowed to be leash-free to run and explore.
---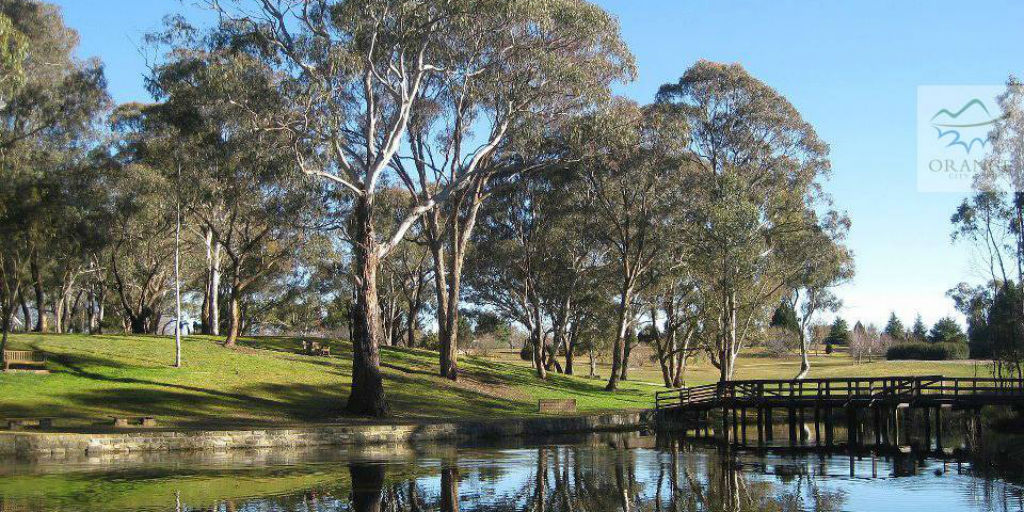 Orange Botanic Gardens
Relax and enjoy the native and exotic plant collection with your pooch at the Orange Botanic Gardens. The 17 hectare gardens perfectly exhibit the four seasons of Orange and it's an ideal spot for a picnic, bird spotting or just a leisurely stroll. Dogs on leads are permitted in the garden.
---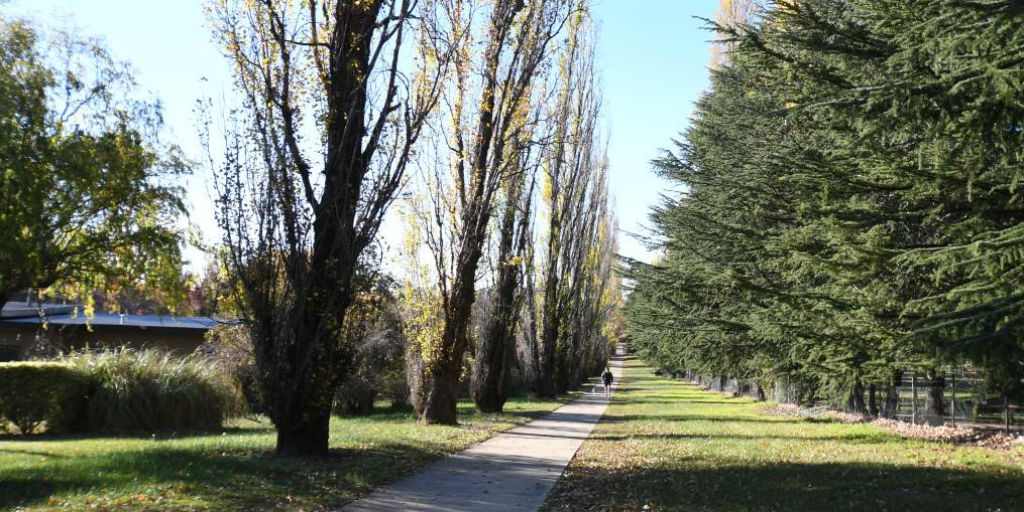 Wirrabarra Walk
For a scenic wander, take your pal for a leisurely stroll along Wirrabarra Walk. It's a long and shaded stretch, located on the western side of town and along the edge of Duntryleague Golf Course. The path is narrow and it is a popular spot for dog walkers, therefore it is an on leash walk only.
---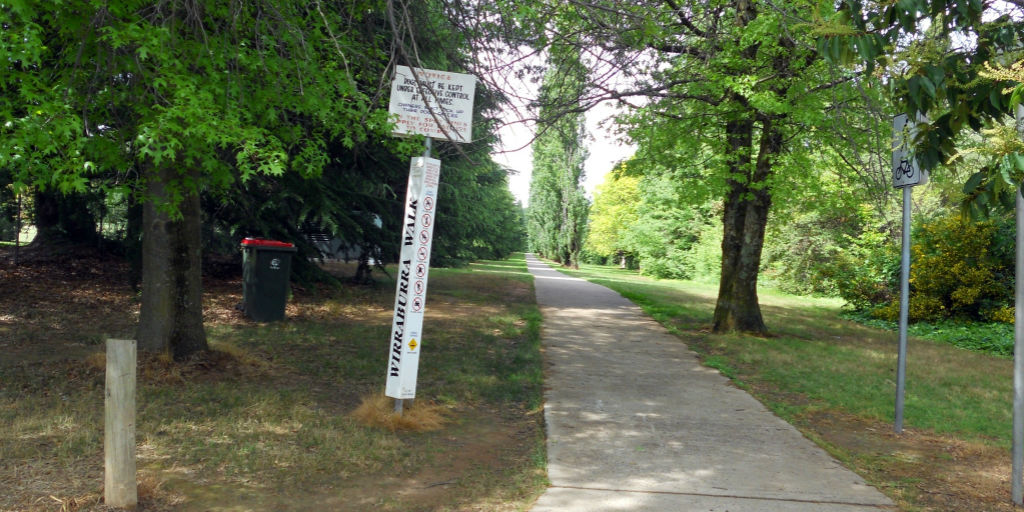 Pilcher Park
Let your dog burn off some energy in Pilcher Park. The park is a well shaded area and there's lots to explore, including a creek. While the area is not fully enclosed, it is a relatively safe park to let your dogs off the leash.
---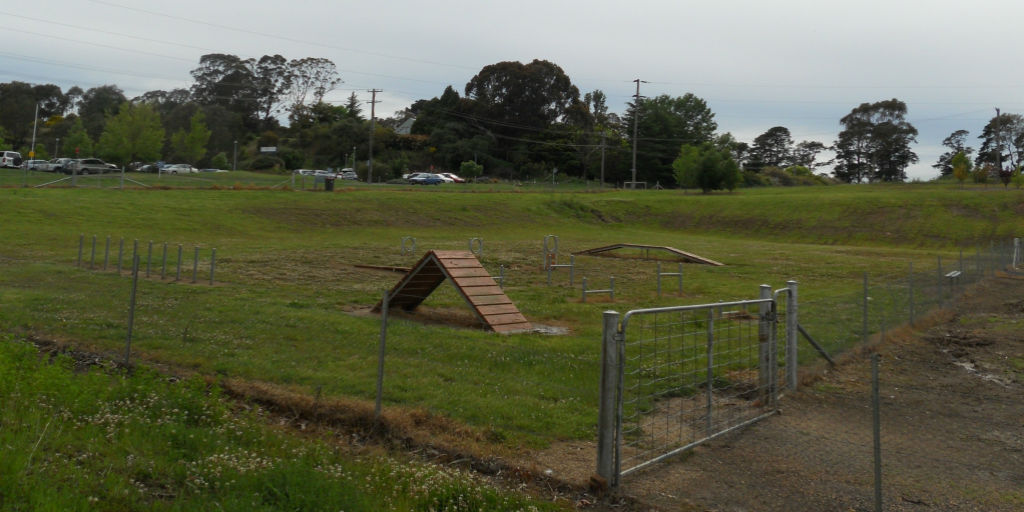 Anzac Park
If you're ready for some high intensity exercise with your pet pal then head on over to Anzac Park. It's the only dog park in Orange with its own agility equipment, including an A-frame, a balance board and rings to run through. The park is entirely enclosed and partially shaded, great for when your pooch needs a well-earned rest.
---
All off leash areas in Orange & Mudgee (and in other areas across NSW and VIC) can be found from Pupsy Dog Parks directory!
Dog Friendly Markets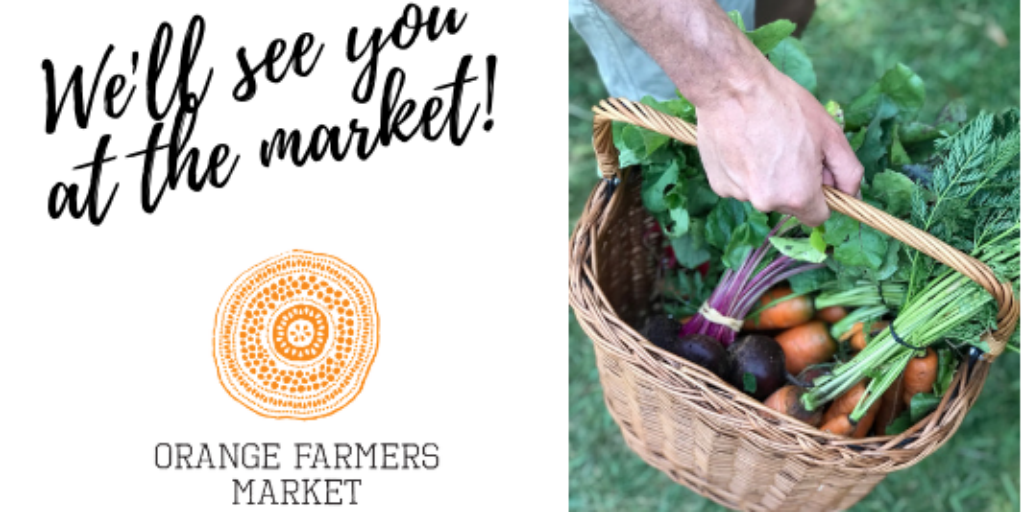 Orange Farmers Market
Shop for fresh produce from around the Orange region every second Saturday and fourth Sunday of the month at the popular Orange Farmers Market. More than 60 stallholders gather to offer freshly picked, grown and handcrafted produce each month. Your pooch will be welcomed with open arms (and maybe given a treat or two) as you wander through the market smelling, touching and tasting the best produce from the Central West region.
---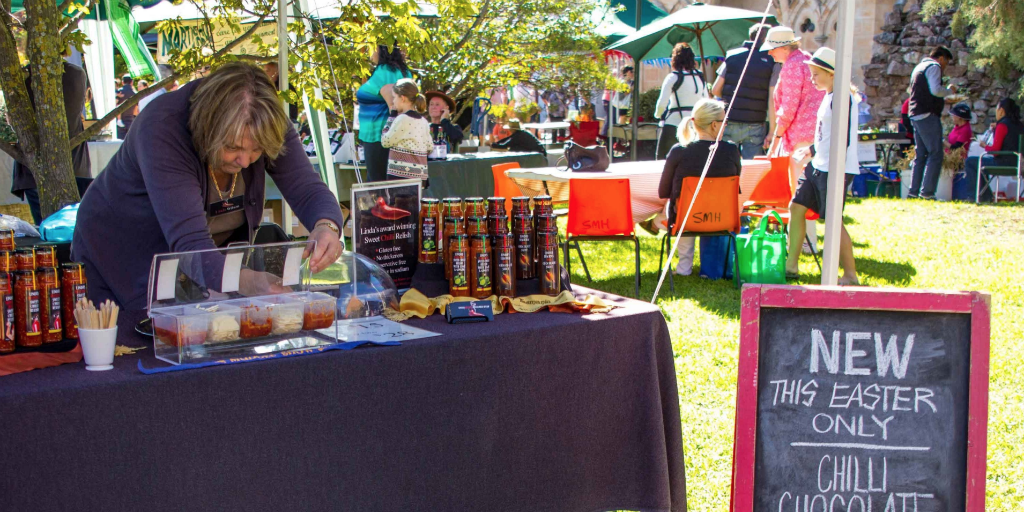 Mudgee Fine Food Farmers Market
If you want to taste everything the Mudgee region has to offer, then you can't go past the Mudgee Fine Food Farmers' Market. Held on the third Saturday of every month between 8.30am and 12.30pm, all produce is local, fresh and seasonal. Tantalise your tastebuds and listen to the serenade of local musicians as you make your way away around the stalls with your furry friend in tow.
---
All the places in this article (and many more) are also available on Pupsy website. Simply go to Dog Friendly Places & Services and search for any dog friendly places near you or in your holiday destination.
We would love to hear from your experience!
Did your dog find his/her new favourite spot? Was the place you visited not as dog friendly as you expected?
Leave a review and help other dog owners to find the best places to visit with their dogs. Your review will also be super valuable for the dog friendly venues to improve their dog friendliness!
Thank you and enjoy the beautiful Central West NSW with your dog !
Pupsy is an online platform for dog owners to find & review dog friendly places. Like Tripadvisor, just a little furrier!
OTHER DOG FRIENDLY TRAVEL GUIDES