Discover the best dog friendly wineries in NSW: Ultimate Wine Country Drive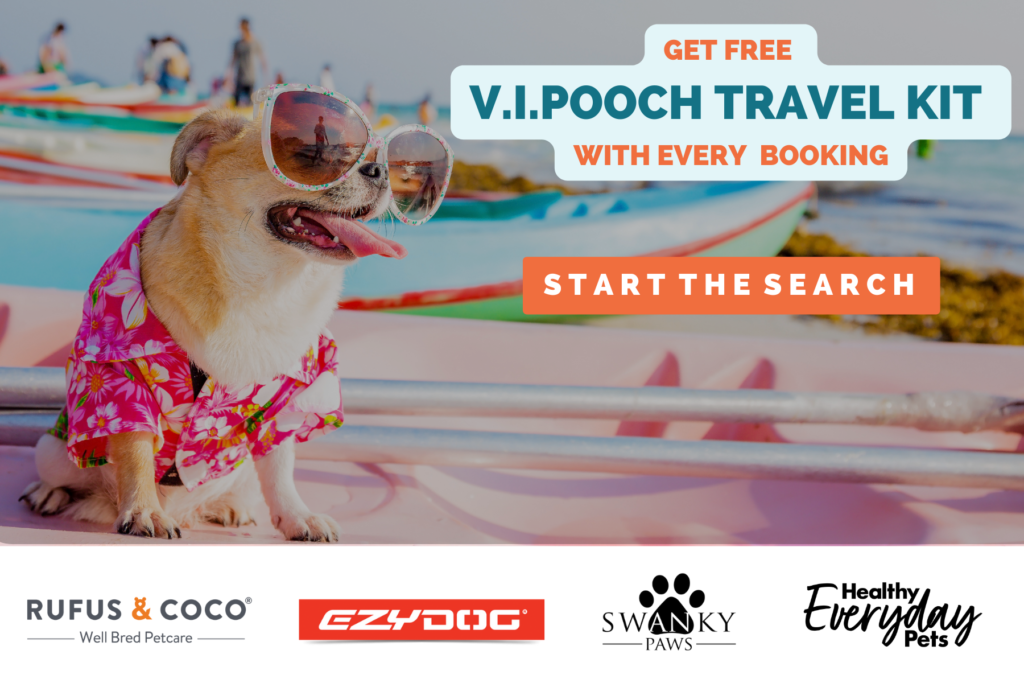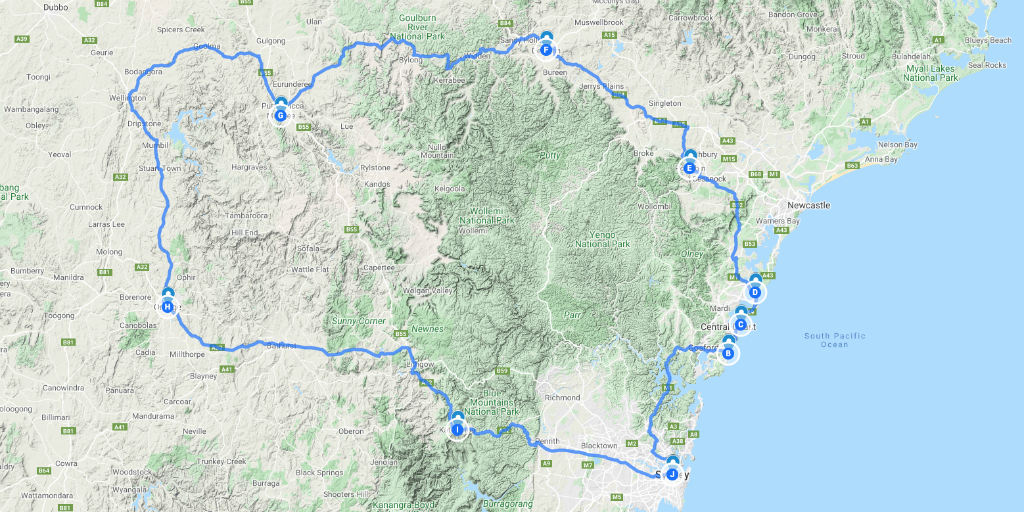 Total Distance: 900km
Driving Time: 12h
Travelling with dogs is great way to explore Australia. Our furry friends love exploring new places and travelling with them ensures we get to see places we would perhaps otherwise skip (think beautiful dog friendly hikes & walks).
NSW offers plenty of dog friendly roadtrips along the coast or in the highlands but if you and your dog love visiting dog friendly wineries, this is the ultimate roadtrip to explore with your dog.
It will take you from stunning beaches in the Central Coast NSW to iconic wine regions of Hunter Valley, Mudgee and Orange and finally on your way back you get to explore some of the most amazing dog friendly hikes in the Blue Mountains. That's right, not all of the Blue Mountains are National Parks but there are also State Forest areas that allow dogs.
Our day trip planner is obviously here just for the guidance and you can always do the trip at your own pace or just do part of the journey. Some alternatives could be to return back to Sydney from Hunter Valley or Mudgee, making the journey a perfect weekend away with your dog.
DAY 1 – From Sydney to Hunter Valley via Central Coast
Distance: 200km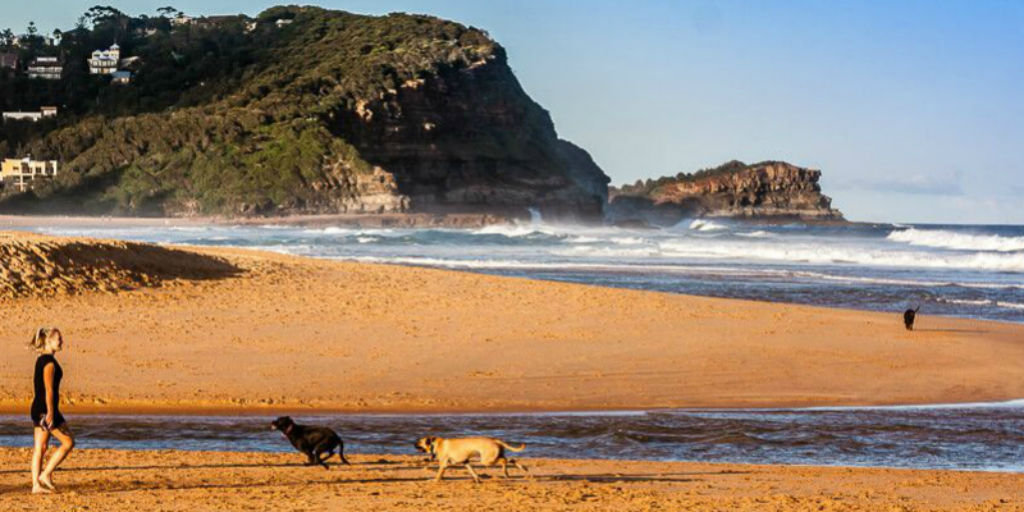 Central Coast is about 90mins drive from Sydney and has plenty of dog friendly places on offer. On your way to the dog friendly beaches around Terrigal you will drive pass the dog friendly Bay Road Brewing in Gosford, which is worth a stop for a refreshment or take aways.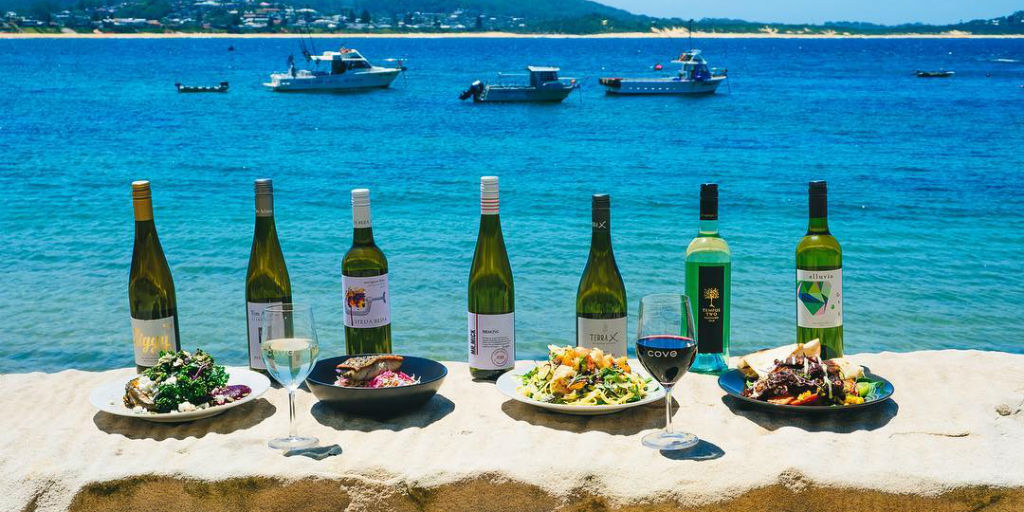 In Terrigal, start the day by heading to one of the many dog friendly beaches such as Avoca Beach or Wamberal Beach for some off leash action. There are some great dog friendly cafes near the beaches such as Bellyfish Cafe and Cove Cafe to have some brekkie or a coffee while enjoying the ocean views.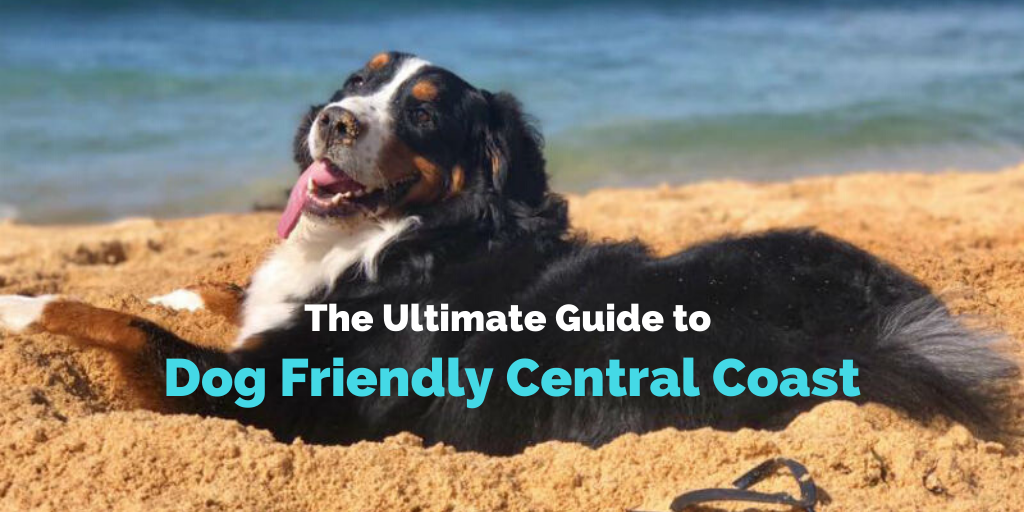 From Terrigal head north towards The Entrance where you have another opportunity to visit a dog friendly North Beach and plenty more dog friendly cafes such as The Glass Onion Society, Cafe Escape or The Entrance Hotel.
Continue your journey towards Hunter Valley for Day 2 of your trip. Below are some great dog friendly accommodations in the Hunter Valley to choose from.
Dog Friendly Accommodation in Hunter Valley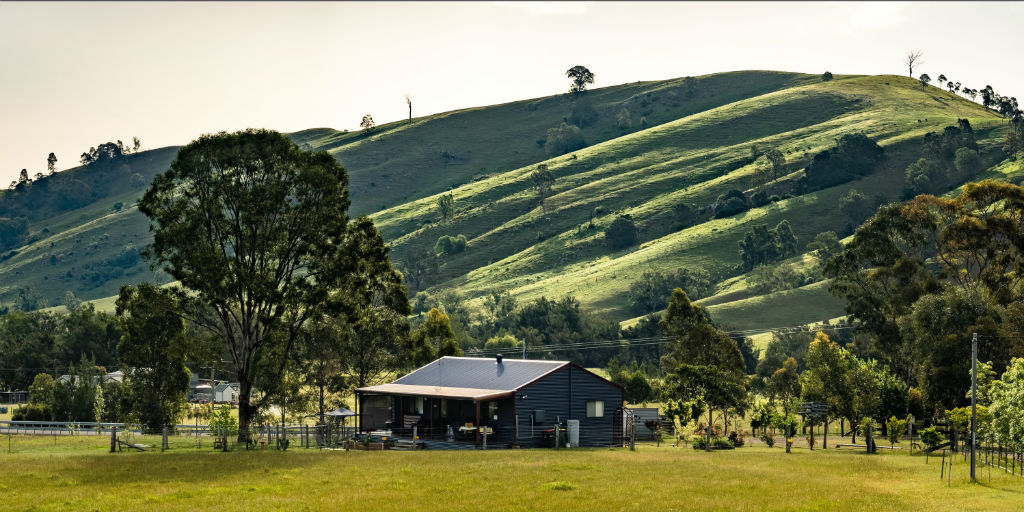 DOG FRIENDLY LODGE | Glendon Brook
Guests 4 | Bedrooms 2 | FROM $190
Located on the picturesque 100 acre cattle grazing property in the Glendon Brook district. The property has been owned by the family for 4 generations, since leaving Ireland in the 1850″s. Private Winery / Cheese /Chocolate Tasting Tours with Local operators are available to the Pokolbin Vineyards. Having worked in the wine industry for over 27 years, your host has an excellent knowledge of the area and wineries/ restaurants and is happy to help you find great places to visit.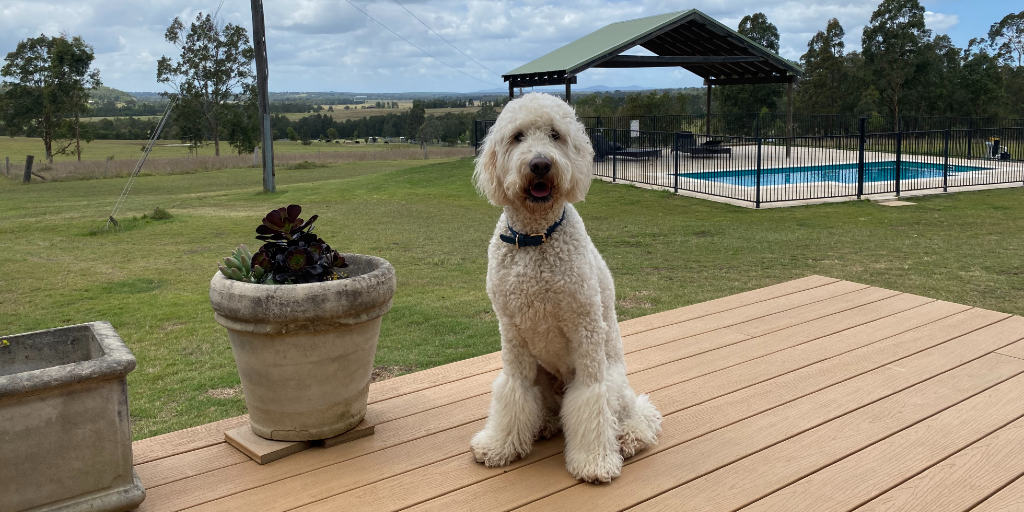 DOG FRIENDLY RETREAT | Pokolbin
Guests 8 | Bedrooms 3 | FROM $450
This recently lovingly restored dog friendly Mine Managers Cottage now enjoys all the modern conveniences. The character rich home is a perfect escape for family and friends (furry ones included), wedding and reunions. The pool and entertainment area are perfect for a sunset drink which your enjoy the uninterrupted views of the Broken Back Range. Please be aware that due to the council regulations, dogs are not allowed in the pool, however there are several dams in the property that are perfect for the pups to have a swim.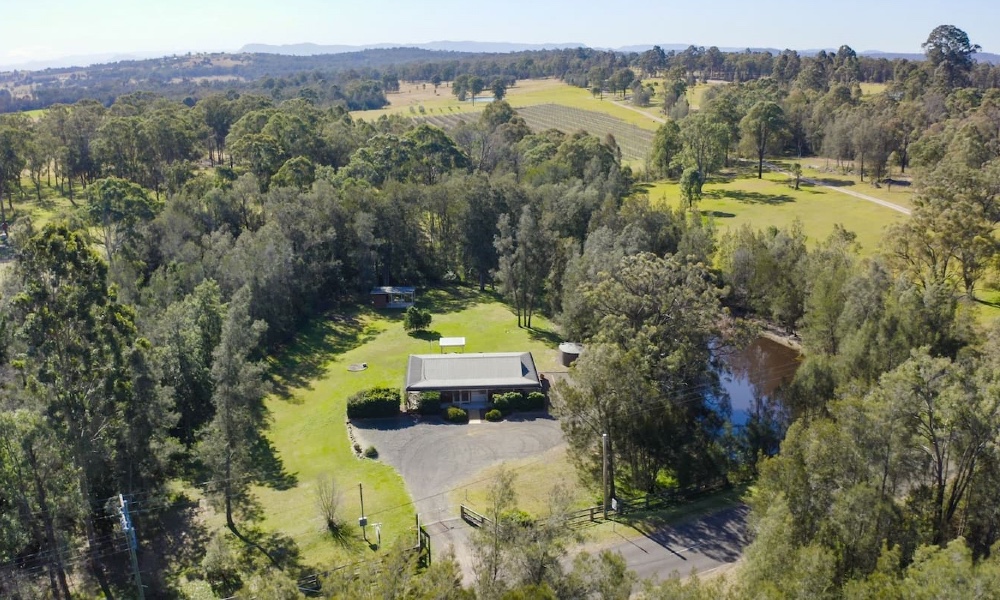 DOG FRIENDLY WINERY STAY | Pokolbin
Guests 6 | Bedrooms 3| FROM $750
Located on the James Estate Pokolbin property in the Hunter Valley our Guest House offers the best in contemporary living, with five generous bedrooms sleeping from 8 – 10 people and three exquisite bathrooms servicing them; these have a particular high attention to detail and are just beautiful! Separate formal and informal areas including a cavernous family room, the Guest House has reverse cycle air, outdoor dining and BBQ, and a large entertainment room with all the essentials and a meals area open out to the undercover alfresco… it is picture perfect!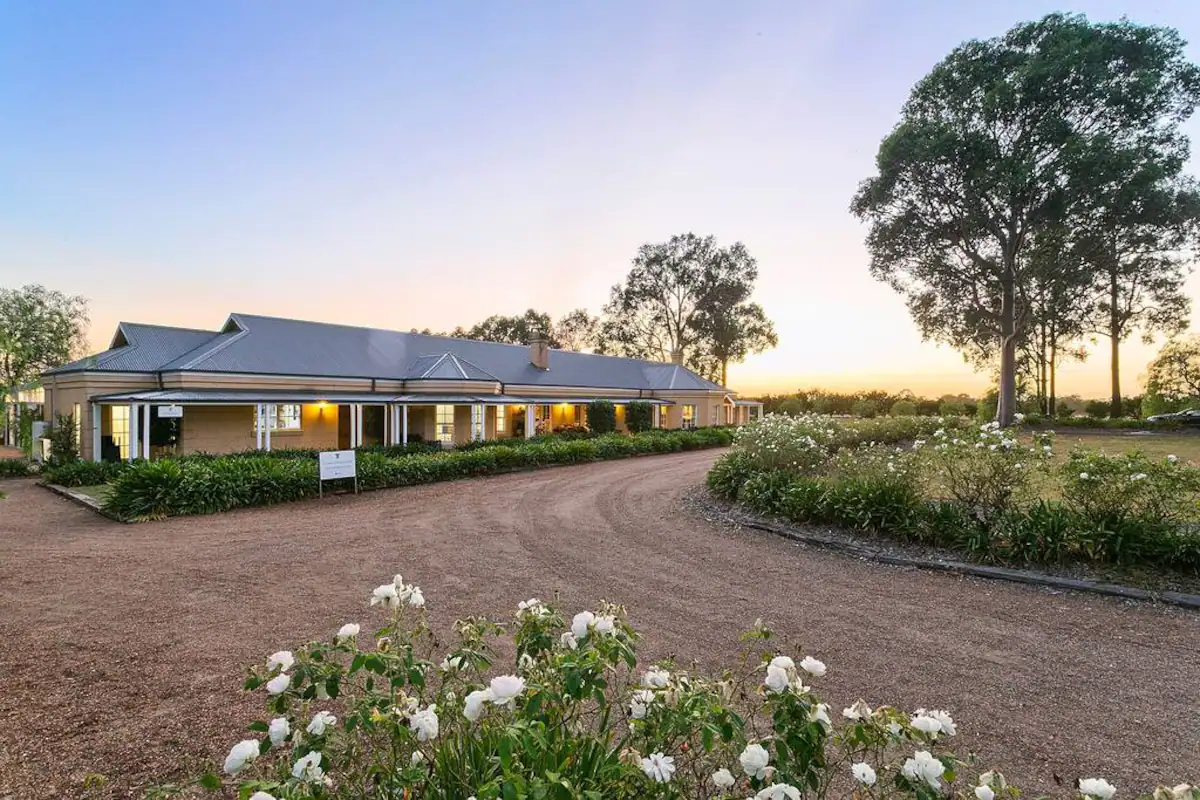 DOG FRIENDLY HOMESTEAD | Pokolbin
Guests 12 | Bedrooms 6 | FROM $700
Stay at one of the Hunter Valley's most admired properties. Based on 1840s early Victorian architecture, the homestead boasts understated style and elegance. It features external stonework walls, 10 ft ceilings, two marble bathrooms, one open fireplace, large dining and lounge areas, and French doors that open out to the pool and one of the most spectacular views in the area. A swimming pool, courtyard, olive grove and lush gardens are set upon 13 acres of vineyard, completing one of the finest country estates in this region, and earmarking a destination that represents perfect relaxation! The open plan kitchen is perfect for hosting and entertaining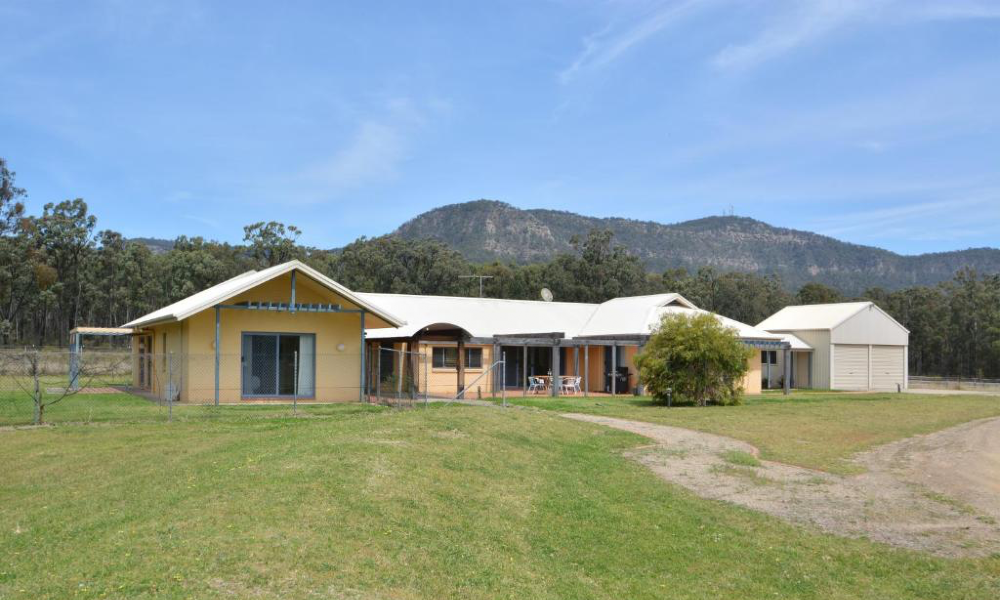 DOG FRIENDLY WINERY STAY | Pokolbin
Guests 10 | Bedrooms 5 | FROM $799
Located on the James Estate Pokolbin property in the Hunter Valley our Guest House offers the best in contemporary living, with five generous bedrooms sleeping from 8 – 10 people and three exquisite bathrooms servicing them; these have a particular high attention to detail and are just beautiful! Separate formal and informal areas including a cavernous family room, the Guest House has reverse cycle air, outdoor dining and BBQ, and a large entertainment room with all the essentials and a meals area open out to the undercover alfresco… it is picture perfect!

DAY 2 – Dog Friendly Cellar Doors in Hunter Valley
Hunter Valley is full of dog friendly Cellar Doors to visit. We have listed some of our favourites below. If you want to opt for a COMPLETE hands off approach and leave it to the real pros to organise your dog friendly Cellar Door experience, we highly recommend to check out:
GRAPE TO GLASS – dog friendly winery tours
VINO PAW TOURS – full package including dog friendly accommodation, tours and meals!
Dog Friendly Wineries in Hunter Valley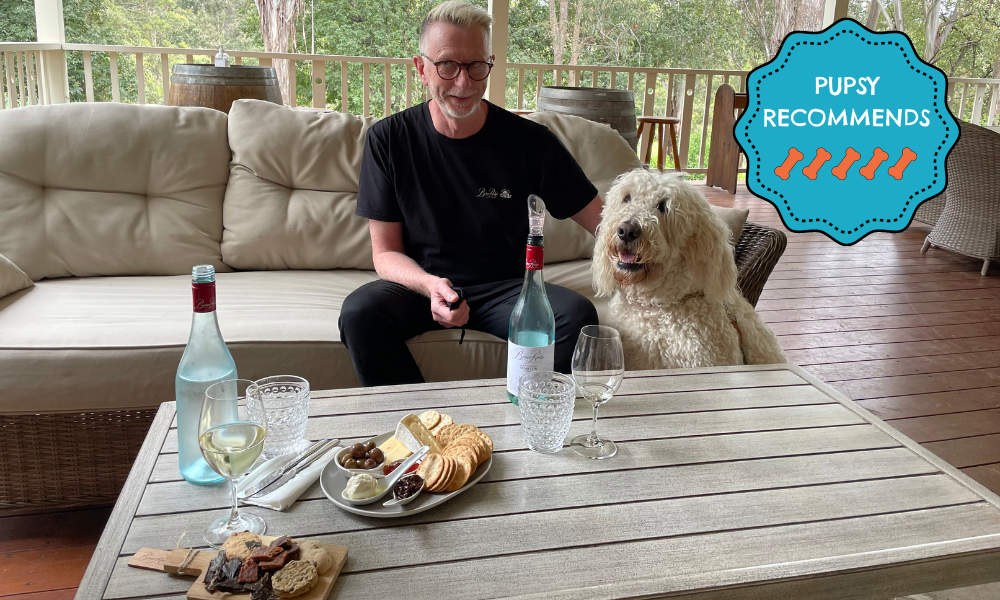 BRIAR RIDGE
Mount View
Briar Ridge welcomes all well-behaved pooches to sit back and relax at the pooch hydration station or burn off some energy romping around (supervised) in the open spaces at Briar Ridge Vineyard. And whilst the pooches are at play we invite their owners to taste their way through our selection of estate grown Hunter classic and modern marvel wines. We also offer a range of local cheese and antipasto platters for wine tasters and a 'Briar Ridge Pooch Platter' from our friends at Jollie Gourmet Dog Treats for the four legged treat connoisseur.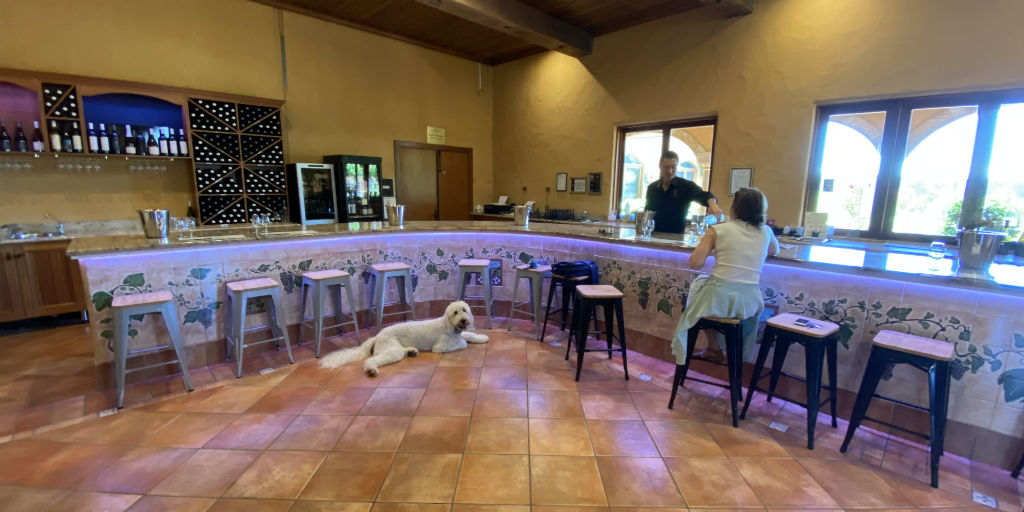 IRON GATE ESTATE
Pokolbin
This picturesque estate is home to a 25-acre vineyard, state-of-the-art winery, and a striking cellar door inspired by the grand villas of the Mediterranean. Cool in summer and warm in winter, this welcoming retreat features handcrafted Spanish tiles, iron-bark beams, air conditioning and a cosy fireplace.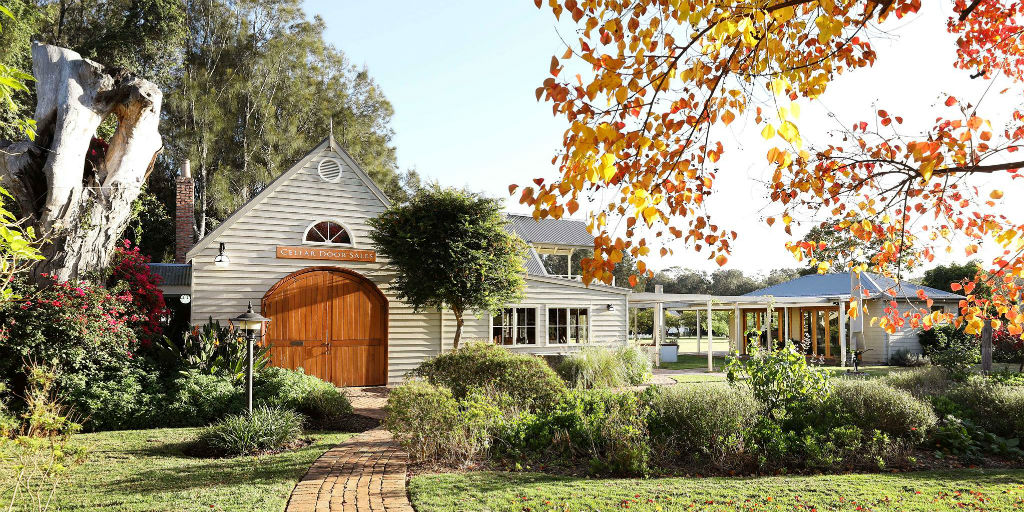 PEPPER TREE WINES
Pokolbin
Peppertree offers a unique and relaxed experience set amongst spectacular landscaped gardens that surround the property, and continuing to receive high accolades and 5 star ratings for their premium wines. The house dog Spence is always there to welcome you and your dog for a relaxing winery experience.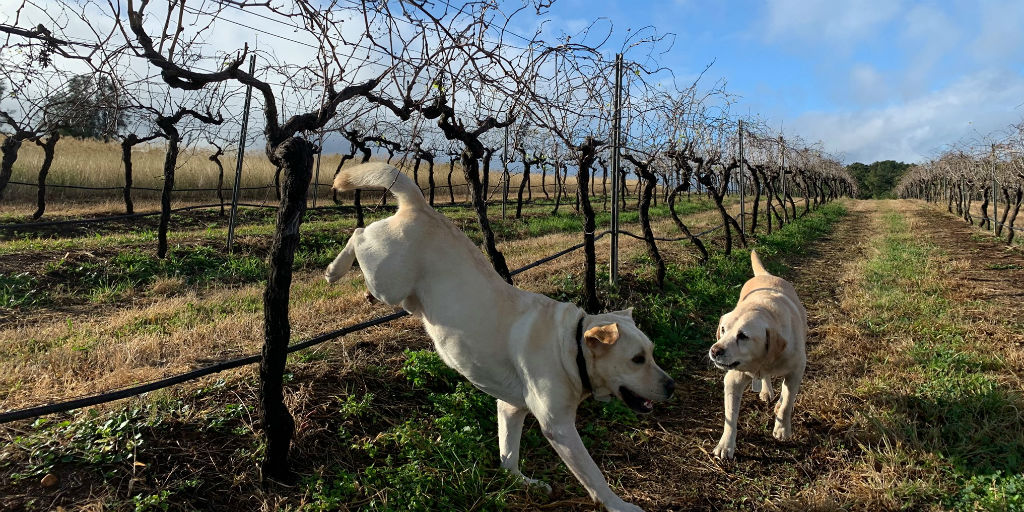 HANGING TREE WINES
Pokolbin
The Hanging Tree vineyard property consists of 60 undulating acres, eighteen acres of which are under four vine varieties: Chardonnay, Semillon, Shiraz and Cabernet Sauvignon. These vines are more than 15 years old, with the oldest Shiraz vines at 45-50 years. This, coupled with the rich clay soil has contributed to the success of the award winning wines. Resident Labs form a tail wagging welcoming ceremony!


For the full list of dog friendly wineries in Hunter Valley, check out our detailed guide to the area!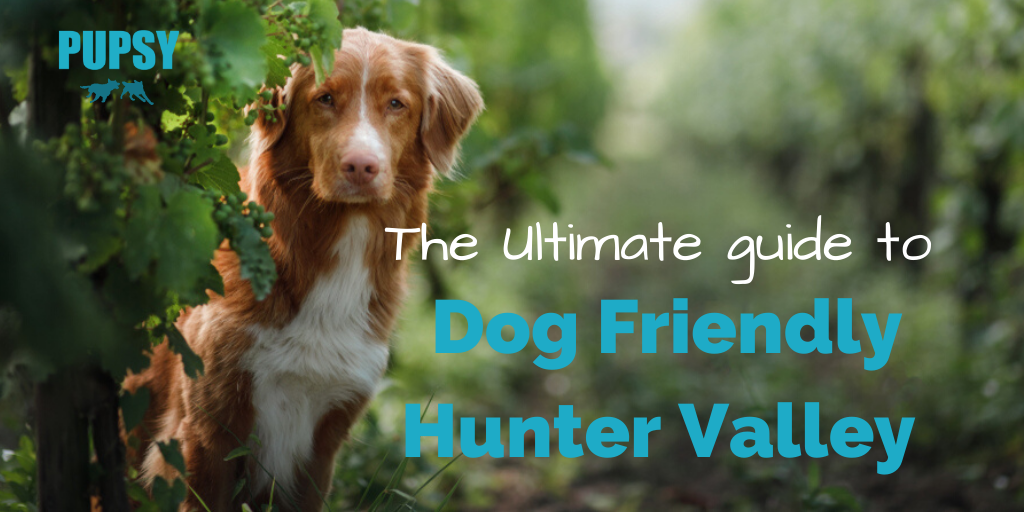 But there is more to Hunter Valley than just Cellar Doors. Make sure you visit some of the cafes and restaurants while you are in the area.
Dog Friendly Restaurants in Hunter Valley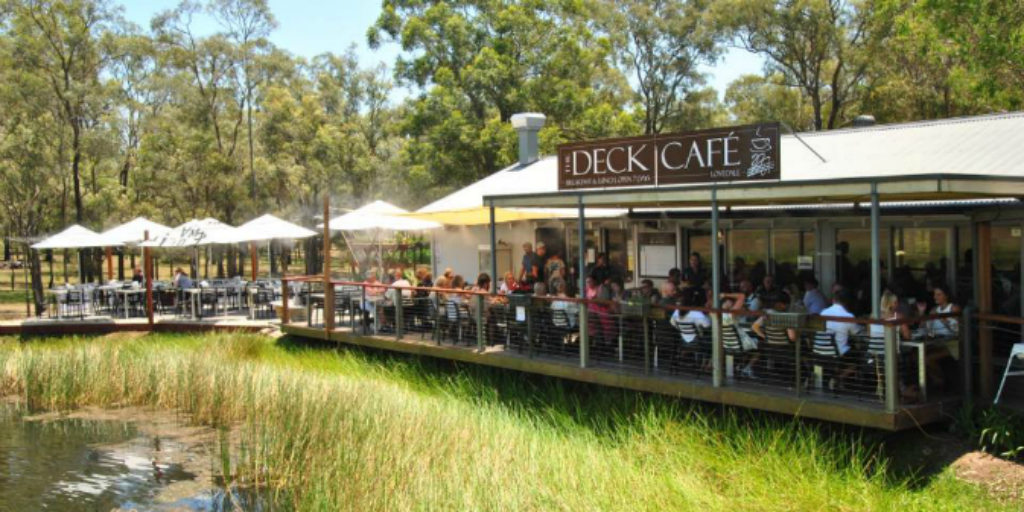 THE DECK CAFE
Lovedale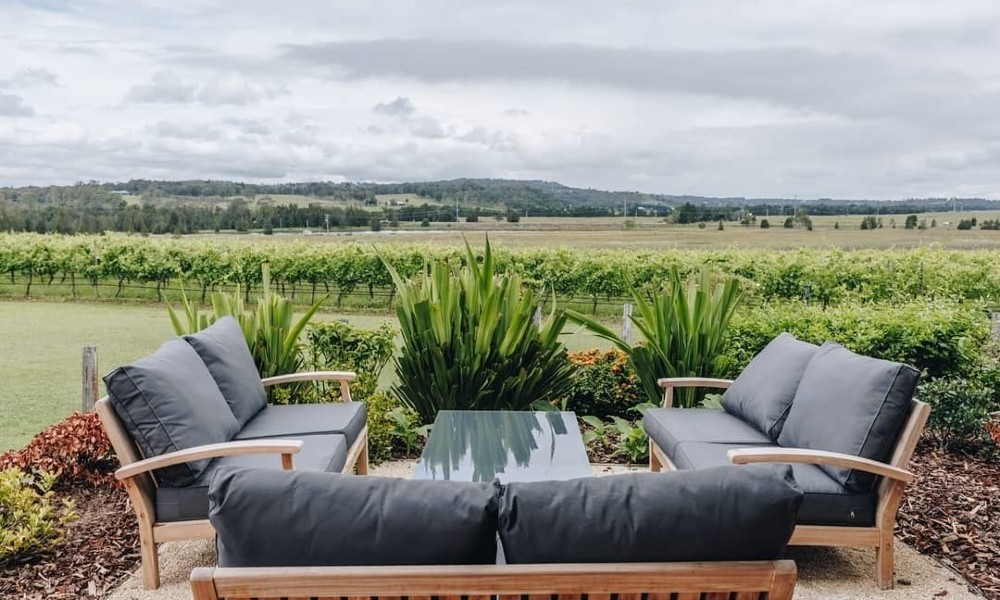 AMANDAS ON THE EDGE
Rothbury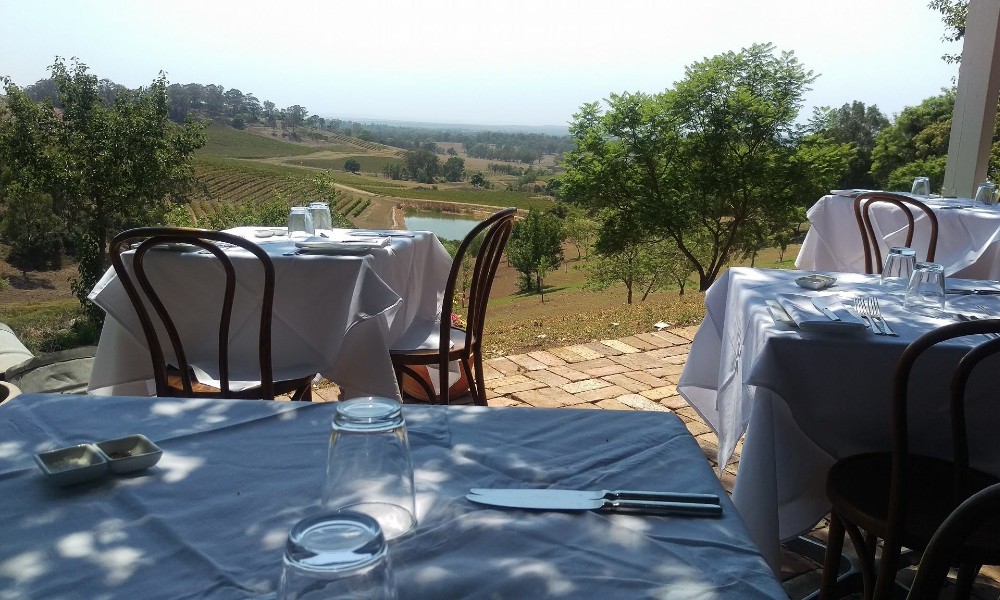 BISTRO MOLINES
Mount View


DAY 3 – From Hunter Valley to Mudgee
Distance: 240km
Drive to Mudgee takes just over three hours so make sure you have a good walk with your dog in the morning. After about an hours drive you will pass the town of Denman, which is worth a visit. There are plenty of heritage buildings in town and if you didn't dry your thirst in the Lower Hunter, there are couple of dog friendly wineries such as Small Forest Wines near Denham.
Dog Friendly Accommodation in Mudgee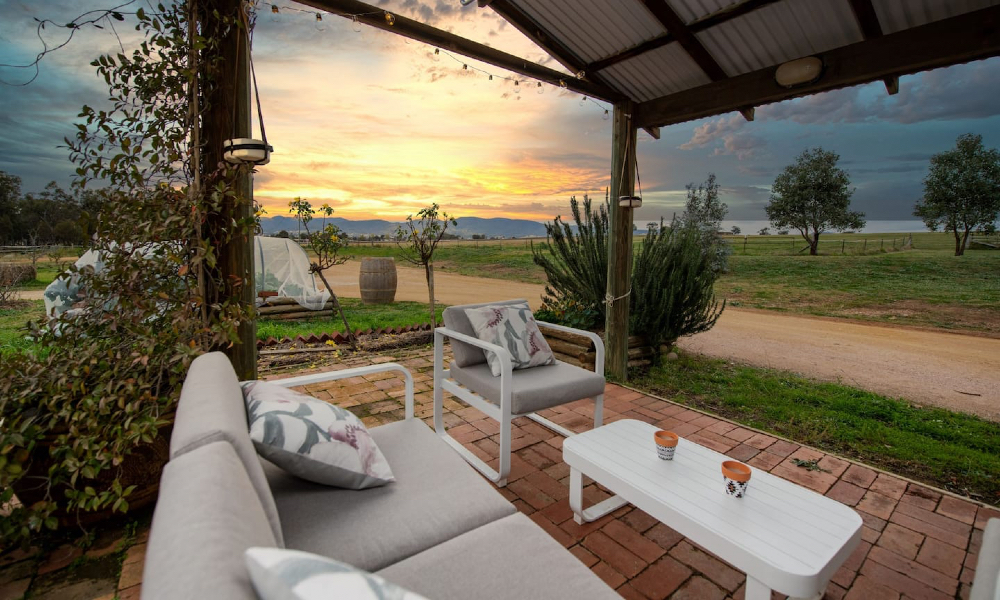 DOG FRIENDLY COTTAGE | Bombira
Guests 4 | Bedrooms 2 | FROM $260
Spacious and reasonably priced dog friendly cottage less than 5 minutes from the Mudgee town centre. Set on 85 acres with vines, a forest, open space and hills with wonderful views of town and surrounding hills. An open outside fireplace and a wood burning stove makes it a perfect getaway for the cooler Mudgee climate. Take a stroll up the hill with a picnic and watch the sunset, there are two fire pits on the top of the hill and a picnic basket and blanket for your use or commune with the horses or resident dogs.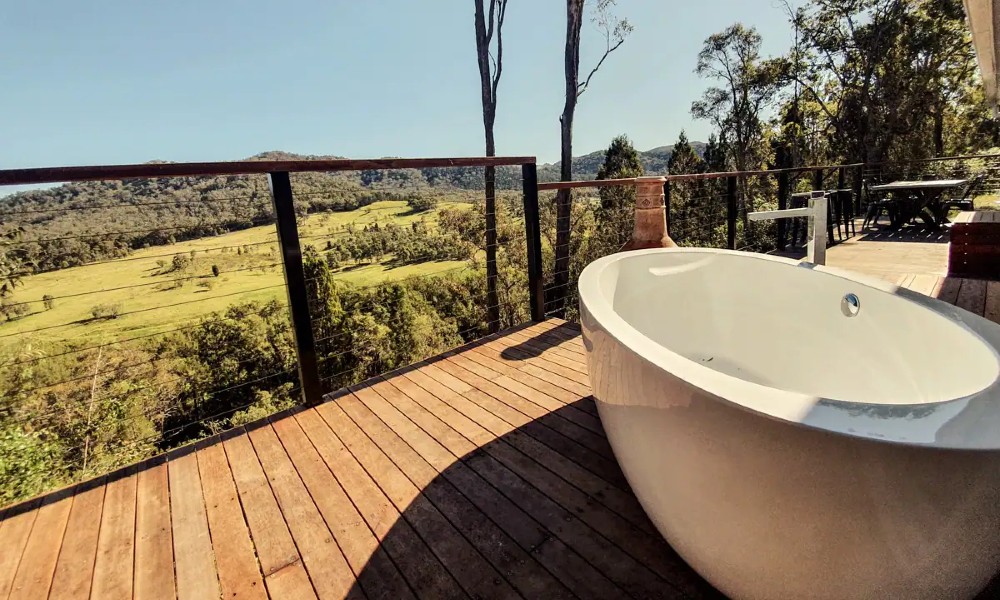 DOG FRIENDLY RETREAT | Mudgee
Guests 10 | Bedrooms 5 | FROM $950
A place to unwind & relax. Escape to this private modern dog friendly country retreat accommodation in the heart of the Mudgee wine region. Set upon 25 acres high amid the beautiful rolling pine hills of Riverlea, and with breathtaking views of the green hills on one side and open grass land on the other, with complete privacy in an exquisite modern country setting. Relax and cool down in our unique double deck mineral swimming pool during the summer or pamper yourself with a hot outdoor bath while sipping a glass of Mudgee's finest wine. Or gather besides the crackling fireplace or outdoor firepit during winters and gaze at the night sky. Bring your family or besties to this unique property for some country R&R away from the city where fresh air awaits and the stars shine bright.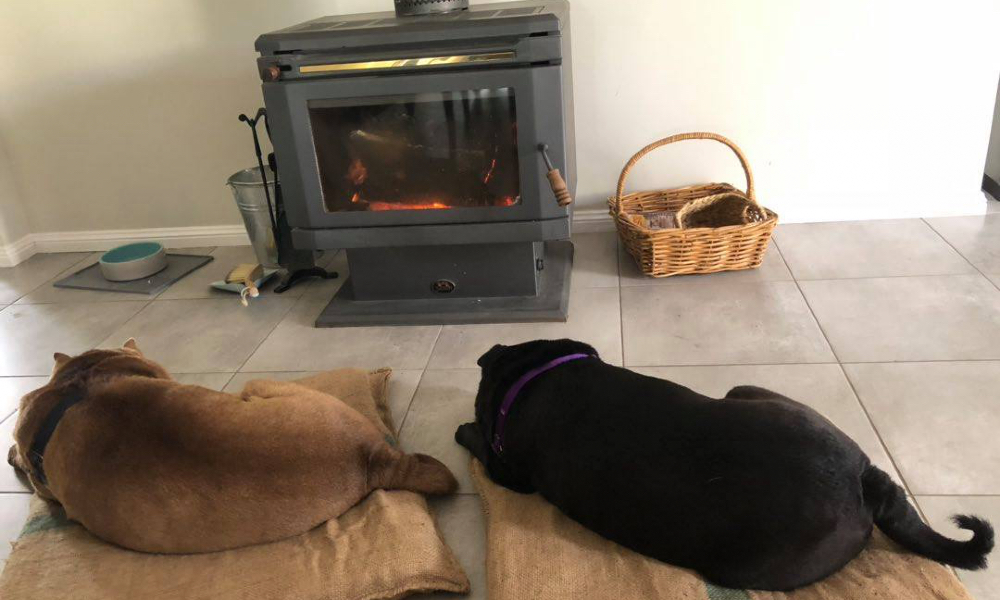 DOG FRIENDLY HOUSE | Mudgee
Guests 8 | Bedrooms 3 | FROM $400
Dog friendly accommodation with all the luxuries you would expect to make your short break memorable. The covered deck enables you to enjoy a barbie on the built in BBQ whatever the weather and the outdoor fridge ensures your drinks are accessible while you relax. The outdoor fire pit, complete with cushions, is perfect for the cooler nights and indoor wood burner great for the winter nights. There is plenty of wood always available. The large fenced grassy area will provide space for your dogs and kids to run around or play games. Wi-Fi, the large Smart TV with a Blueray/DVD player and the bluetooth speaker will keep everyone entertained. Linen & towels provided along with tea, coffee (filter, pod & instant), bread, cereals and milk. We have a pantry stocked with general essentials and a herb garden which guests are encouraged to use.

Dog Friendly Wineries in Mudgee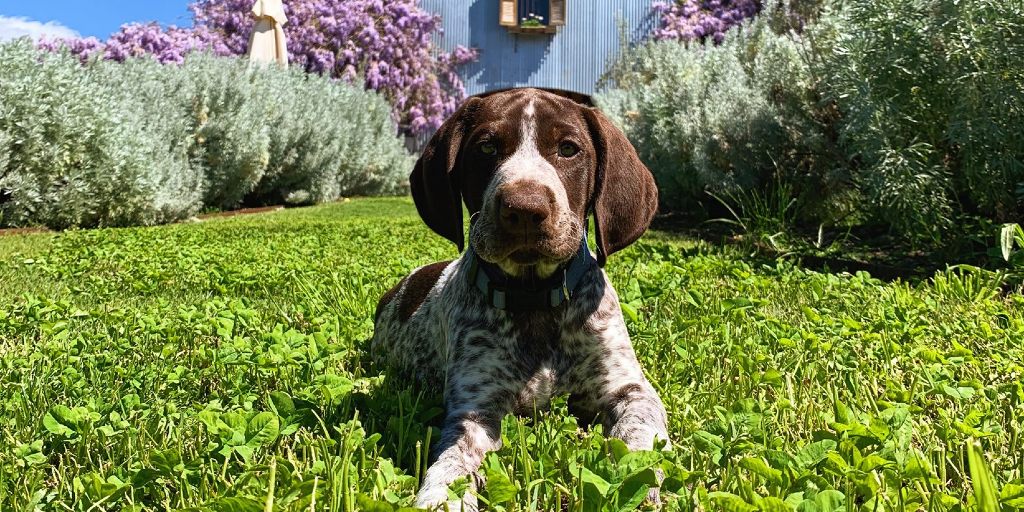 LOWE FAMILY WINES
Mudgee
Lowe Family Wine Co is an organic & biodynamic winery located in Mudgee, NSW. With a sprawling vineyard, gardens, and friendly farm animals, visitors have a range of ways to experience the property. Enjoy a tailored wine tasting on the outdoor terrace or picnic on the lawns with a local produce platter. Dogs are welcome to join you in the cellar door and around the property, as long as they are friendly and keep their distance from the farm animal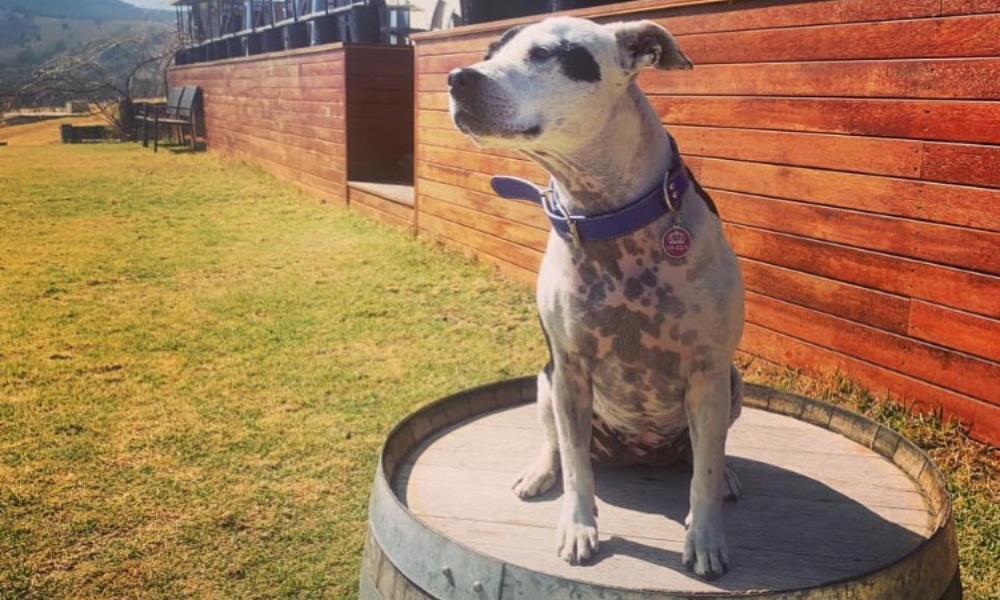 MOOTHI ESTATE
Mudgee
Located on the northwest facing slopes of Mount Frome, dog friendly Moothi Estate offers award-winning wines, spectacular views and generous lunch platters. Dogs are welcome to join owners in the cellar door and there is air-conditioned indoor seating and heated outdoor seating for the cooler months. They even have two cellar door dogs of their own who love to play with guests.


Dog Friendly Cafes & Bars in Mudgee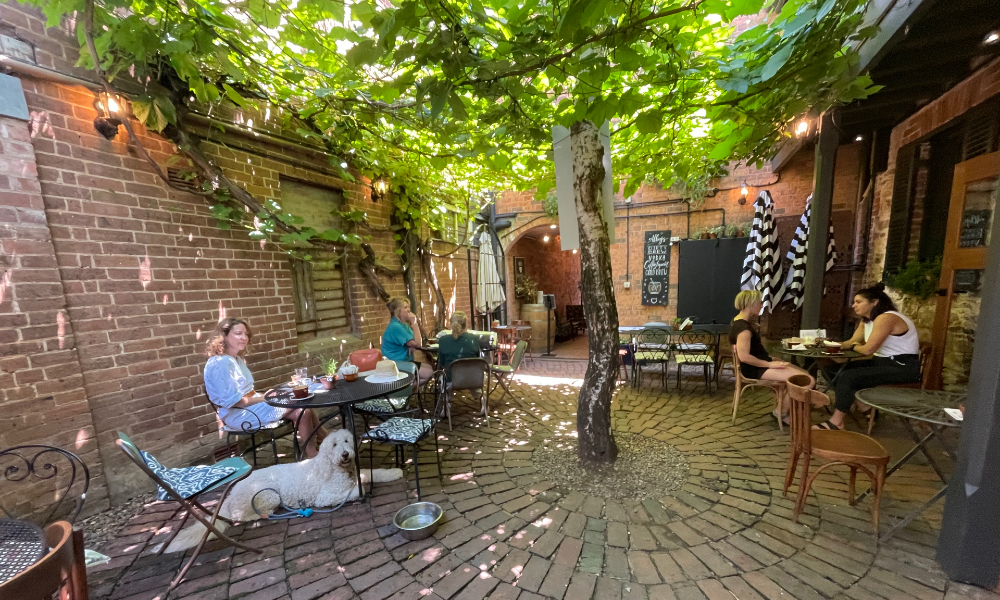 ALBY & ESTHER
Mudgee
On your arrival to Mudgee there are plenty of dog friendly cafes available for you to choose from. Courtyard at the Alby & Esther is a great spot to watch the world go by with your dog.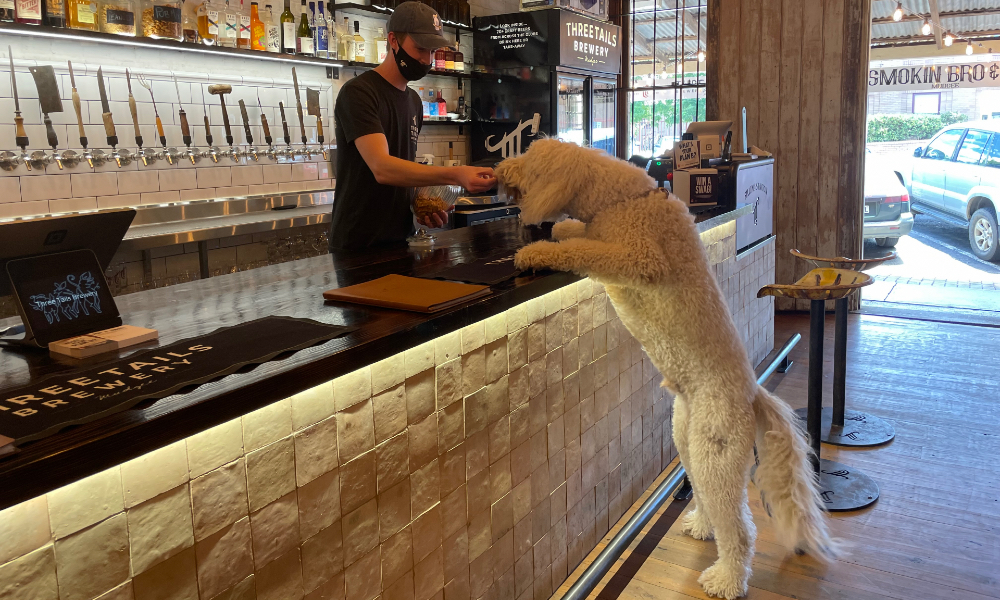 THREE TAILS BREWERY & SMOKEHOUSE
Mudgee
Three Tails is a dog friendly brewery in Mudgee. 18 Craft Beers on tap, local wines and produce, artisan wines and spirits, on site brewery and slow cooked Texan style BBQ brought to you by Smokin Bro. Everything sourced from 100% independent sources. Dogs are welcome everywhere in the brewery.


For the full list of Mudgee & Orange activities, check out our Ultimate Dog Friendly Guide to the area.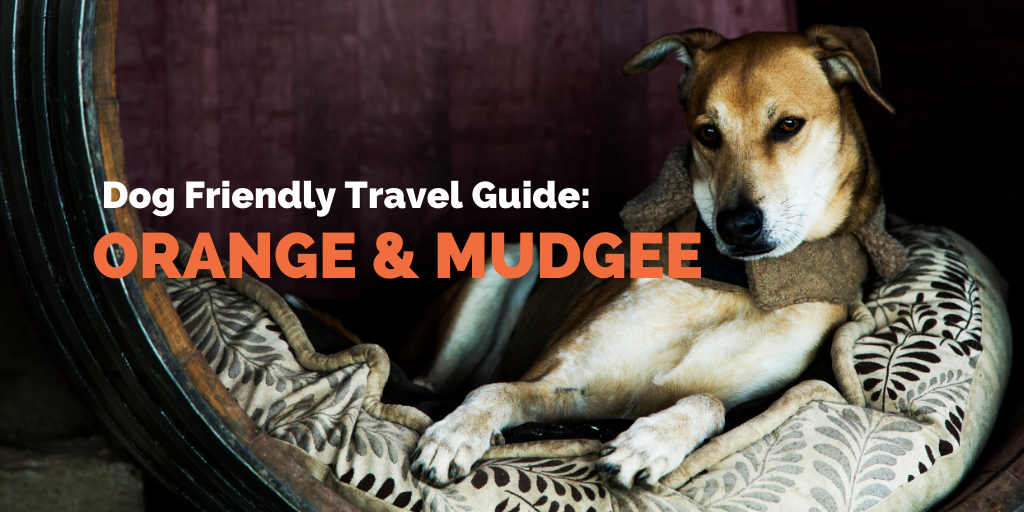 DAY 4 – From Mudgee to Orange
Distance: 190km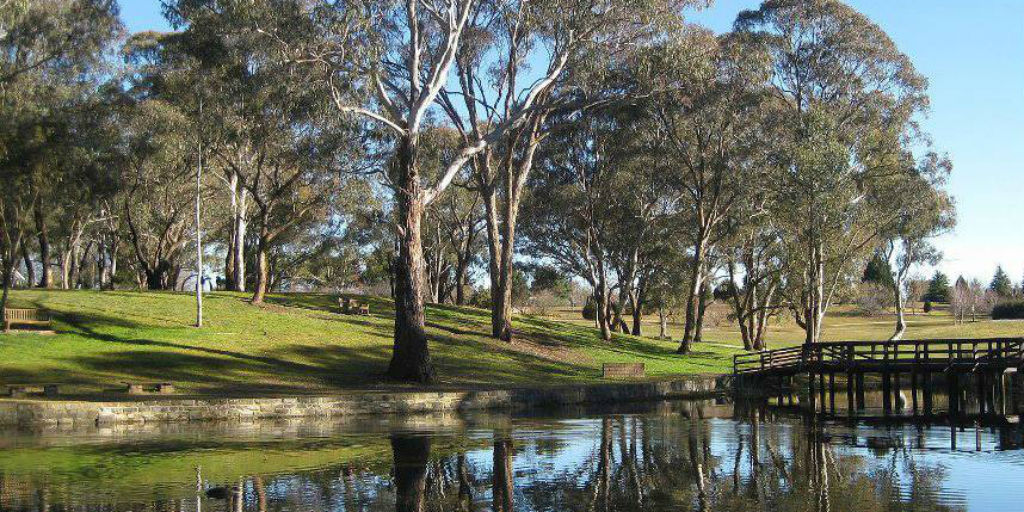 You may well decide to stay an extra day in Mudgee (we wouldn't blame you for doing so) before embarking to the 2.5h drive to Orange. You can find plenty of dog friendly wineries, cafes and accommodations from our guide.
On your arrival to Orange, we highly recommend to take full advantage of the dog friendly walks Orange has to offer such as Wirrabarra Walk and Orange Botanical Gardens.
Dog Friendly Wineries in Orange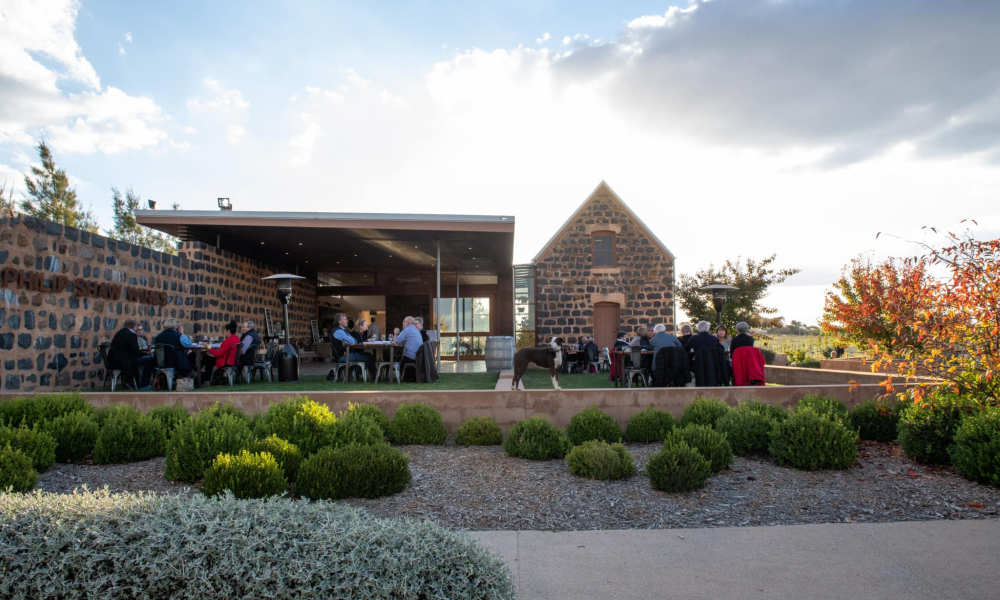 PHILIP SHAW WINES
Orange
Dog friendly cellar door at Philip Shaw Wines offer cool climate wines of elegance – book your tasting experience. Dogs are welcome on the covered outdoor seating area.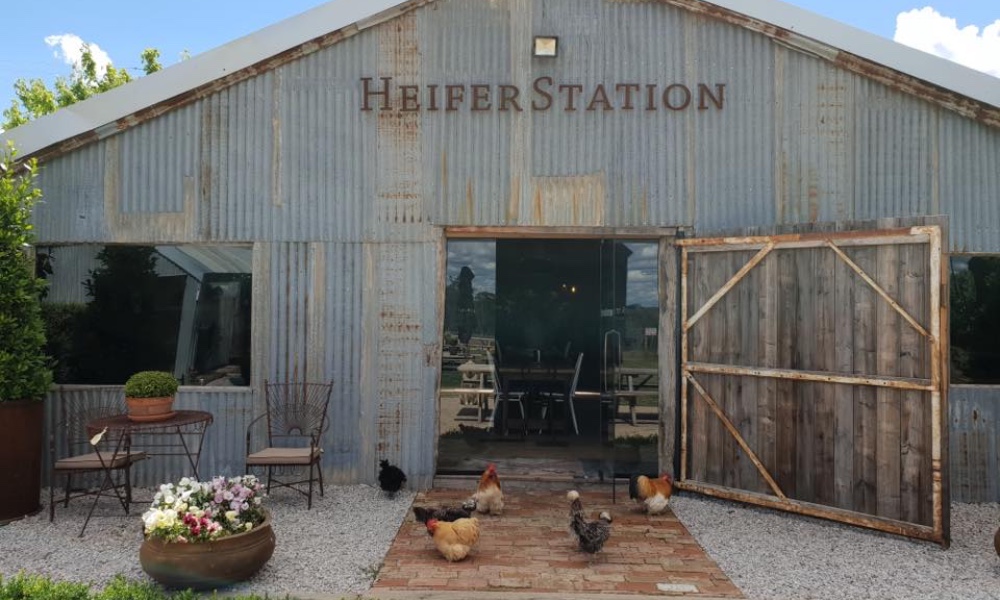 HEIFER STATION
Borenore
With its undulating hills and elevation of up to 900 metres it offers the perfect location for producing premium cool climate wine. Phillip and Michelle Stivens purchased Heifer Station in 2009. A run-down vineyard that had been lockup by its offshore owners for the previous 5 years. With the vineyard barely visible from overgrown blackberries Phillip and Michelle planned to push the vineyard out and return to their roots of running fat cattle, enjoying the slower life.


Dog Friendly Cafes and Pubs Orange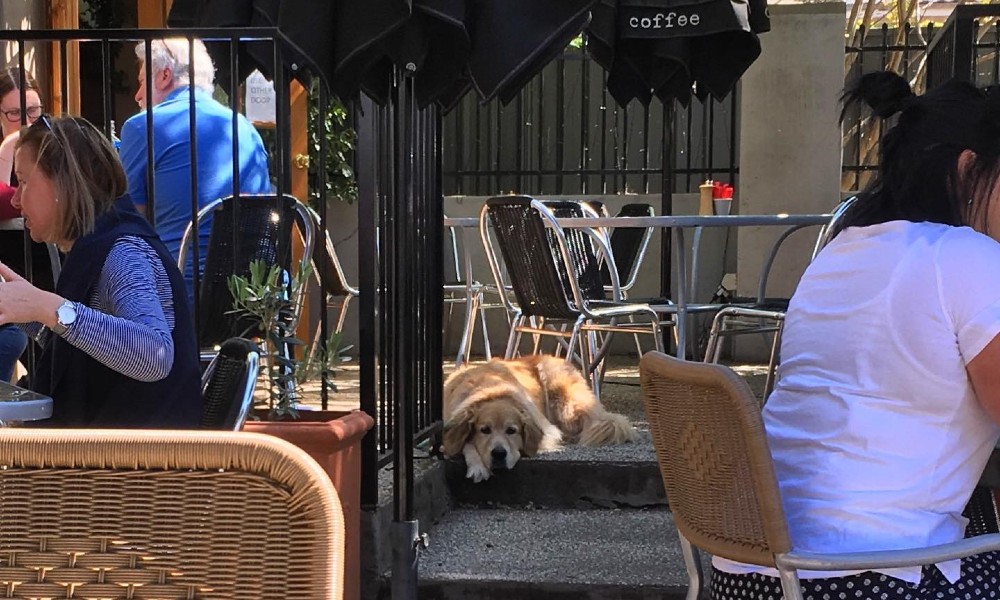 NILE STREET CAFE
Orange
Set in the quiet street of East Orange, dog friendly Nile Street Cafe, is a perfect all weather dining experience with both inside and outside courtyards available. We aim to serve quality, delicious homemade food with a focus on fresh local produce with friendly, efficient service to match. Dogs are welcome on the outdoor seating area with plenty of shade provided by large market umbrellas.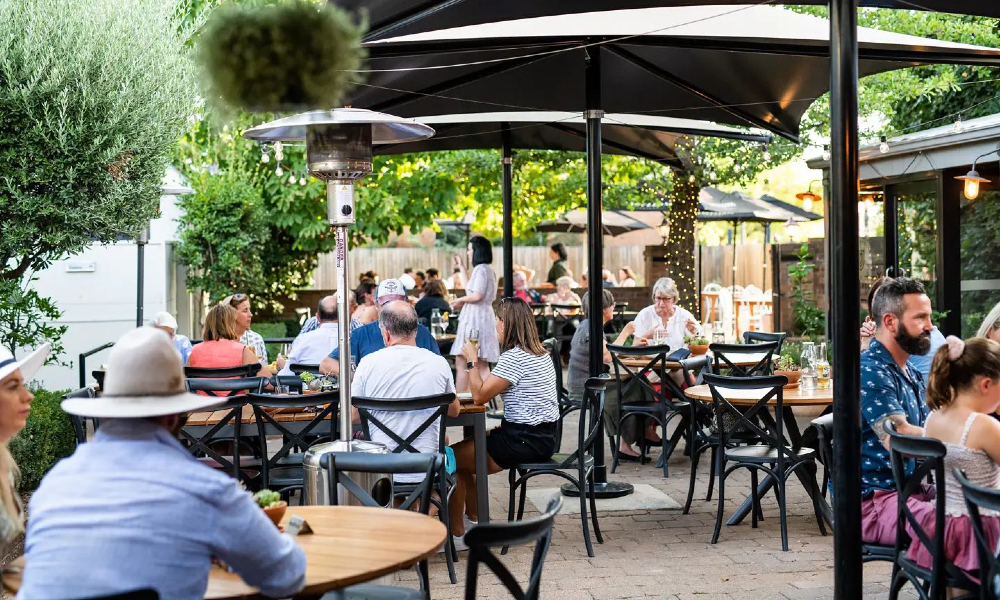 THE UNION BANK HOTEL
Orange
The Union Bank has a beautiful dog friendly courtyard (provided the dogs are on a lead) with plenty of trees providing some shelter. Note that the areas is not properly covered and not suitable for seating in case of rain.


DAY 5 – From Orange to Blue Mountains
Distance: 150km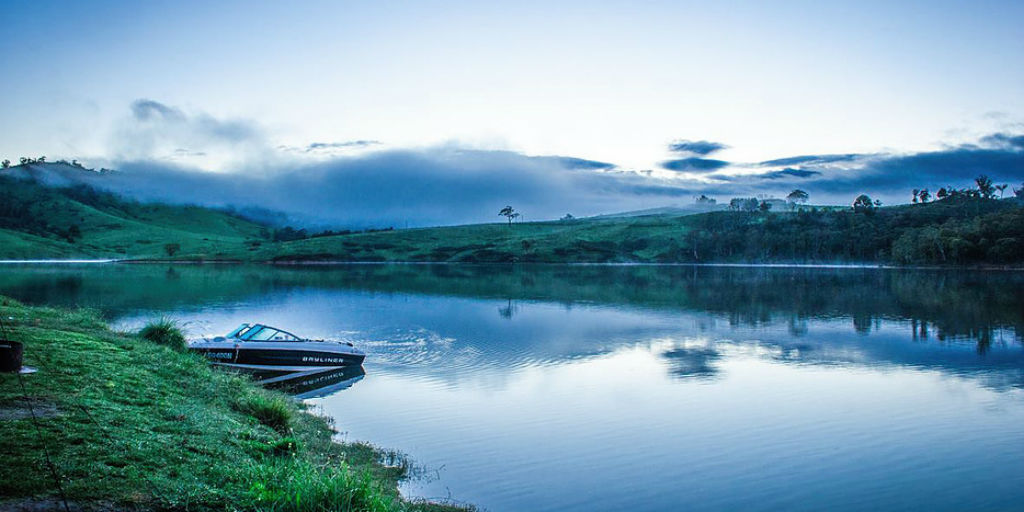 Easy 2 hour drive from Orange takes you all the way to Katoomba, however we recommend you to stop along the way as there are some amazing leg stretching opportunities.
Lake Lyell is a unique recreational area just before entering the Blue Mountains. Your dog can even go for a swim in this man made lake that was originally built in 1982 by Delta Electricity for the Mount Piper and Wallerawang Power Stations.
Dog Friendly Accommodation in Blue Mountains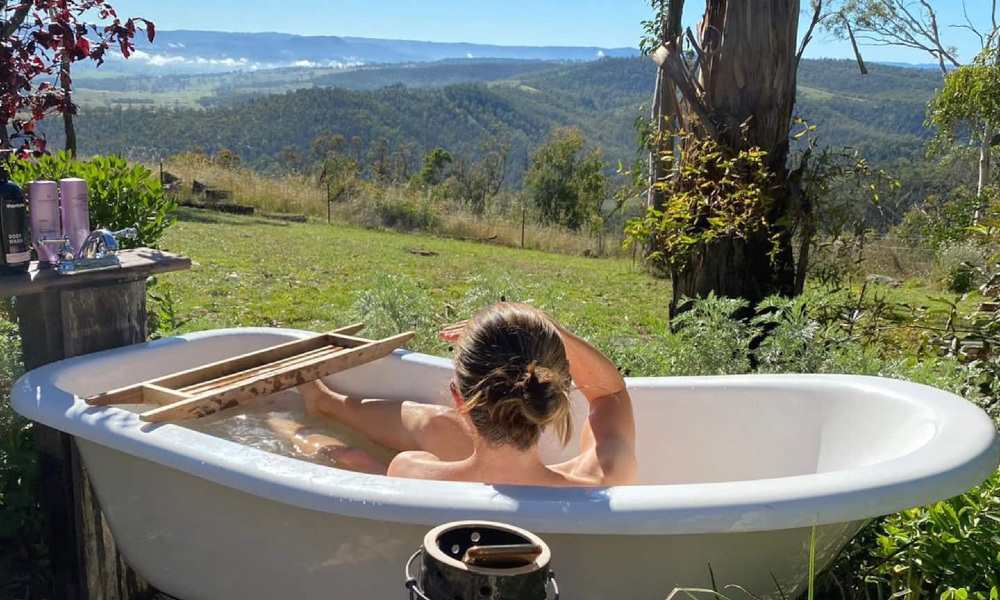 DOG FRIENDLY TINY HOUSE | Rydal
Guests 2 | Bedrooms 1 | FROM $223
Romantic dog friendly country style tiny house for couples, only 1.5 – 2 hrs drive from Sydney. Luxurious outdoor bath with hot&cold water plus lavender essential oil. The accommodation has a combustion wood fire for cosy nights inside or an outdoor fire for stargazing. Firewood is available at petrol station on highway turnoff. Kindling and firestarters are provided. You and your pets have exclusive access to roam and relax in the vast beauty of the Australian bush. Outside of the private garden which surrounds the tiny house and is securely fenced for your pets and also has spectacular views of the Blue Mountains.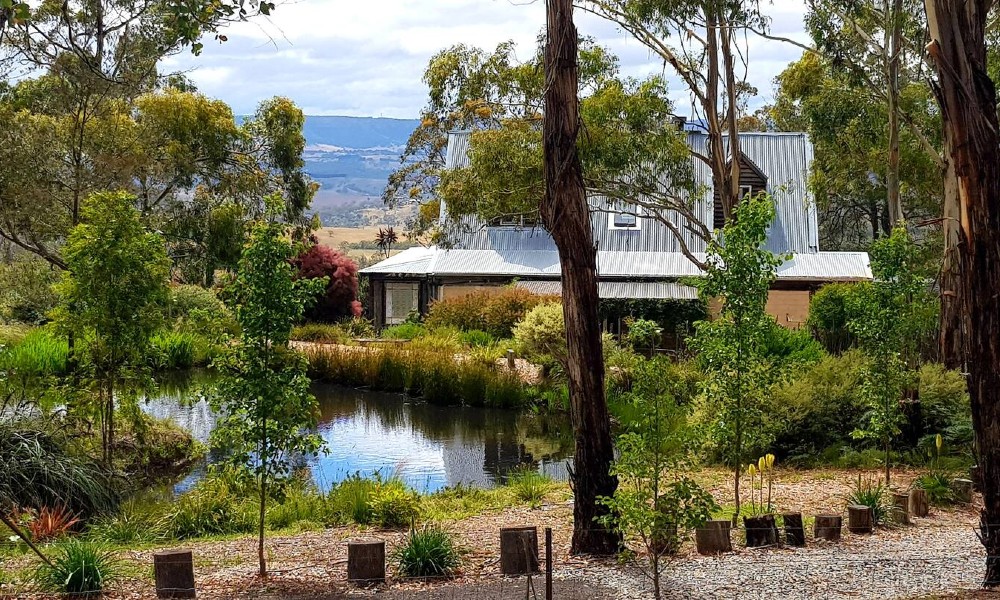 DOG FRIENDLY COTTAGE | Rydal
Guests 4 | Bedrooms 2 | FROM $518
Experience the amazing outdoor bath or relax at the indoor bathroom with clawfoot bath and overhead shower. Full kitchen facilities with dishwasher, coffee machine, microwave, gas cooktop, double gas oven and Smeg fridge. Large OLED HD smart tv and dvd player with foxtel all channels. Huge open wood fire place – one bucket of wood complimentary and there is an additional bucket available at cost $20. Lots of amazing wildlife just outside the front door, great walks on the large rural property and neighbouring 450 acre pine forest. 5 minute drive to dog friendly Lake Lyell with plenty of fishing and water sports opportunities. 35 minute drive the Jenolan Caves and Blue Mountains attractions.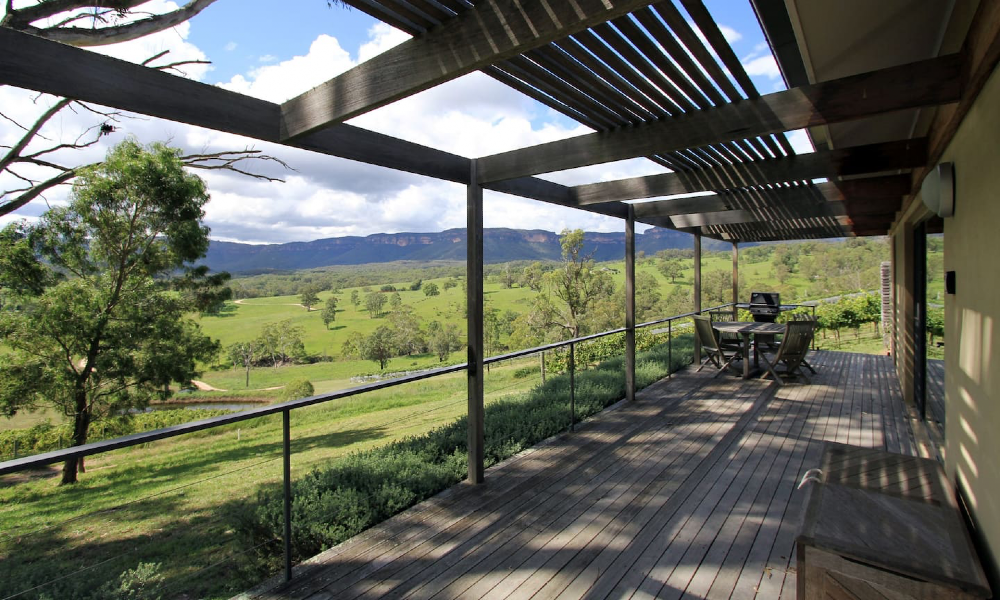 SUNRISE LODGE | Megalong Valley
Guests 4 | Bedrooms 2 | FROM $295
Sunrise Lodge is wonderfully quiet and secluded dog friendly accommodation – perfect for a romantic weekend – or a place to relax, unwind and experience the magic of mountain life. Nestled on the edge of the boutique vineyard with magnificent escarpment views across the Megalong Valley, it offers an unforgettable self-catered holiday experience. Purpose designed, the lodge comprises two large bedrooms each with an en-suite bathroom, spacious central living area with open fire and a fully-equipped kitchen and large deck.

Dog Friendly Walks in Blue Mountains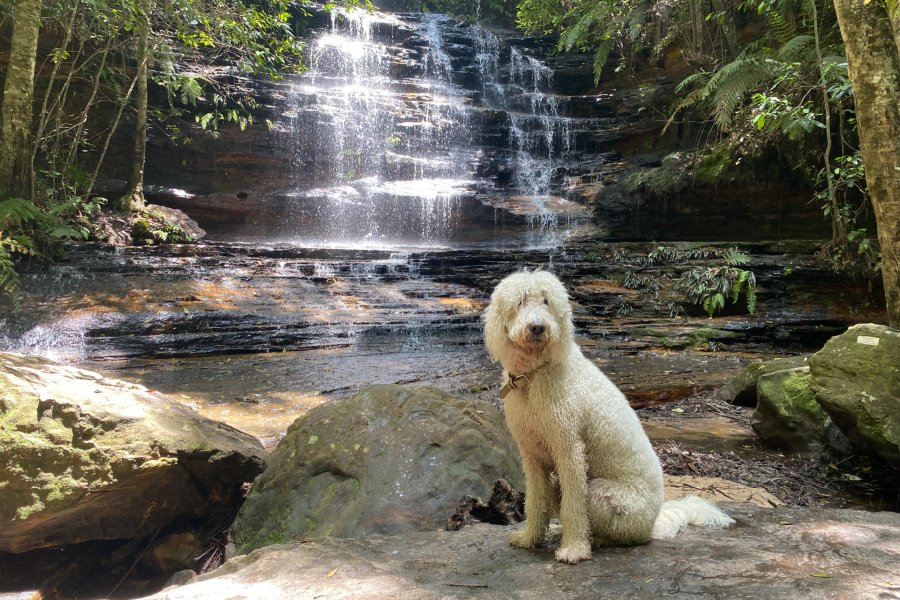 There are plenty of great dog friendly hikes around the Blue Mountains National Park. We highly recommend to explore South Lawson Waterfall Circuit, Fairy Bower, Terrace Falls and Zig Zag tracks, which are all approximately 3-5km long medium grade bush tracks or you can opt in for one of the oldest tracks in the Blue Mountains, 5km dog friendly Porters Pass in Blackheath.
Dog Friendly Bars in Blue Mountains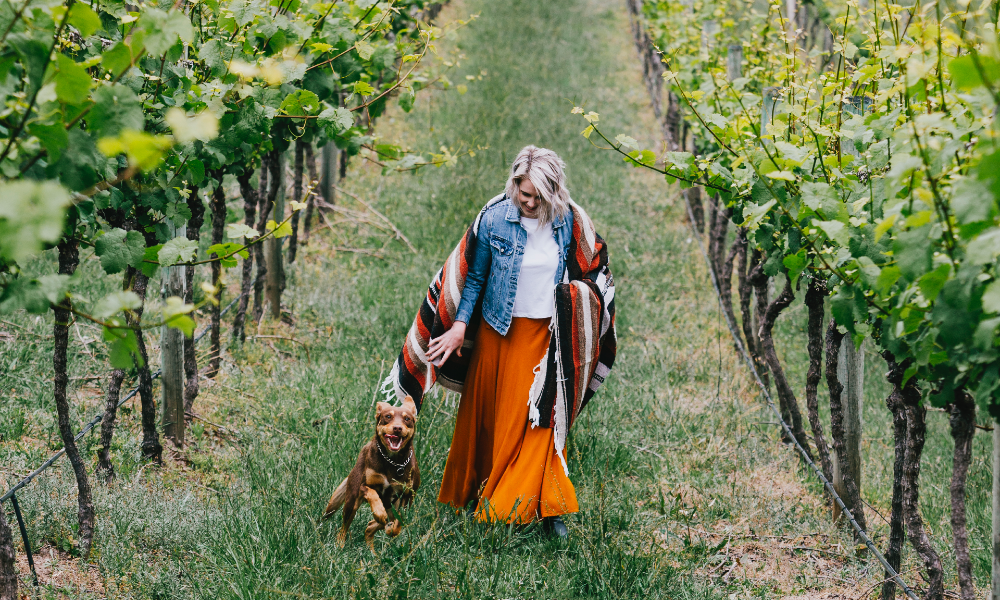 DRYRIDGE ESTATE
Megalong Valley
Nestled in the beautiful Megalong Valley surrounded by towering sandstone escarpments, dog friendly winery Dryridge Estate is a stunning boutique vineyard 20 minutes by car from Blackheath, the nearest Blue Mountains township. Visit the Cellar Door and enjoy delicious wines, cheese platters and some of the best scenery in the Blue Mountains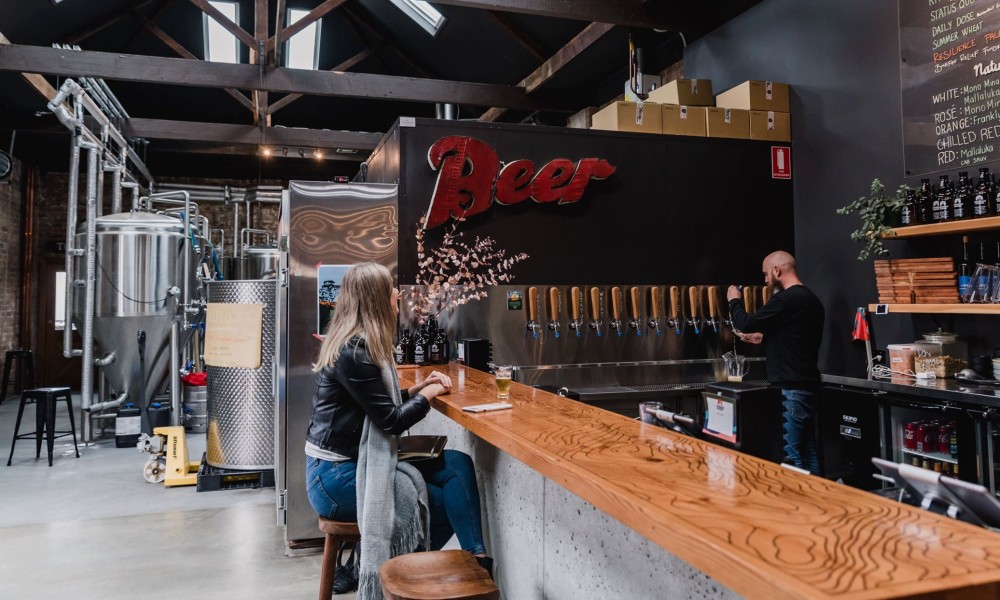 MOUNTAIN CULTURE BEER
Katoomba
Mountain Culture Beer Co is a dog friendly brewery pub in the fully restored iconic "Echo" building in Katoomba. Dogs are welcome to join you for a drink at the covered outdoor seating area.


DAY 6 – Return to Sydney
Distance: 120km (150km via Bilpin)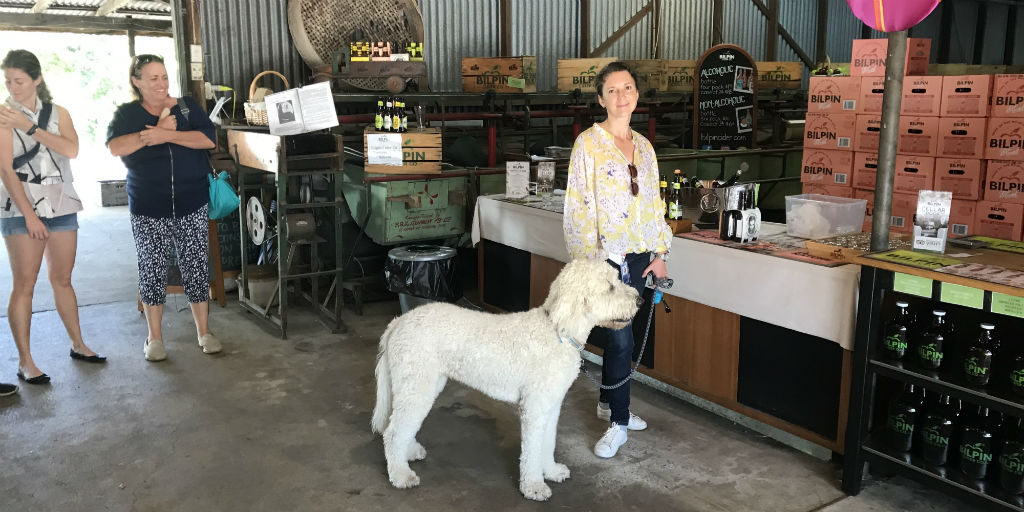 Home sweet home! It is time to return back to Sydney. If you still feel adventures and up for a more scenic way back home, take the Bells Line of Road through Bilpin. Enjoy the beautiful NSW country side and stop in Bilpin for one of the two dog friendly cider cellar doors, Bilpin Cider or Hillbilly Cider (they are literately next to each other).
DISCOVER OTHER DOG FRIENDLY DESTINATION GUIDES ACROSS AUSTRALIA –> CLICK HERE!