The Great Ocean Road With Your Dog!
Travel one of the world's most scenic coastal drives, The Great Ocean Road, with your furry friend by your side. The spectacular stretch of coast has plenty of magical dog friendly spots for you and your pooch to enjoy, including waterfalls, dog friendly cafes and restaurants, and an array of off leash beaches perfect for stretching those furry legs. Winding alongside the wild Southern Ocean, The Great Ocean Road is pup heaven!
This guide will reveal you the best dog friendly places along the Great Ocean Road to stop with your dog and stretch your legs! If your dog is not the biggest fan of long car trips there is a great article on "How To Reduce Your Dog's Stress Levels In The Car" from Dr. Bethany Richards BVSC (Sydney University)
by Rebecca Francis
Dog Friendly Accommodation
Before we start our journey on this iconic road, let's have a look at some of the great dog friendly accommodation options along the way.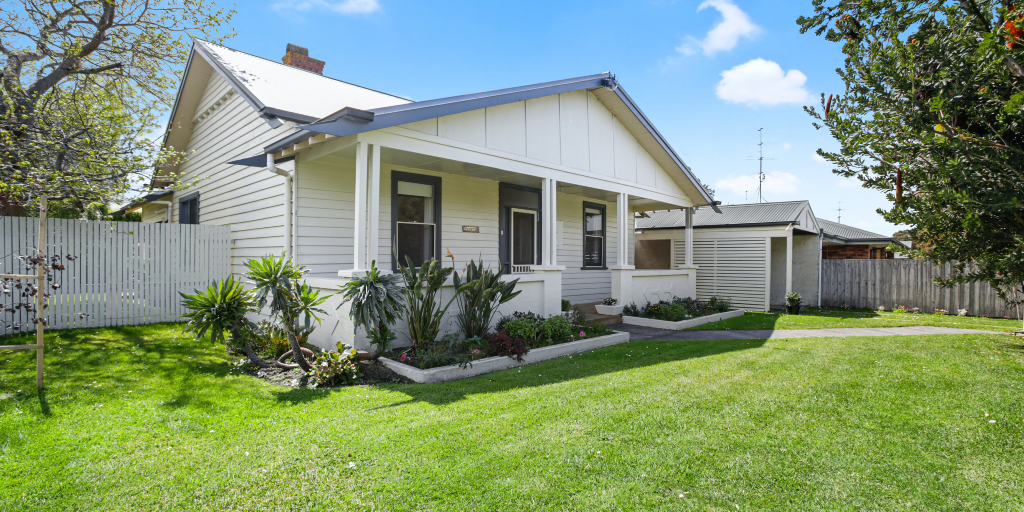 Lahnook on Moore
Apollo Bay
Guests 9 | Bedrooms 4 | Bathrooms 2
Lahnook on Moore offers charming well equipped dog friendly holiday accommodation close to all the amenities this seaside haven has to offer.
This dog friendly holiday accommodation is nestled right in the heart of Apollo Bay. It has a beautiful private rear garden that lets you escape into your own lush oasis. You have the best of both worlds while staying in this spacious Apollo Bay accommodation being close to coffee shops and the beach but also having your own quiet retreat for relaxing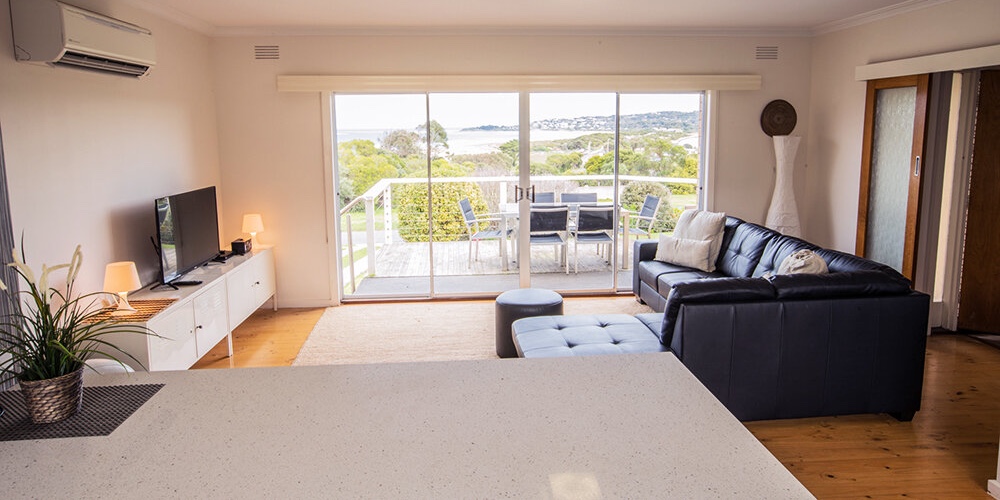 Saltwater Haven
Apollo Bay
Guests 6 | Bedrooms 3 | Bathrooms 1
Set high on the hill at the southern end of Apollo Bay, Saltwater Haven is a spacious 3 bedroom holiday house offering breathtaking views across Marengo Beach and Hayleys Reef.
Located at Gambier St, Apollo Bay on the Great Ocean Road, this bright and light filled house offers very well equipped pet friendly holiday accommodation that is only a very short walk from shops, cafes and gorgeous dog friendly beaches.
Centrally located on the Great Ocean Road, Apollo Bay is the idea base for exploring all the attractions this stunning piece of Victoria has to offer. To the west you have the Otway rainforests and to the east you have the Surfcoast.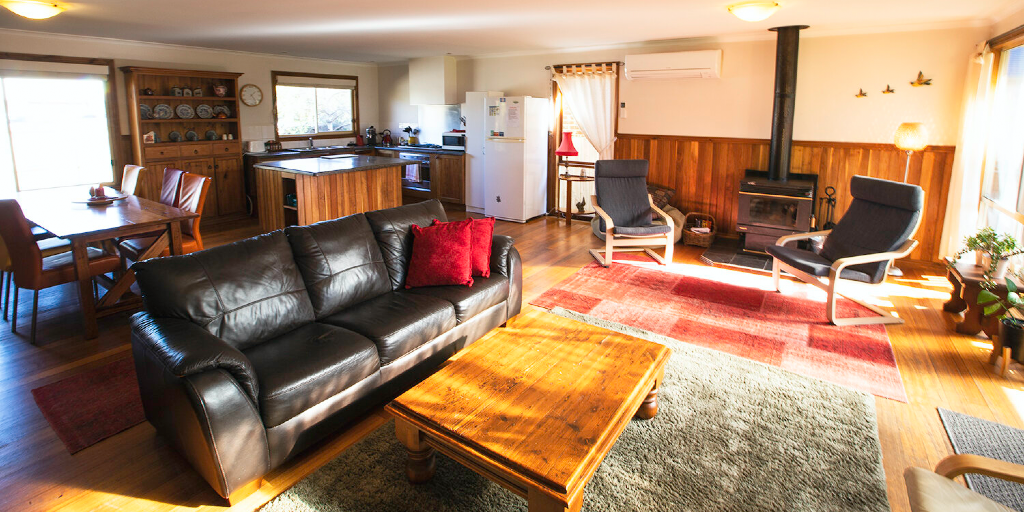 The Yellow House
Apollo Bay
Guests 6 | Bedrooms 3 | Bathrooms 2
The Yellow House is a located in the heart of Apollo Bay on the Great Ocean Road. Whilst right in the centre of town, this house feels private and secluded due to the many trees around the property.
The spacious open living offers a cosy Wood Fire and Air Conditioning, large dining table and well equipped kitchen with Coffee Machine, Microwave and Dishwasher.
3 large bedrooms offer accommodation for up to 6 guests with all linen and towels provided for your stay.
The master bedroom has an ensuite while the main bathroom offers a large corner spa.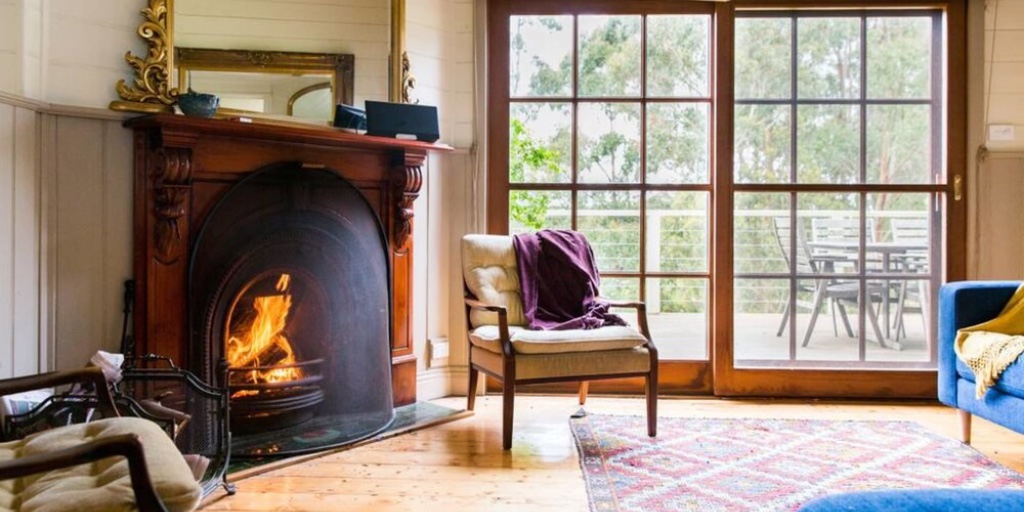 Oakwood Retreat
Skenes Creek North
Guests 10 | Bedrooms 4 | Bathrooms 2
Escape to a secluded retreat…
High in the hills where the Eagles soar…
Set high in the hill at the top of the Otways at Skenes Creek North, Apollo Bay "Oakwood Retreat" is the ultimate dog friendly holiday escape! It's the perfect location for enjoying both the bush and the beach. Skenes Creek is an easy 10 minute drive and Apollo Bay is 15 minutes away.
This beautiful four bedroom, two bathroom farmhouse has been fully revamped and offers complete indulgence set amongst giant Oak trees and gardens. Spacious decks and verandahs offer ocean views and sunny spots for relaxing with a book.
Torquay

Torquay is the beginning of the spectacular Great Ocean Road where coast and hinterland meet in a chorus of oohs and ahhs and the dog friendly beaches are inviting you for a walk & play. We believe it is worth spending some time in this beautiful coastal area before starting your road trip.
Dog Friendly Beaches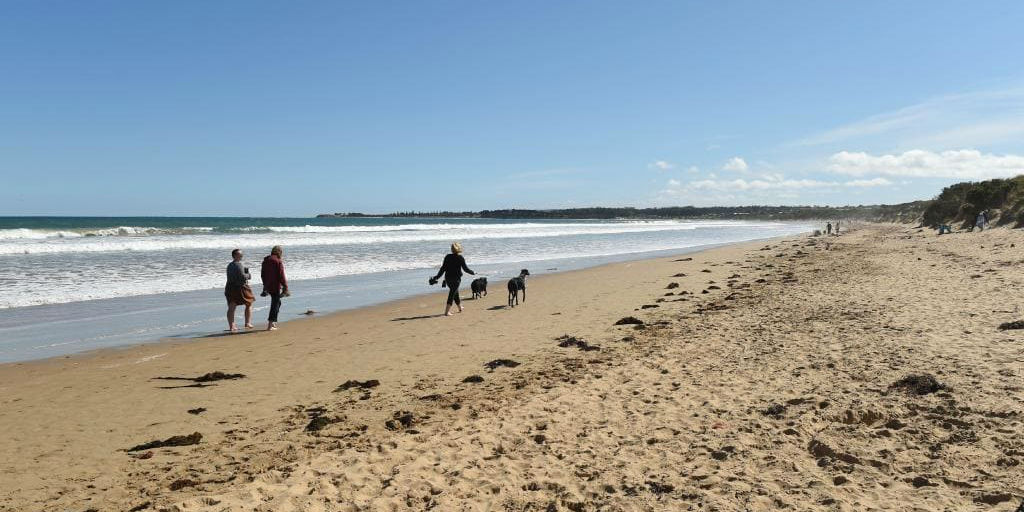 Whites Beach
220 The Esplanade, Torquay
Torquay's Whites Beach is the perfect place for some peace and quiet, away from the masses. The stretch of sand-dune edged coastline is an off-leash area all year round – a paw-fect place for your pooch to chase some frisbees! Other Dog Friendly Beaches around the area are Half Moon Bay, Zeally Bay Beach, Rocky Point and Torquay Surf Beach.
---
Dog Friendly Cafes & Bars
The Esplanade is where it all happens in Torquay. Visit the beach or go for a walk on the foreshore and make your way to one of the many dog friendly cafes for brekkie, lunch or a dose of cafeine!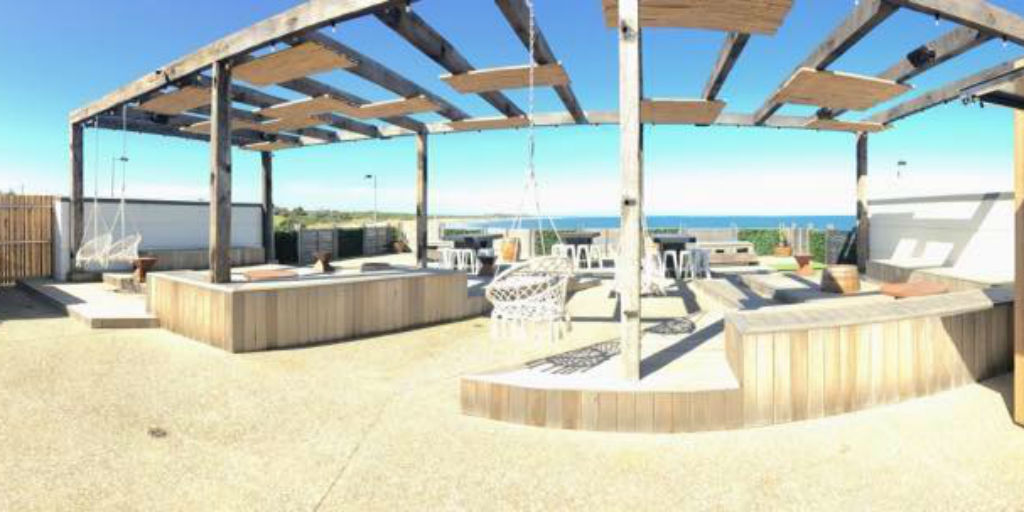 Bomboras
37 The Esplanade, Torquay
Serving a fantastic range of breakfast, lunch and dinner options, you are sure to find something for everyone at Bomboras. Dogs are well catered for with outside tables on the decking and in the garden at the front. Across the road is a beach where dogs are permitted off-lead at certain times.
---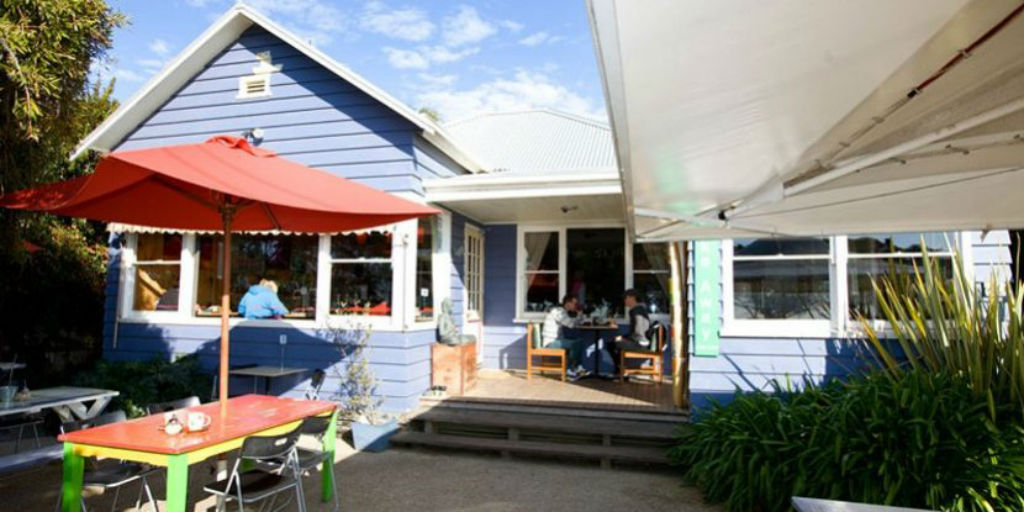 Cafe Moby
41 The Esplanade, Torquay
This modern Australian cafe is a hot spot for dog lovers after your morning beach walk. Grab a coffee and some fresh water for your pooch and enjoy the waterfront views.
---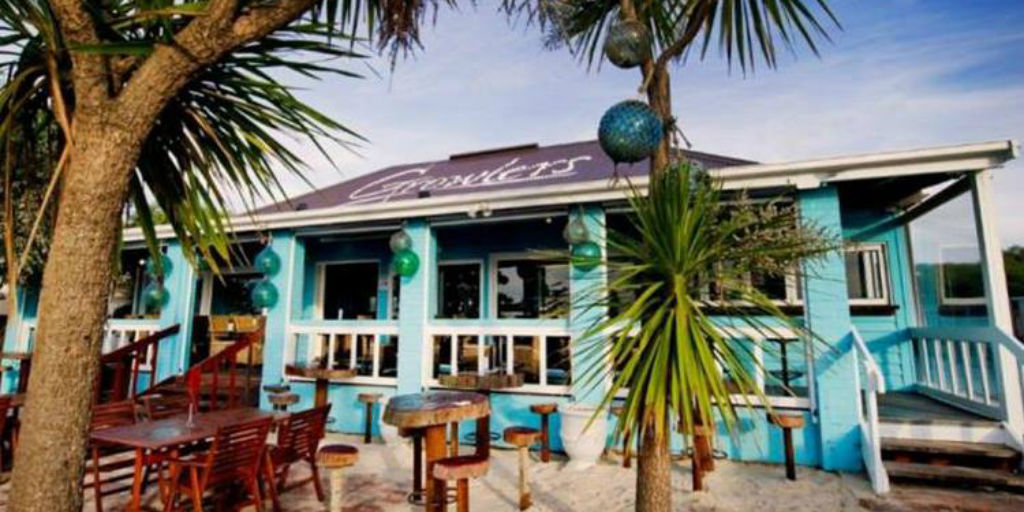 Growlers
23 The Esplanade, Torquay
Dog-friendly with a large outside dining area at the front with shade umbrellas. Walk straight down to the beach across the road where dogs are permitted off-lead at certain times.
---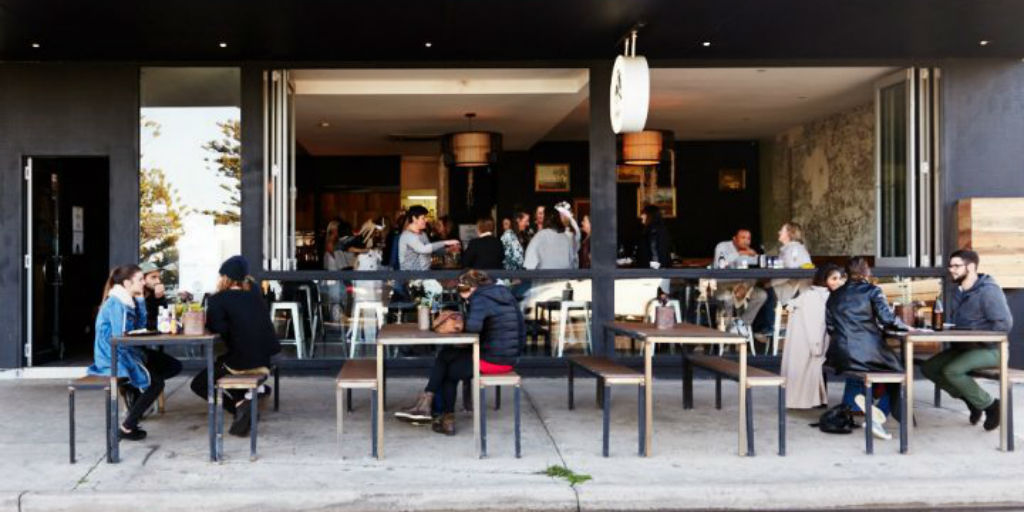 Senors
17 The Esplanade, Torquay
With a prime beachfront location and an earthy-industrial space, Senors is the perfect stop for tasty tapas and cool cocktails. The popular bar allows dogs to join owners in the partly covered outdoor area while they drink and dine.
---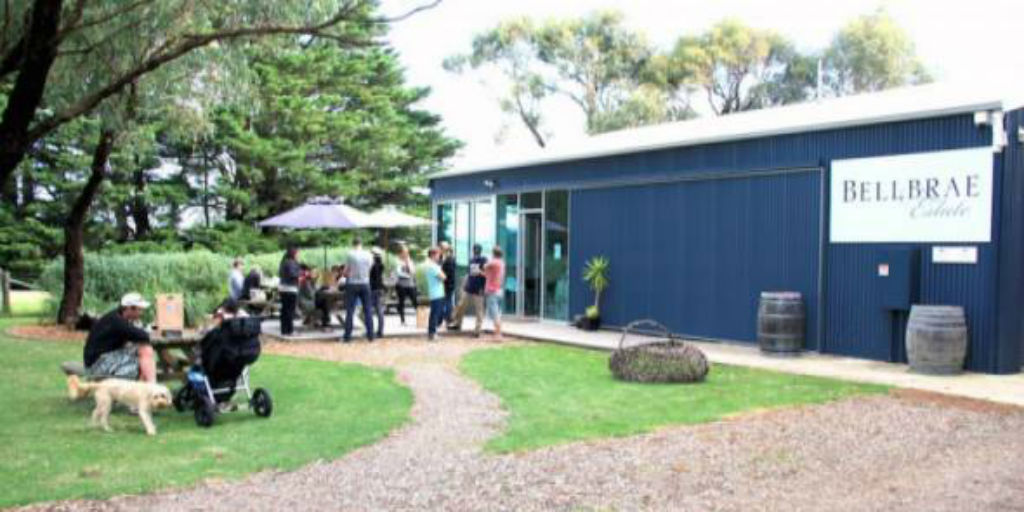 Bellbrae Estate
520 Great Ocean Road, Bellbrae
Bellbrae Estate is a stunning Victorian winery on the beautiful Surf Coast, just a short 5 minutes from the famous Bells Beach. Their award winning wines are aptly named after local surf breaks – including the renowned 'long board' range. Bring your pup along as you taste your way through their cool climate wines and feast on local produce. There is shaded seating outside and water bowls readily available for your thirsty canine companion.
---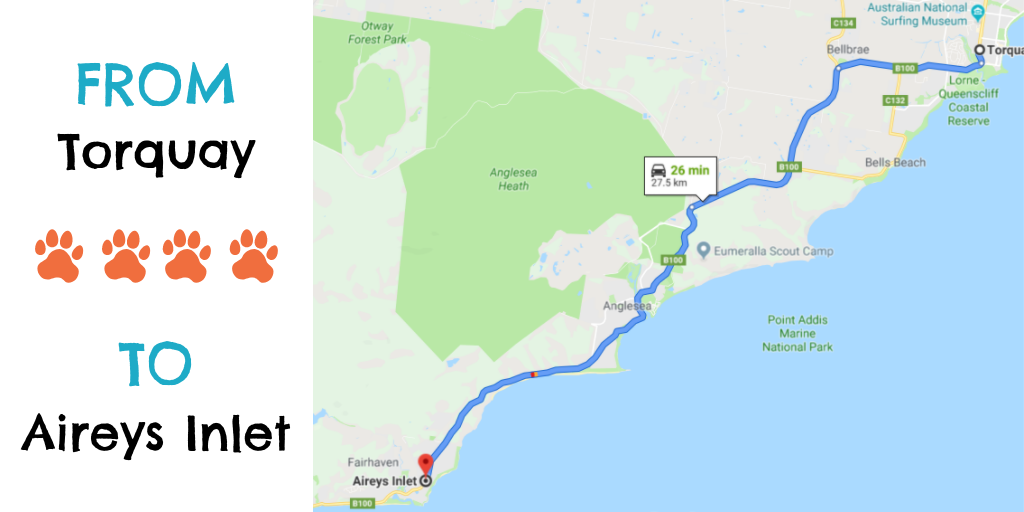 ---

Aireys Inlet & Anglesea
The boutique coastal town Aireys Inlet is one of the Great Ocean Road's best kept secrets, offering visitors serenity and tranquility with spectacular cliffs, beautiful beaches, a picturesque river valley and the Great Otway National Park (which is unfortunately only for the two legged visitors).
The seaside town of Anglesea is situated along the scenic Great Ocean Road on the Anglesea River, between the nearby coastal towns of Torquay and Aireys Inlet. Anglesea is a particularly significant town on the Great Ocean Road as it marks the first spot south-west of the road's official start at Torquay where it meets the coast.
Dog Friendly Beaches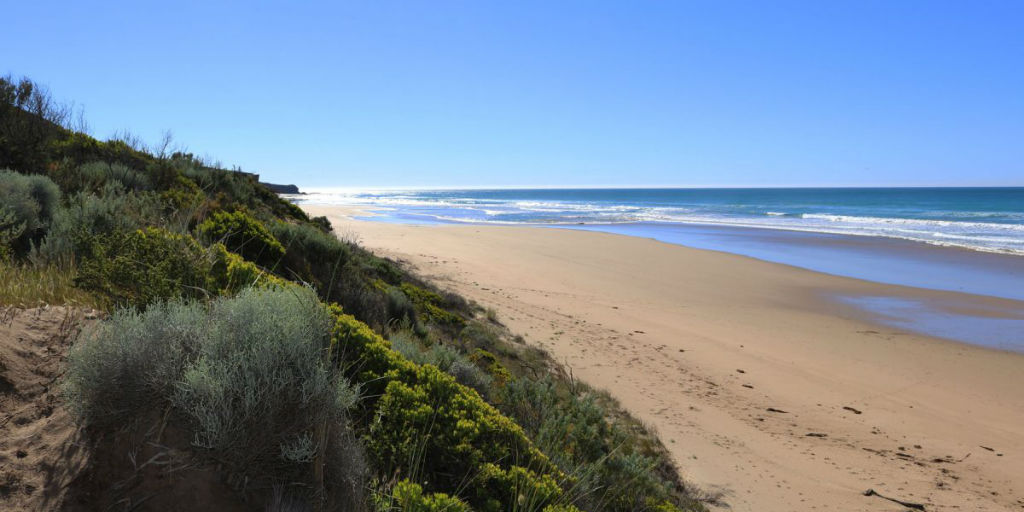 Surf Beach
Anglesea
Surf Beach is one of the two dog friendly beaches in Anglesea. Endless soft sand means there is enough room for dogs of any level of activity and energy to run around.
Another off leash dog beach in Anglesea is the Main Beach where you can go for a play and swim with your pooch 24/7 (some restrictions apply during the summer months)
---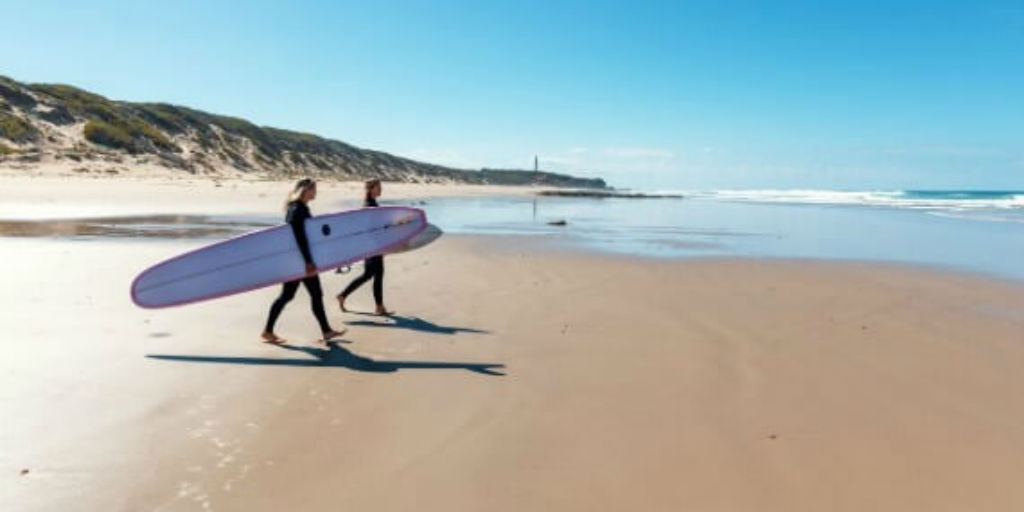 Surf Beach East
Aireys Inlet
Surf Beach is the largest beach in Aireys Inlet. Both East and West ends of the beach have off leash areas (East 24h & West Timeshare). It's a stunning place to stop with your dog for a great run and play with amazing coastal views.
Other off leash dog beaches in Aireys Inlet are Surf Beach West, Boonah Coastal Reserve and Eagle Nest Reef.
---
Dog Friendly Cafes & Bars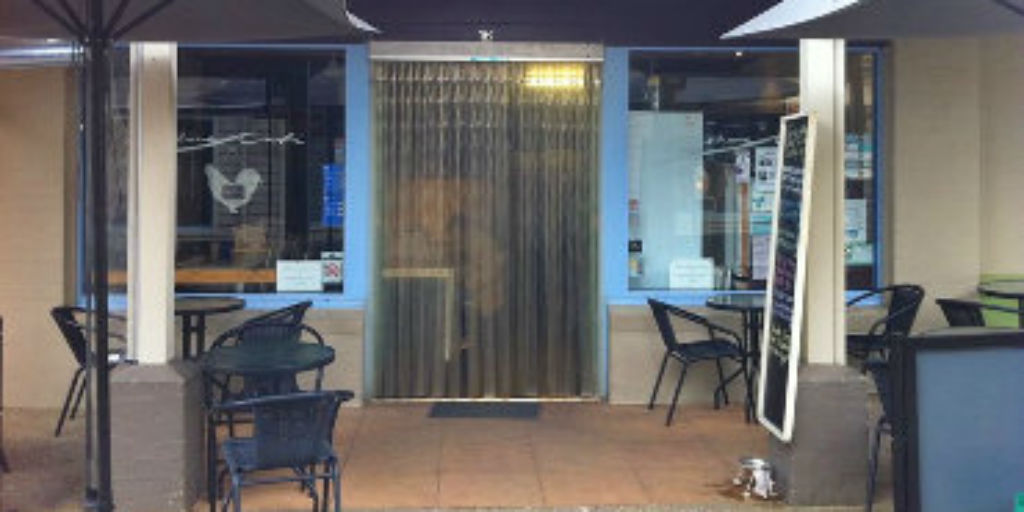 Offshore Cafe
87-89 Great Ocean Road, Anglesea
Offshore Cafe is a cosy and comfortable space to stop for a cuppa and eye over their extensive all day menu. Your pup is welcome to sit with you in the outdoor seating area where water bowls are readily available
---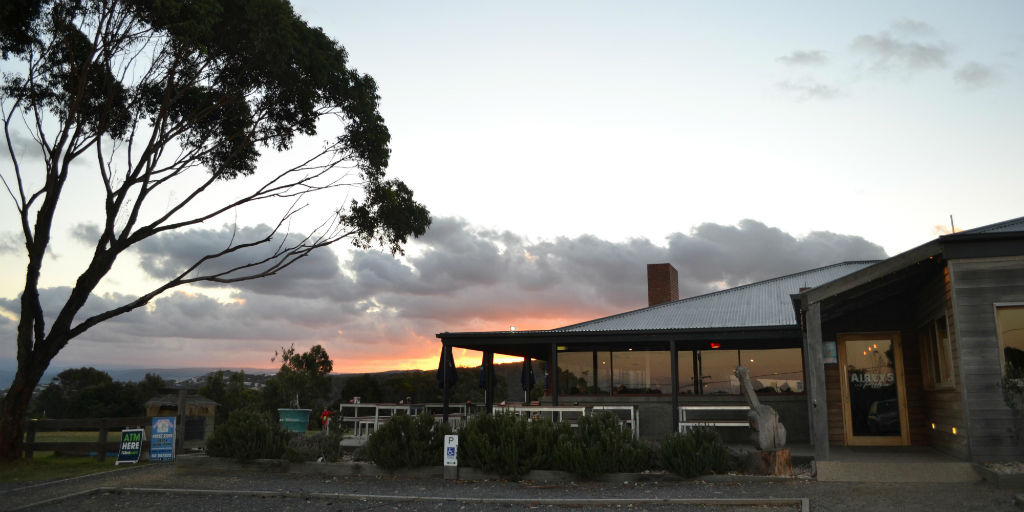 Aireys Pub
45 Great Ocean Road, Aireys Inlet
With ocean views on one side and the Otwey National Park on the other, this nature-surrounded pub is worth a visit with your pup. The extensive outside deck and tables on the lawn are dog-friendly and there's a large garden around the hotel where dogs can be walked.
---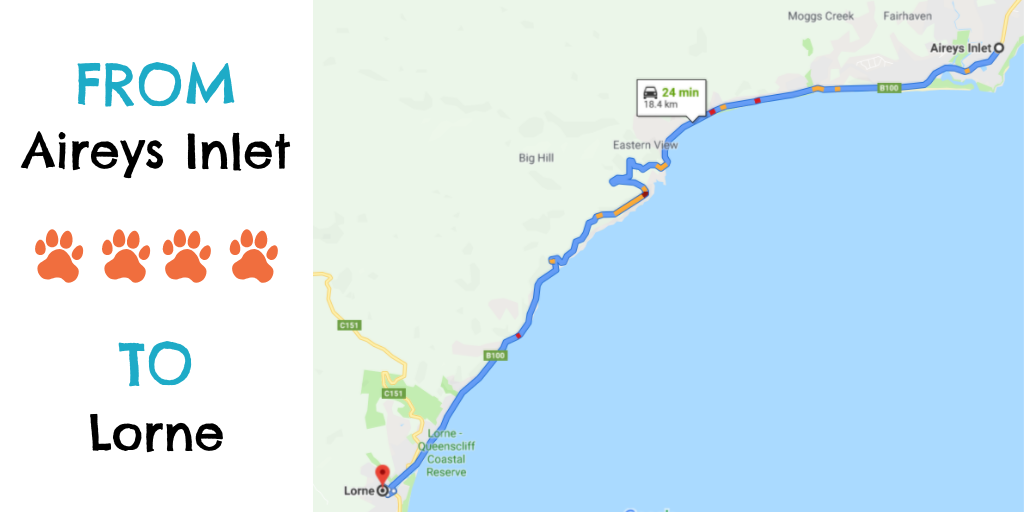 ---

Lorne
Lorne invites you to uncover a cove of indulgent little pleasures, promising an affair of endless weekend romance. You'll quickly find out why the Nouveau riche of the 1920's made Lorne their seaside getaway, gifting the beautiful Art Deco architecture and taste for the arts to the next generation of admirers. Old school with a touch of Mediterranean charm, Lorne is the perfect place for your next rendezvous
Dog Friendly Beaches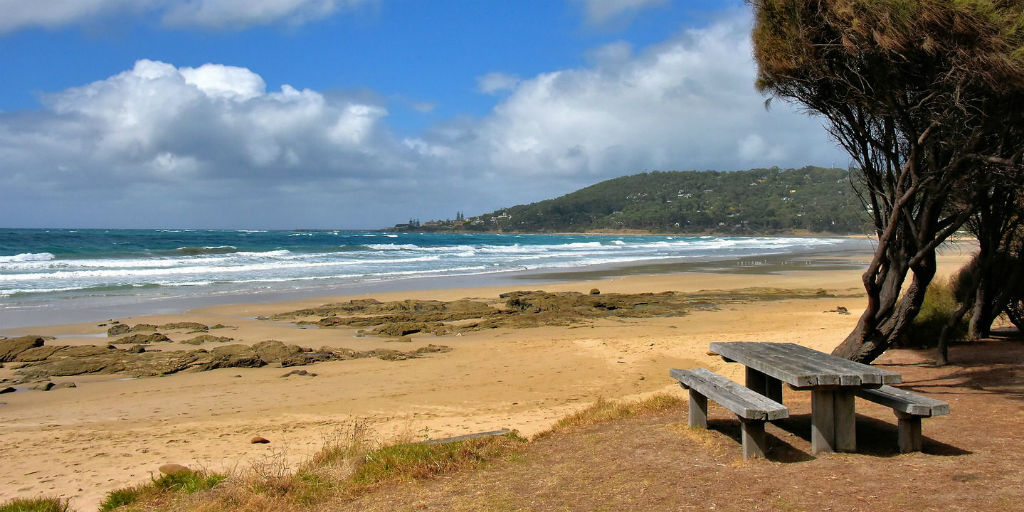 North Beach
Lorne
Lorne is know for it's beautiful beaches as well as the nature beyond them. Although there are three dog friendly off leash beaches in town, only North Beach is 24h off leash.
Other off leash dog beaches in Lorne are South Beaches and Loutit Bay. Both are timeshared so check the restrictions beforehand.
Enjoy the beaches in Lorne with your dog as from here on the coastal areas are mainly National Parks and therefore dogs are not allowed. Next off leash dog beach can be found from Warrnambool.
---
Dog Friendly Cafes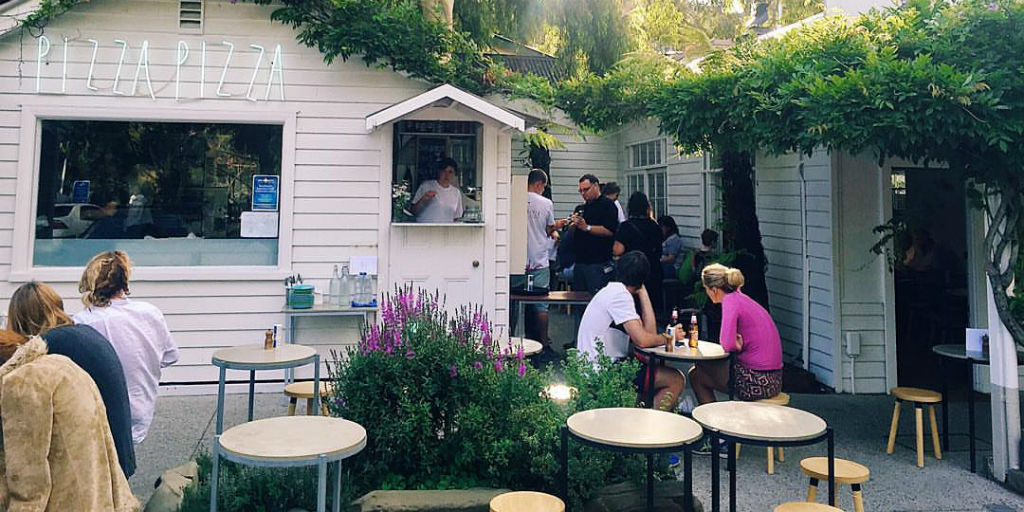 Pizza Pizza
2 Mountjoy Parade, Lorne
A local favourite, Pizza Pizza is the place to stop if you're craving traditional or gourmet thin-crust Italian style pizza. There are tables at the front and a courtyard to the side of the restaurant where dogs are welcome and a water bowl is always readily available
---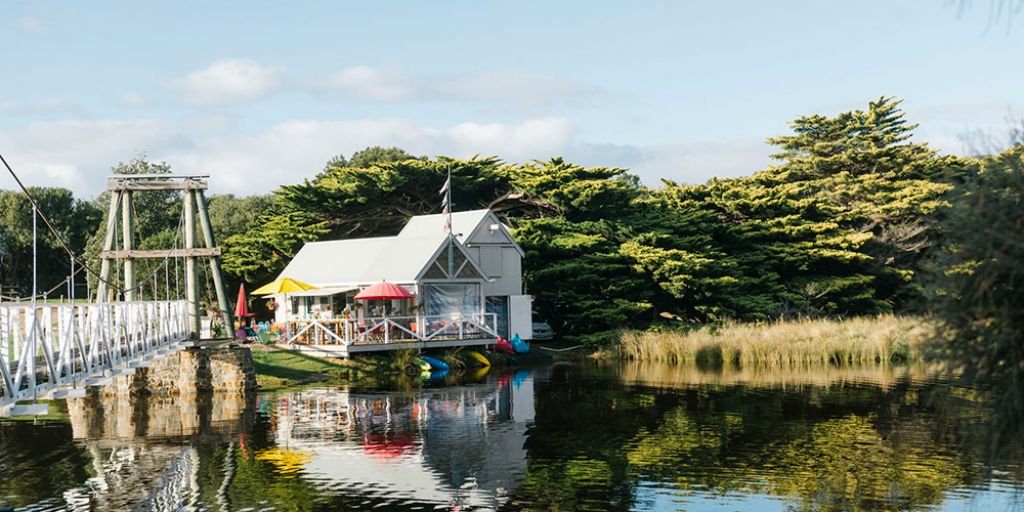 Swing Bridge Cafe & Boathouse
40 Great Ocean Road, Lorne
One of Lorne's best kept secrets, Swing Bridge Cafe sits at the mouth of the Erskine River overlooking the historic swing bridge where the river meets the sea. There is a lovely outdoor deck and lawn area where dogs are welcome. The beach in the area also allows dogs off-leash at certain times
---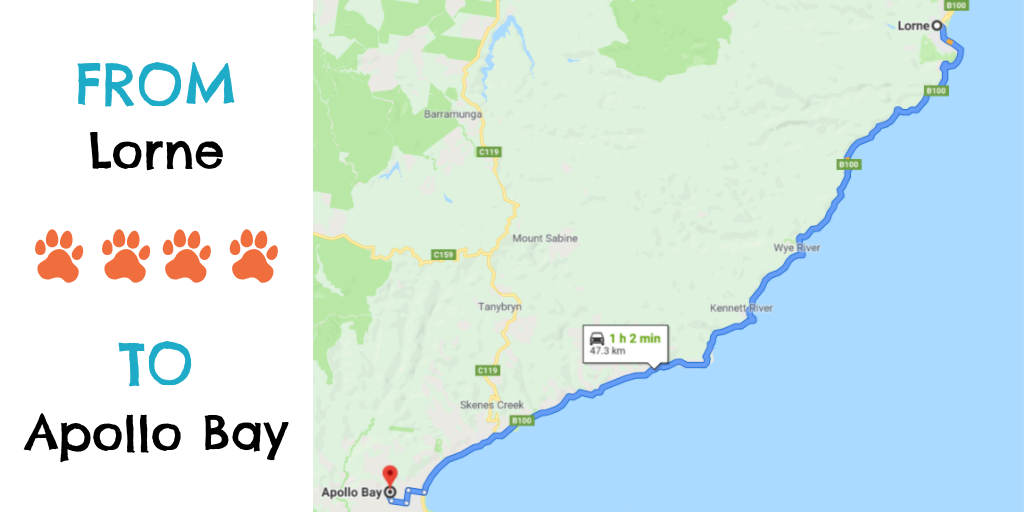 ---

Apollo Bay & Otway Hinterlands
Beach front cafes, stunning hinterland walks, waterfalls, dog friendly brewery with "doggie beer", wineries and so much more… Apollo Bay and the Otway Hinterlands are one of the most scenic areas along The Great Ocean Road.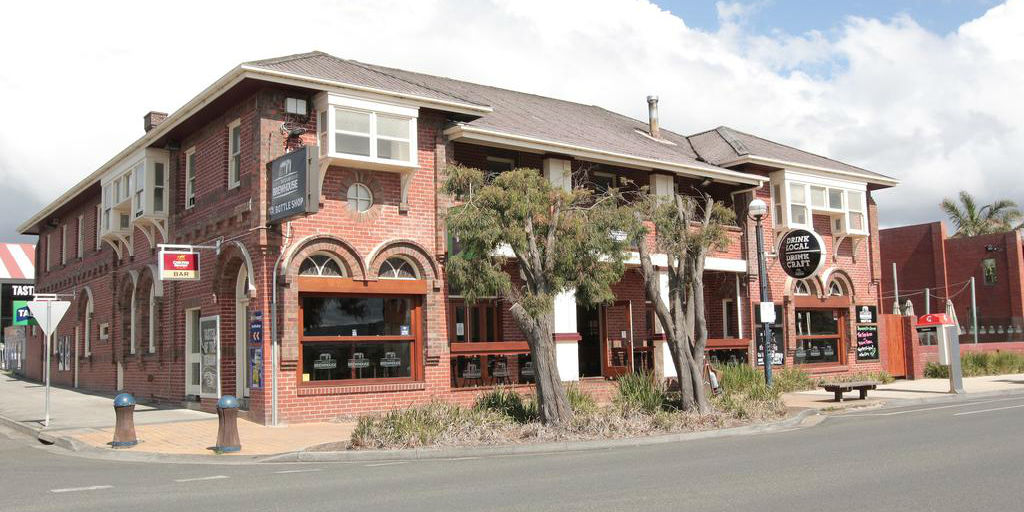 Great Ocean Road Brewhouse
29 Great Ocean Road, Apollo Bay
The Great Ocean Road Brewhouse is a craft beer and dog-friendly haven with over 100 craft beers to try and ocean views for you to enjoy with your tail wagging friend. Warm yourself by the fire or enjoy the dog-friendly beer garden with ocean views. Plus, they also serve "Beerdog's Bitter", a special alcohol-free doggy brew!
---
If you are staying overnight in the area there are great dog friendly destinations to visit approx. 45-60mins inland from Apollo Bay. Take your dog for an adventure to the hinterlands and visit some of the areas stunning waterfalls. Or drive up to a small country town of Forrest for a lunch at the Forrest Brewing Company or even further up to Barongarook West for wine tasting at Otway Estate.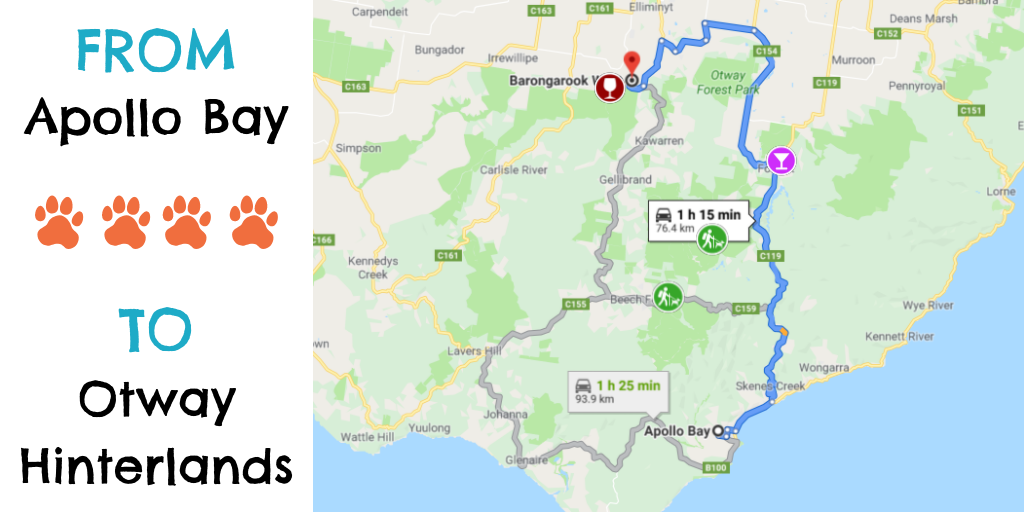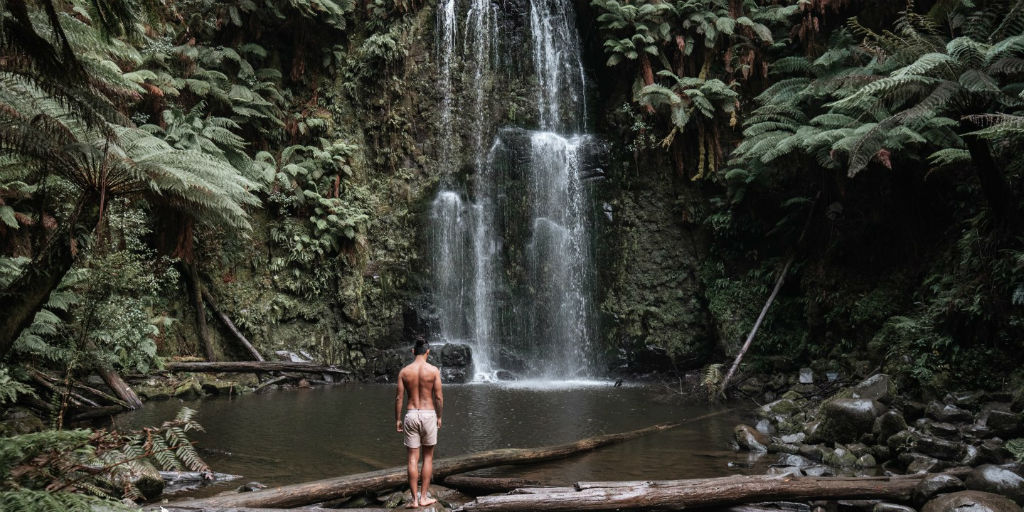 Beauchamp Falls
Beech Forest
Beauchamp Falls is a must see attraction for those who love nature and exploring waterfalls. Walk through magnificent mountain ash forests to arrive at the spectacle of the Beauchamp Falls. Starting at the Beauchamp Reserve, the track should take around 1 hour to return and is a great 1.5km walk to see a magnificent waterfall. Dogs are permitted on the track but must be kept on a leash.
---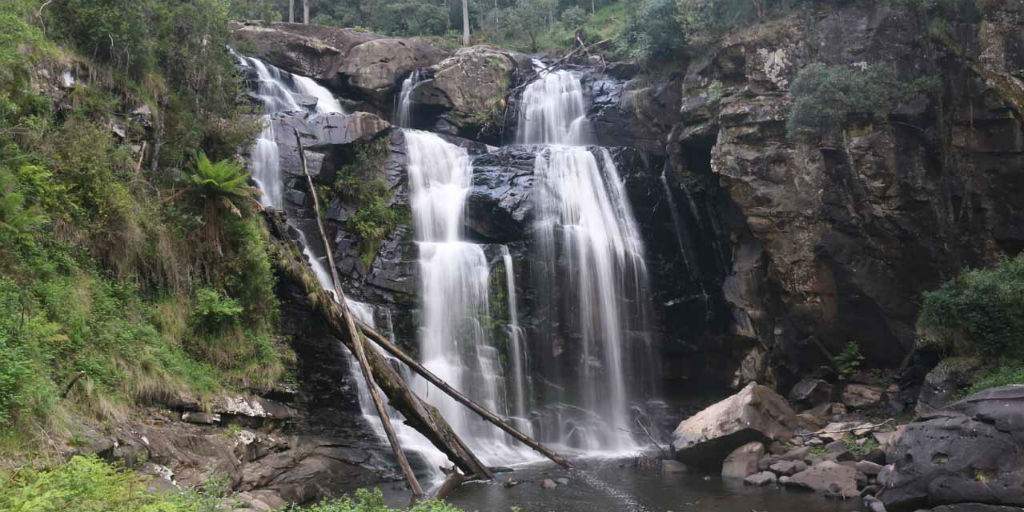 Stevenson Falls
Stevenson Falls Walk, Otways
Nestled in the Otways just 25 minutes inland from the Great Ocean Road, Stevenson Falls are a sight to behold if you're a waterfall lover. The trail is around a 1.5km walk to the waterfalls and should take you around 1 hour to return to the carpark. Dogs must be kept on a leash at all times.
---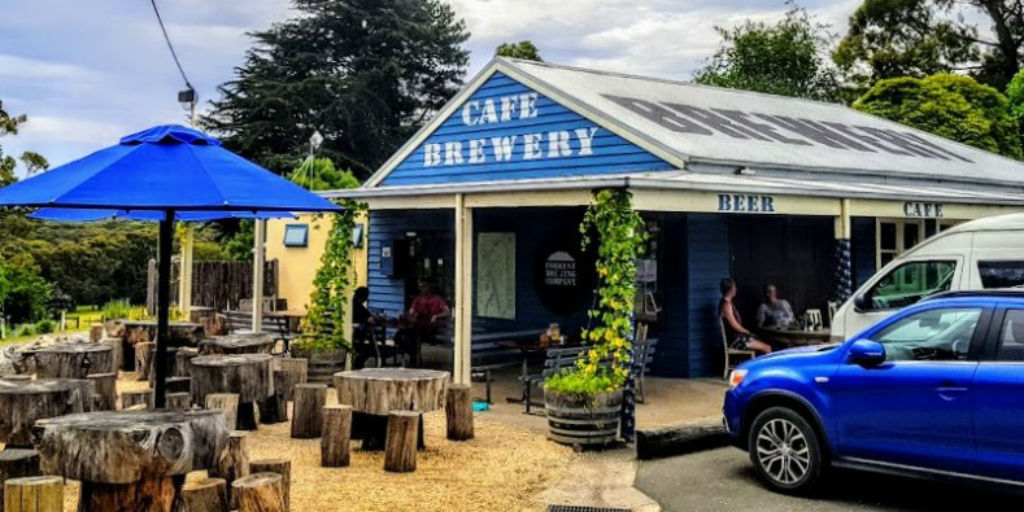 Forrest Brewing Company
26 Grant Street, Forrest
Forrest Brewing Co. is a small sibling owned microbrewery combined with a relaxed dining hall and has established a reputation for good food and great beer in the tiny Otways village of Forrest. Bring your pup along – there's plenty of outdoor seating under the front verandah where dogs are welcome and water bowls can be found.
---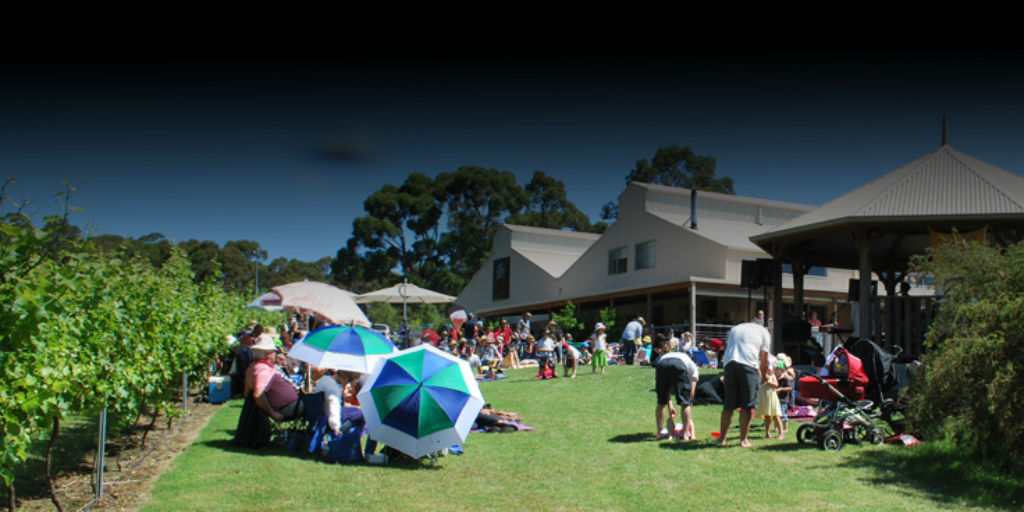 Otway Estate Winery & Brewery
10 Hoveys Road, Barongarook West
Otwey Estate Winery will welcome your well behaved pooch with welcome arms. Dogs on lead are allowed throughout the Estate, from the Brewery Outlet right through to Accommodation. There is even an on site dog trainer who runs dog training courses for you and your dog at the Estate!
---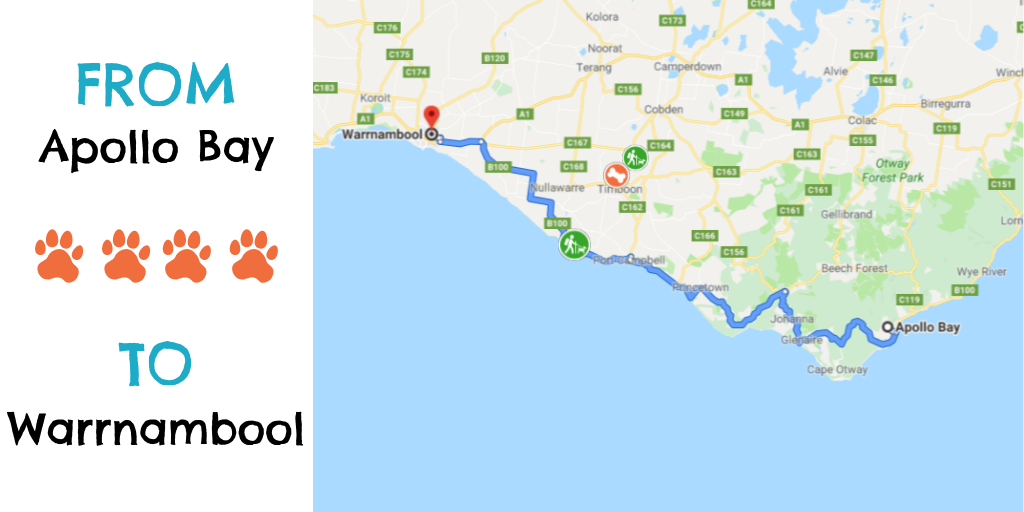 ---

Warrnambool & Port Fairy
Warrnambool is known as one the best whale watching destinations during the winter months when the whales from the Antarctic make their journey to warmer waters along this coast. But there is so much more to discover with your dog from relaxing walks along the coast to dog friendly cafes and bars.
There's a chance you missed the biggest news ever to hit the tiny Victorian town of Port Fairy. In 2012 the seaside village, with its whalers' cottages, red-doored lighthouse and jaunty little fishing fleet, was voted the Most Liveable Town (population under 20,000) in the world. Yes, the world. There's a sign declaring it as you drive into this hamlet at the end of the Great Ocean Road, also known for its folk festival and, more recently, its food.
Once you leave Apollo Bay, you have two alternative routes to Warrnambool. You can either remain on the coastal route from Port Campbell towards Peterborough and take in the stunning National Park scenery. Stop for a walk with your dog at the Bay of Martyrs in Peterborough and enjoy the fresh ocean air.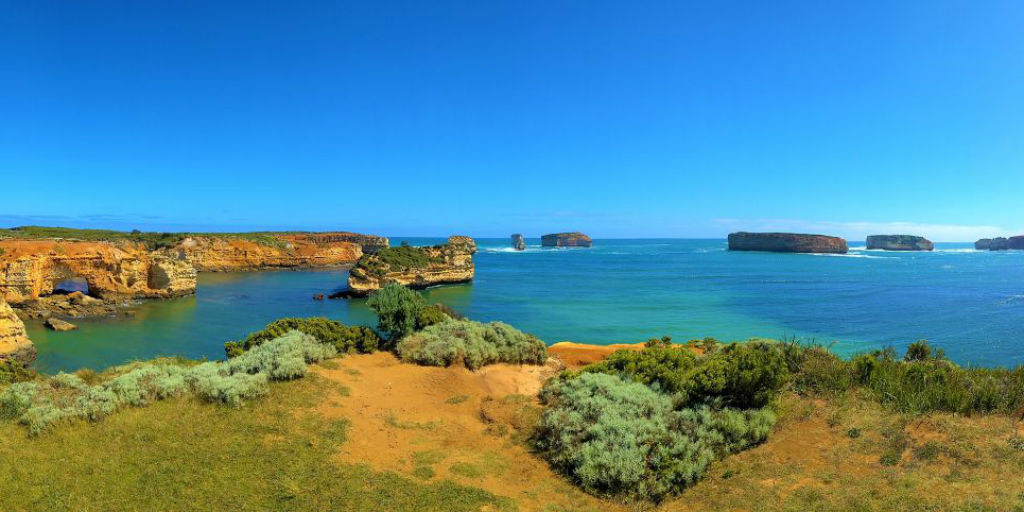 Bay of Martyrs
Halladale Street, Peterborough
A wonderful cliff top trail from Peterborough Golf Course, through Halladale Point where you can view where the Falls of Halladale was wrecked, along to the Bay of Martyrs car park which provides access to some spectacular beaches and coves, a favourite local dusk and dawn haunt.
Alternatively, you can turn inland from Port Campbell and head towards the old dairy industry hub of Timboon. The town remains true to it's origins and the most visited attractions are Timboon Ice Cream and L'Artisan Organic Cheese. There is a great dog friendly hike following the old Camberdown to Timboon Railway line.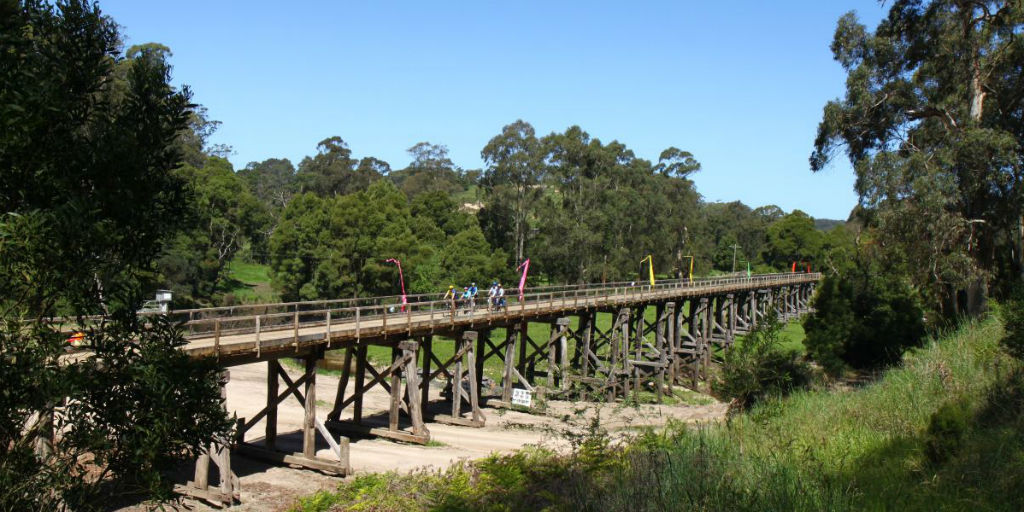 Camperdown to Timboon Rail Trail
Camperdown / Timboon
Enjoy the historic Camperdown to Timboon rail trail with your pup. Stretching for 34 km, the trail passes volcanic lakes, farmland and even rainforest. Dogs must be kept on a leash at all times. Stop off at the Timboon Railway Shed Distillery for a rest – they also provide water bowls for thirsty pets
---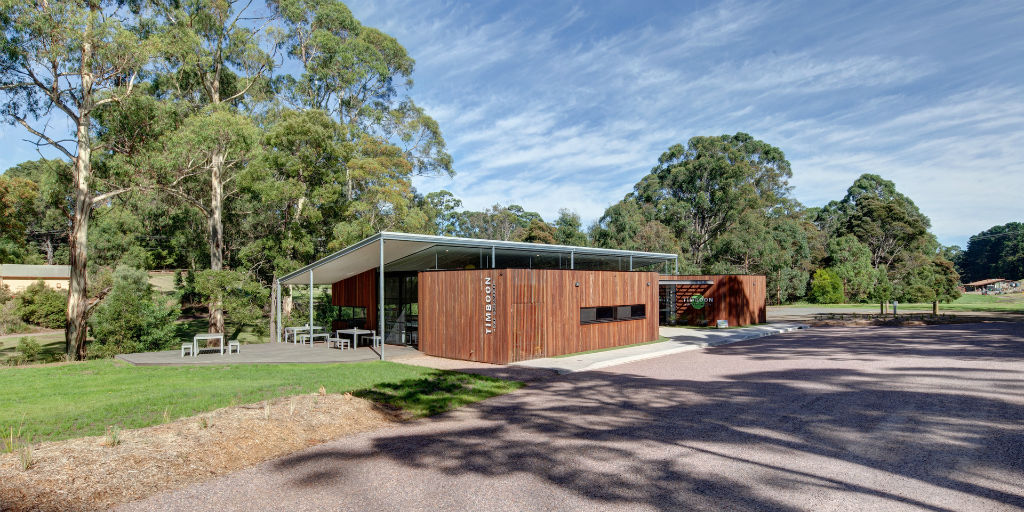 Timboon Ice Cream
1A Barrett Street, Timboon
Paws for a refreshing cone with your pup at this delicious ice creamery. Your four-legged pal will love the special dog-friendly ice cream that's low in sugar and lactose, with a dash of hemp oil to keep a healthy coat.
---
Warrnambool
Dog Friendly Cafes & Bars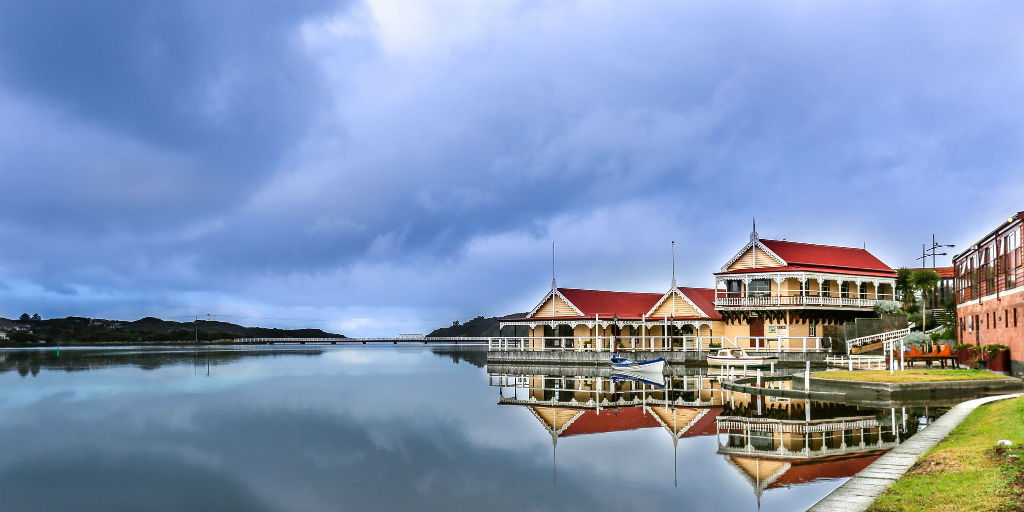 Proudfoot's Boathouse
2 Simpson Street, Warrnambool
Sat on the banks of the Hopkins River, the historic boathouse has been a Warrnambool icon for 130 years. Now a modern Australian restaurant, Proudfoot's is the perfect spot for grabbing a bite to eat while on your Great Ocean Road adventure. Your pup is welcome to sit with you out on the deck as you admire the mesmerising river views.
---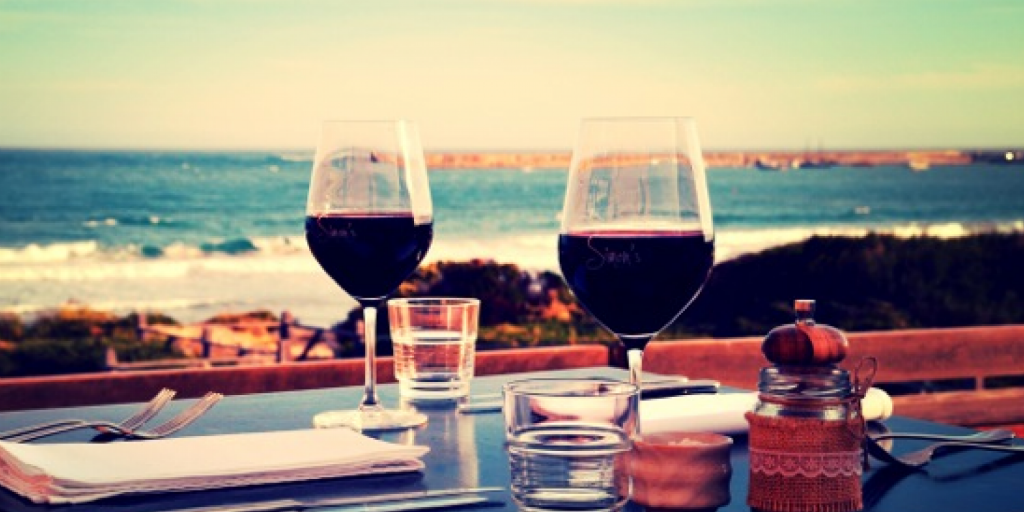 Simon's Waterfront
80 Pertobe Road, Warrnambool
Only a stones throw away from the beach, Simon's Waterfront offers breathtaking views over the Southern Ocean and its dramatic shoreline. It's a beautiful spot to pull up with your canine companion for a bite to eat. Dogs are welcome to admire the view with you out on the elevated deck that overlooks the ocean.
---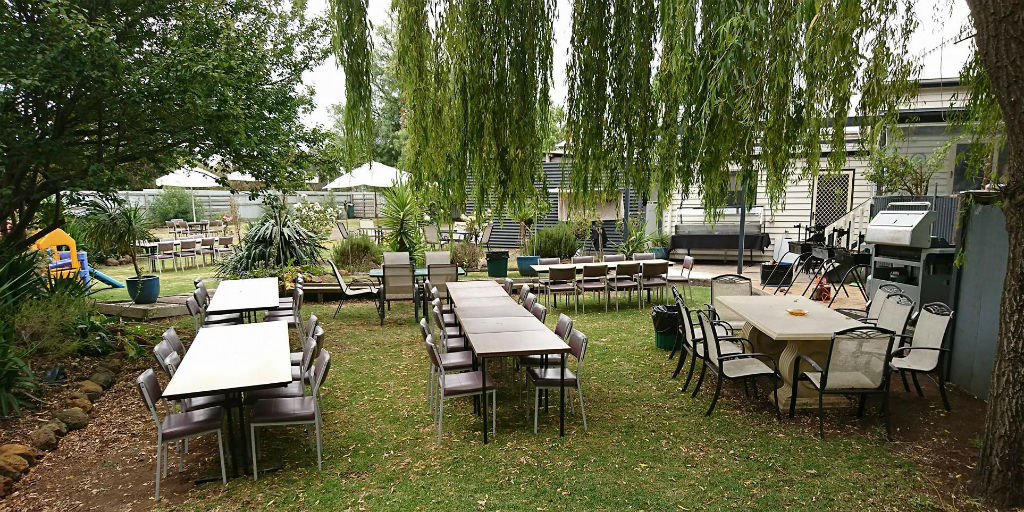 Woolsthorpe National Hotel
23 Manifold Street, Woolsthorpe
Just a short 15 minute drive from Warrnambool, lies the hidden gem known as the Woolsthorpe National Hotel. Dine on fresh, honest pub food with a beautiful dog friendly beer garden.
---
Port Fairy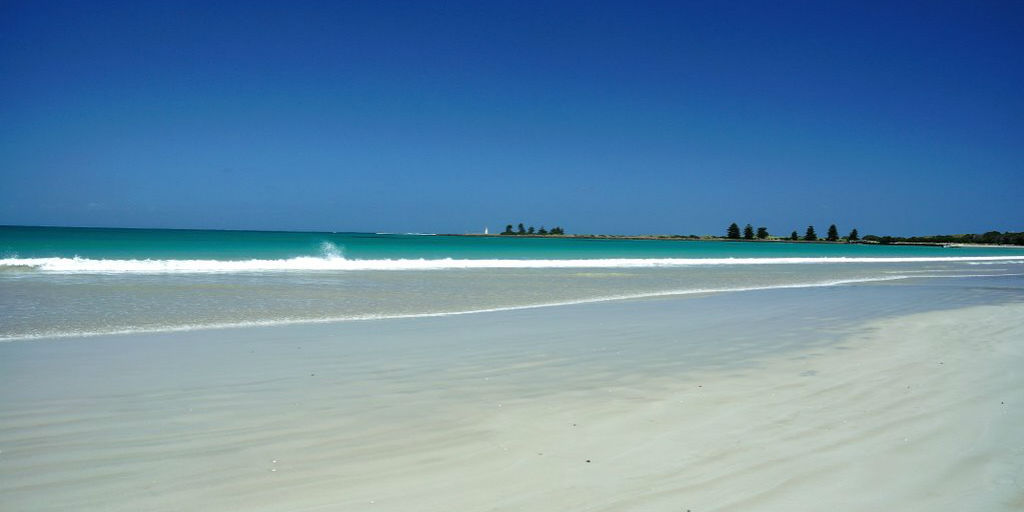 East Beach
Griffith Street, Port Fairy
Known as Port Fairy's safest dog-friendly beach with white sand and little to no surf, Little East Beach is great for swimming and water wading for the whole family. Parking is easy, crowds manageable, with shallow waters, soft sand, and almost no surf, this is a pooch paradise.
---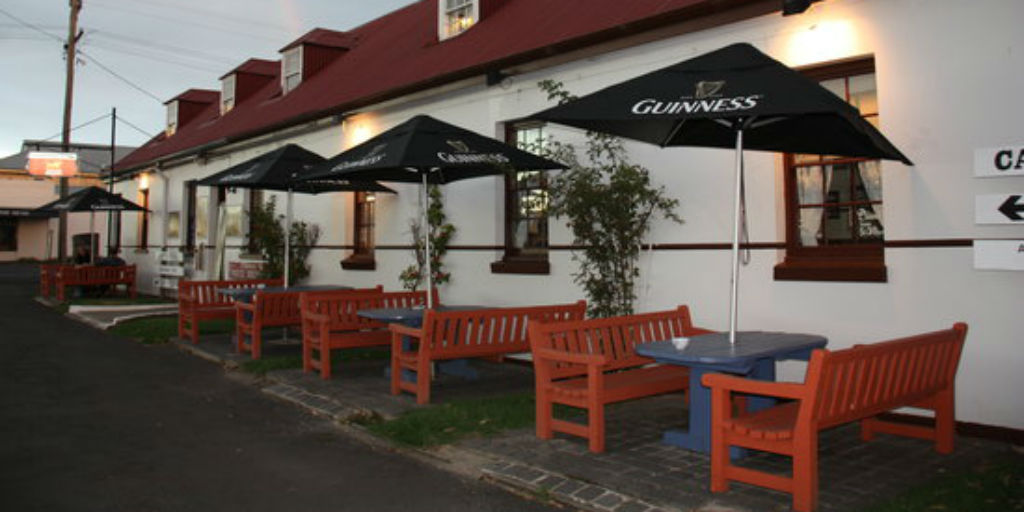 Caledonian Inn
41 Bank Street, Port Fairy
The Caledonian Inn, or the "Stump" as it is known to locals, is the Oldest Continually Licensed Hotel in Victoria and was established in 1844. There are outside tables with shade umbrellas where dogs can join their owners for a drink or meal.
---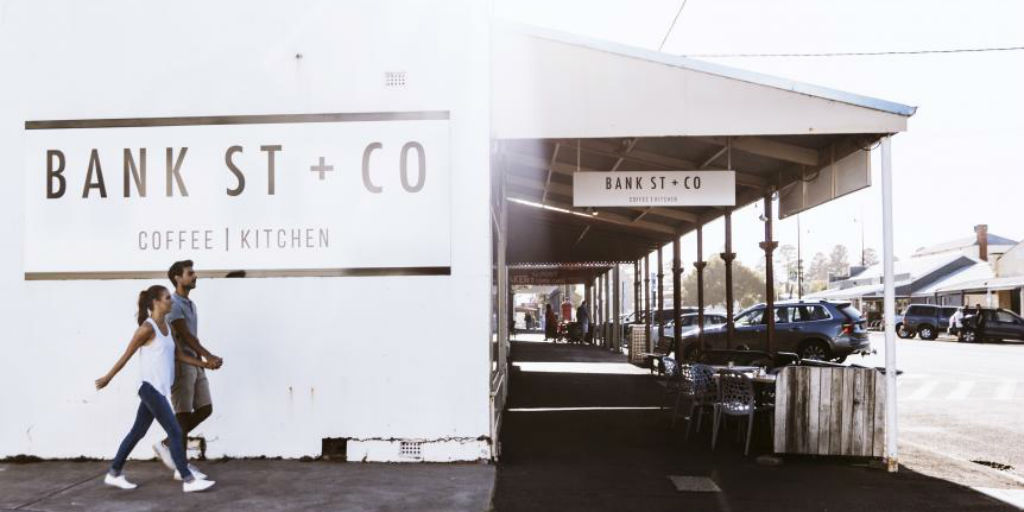 Bank St & Co
28 Bank Street, Port Fairy
A popular spot amongst the locals, Bank St + Co is perfect for a morning pick me up with your pooch in tow. There is ample seating out the front under the verandah where dogs are welcome.
---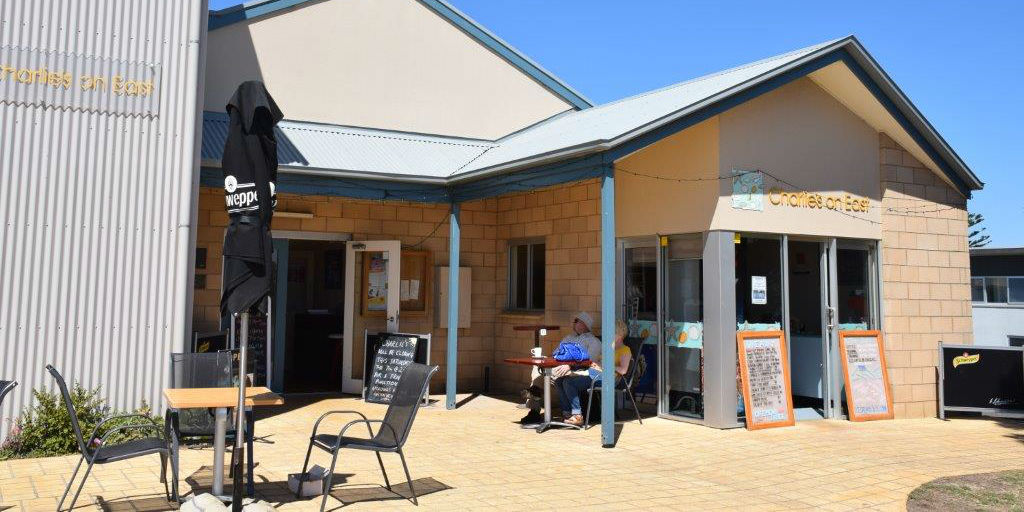 Charlie's on East
4 Hughes Avenue, Port Fairy
Enjoy some of the best coastal views in Port Fairy with your furry friend by your side at Charlie's On East, a licensed cafe and takeaway kiosk. There is dog-friendly seating out on the paved area near the entrance, as well as along the deck overlooking the magnificent beach.
---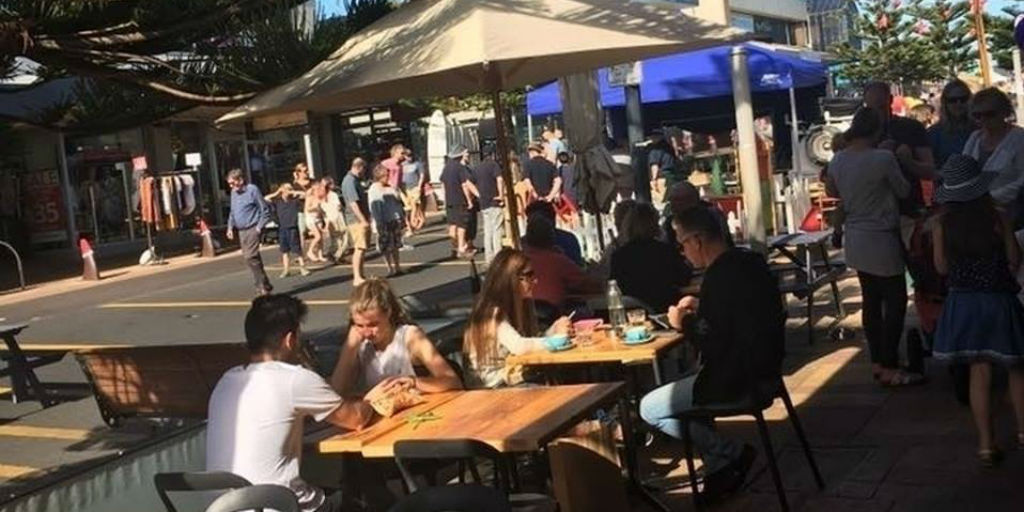 Driftwood Coffee & Eatery
10 Bank Street, Port Fairy
Using only the finest and freshest ingredients, it's clear to see that cooking is a passion at Driftwood Cafe and Eatery in Port Fairy. Popular with locals, the cafe offers classic favourite as well as a variety of vegan and vegetarian options. Dogs are encouraged to join owners outside in the shaded seating area where water bowls can be provided.
---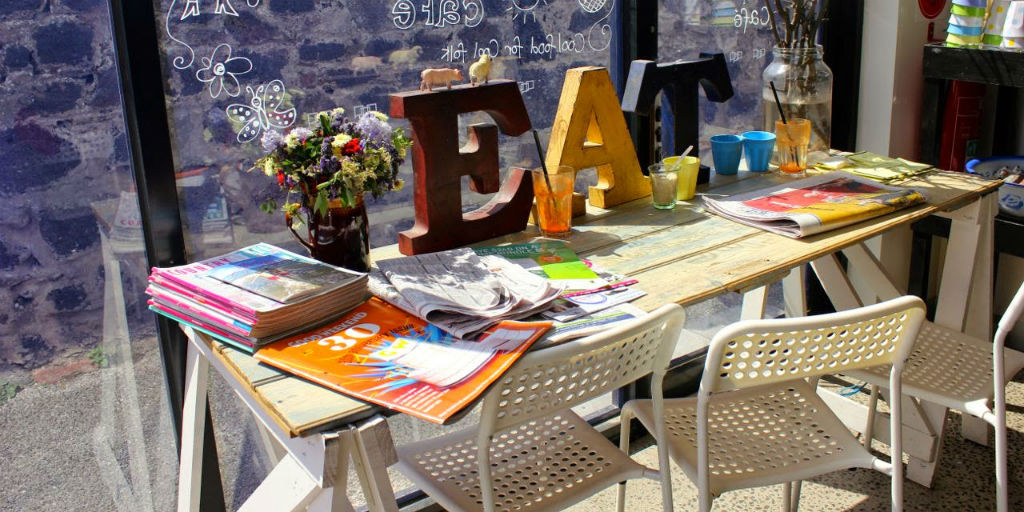 Farmer's Wife
47 Sackville Street, Port Fairy
Hidden away in a little lane in Port Fairy is this cute and cosy cafe. The menu features a range of tempting dishes and there is outdoor seating in the laneway courtyard available for you and your pet pal.
---
We would love to hear from your experience!
Did your dog find his/her new favourite beach or hike? Was the place you visited not as dog friendly as you expected?
Leave a review and help other dog owners to find the best places to visit with their dogs. Your review will also be super valuable for the dog friendly venues to improve their dog friendliness!
You may also like…