The best dog friendly accommodation, wineries, beaches, bars and cafes in Mornington Peninsula
Dog Friendly Hikes & Walks, Off Leash Beaches and Cellar Doors inviting your dog with you for a wine tasting. Countless dog friendly cafes and bars to chill out and of course stunning dog friendly accommodation to spend a weekend with your pooch. Less than 2 hours drive from Melbourne, Mornington Peninsula together with Yarra Valley, is one of the best dog friendly weekend getaway destinations from the city.
It's time to go on holiday with your dog, because simply put, you both deserve it.
This is your Ultimate Guide to visit Mornington Peninsula, created in partnership with Healthy Everyday Pets!
Before we dive into the pawsome dog friendly places to visit, here are some of the best places to stay while exploring the area with your pooch!
Dog Friendly Accommodation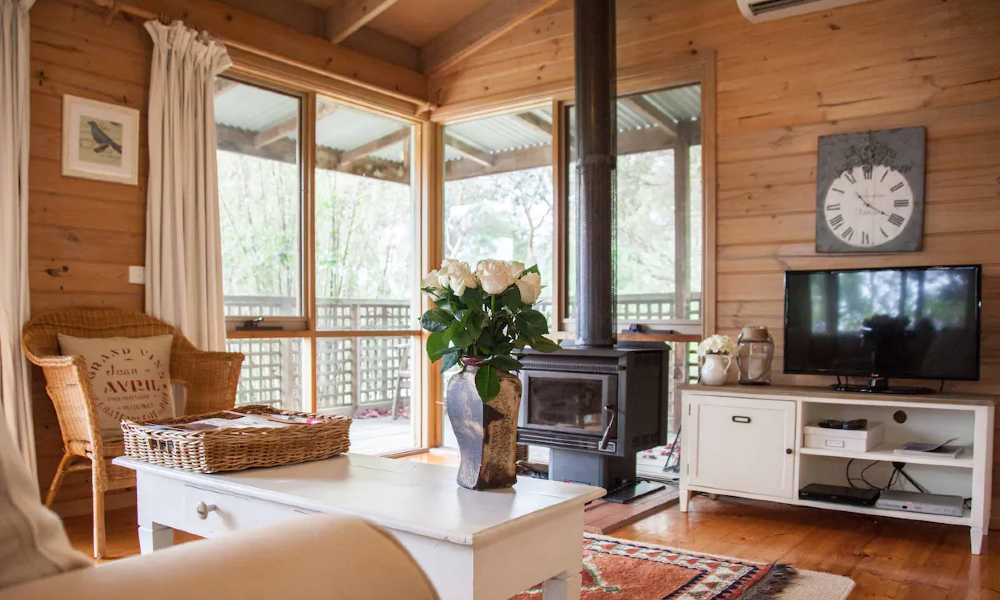 Gooseberry Hill Olive Grove Cottage
Tuerong
Close to all that the Peninsula has to offer (including bay and ocean beaches) but away from the frantic holiday crowds. Relax and unwind in our gorgeous cedar cottage set amongst 15 acres of mature olive trees and native vegetation. Dogs very welcome with one acre of fenced garden to enjoy.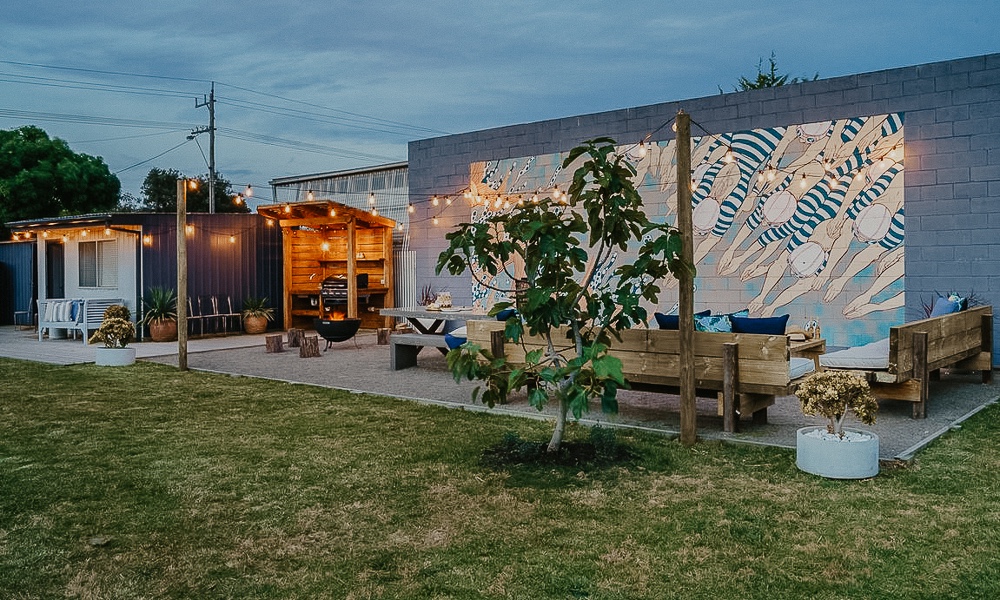 Little Bay Lyf
Tootgarook
Remember those old school type summer holidays that included backyard cricket and long days on the beach. Little Bay Lyf reminds us of better days, simpler days when things were less complicated.
Original beach house with its maze of rooms but the interiors are so up to date and oozing layers of style. Walk across the road to the white Sandy beaches of Rye and Tootgarook . Or if you are feeling energetic, take the Bay Trail walk in either direction and end up at either Rye or Rosebud.
Garden with tall fences to keep your pooch safe. Walk to the dog friendly beach for a swim in the ocean with all the other doggies (but only at certain times of the year).
And there's a special basket just for your furry friend. No way! What's in there? Ooh, ooh! a treat from PAWDINKUM.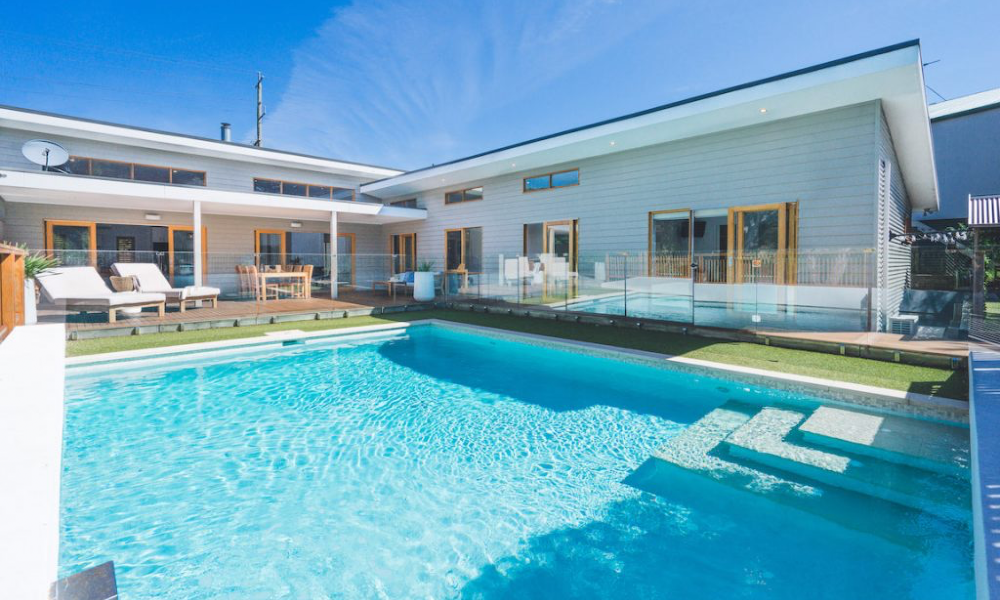 The Salt House
Rye
As soon as you walk through the door you feel your shoulders drop and it instantly invites you to relax. With tall ceilings its so spacious and perfectly designed with enormous entertaining space connected to an undercover deck and sparkling pool surrounded by native bush and trees.
Pups are welcome to stay in this beautiful property but can't walk in the National Park but your hoomans can take you to the local dog friendly leash free beach in Blairgowrie. The garden has high fences in most areas (one little spot with a chicken wire fence) and a secure gate so your dog can feel really safe.
Dog Friendly Wineries
The Mornington Peninsula landscape with its rolling hills and tranquil vineyards is as stunning as the range of wines produced by its wineries. Mornington Peninsula is known for producing high quality, cool climate varieties such as Pinot Noir, Chardonnay and Pinto Gris. No vineyard is further than 7km from the ocean, which creates a unique climate for the vines as well as for the visitors in the region. We have listed the most dog friendly vineyards you should visit with your pooch!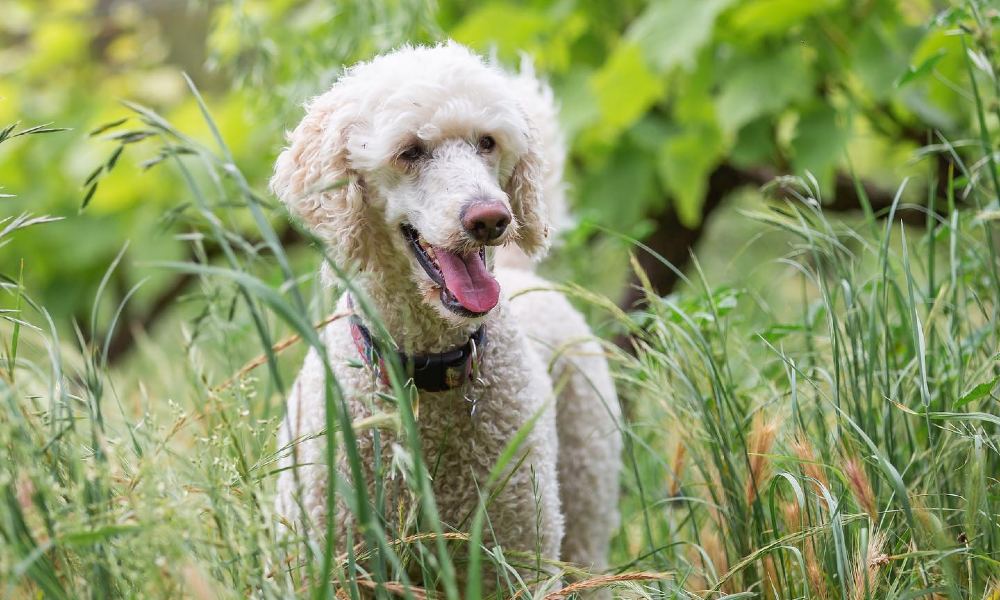 1. Moorooduc Estate
501 Derril Road, Moorooduc
Family run award winning vineyard to enjoy with your pooch. Dogs are allowed to join you in the Cellar Door on leash (as apparently the local peacock is not too happy to be chased;-)). Great place to enjoy beautiful wines and maybe buy a bottle or two to take home for the evening meal.
---
2. Paradigm Hill
26 Merricks Road, Merricks
Paradigm Hill focuses on achieving balanced healthy vines producing carefully selected, exceptional & low yielding fruit. Their very rationale dog policy says " we are dog friendly to friendly dogs"!
---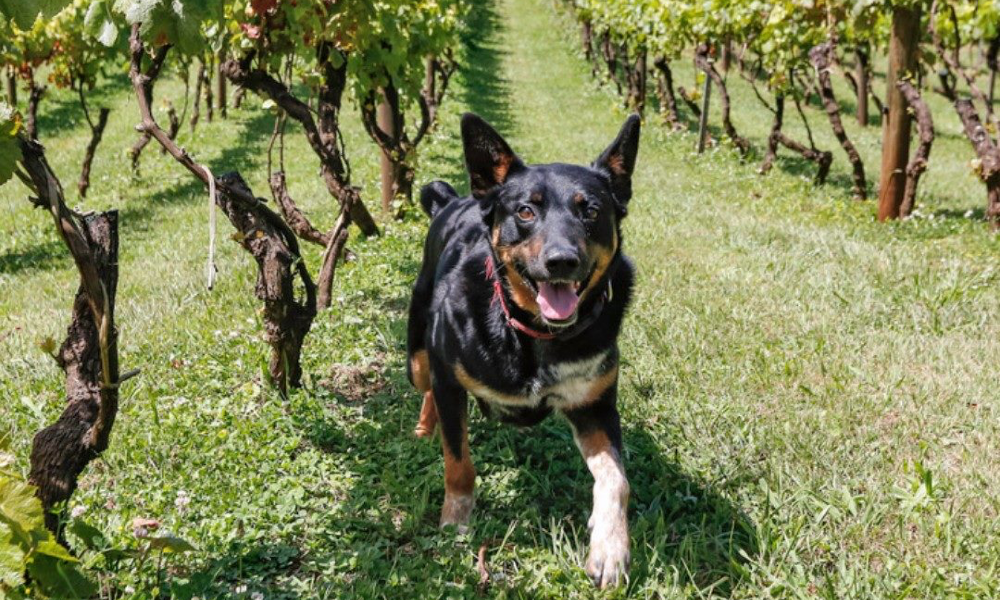 3. Rahona Valley
6 Oceanview Avenue, Red Hill South
One of the most interesting boutique dog friendly wineries in the Mornington Peninsula. It's located on a steep north-facing slope of a secluded valley in the Red Hill area known for its ancient red basalt soils.
---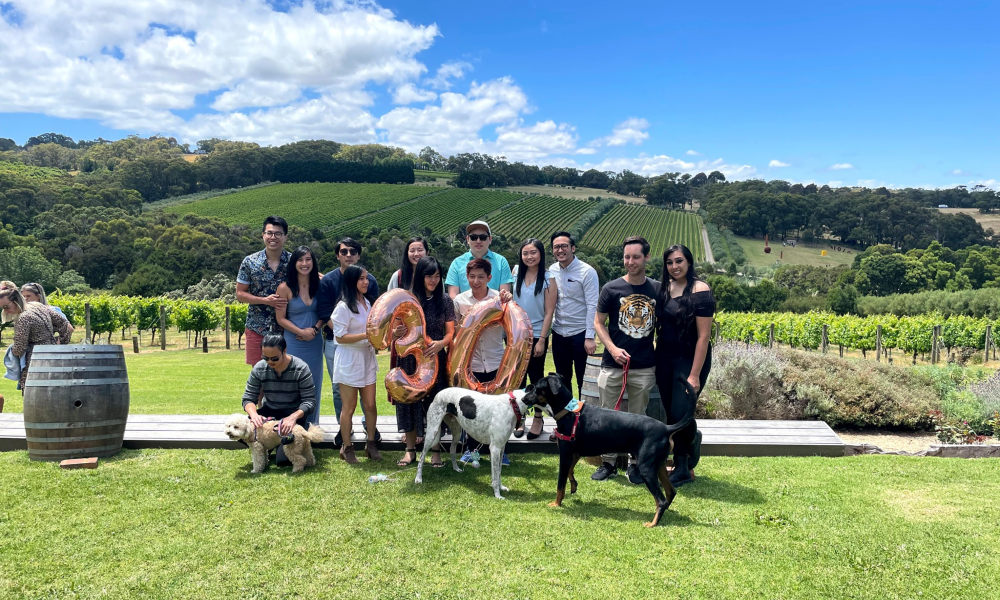 4. Tucks Wine
37 Shoreham Road, Red Hill South
Tucks has a fresh take on winery visits. Rather than having your traditional wine tasting in the Cellar Door, why don't you take advantage of the massive lawns and have a picnic in stead!
---
Dog Friendly Pubs & Bars
There are thousands of bars & cafes in the peninsula to choose from. But we do feel your pain when it comes to taking a gamble on which places will allow your furry friend to join you. Here are some of the best dog friendly pubs & bars in Mornington Peninsula!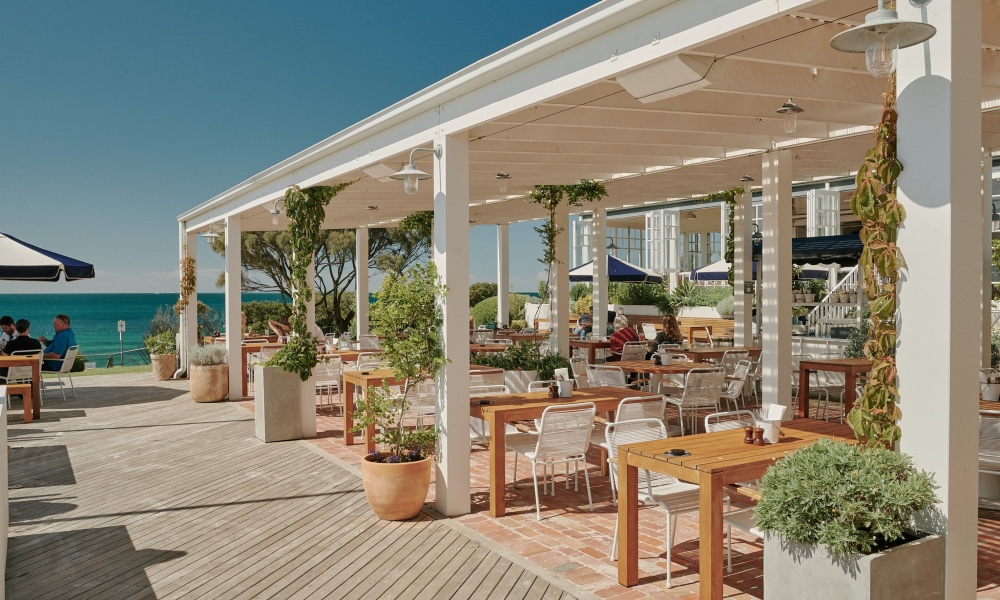 5. Portsea Hotel
3746 Point Nepean Road, Portsea
Portsea Hotel is a dog friendly pub with fantastic Beer Garden, Spectacular Terrace and exceptional food overlooking the picturesque Port Phillip Bay. Dogs are welcome on the outdoor seating areas including the huge under cover beer garden with heaters provided.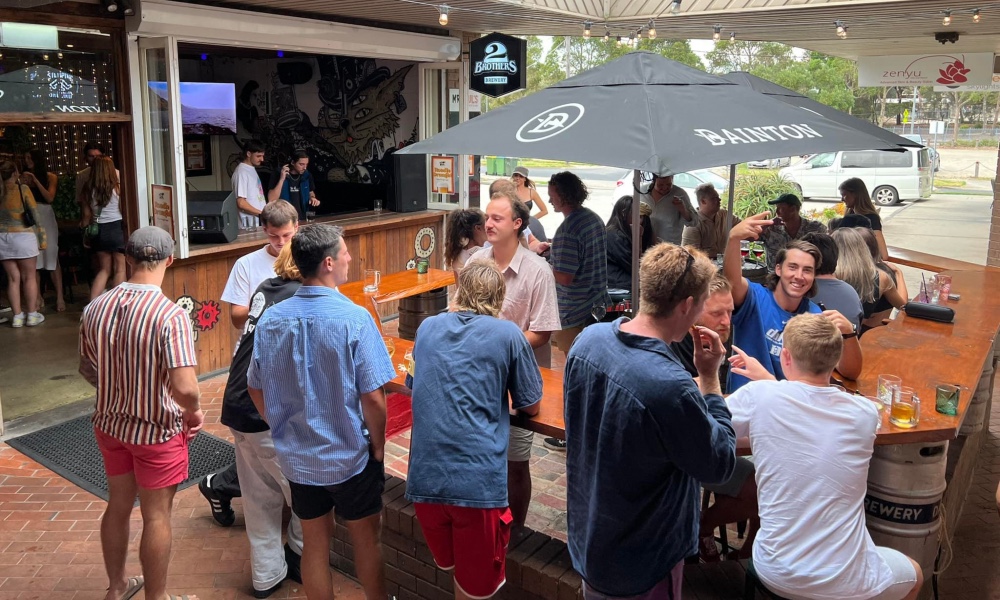 6. Mr Paul's Beer & Wine
11/234 Main Street, Mornington
Beer wall with 14 taps, along with a great selection of wines. The menu changes weekly, and they always have the perfect food to match your drink. They welcome pooches as much as they do hoomans! There is a dog friendly courtyard area out the front of the bar which has some covering as well as umbrella's. The regular furry customers often make their way down the bar to Bel (Owner) as they have done since they were small pups for a little meaty treat!!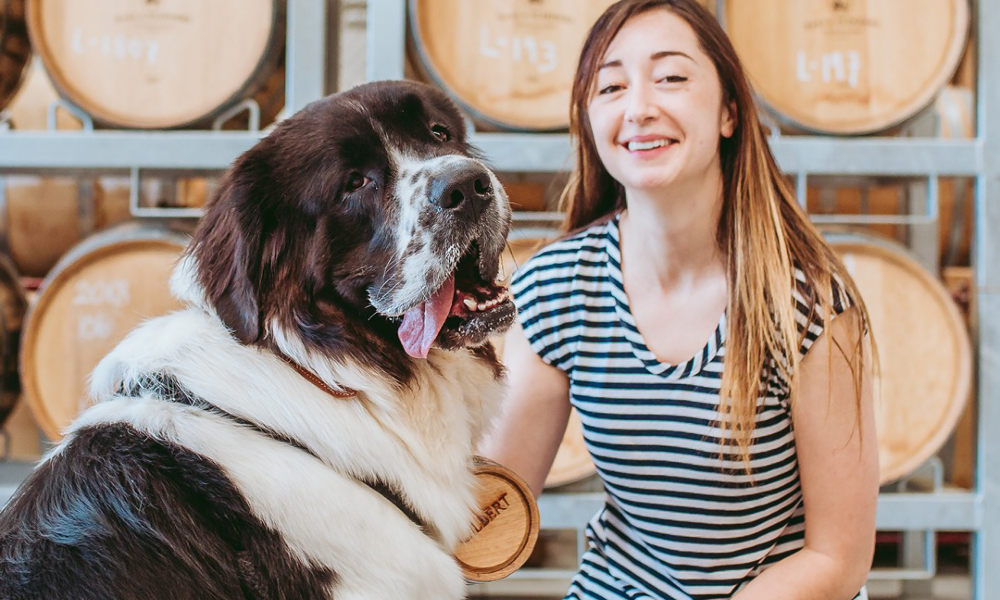 7. Bass & Flinders Distillery
40 Collins Road, Dromana
Gin flights, cocktails and sun drenched garden to enjoy them. Bass & Flinders offers an interesting alternative to winery tours and brewery visits. And while you are in Dromana, visit the dog friendly Safety Beach only a few minutes away from the distillery.
---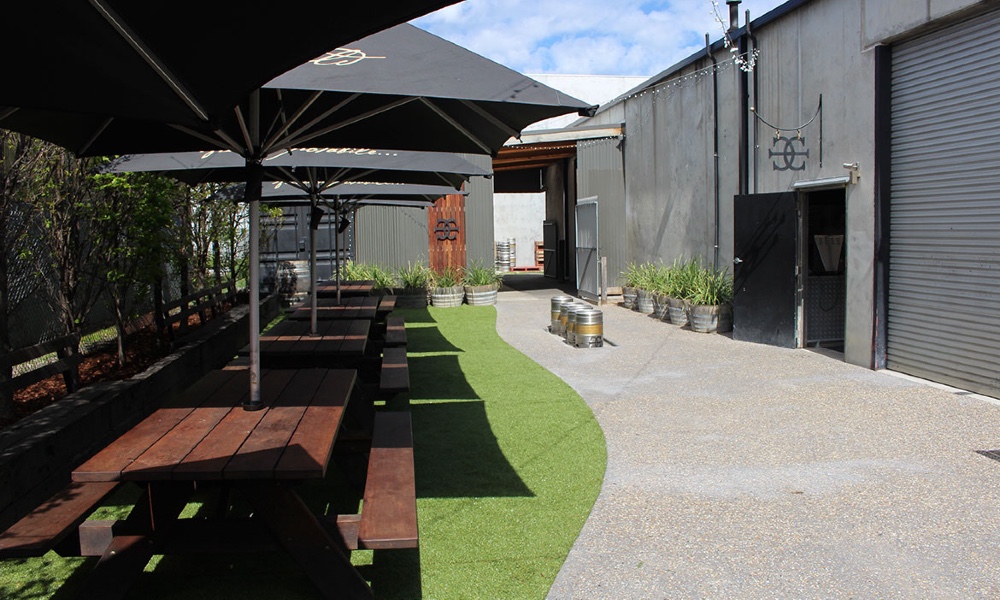 8. Tar Barrel
72 Watt Road, Mornington
Dog friendly brewery & distillery producing award-winning craft beers and offering crafted taste experiences with a whiskey and gin distillery. They Head Brewer has a 'Moral Officer' dog called Oli who comes to work everyday. Dogs are welcome in the beer garden while on leads. There are lots of umbrellas to keep them warm and dry.
---
Dog Friendly Cafes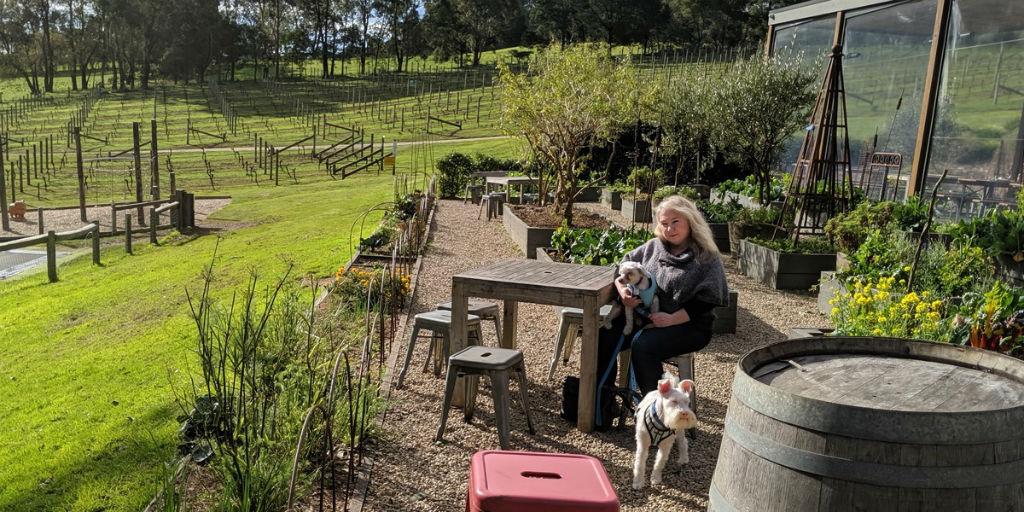 9. Green Olive at Red Hill
1180 Mornington Flinders Road, Main Ridge
Visit Green Olive for a full Mornington farm experience. Meet the local sheep, pigs and chooks and taste the locally grown olives, grapes and veggies. Green Olive will not disappoint any family members (including the furrier ones).
---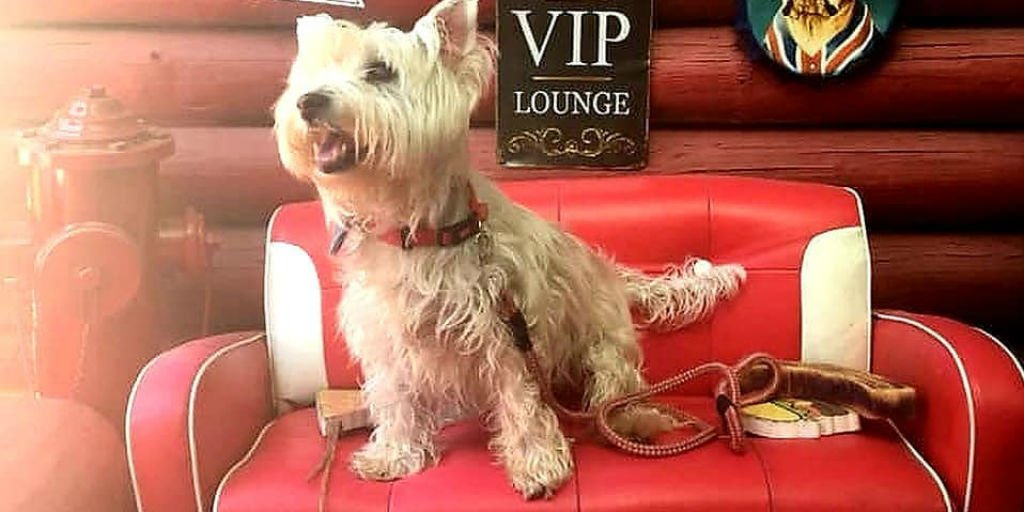 10. Miss Drew's Bakery & Dog Cafe
14 Mornington-Tyabb Road, Tyabb
Mornington Peninsula's one and only Cafe / Bakery serving DOGS ONLY! Humans can purchase great food and drinks from the Red Rattler Train cafe just opposite to Miss Drew's.
---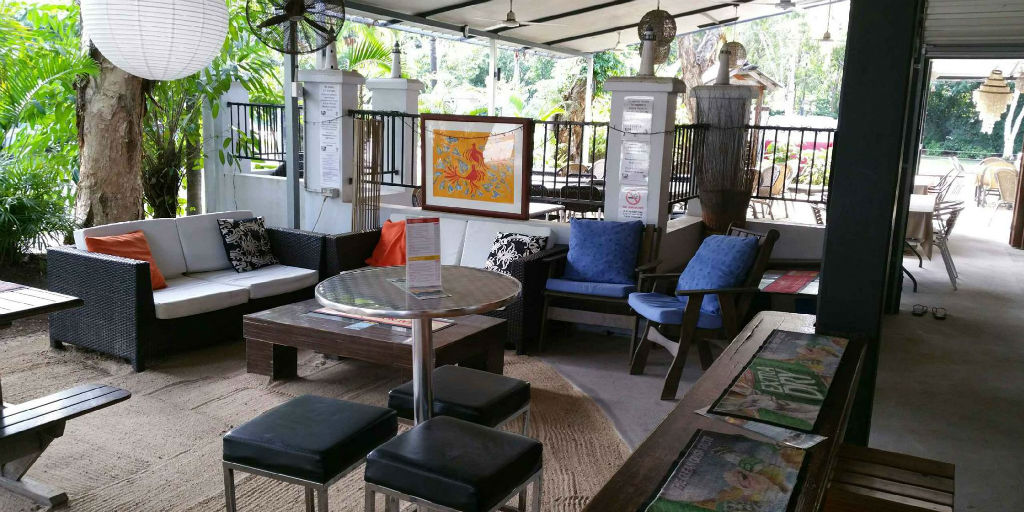 11. Morgan's Beach Shack
1 Esplanade, Sorrento
Perfect place for lunch or afternoon drinks with your pooch. Enjoy the views of Port Phillip Bay while having a taste of the best local seafood the Peninsula has to offer. Like
---
Dog Friendly Hikes & Walks
But Mornington Peninsula has so much more to offer than just the beaches. We have selected the most amazing dog friendly hikes off the coastline and we strongly recommend you to explore at least one of them.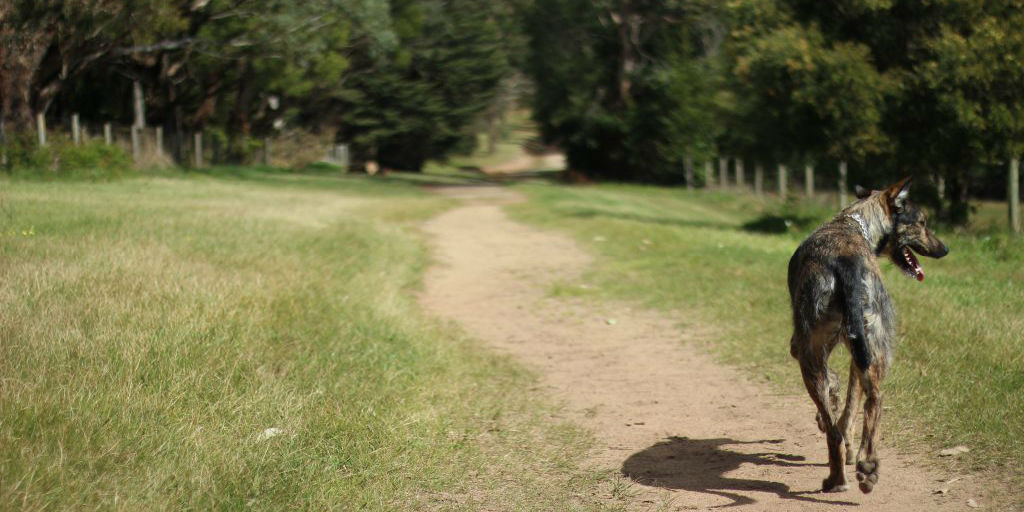 12. Red Hill Rail Trail
Red Hill South – Merricks
One of the most scenic dog friendly hikes in the entire peninsula. Follow the old rail trail between Red Hill South and Merricks. Turn back whenever you feel like it as the entire return will be approx. 12 kms long.
---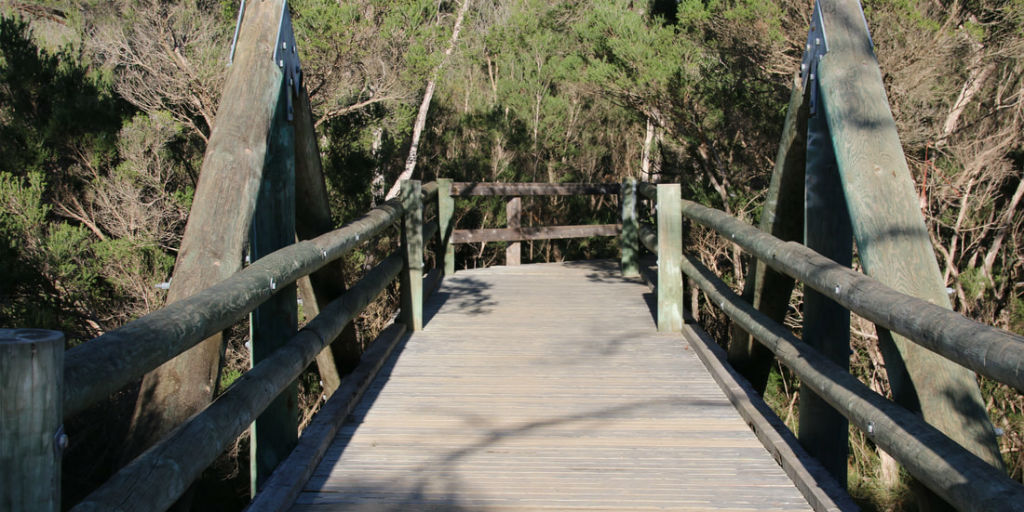 13. Balcombe Estuary Boardwalk | Mount Martha
This wooden boardwalk runs through the bushland between Eplanade and Nepean Highway. Home to numerous flora and fauna this walk is a great way to start the day. Make use of the off leash areas and dog friendly Hawkers Beach!
---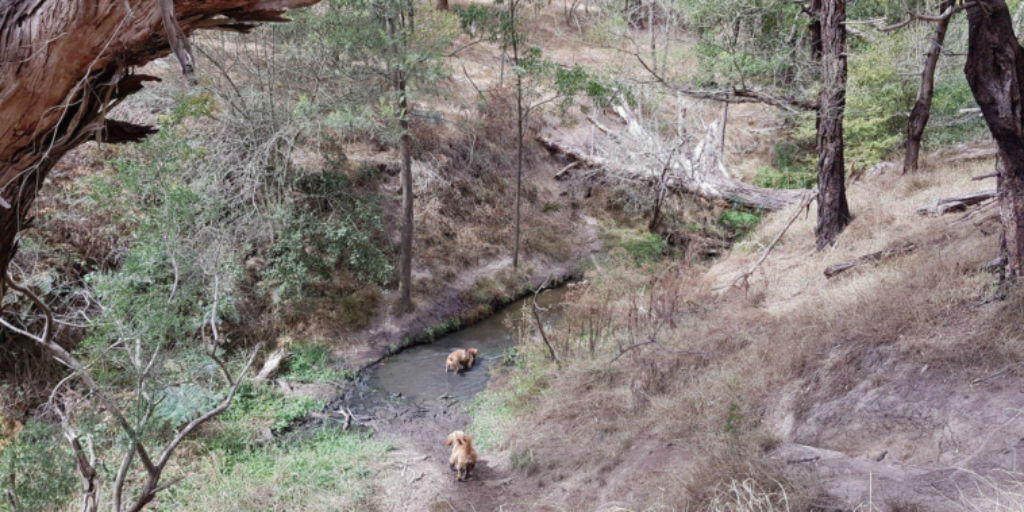 14. Mount Martha Community Forest
Mount Martha
Beautiful off leash forest walk with plenty of places to sniff, creek to swim and other dogs to play with. Enjoy the tall trees, sounds of kookaburras and the running creek before heading back to the village for a drink or a bite to eat.
---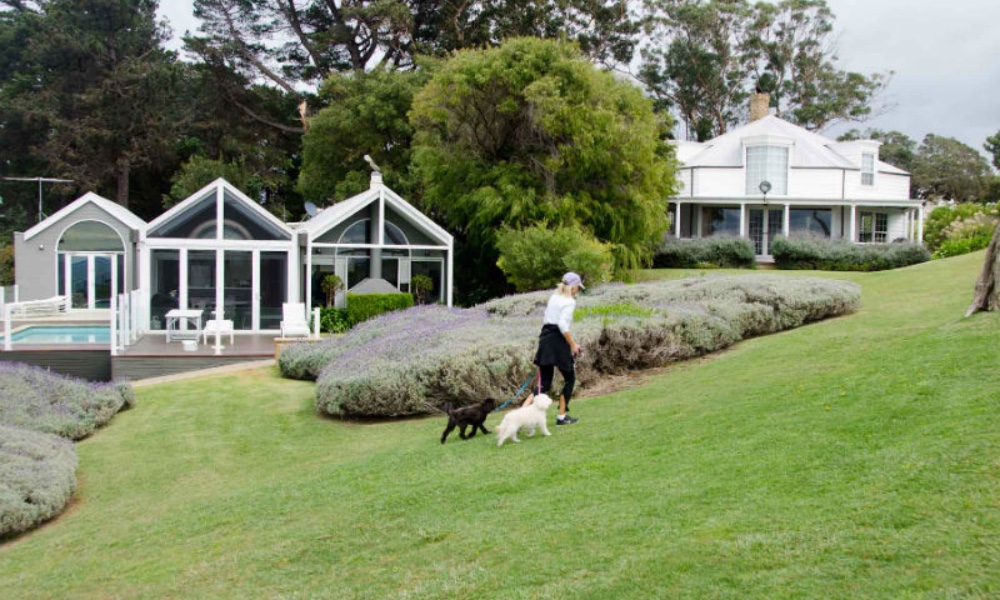 15. Millionaires Walk
Sorrento
Million dollar views for you and your dog are guaranteed on this dog friendly hike. Perfect 3km return morning walk to get some fresh air and meet other dog walkers alike! At face value 'Millionaires Walk' is a delightful, slightly cheeky, name for a track that passes by a string of multi-million dollar properties. Yet for such a short walk – about 1.6 kilometres long – it is rich in history and culture, let alone the priceless bay views, lush flora, potential fauna sightings, and the chance to quietly peruse some highly-priced private architecture.
---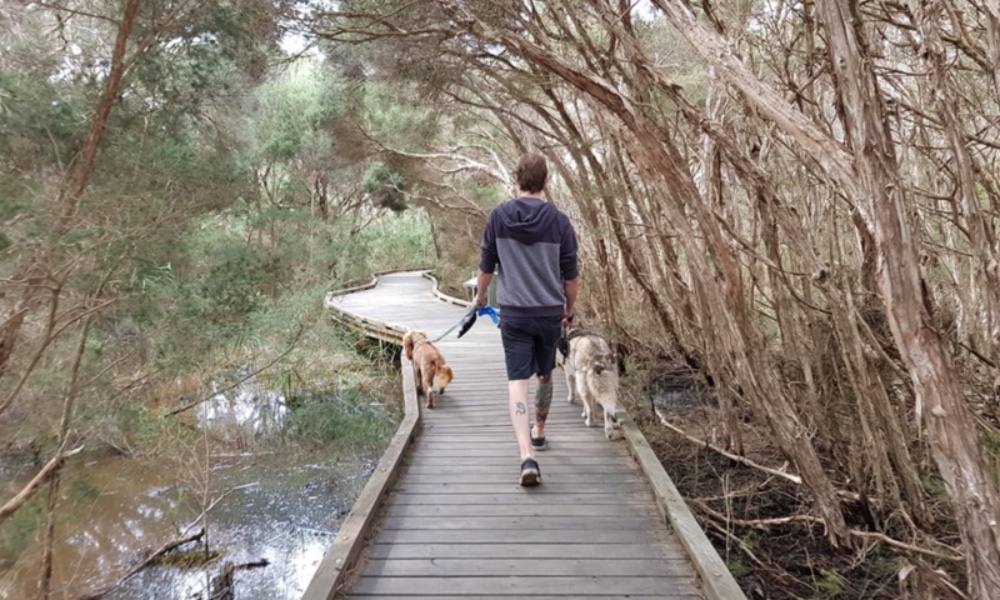 16. Balcombe Estuary Board Walk
Mount Martha
Follow the boardwalk and take in the peaceful vibes and sounds of the nature. Visit the Citation Reserve Dog Park before making your way to the dog friendly Hawker Beach
Cross the road to the Mount Martha Shops and enjoy browsing the boutique shops and quaint cafes this beautiful area has to offer (as well as another playground!). As you make your way back the way you came, there is an option to follow another section of the boardwalk on the opposite side of the creek, making a loop.
---
Dog Friendly Beaches
There are too many stunning dog friendly beaches on the Peninsula to list them all here. We have selected some of the best ones for you to explore. You can find all off leash beaches on our website.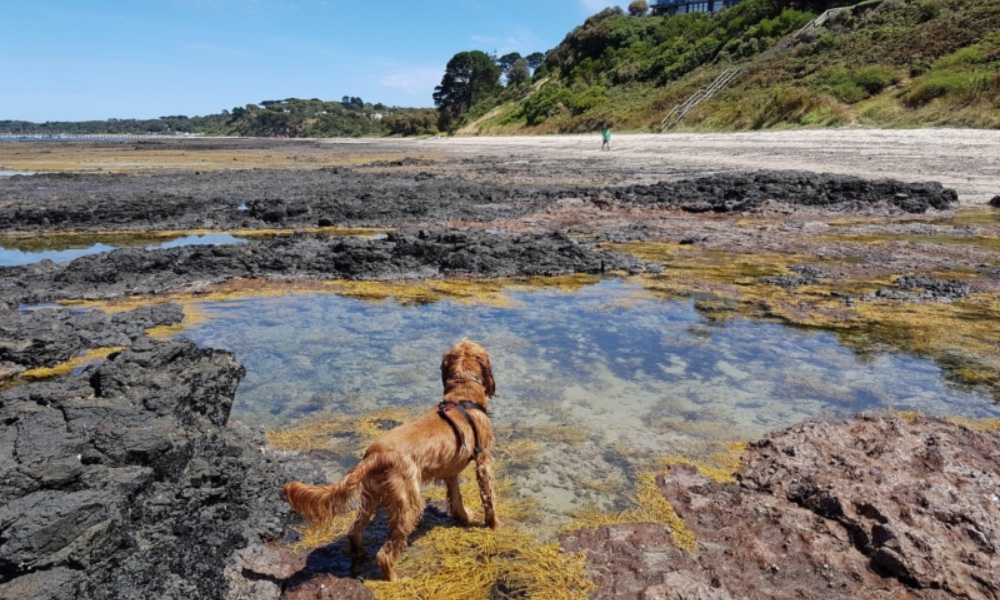 17. Flinders Beach
Flinders
Long sandy 24h off leash beach between Dodds Creek & Manton Creek. Not that the access to the beach is rather steep but once you are down there, the walk was well worth it.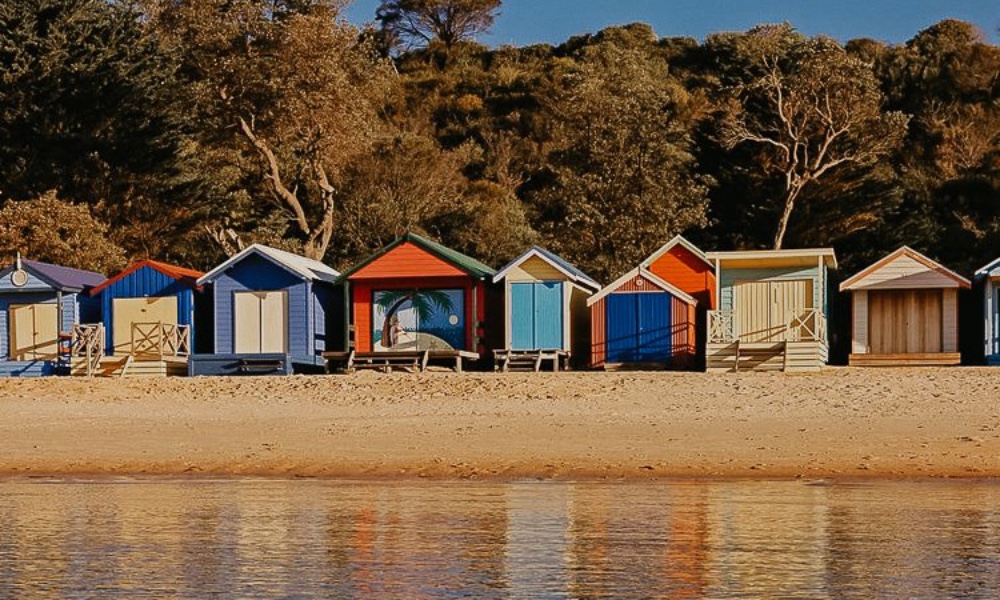 18. Fosters Beach
Mornington
Colourful beach shacks, soft sand and plenty of tail wagging off leash playtime awaits you at the Foster Beach in Mornington.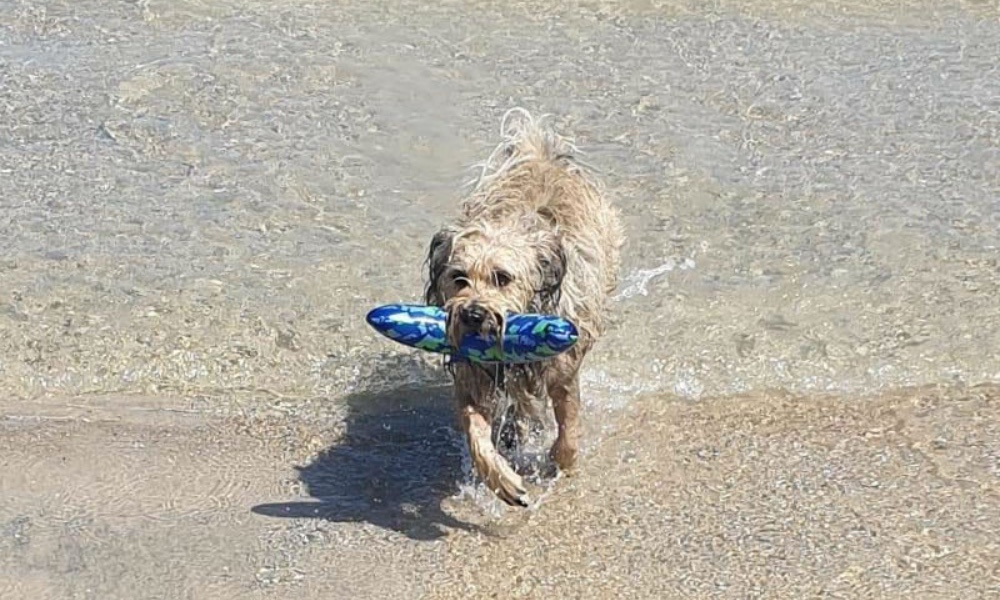 19. Tassels Cove
Safety Beach
Tassels Cove is an amazing dog friendly beach. Nice and sheltered and fairly well enclosed. Parking can be a bit tricky when the temps are high so park over the other side of the marina entrance and walk under it to the Beach.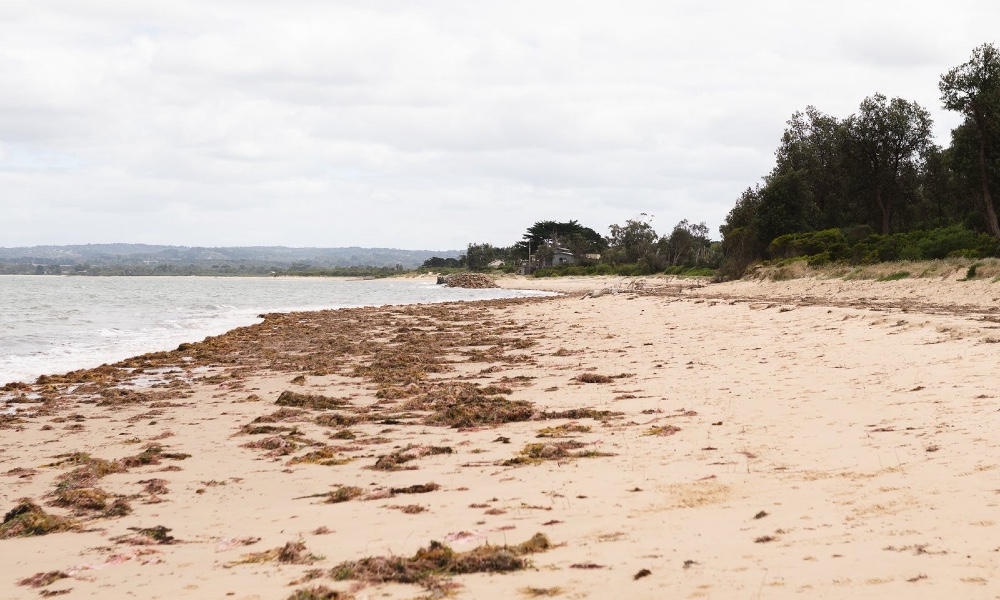 20. Somers Beach
Somers
Somers Beach is 3 km long (200m dedicated for off leash activities), running between the eastern bluffs and rocks and the mouth of Merricks Creek. The beach is often narrow and steep with deep water at high tide, and sand and reef flats exposed at low tide, and small yachts and sail boats are commonly seen off the beach.
For the full list of off leash exercise areas, visit the Mornington Peninsula Council website.
All the places in this article (and many more) are also available on Pupsy website. Simply go to Dog Friendly Places and search for any dog friendly venues near you or in your holiday destination.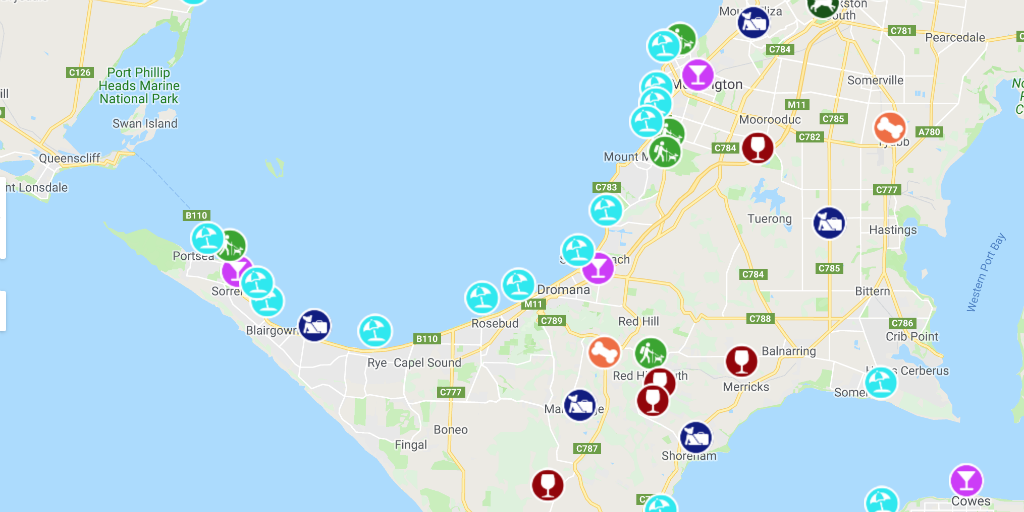 We would love to hear from your experience!
Did your dog find his/her new favourite beach or hike? Was the place you visited not as dog friendly as you expected?
Leave a review and help other dog owners to find the best places to visit with their dogs. Your review will also be super valuable for the dog friendly venues to improve their dog friendliness!
This Travel Guide was created in Partnership with:
Healthy Everyday Pets is an Australian made and owned company based in the Eastern suburbs of Sydney. We live by the principle that "food is medicine". This principle is transcended into our formulas, which are low in carbohydrates and sugar, yet high in protein. We're a small, yet mighty team who each share a passion for encouraging a healthier lifestyle for your pets.
You may also like