The Ultimate Guide to Dog Friendly Sunshine Coast Hinterlands
Dog Friendly Sunshine Coast Hinterlands: Find dog friendly accommodation, bars, cafes, walks and more…
Sunshine Coast is not only about the beaches. Beautiful nature and charismatic small towns of the Sunshine Coast Hinterlands are within 30-45 minute drive from the beaches and are definitely worth visiting.
This guide will reveal you the best dog friendly places in Sunshine Coast Hinterlands to go with your dog and get those tails go crazy!
Dog Friendly Accommodation
---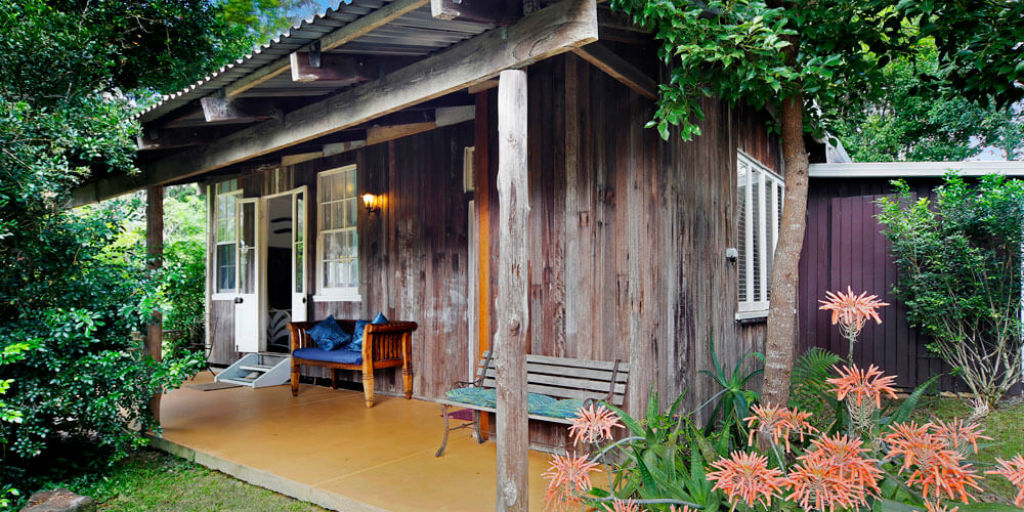 Dog Friendly Cottage | Pinbarren
Guests 4 | Bedrooms 1 | Bathrooms 1
A private dog friendly cottage in the Noosa hinterland. Accommodation features; One Queen Size bed, a Double Sofa Bed and a small bed suitable for a young child. It was originally built in 1942 and the ornamental stone fireplace compliments the historical value of the area. Peacefully located in Noosa Headlans, yet not too far from dog friendly beaches, bars and cafes of the Sunshine Coast.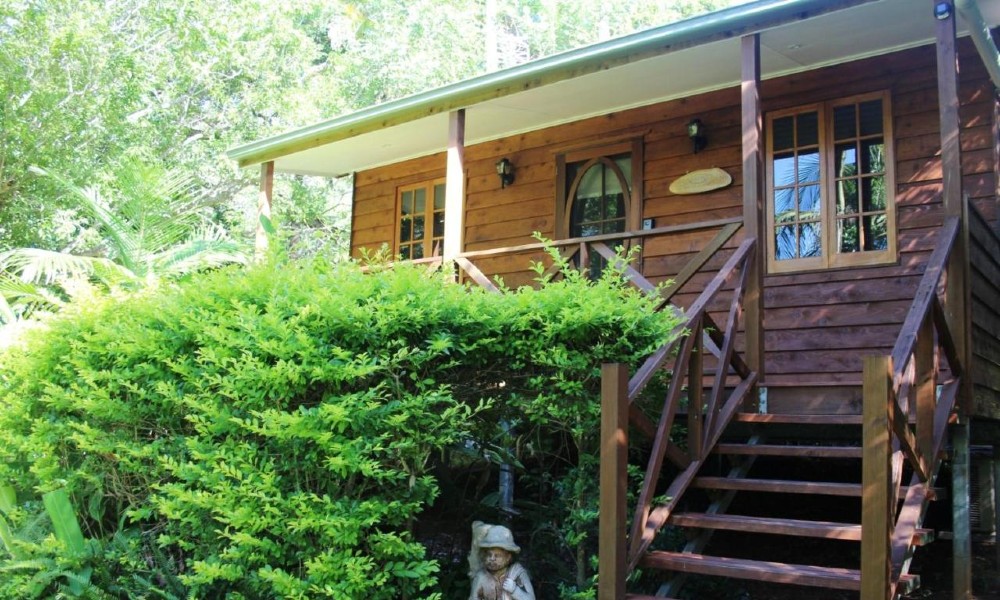 Dog Friendly Cabins | West Woombye
Guests 2 | Bedrooms 1 | Bathrooms 1
All you need to do is relax, enjoy the time spent on your own veranda, have a private BBQ, cool off with a dip in the crystal clear water of our saltwater pool set in natural surroundings or wander through our beautiful garden. Fenced yard. Pets stay for free!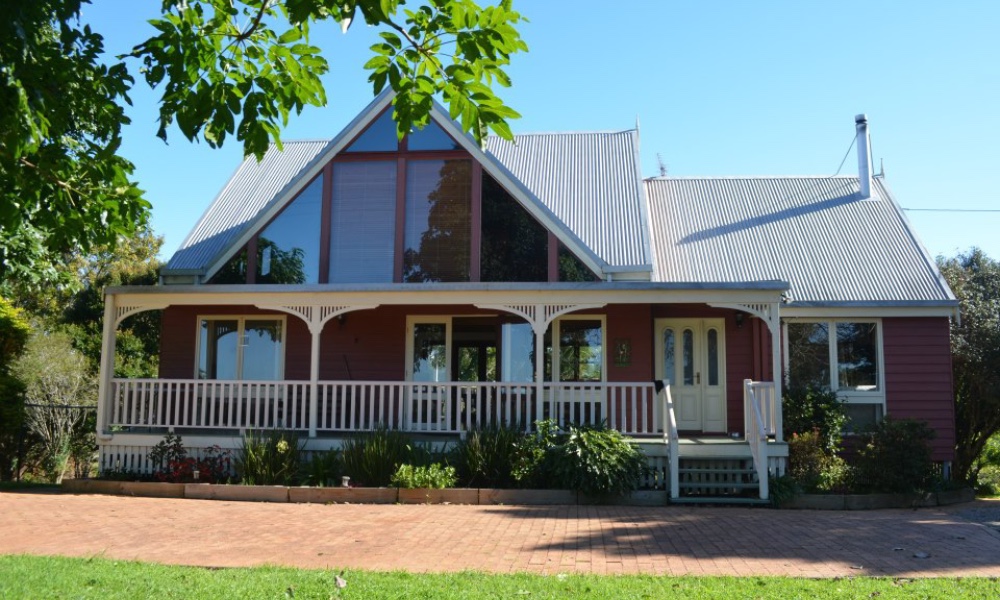 Dog Friendly House | Reesville
Guests 6 | Bedrooms 3 | Bathrooms 2
Dog friendly accommodation near Maleny is a comfortable 3-bedroom homestead with beautiful views tucked away in a peaceful haven in the Sunshine Coast Hinterland. Children, adults and furry friends alike will enjoy exploring the garden, and Farmer John's peaceful cows often peer over the fence to say hello.
---
Free V.I.POOCH TRAVEL KIT with each booking!
Dog Friendly Pubs & Bars
Bar Deco
2 Stevens Street, Yandina
Bar Deco is a dog friendly Belgian Beer and Wine Bar in Yandina. Great list of European dishes and wines and of course Belgian beers. Dogs are always welcome in the beer garden (partially covered) and on the back deck (fully covered).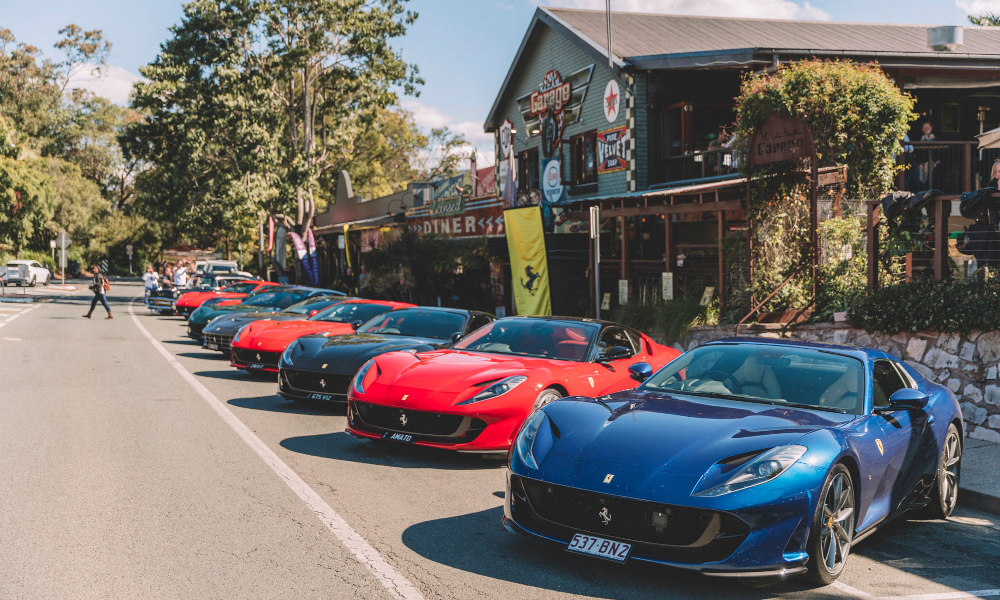 Ricks Garage
14-16 Margaret Street, Palmwoods
Dog friendly bar Ricks Garage was originally a petrol station & workshop. It's now turned into an amazing retro diner & still functioning workshop. Experience the famous BEST BURGER, old school milkshakes and award winning coffees. Dogs are welcome at the outdoor garden dining area with live music on weekends, and seating outside the new Bakehouse.
---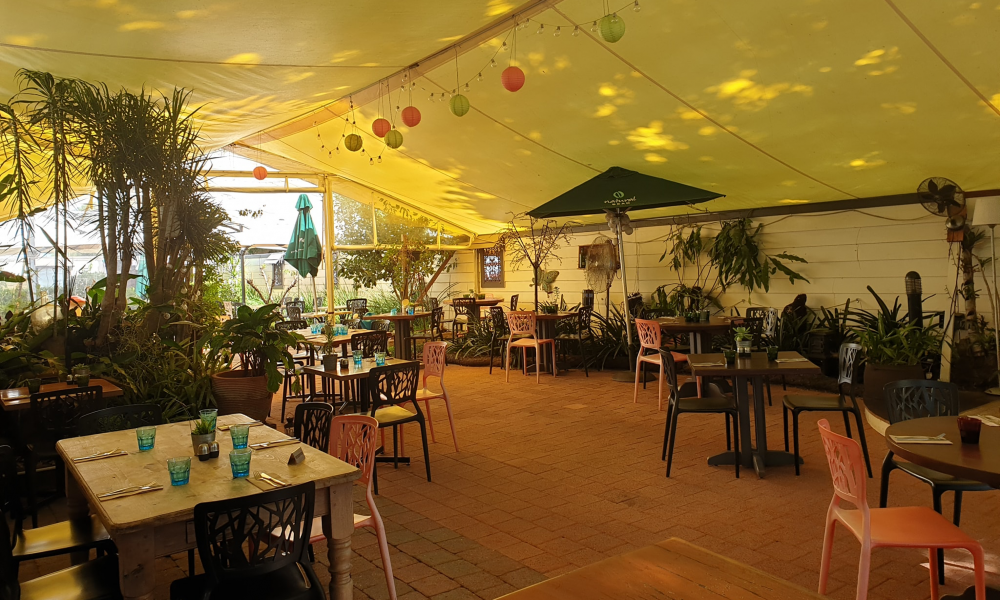 Wild Rocket at Misty's
142 Main Street, Montville
Dog friendly micro brewery serving home made food from fresh seasonal ingredients. Dogs are welcome on the covered outdoor area.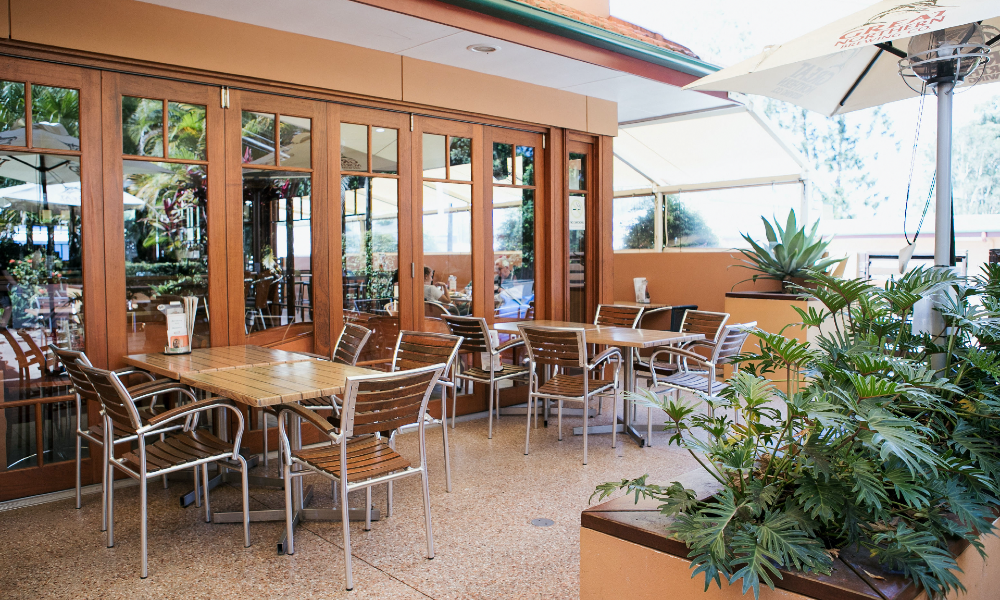 Beerwah Hotel
18/44 Simpson Street, Beerwah
Located north of the Glasshouse Mountains, dog friendly Beerwah Hotel is an iconic family owned hotel, bar and bistro in the Sunshine Coast Hinterlands. Dogs are welcome at the non-roofed area of the beer garden with some shade provided by sails and market umbrellas.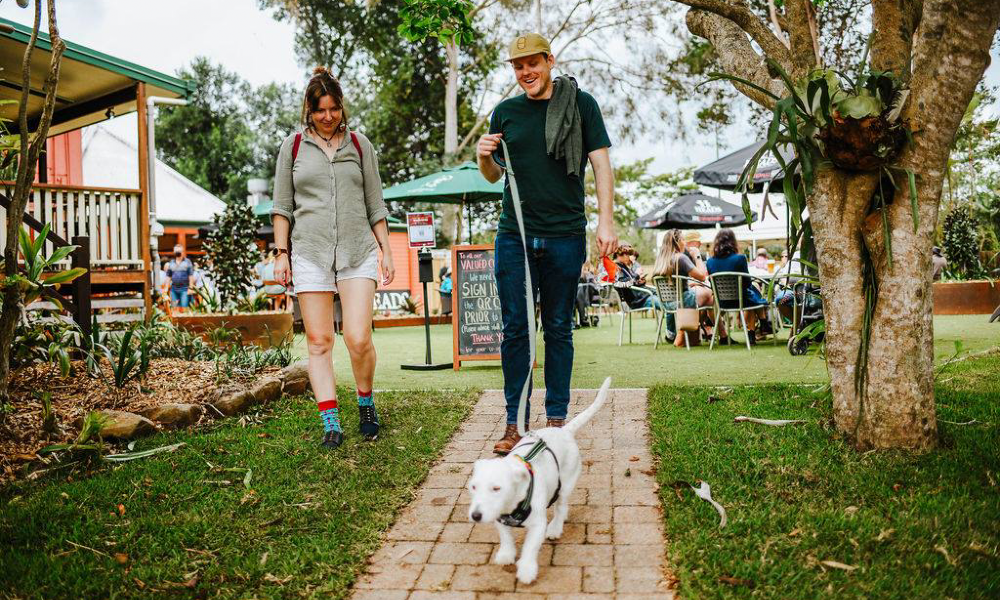 Maleny Hotel
6 Bunya Street, Maleny
With a public bar, lounge and leafy green dog friendly beer garden, Maleny Hotel located at the entry to the Maleny township is the perfect place to kick back and enjoy a drink and a meal with friends or family. Our beer garden is dog friendly but all dogs on a lead please.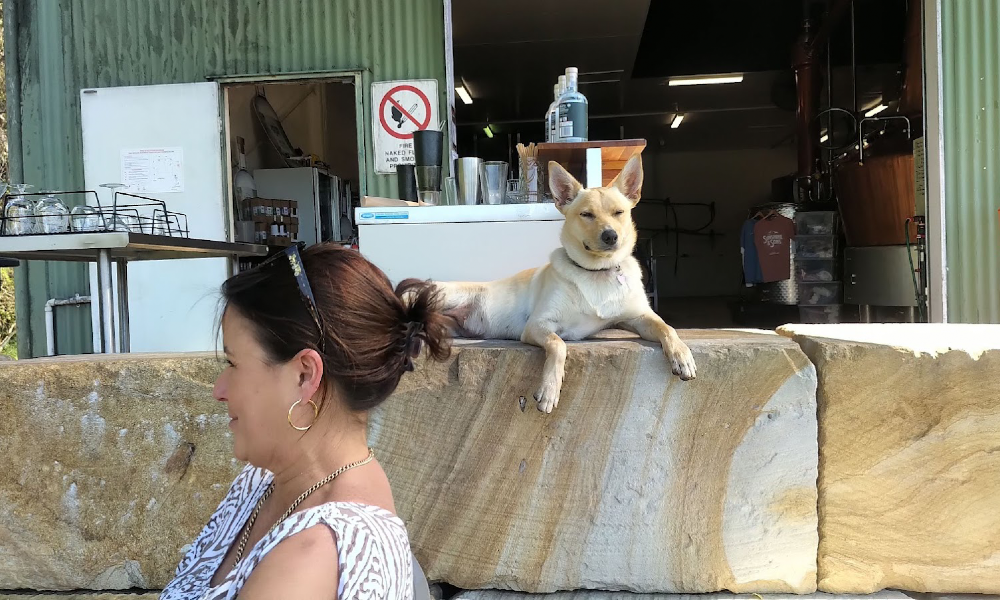 Sunshine & Sons
104 Nambour Connection Road, Woombye
Sunshine & Sons is a dog friendly distillery established by four best mates who share a love for the promise and the memory: the allure and the warmth of Queensland's beautiful subtropical Sunshine Coast. And beautifully made craft Spirits. Dogs are welcome everywhere and will likely meet the two Distillery Dogs, Amper Sand and Levi Gene.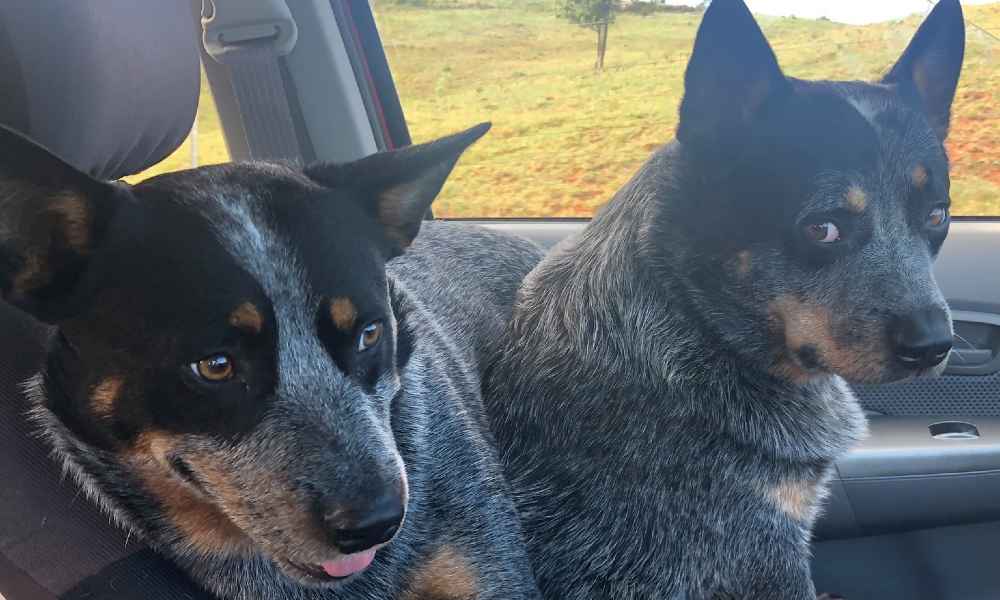 Flame Hill Vineyard
249 Western Avenue, Montville
Flame Hill Vineyard is a dog friendly Cellar Door in Sunshine Coast Hinterlands. Genuine hospitality is the ability to greet guests of diverse backgrounds with a welcome of kindness, service, food, wine and entertainment. At Flame Hill we also know where our food and wine comes from. Dogs on the leash are welcome on the outdoor seating as long as they are child & bird friendly.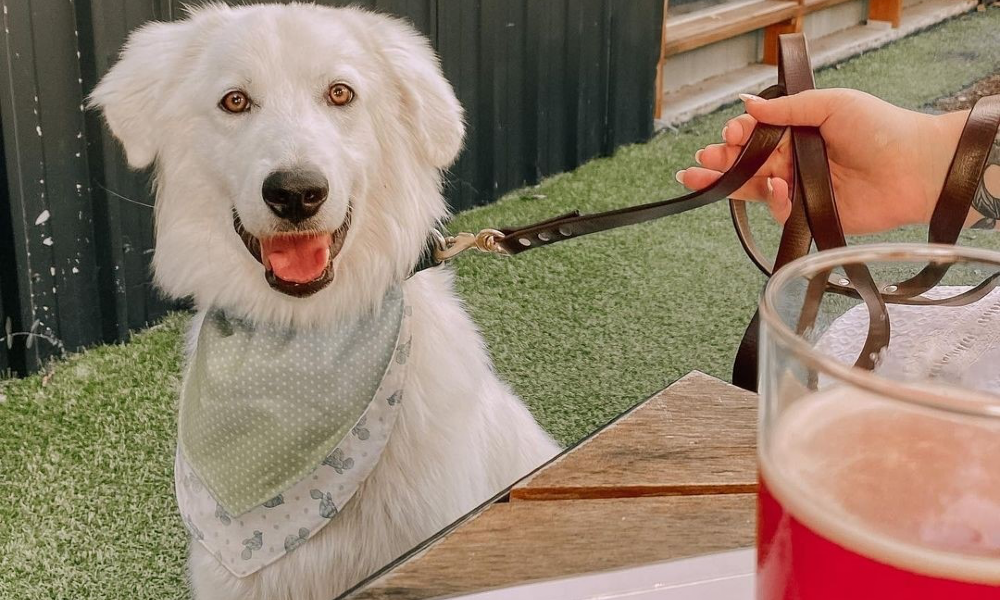 Glass House Brewery
330 Mons Road, Forest Glen
Welcome to the dog friendly Glass House Brewery, your local brewhouse where the craft beers can be enjoyed alongside great food and great company. Dogs are always welcome on the partly covered beer garden.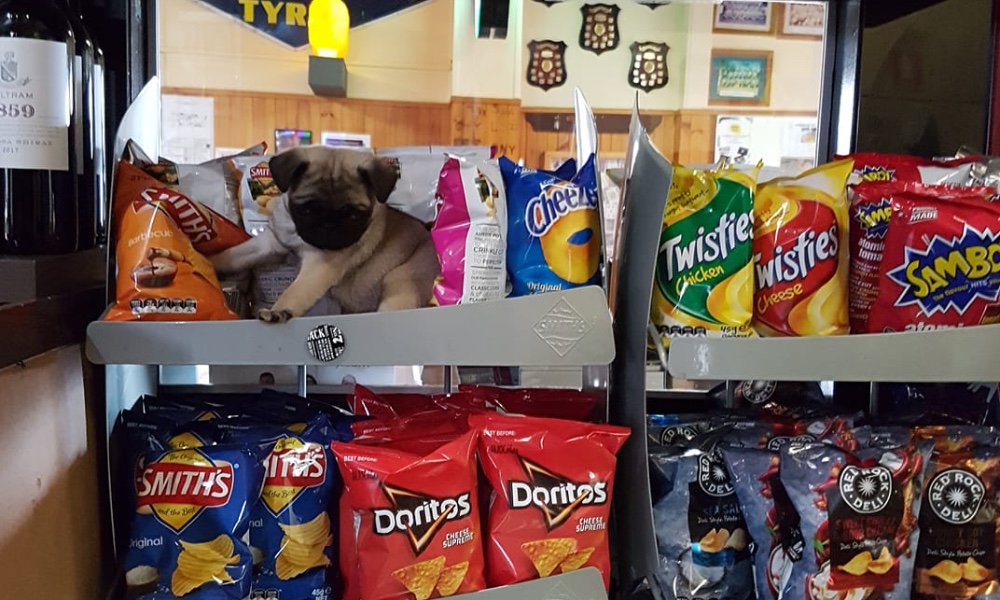 Kenilworth Hotel
18 Elizabeth Street, Kenilworth
Dog friendly Kenilworth Hotel welcomes your pup to join you for a drink at the front and back outdoor areas. But be aware, according to their social media, if your pooch it too cute the staff might steal them for unlimited cuddles 😉
---
Free V.I.POOCH TRAVEL KIT with each booking!
---
Dog Friendly Cafes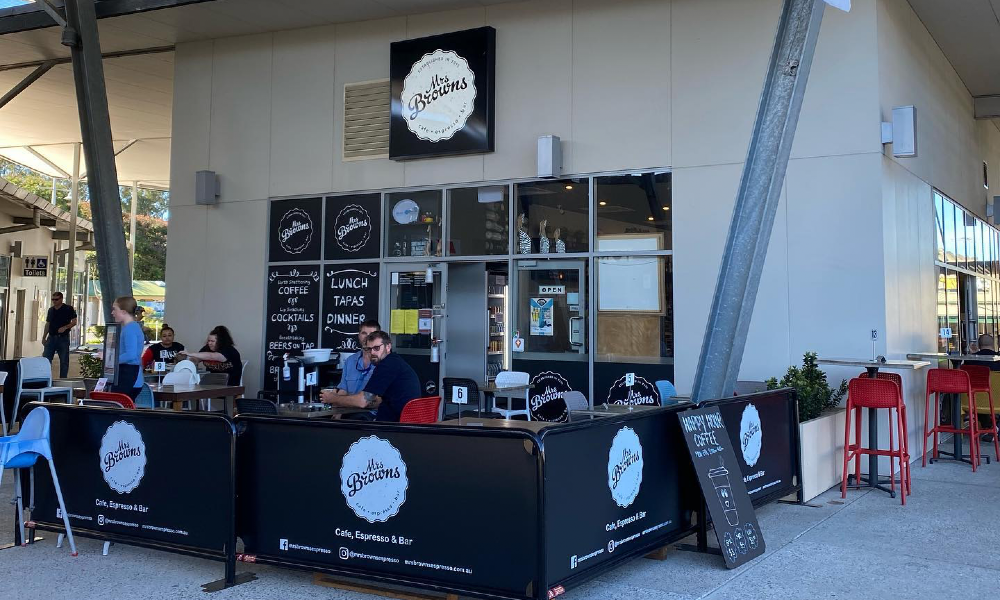 Mrs Browns Espresso & Bar
18/44 Simpson Street, Beerwah
Mrs Brown's Espresso and Bar is a dog friendly bar with an eclectic fusion of modern and vintage style located in Beerwah. Dogs are always welcome on the covered outdoor seating area.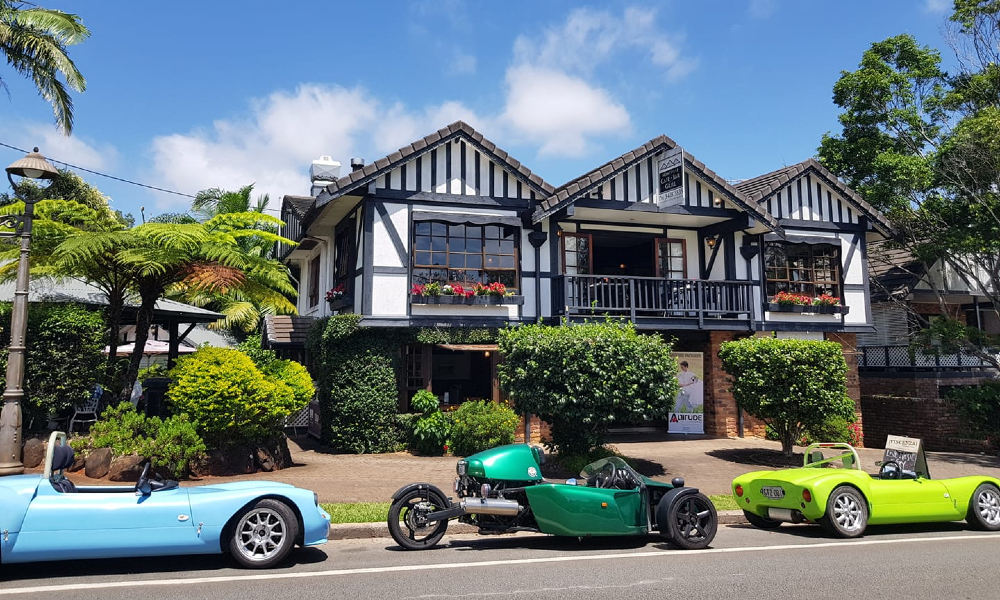 Montville Cafe & Bar
126 Main Street, Montville
Montville Cafe • Bar • Grill is a dog friendly pub in a Tudor building completed with a beautiful landscaped beer garden. Open 10am to 10pm every day for morning and afternoon teas, drinks, lunch and dinner. Dogs are always welcome to join you.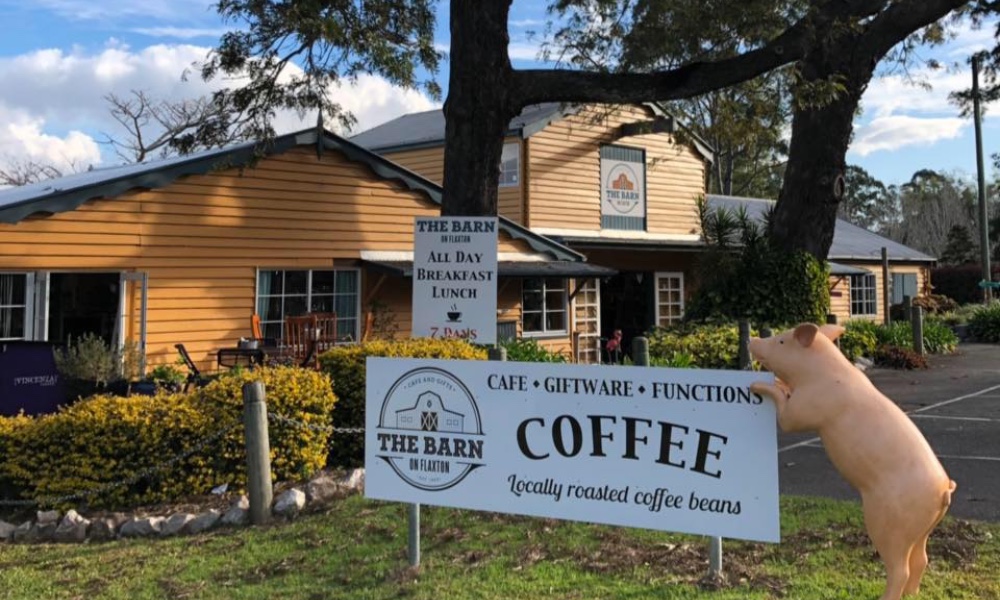 The Barn on Flaxton
445 Flaxton Drive, Flaxton
The Barn is a cozy and relaxed dog friendly cafe & gift store. Stop in & enjoy amazing coffee made by experienced baristas, complemented by a modern breakfast & lunch menu. Their dog friendly patio is called the 'Pet Patio', which kind of says it all. Some shelter is provided by umbrellas.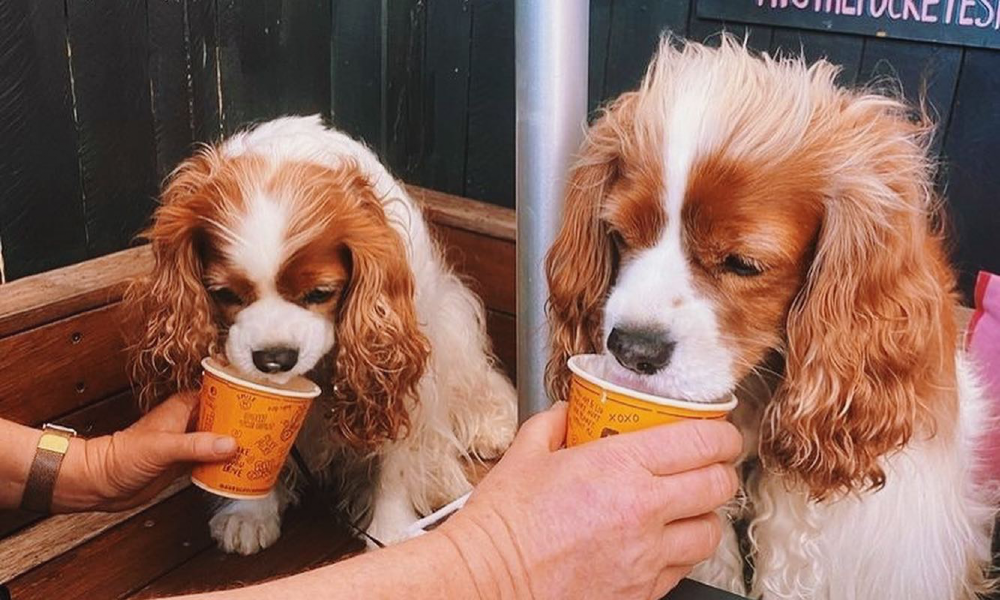 GURU Life
522 Petrie Creek Road, Rosemount
Dog Friendly GURU Life Restaurant & Garden will bring happiness and enlightenment to your day through a delicious menu, served up by super friendly staff in a relaxed garden setting.
Dog Friendly Hikes & Walks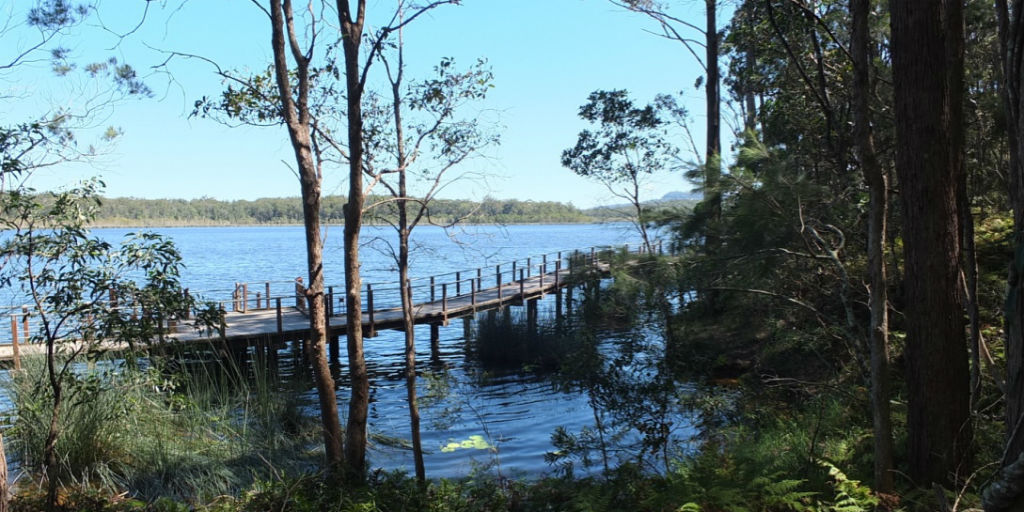 Ewen Maddock Dam
Landsborough
This 8.5km medium difficulty hike features stunning views of the edge of the lake and Paperbark trees. The path features beautiful wildlife and you can spot many birds in the surrounding trees. Dogs must be kept on leash and the path does get muddy after heavy rainfall.
---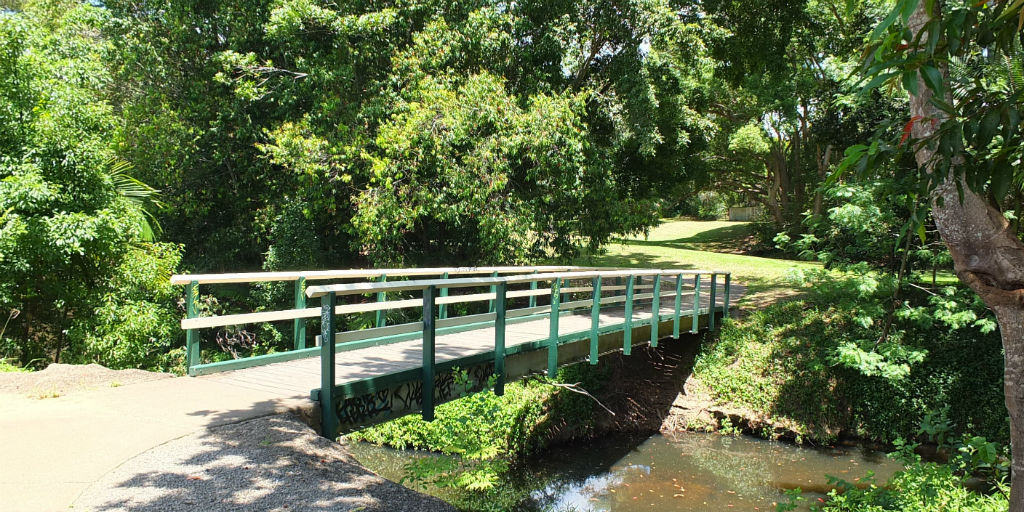 Gary Evans Walkway
Nambour
This little oasis located at the centre of Nambour is dog friendly Monday through Friday. It is a fantastic dog walking destination in the summertime. It features paved walkways along the banks of Petrie Creek, which is a tributary of the Maroochy river. Dogs must be on good behaviour, and well supervised, but otherwise can be off leash. The walk is only 3 kilometres long but there are plenty of beautiful shaded spots to sit and enjoy the surrounding nature.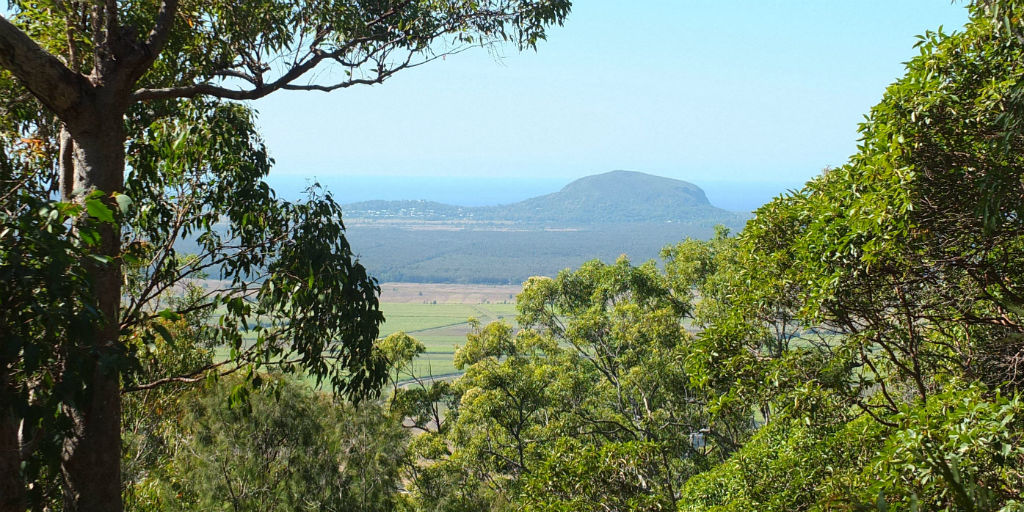 Mount Ninderry Trail
Ninderry
Mount Ninderry Trail is a moderately trafficked dog friendly loop trail located near Ninderry. It is popular with local dog owners but remember to keep your dog on the lead as there is a lot of wildlife in the area. Walk is rather rocky and hilly so make sure you are wearing suitable footwear.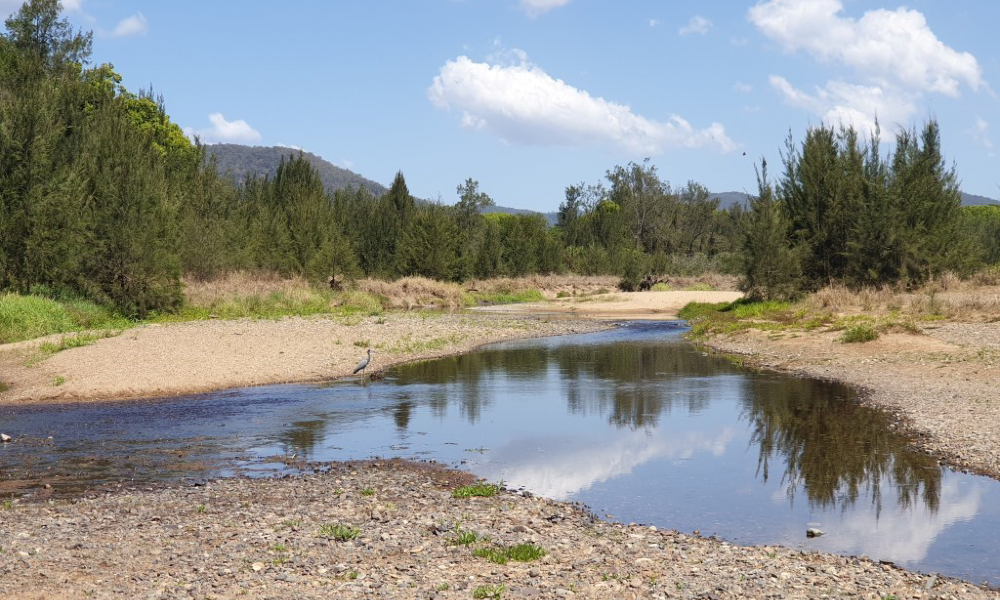 Kenilworth River Park
Kenilworth
This dog friendly walk is located at the Eastern end of Charles Street. Large grass area on the banks of the Mary River which is great for dogs to have a swim.
Free V.I.POOCH TRAVEL KIT with each booking!
---
We would love to hear from your experience!
Did your dog find his/her new favourite walk or bar? Was the place you visited not as dog friendly as you expected?
Leave a review and help other dog owners to find the best places to visit with their dogs. Your review will also be super valuable for the dog friendly venues to improve their dog friendliness!
Other Dog Friendly Travel Guides