The Ultimate Guide to Dog Friendly Sunshine Coast
Dog Friendly Sunshine Coast: Find dog friendly accommodation, beaches, bars, cafes and more…
The sunny weather on the dog friendly Sunshine Coast is a continuous invitation to adventure outside with your four-legged friend. Many dog lovers have made this part of South East Queensland their home, and the area has responded with plenty of dog friendly cafes, bars, hikes, and beaches you can visit with your pup.
This guide will reveal you the best dog friendly places in Sunshine Coast to go with your dog and get those tails go crazy!
Dog Friendly Accommodation
---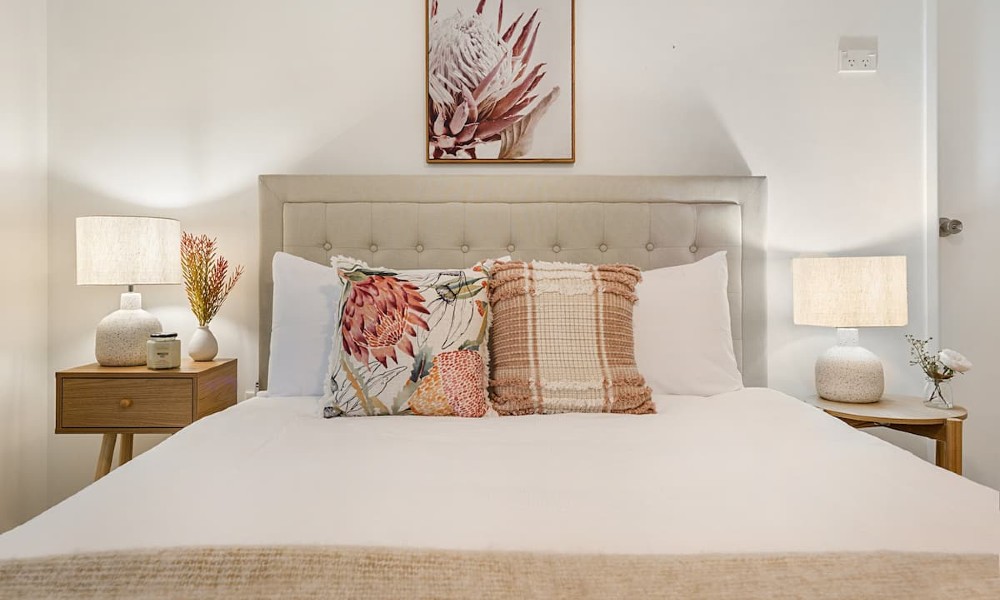 Dog Friendly House | Battery Hill
Guests 8 | Bedrooms 3 | Bathrooms 2
There is plenty of space for families at this beautiful dog friendly property 2 streets from a very popular dog off leash beach. It's a 3 bedroom home with bunk beds for the kids and a spa bath in the main bedrooms ensuite. Enjoy outdoor dining on a sprawling patio with a grassy backyard ideal for games. There is also a rumpus room with a ping pong table, a cosy living room and an inviting kitchen and dining area perfect for nights in. Local shops are currimundi hotel and Coondibah Reserve are all nearby.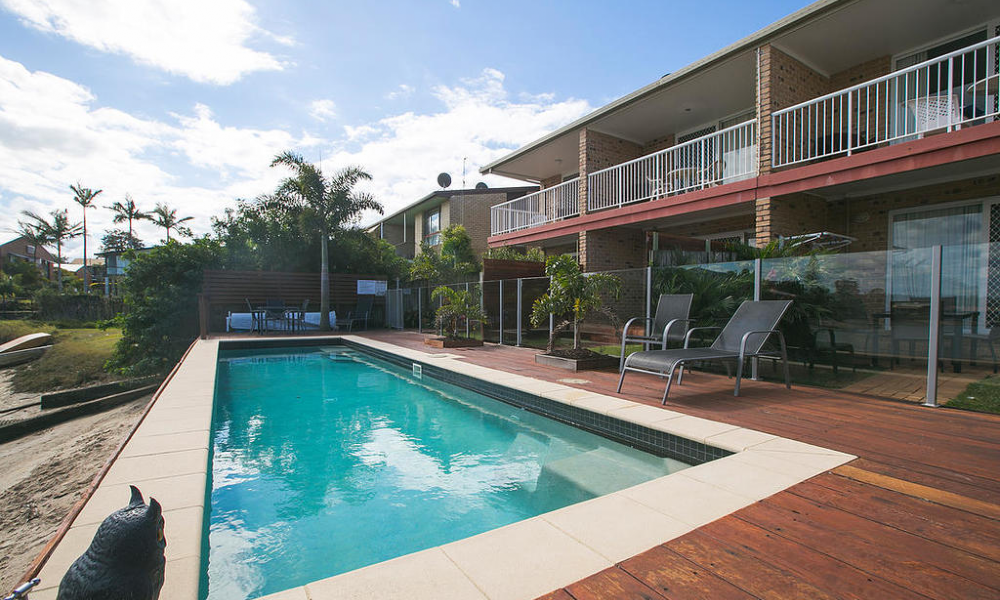 Dog Friendly Villa | Mooloolaba
Guests 5 | Bedrooms 2 | Bathrooms 1
This dog friendly villa features a patio offering river views. It includes a fully equipped kitchen and a lounge area with a sofa and a flat-screen TV. Located in the heart of Mooloolaba, it is only a short stroll to restaurants, cafes, and shops. Guests enjoy a swimming pool and free on-site parking.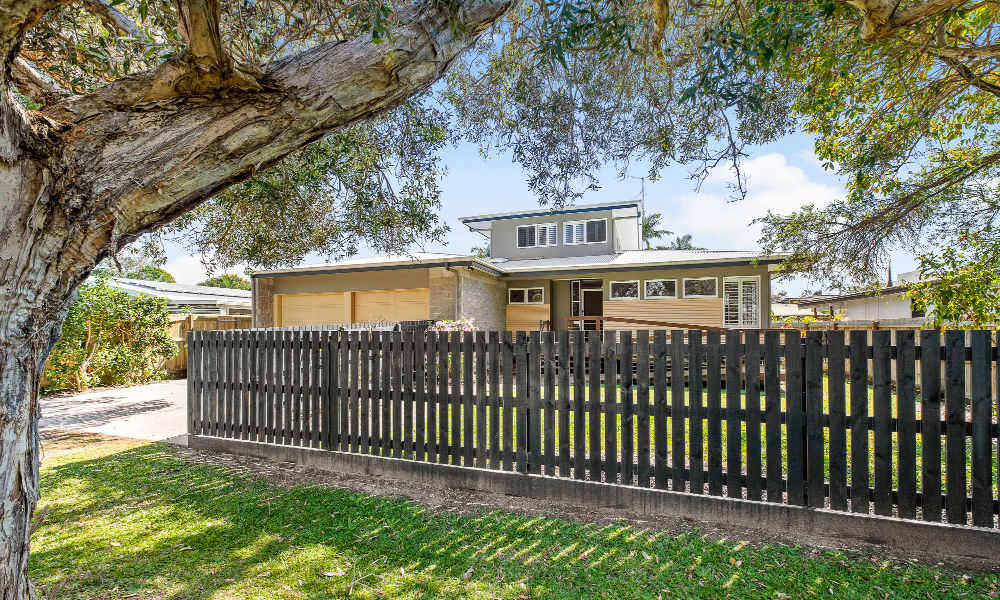 Dog Friendly House | Mudjimba
Guests 6 | Bedrooms 3 | Bathrooms 3
If you're after a beach holiday with a little something extra then this newly renovated dog friendly accommodation has just what you need. It's only 2 minutes walk to the fully patrolled, dog friendly Mudjimba beach. It's also wheelchair friendly, pet friendly, (teenager friendly!!) & has so many living areas that everyone can have their own kind of holiday. Inside set over 2 floors with polished floorboards & luxurious bedroom carpeting this 3 bedroom, 3 bathroom home immediately makes you feel relaxed.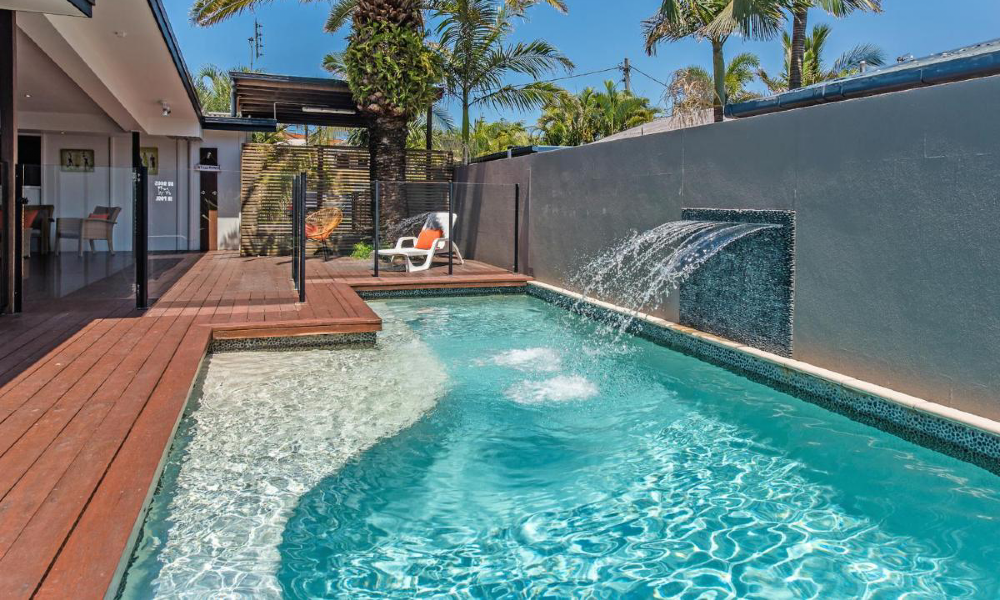 Dog Friendly House | Marcoola
Guests 7 | Bedrooms 3 | Bathrooms 2
Dog friendly holiday accommodation in the heart of Marcoola Beach. Beautifully designed air-conditioned/heated 3 bedroom beach house (2 King size beds and 2 singles) with ceiling fans. All beds are chiropractic comfort and the King beds have an extra memory foam topper. Pure luxury sleeping awaits. The classy resort style main bathroom has a large bath, a large modern rain shower rose, granite bench top and soft close toilet suite. The matching ensuite has a double shower with 2 roses and soft close toilet suite as well. Or you can opt for an outside hot and cold shower on the private deck.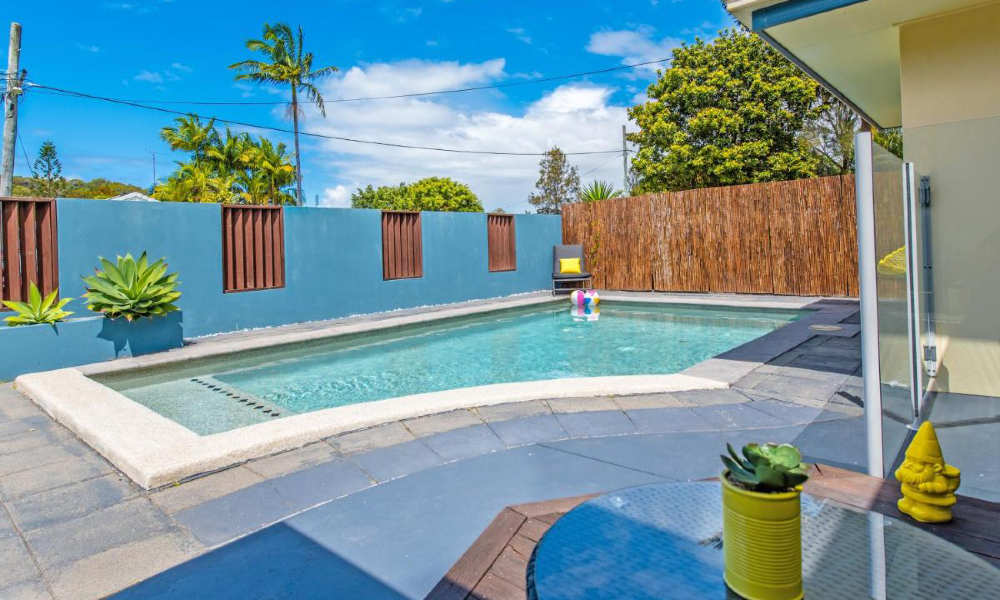 Dog Friendly House | Coolum Beach
Guests 12 | Bedrooms 4 | Bathrooms 2
High quality 4 Bedroom dog & pet friendly holiday accommodation only 10 minutes walk to the pristine Coolum surf beach, Surf Life Saving Club, Restaurants, Cafes, Boutiques and Boardwalk to the lookout at Point Perry. This is the perfect location to experience all that Coolum Beach has to offer. This beautifully appointed 4 bedroom dog & pet friendly beach house has the best of everything fun, relaxing and providing different areas of space for all ages and types in your family. Port-a-cot and high chair available.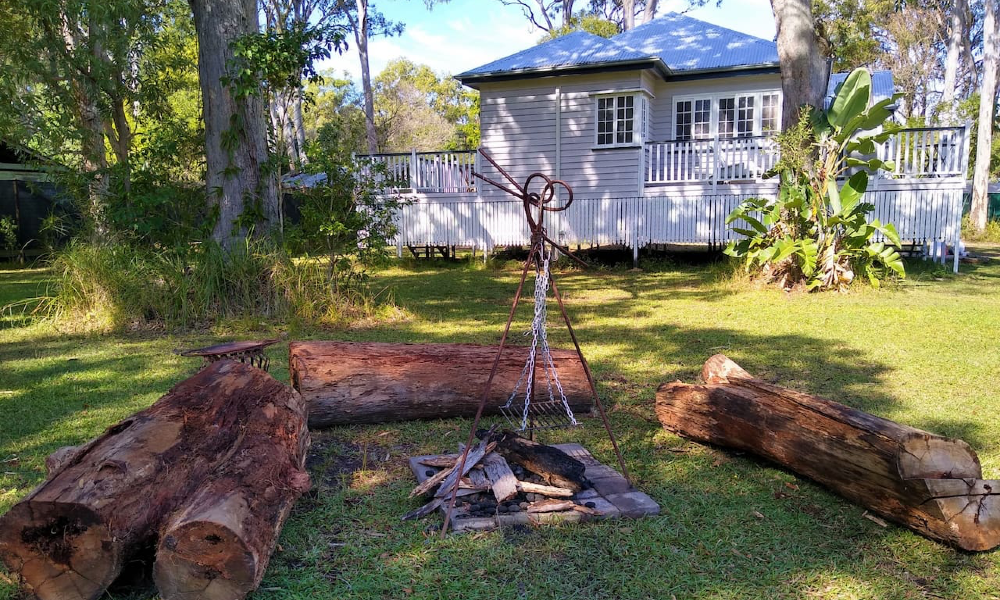 Dog Friendly Lodge | Lake Weyba
Guests 6 | Bedrooms 3 | Bathrooms 1
Pull up a whitewashed farmhouse chair for a leisurely breakfast at this private dog friendly accommodation nestled in extensive lawn gardens amongst the gum trees. White panelling, abundant natural light, and a soft, neutral colour palette create a Hamptons vibe. You'll share the garden with a mob of kangaroos both morning and evening. The cottage located in the old part of Peregian Beach, set amongst the gum tree in a park-like oasis, where you will enjoy direct access to Lake Weyba (400-metre walk) while listening to an abundance of birds and a mob of kangaroos checking you out. Our guests and their dogs love the knee-deep, clear water of Lake Weyba (when it's not windy). Due to the shallow nature of the lake, its like a huge bathtub, very human and pet friendly.
---
Dog Friendly Pubs & Bars
Weather is rather pleasant all year round in Sunshine Coast, however we do want to make sure our pups (and us) will be protected from the rain and sun while relaxing with a well deserved drink. Below is the list of paw-some dog friendly pubs and bars who provide under cover outdoor areas or in some cases might even invite your pup inside 🙂
---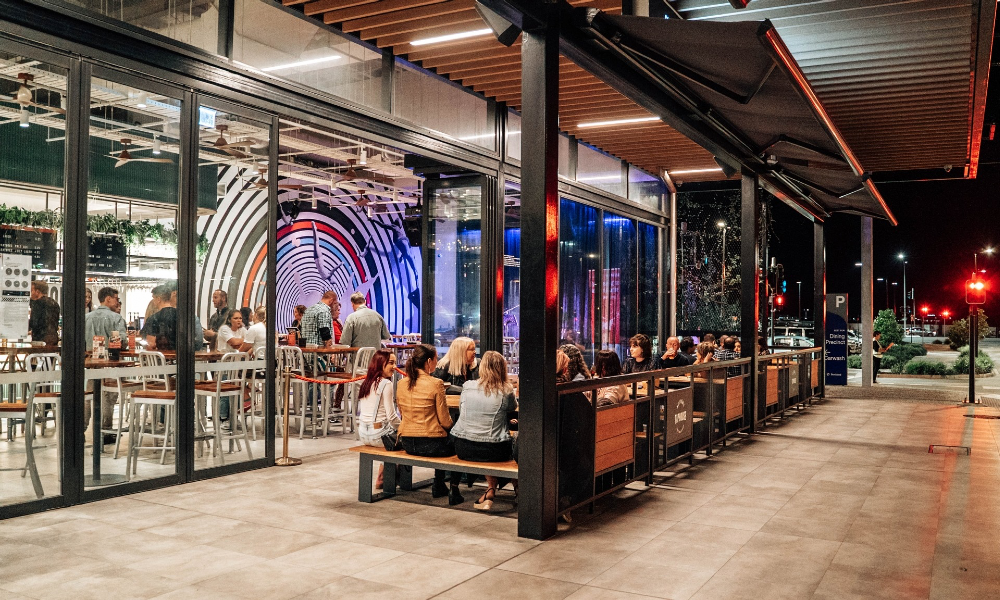 The Malt Shovel Taphouse
31/32 The Avenue, Birtinya
Dog friendly Malt Shovel Taphouse is bold and packed with flavour! Quenching, cracking and flavour-packing craft beers on tap, rotisserie and live music.We love our dogs and welcome them in our Alfresco area at Malt Shovel Taphouse.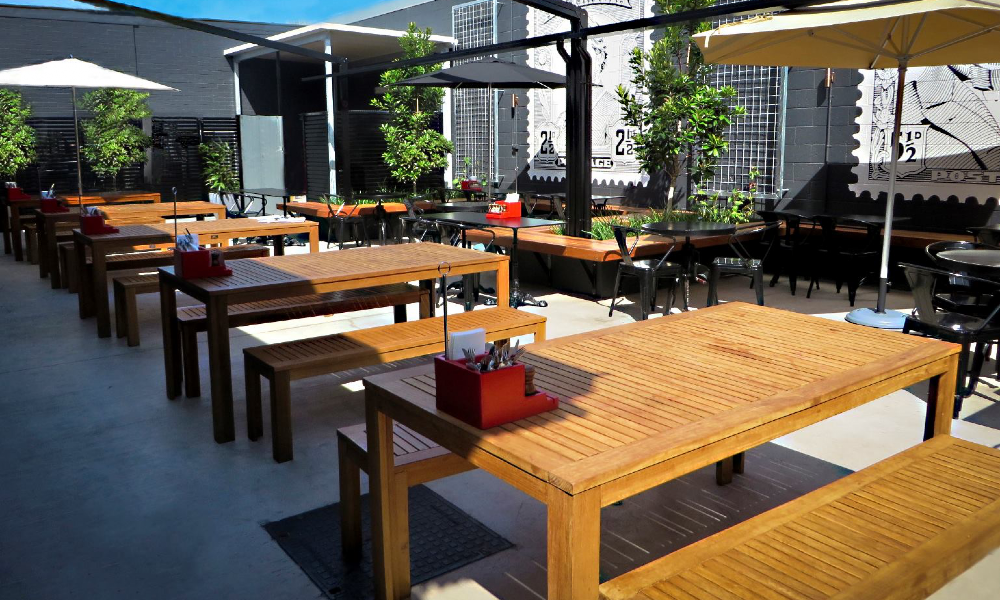 The Post Office
10 Ocean Street, Maroochydore
Set in the heart of Maroochydore's vibrant entertainment precinct, dog friendly pub The Post Office offers a winning formula of a great steakhouse with a casual atmosphere, one of the best beer gardens on the coast & a range of the most up to date boutique beers that you will find. Dogs are welcome in the partly covered beer garden any time.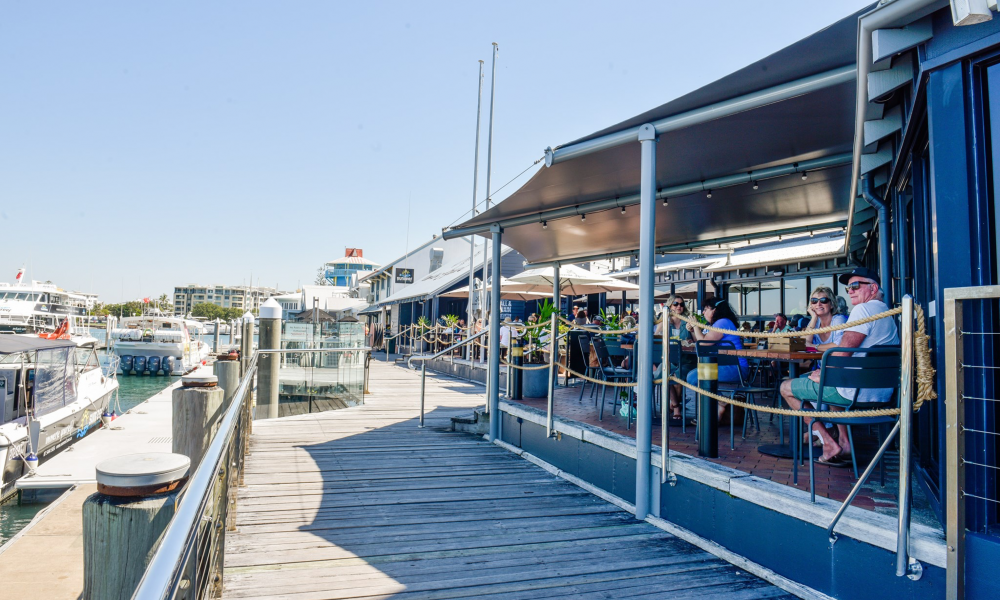 The Savvy Squire
123 Parkyn Parade, Mooloolaba
James Squire's brings his rogue style and quenchy thirsting beer to Mooloolaba with the dog friendly pub, The Savvy Squire. The perfect spot for a drink with friends while enjoying the stunning waterfront views. Dogs are always welcome on the outdoor seating area (where else would you want to sit?)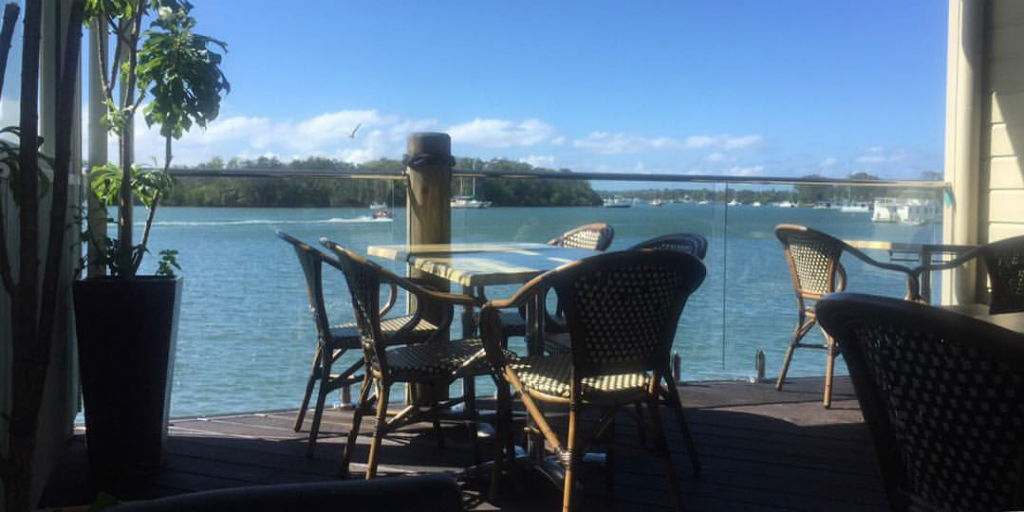 Pier 11
2 Parkyn Road, Tewantin
Dog friendly bar and restaurant just outside Noosa with stunning views of the river from a dog friendly outdoor seating area. Book for lunch or dinner and take your four legged friend with you to a rare dog friendly dining experience in the Sunshine Coast.
Free V.I.POOCH TRAVEL KIT with each booking!
Dog Friendly Breweries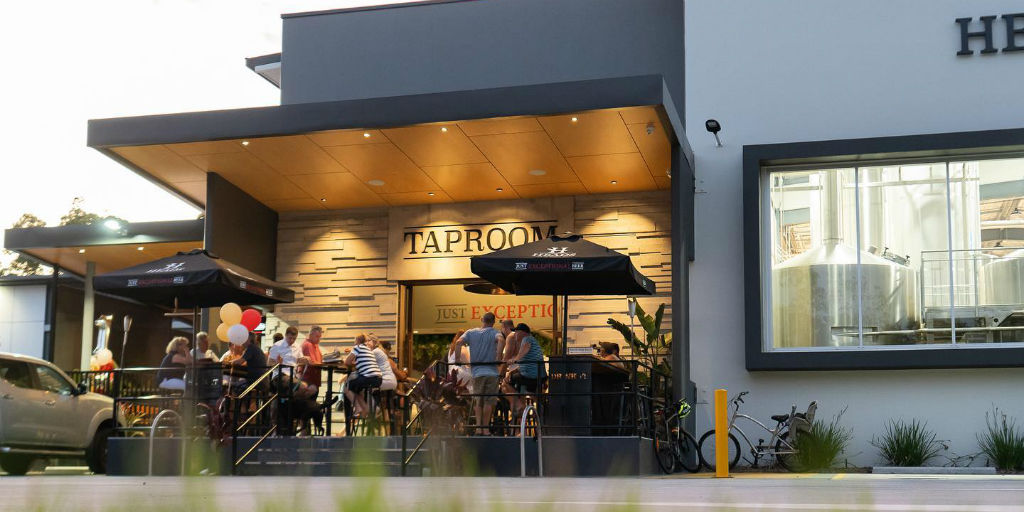 Heads of Noosa Brewing
85 Rene Street, Noosaville
Heads of Noosa Brewing Co. is an Australian independently owned dog friendly craft brewery located in Noosa on the Sunshine Coast. With a passion for lagers and a focus on quality, we strive to produce truly enjoyable beers for everyone. Dogs are welcome to join for a drink at the partly covered front deck.
Boiling Pot Brewing
130 Eumundi Noosa Road, Noosaville
Boiling Pot Brewing is a dog friendly brewery in the heart of Noosaville. Drop by for a refreshing drink with your pooch at the dog friendly beer garden.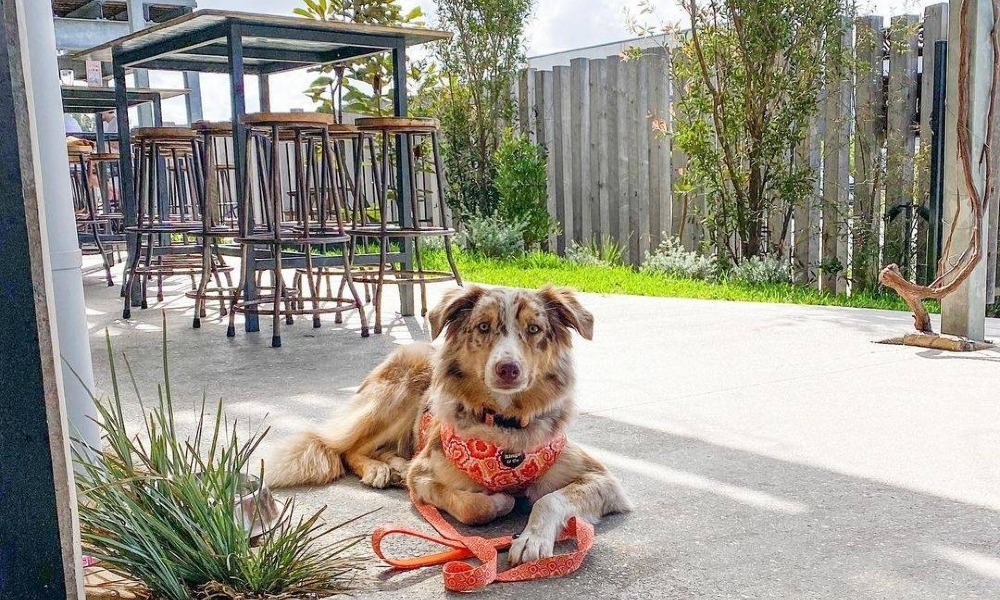 Land & Sea Brewery
19 Venture Drive, Noosaville
LAND & SEA is more than a dog friendly brewery. They create products that are inspired by, celebrate and compliment the area they live in, the days well spent, living and enjoying every second, from the rolling hinterland to the oceans and bays. Dogs are always welcome at the outdoor undercover areas where they can go, near grass for pee pee.
Dog Friendly Cafes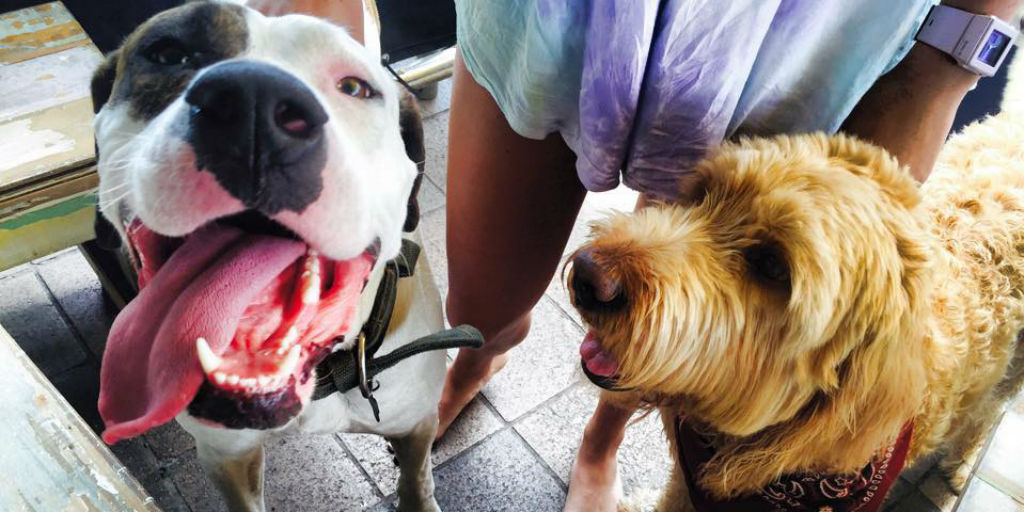 The Attic Cafe
168 Alexandra Parade, Alexandra Headland
Ideal location to relax after a walk with your dog along the stunning Alexandra Headland. Your dog is guaranteed to get spoiled with free sausage and steak treats and cuddles from Ian and the friendly staff.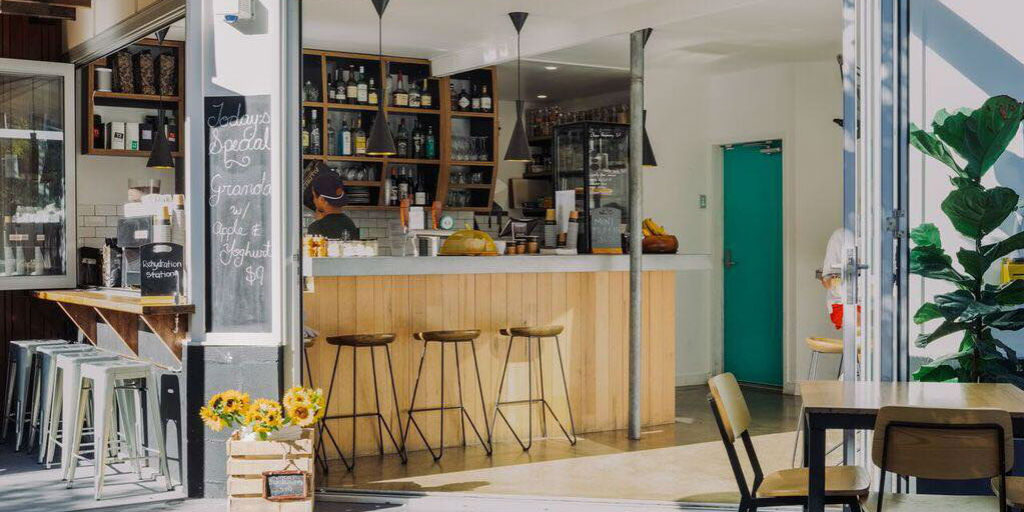 FOMO
2/18 Duke Street, Sunshine Beach
Don't have the Fear of Missing Out by heading over to this quaint and stylish Sunshine Coast café. Dogs are allowed inside while owners enjoy fresh juice in the comfortable seating area. The coffee is exquisite, and FOMO has become a popular spot for breakfast and brunches on weekends.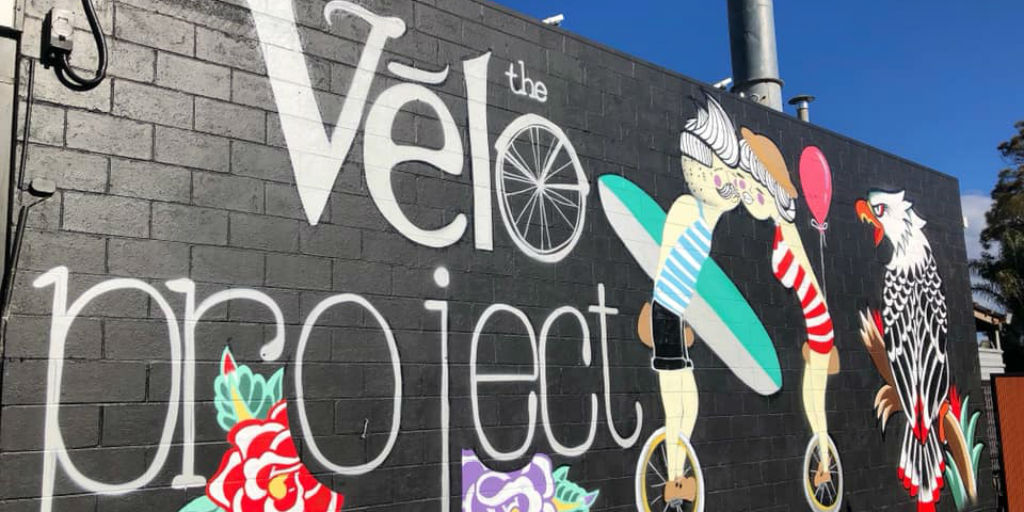 The Velo Project
19 Careela Street, Mooloolaba
There is a dog menu! Isn't that all that needs to be said? This café has a scrumptious selection of human meals, but truly takes the dog biscuit with its pet friendly menu. You can order your canine a doggy donut, puppy late, pooch biscuit, or another fancy treat. All of them are made from unique pup-safe flavourings and will have your dog drooling over the shaved liver treats.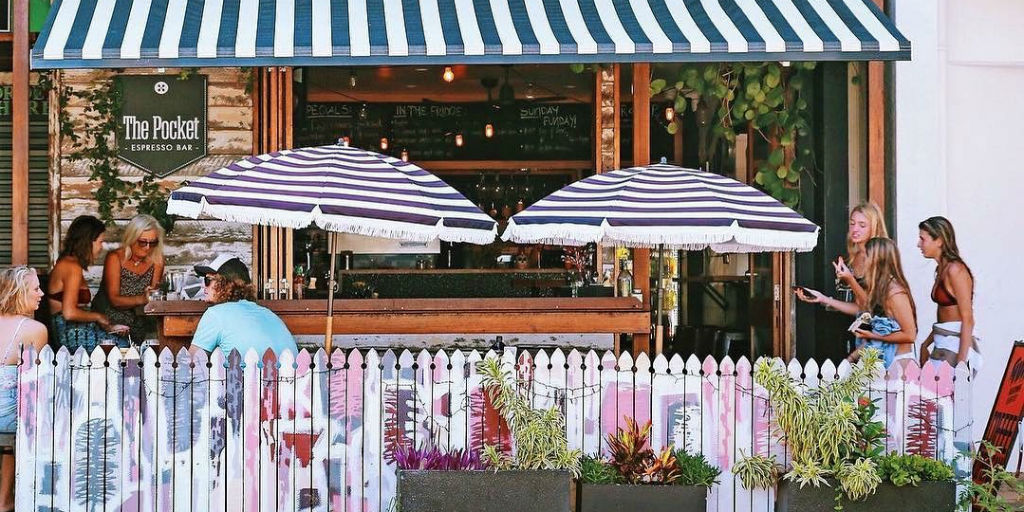 The Pocket Espresso Bar
6 Seaview Terrace, Moffat Beach
The Pocket Espresso Bar is a unique little piece of paradise where you can escape, rejuvenate & fix almost everything. Wicked Guru Coffee, awesome food! Dogs are welcome in the garden or at the footpath dining area.
Free V.I.POOCH TRAVEL KIT with each booking!
---
Dog Friendly Hikes & Walks
Although we whole heartedly invite you to spend time with your dog in one of the many off leash dog beaches in Sunshine Coast, there is more to this beautiful region than just the beaches. We have listed the best dog friendly hikes & walks to explore with your dog.
You can find ALL official off leash dog beaches from Bundaberg all the way down to South Australia from Pupsy Dog Beach Directory. North Queensland will soon be added so stay tuned!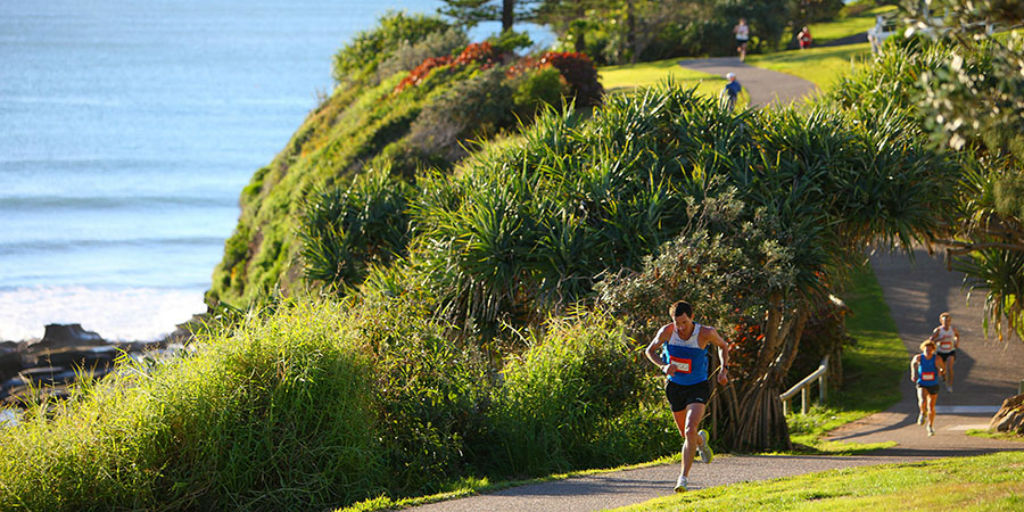 Caloundra Foreshore
Caloundra
Home to a famous Caloundra Foreshore run, this 8km return trail starts at Bulcock Beach heading all the way to the off leash Shelly Beach. It is an easy two hour walk along the coast featuring beautiful water-front views, sections on a beach, and others on wooded platforms.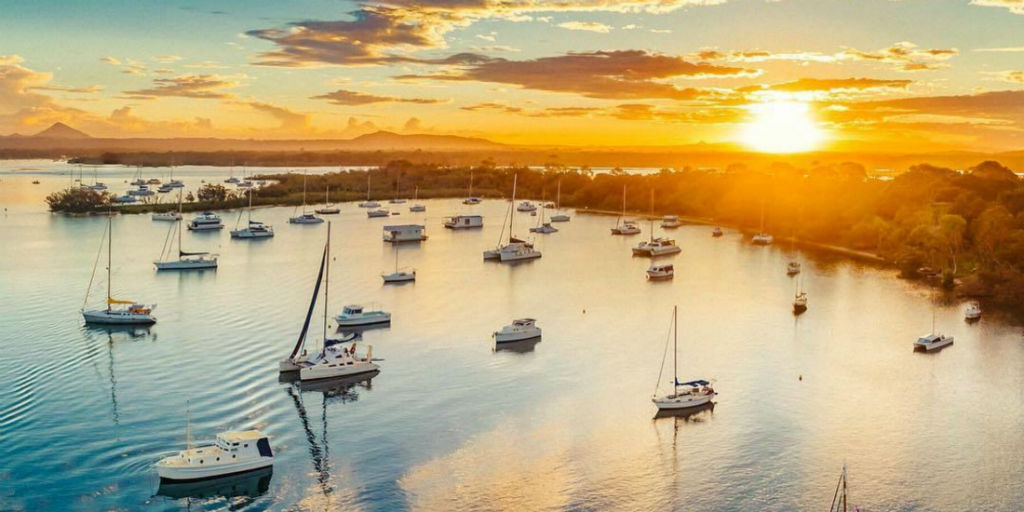 Noosa Woods
Noosa Heads
Just a short walk away from the popular and ever bustling Hasting Street you will find Noosa Woods as part of the Noosa Spit Reserve. It features many bush trails, which will lead you through beautiful native shrub towards the Noosa Spit. This is the perfect spot to jump in the water with your pup, who will surely enjoy cooling off in the calm waters.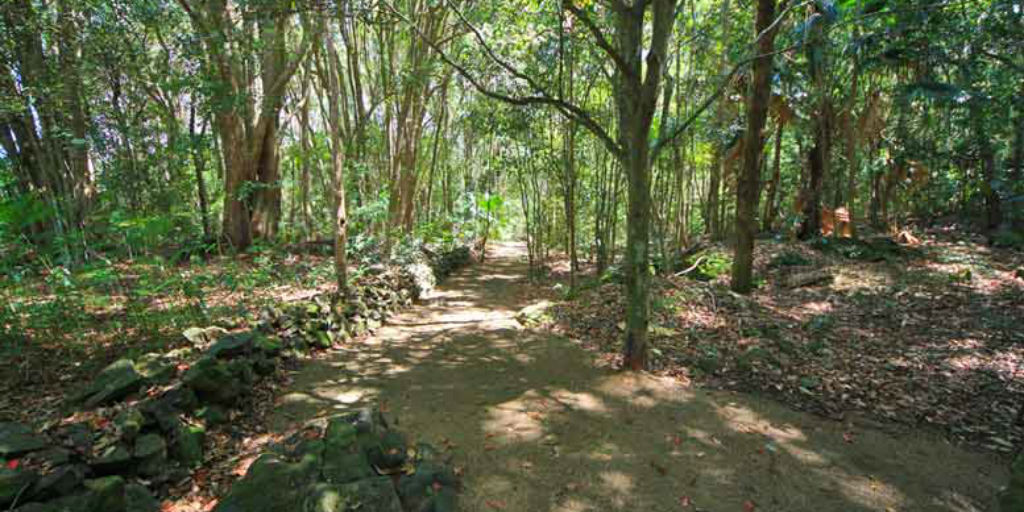 EJ Foote Sanctuary
Buderim
EJ Foote Sanctuary Loop is a 1.6 kilometer lightly trafficked loop trail located near Buderim. The trail offers a number of activity options and is accessible year-round. Dogs are also able to use this trail but must be kept on leash.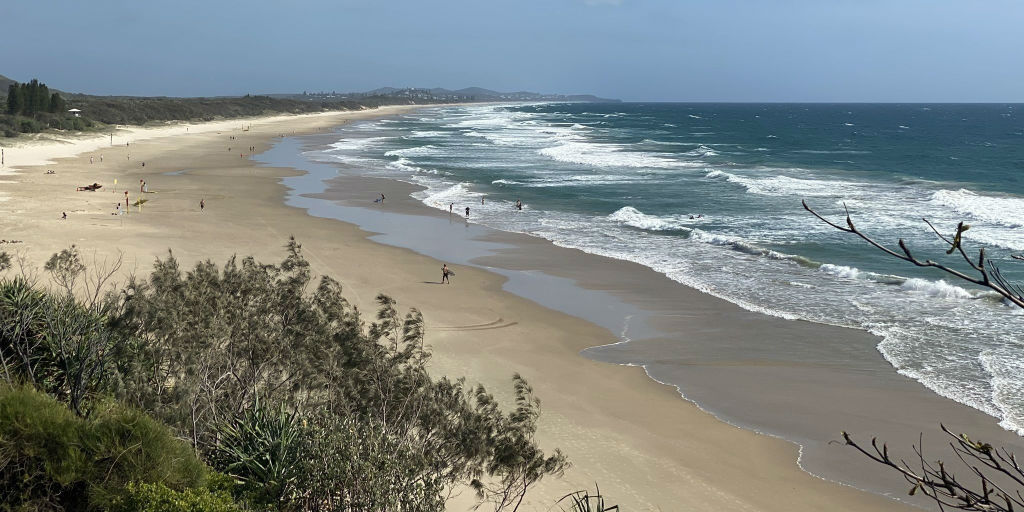 Coolum Beach Boardwalk
Coolum Beach
Coolum Beach Boardwalk is a 1.6 kilometer lightly trafficked out and back dog friendly trail in Coolum Beach. Enjoy the scenic views and fresh ocean air with your dog. Dogs are welcome to use this trail but must be kept on leash.
Free V.I.POOCH TRAVEL KIT with each booking!
---
Off leash beaches
You can find all off leash beaches in the area from Pupsy Beach Directory. However to make your job a little easier we have picked the TOP 6 off leash beaches in Sunshine Coast to visit with your dog! Ready, steady…..GOOOOO!!!
Stumers Creek Beach
Coolum Beach
This dog friendly beach is 24h off leash throughout the year. It is truly a salty sea dog paradise with waves for the more adventurous pups, or a calm creek for avid paddlers. There are picnic tables, a playground, and a family friendly dog loving atmosphere all around.
---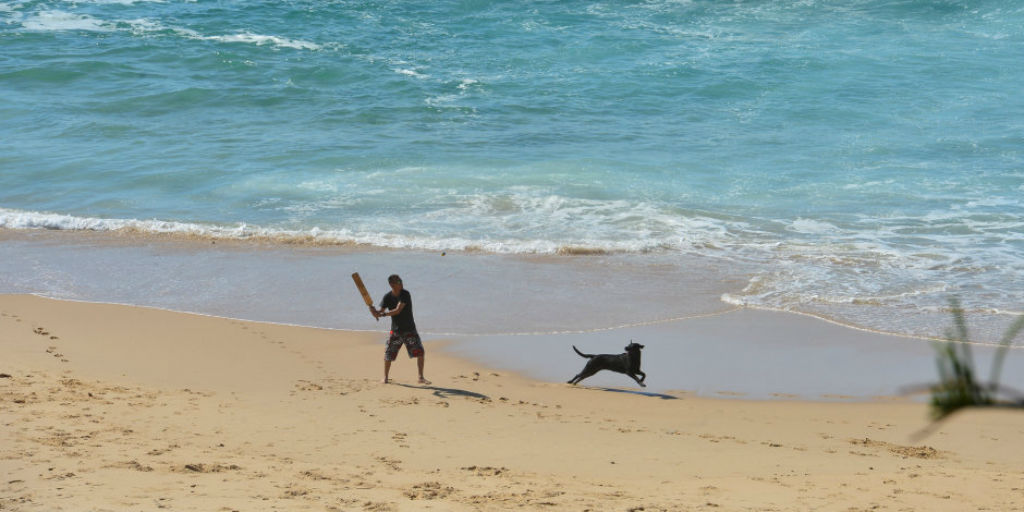 Buddina Beach
Buddina
This stretch of beach typically remains quite quiet, making it the perfect spot to head out for a morning stroll with your pup to enjoy the serenity of crashing waves. The surf tends to be quite small, so your dog will surely enjoy splashing in it and getting you nice and salty.
---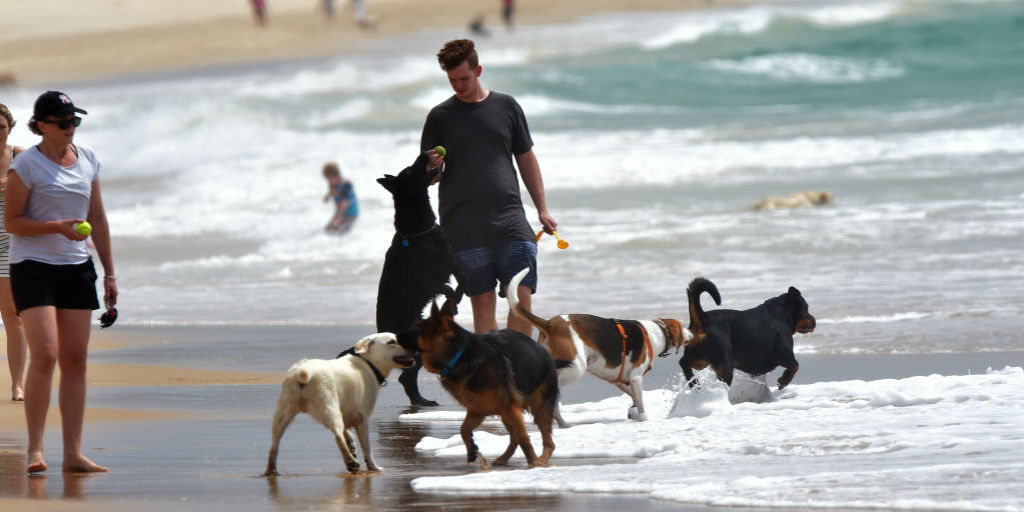 Currimundi Beach
Currimundi
Another favourite dog friendly beach which allows pups to run around free without the leash every day. It is a one kilometre stretch of coastline which will surely give you and your pup enough space to run and get all your energy out!
---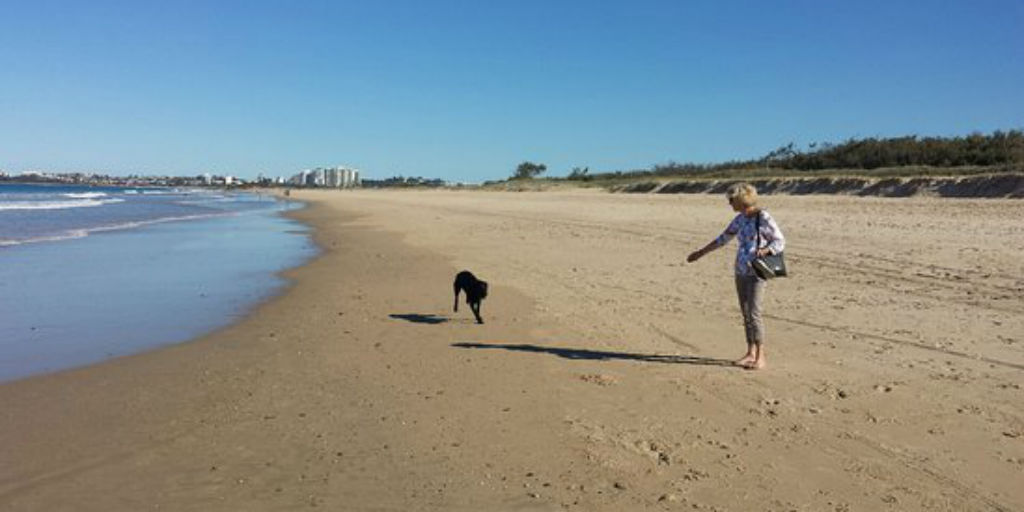 North Shore Beach
Twin Waters
This part of the coast is still rugged and wild, and features some beautifully shaded areas to sit down and watch your puppy run around. There is abundant wildlife hiding away on the riverside which will provide your pup as a fun distraction. Make sure they don't catch themselves a brush turkey!
---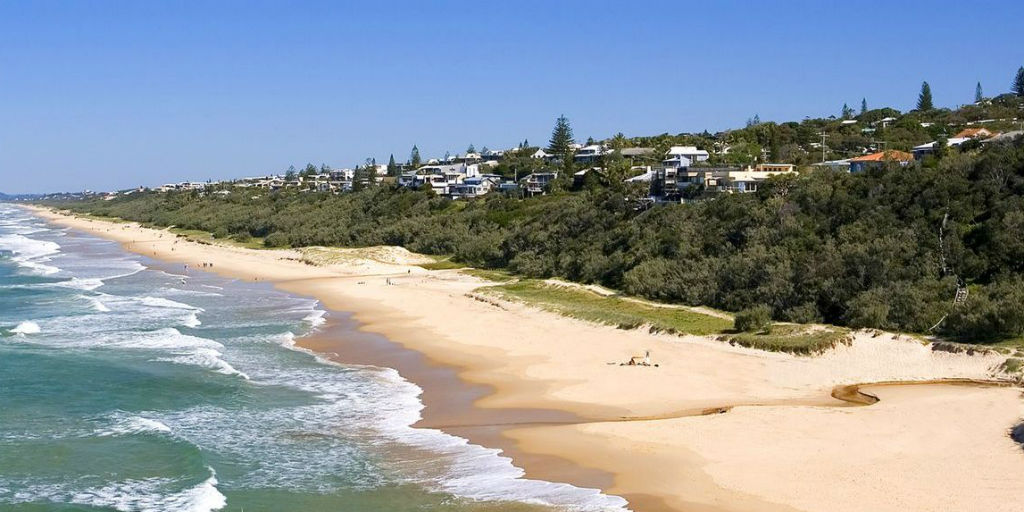 Sunshine Beach
Sunshine Beach
This large section of beach stretching from beach access 27 to the National Park Headland features some of the most beautiful views on the entire sunshine coast. You will see fancy homes sitting high on the steep, rainforest covered hills merging into the Noosa National Park. Unfortunately, dogs are not allowed in the National Park, so you will have to keep an eye out for appropriate signage in the area.
---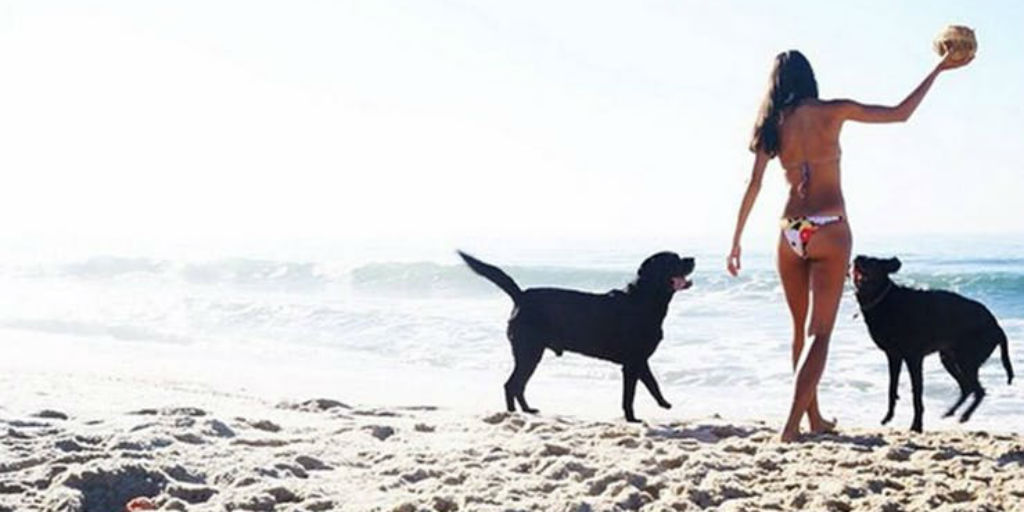 Noosa Spit
Noosa Heads
Great off leash dog park & beach right next door to Noosa town centre. Go for a play & swim on the beach before heading to town for some refreshing drinks. Water is nice and calm as it is protected from the surf and major currents.
You can find more dog friendly beaches, parks, pubs, cafes… in Sunshine Coast and way beyond on Pupsy. Discover your dog's next adventure!
We would love to hear from your experience!
Did your dog find his/her new favourite beach or hike? Was the place you visited not as dog friendly as you expected?
Leave a review and help other dog owners to find the best places to visit with their dogs. Your review will also be super valuable for the dog friendly venues to improve their dog friendliness!
Other Dog Friendly Travel Guides