10 Best Dog Friendly Accommodations In Daylesford
10 Best Dog Friendly Accommodations in Daylesford
Daylesford is known for its natural mineral springs and beautiful gardens and lakes. This is exactly what makes this historical town at the foothills of Great Dividing Range a pur-fect place to go on holiday with your dog.
Visit the leafy Wombat Hill Botanical Gardens go for a walk around Lake Daylesford and explore many of the dog friendly pubs and cafes in the area. Some of our favourite picks include Daylesford Cider Company, Cosmopolitan Hotel, Lavandula Farm and Wombat Hill House. You can find more dog friendly places to visit in Daylesford from our Ultimate Dog Friendly Travel Guide.
Accommodation in your holiday destination is a key part of your country escape. We have picked our Top 10 dog friendly accommodations in Daylesford that are guaranteed to make your visit to this beautiful rural location an absolute treat!
10 Best Dog Friendly Accommodations In Daylesford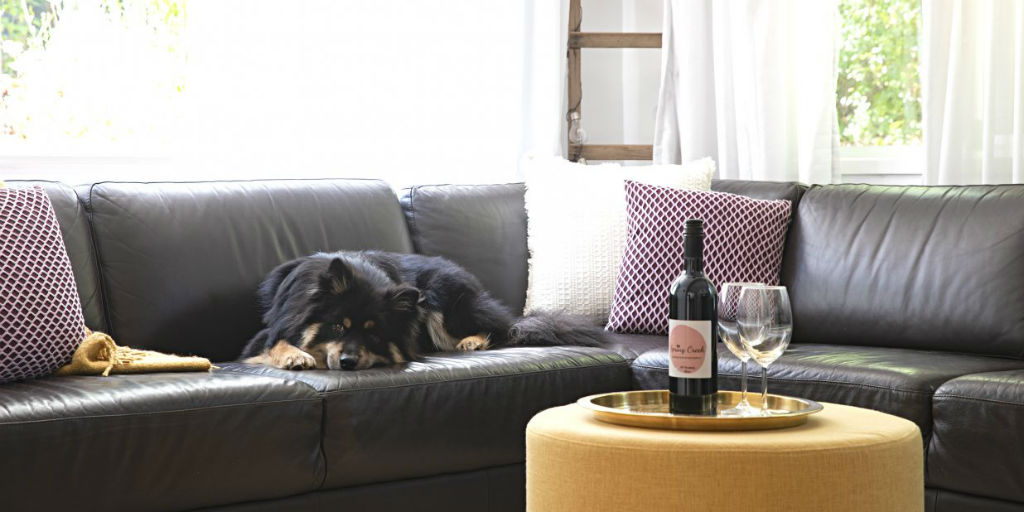 1. Spring Creek Cottage
Guests 4 | Bedrooms 2 | Bathrooms 1
100 year old Hepburn Springs dog friendly accommodation is setup with nature lovers and furry friends of all sizes in mind! Bordered by a pine forest and right on the endless Goldfields track (with a private gate opening to the forest and trails) you're surrounded by nature yet ten minutes walk to Main Rd Hepburn, Hepburn baths and the Mineral springs reserve.
Spring Creek has been setup by a dog lover and owner with our best friends in mind. Hard wearing leather, cast iron legs, a lack of low hanging knick-knacks, easily kept fully fenced gardens, minimal textiles. Dog provisions are endless (doggy beds, homemade liver treats, emergency kibble, frozen drumsticks, doggy towels, doggy blankets, extra leashes and more). And they are even happy to accommodate your dogs sleeping with you in bed on request. All these things plus super stylish, perfectly located, rustic and luxurious – a stress free, beautiful place to experience with your pups.
The cottage is surrounded by dog friendly tracks and trails, water features and cafes. The newly renovated studio opening right to the forest also doubles as undercover space for yourselves and furries, or comfy couches for them to sleep if they are independent outdoor dogs.
Reviews from guests have always praised the amenities, provisions, welcome goodies, styling, local recommendations, professional cleaning and linen but most of all – the nature infused, dog loving vibe.
---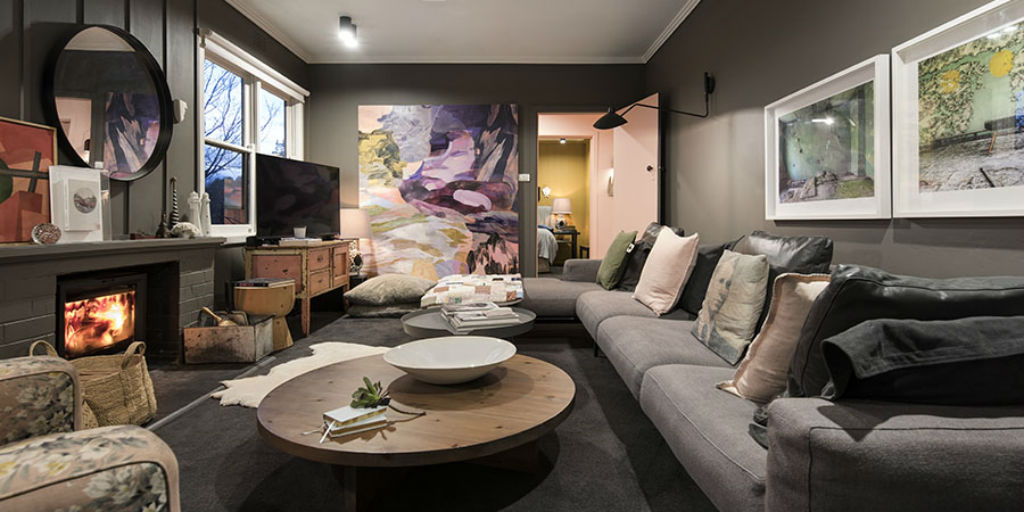 2. Harts Lane Beaux Haus
Guests 6 | Bedrooms 3 | Bathrooms 1
Located just a short stroll from the main shopping strip in one direction, and the Lake District in the other, dog friendly accommodation Harts Lane Beaux Haus offers something for everyone in the heart of Daylesford.
This mid century dwelling has had a designers eye cast over it and is filled with beautiful art, furniture, and modern conveniences such as WIFI, a comfortable breakfast bar, deep soaking bath, 6 burner gas SMEG oven and French door refrigerator. A lovely large lounge room with wood burning fireplace, massive sofa, big TV and NETFLIX will allow you to relax as a group and watch a movie, or recline by yourself with a good book.
Two outdoor areas bring the Palm Springs vibe to life with large fenced backyard, perfect for your pup to explore or play in whilst you shake a cocktail or two.
Note, small dogs only!
---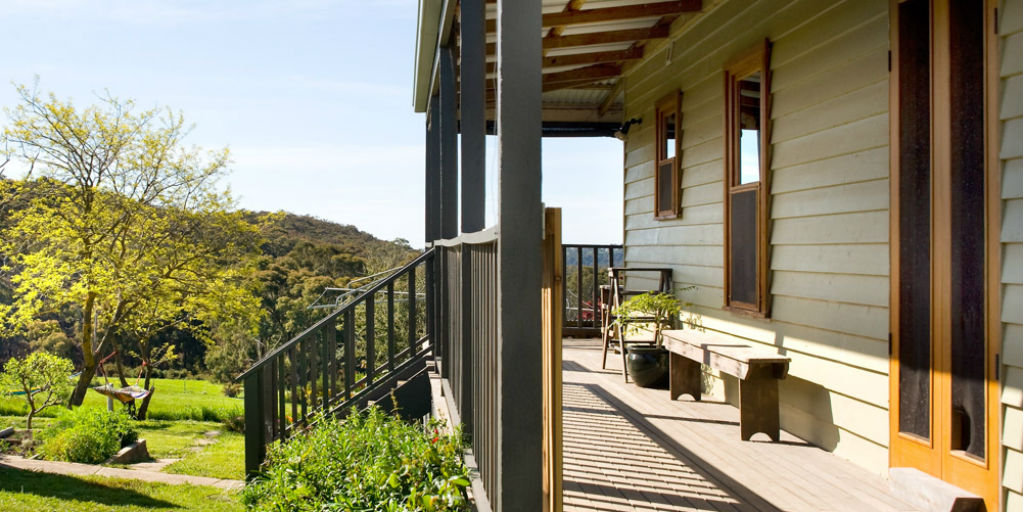 3. Cabrito
Guests 4 | Bedrooms 2 | Bathrooms 1
Only a 5 minute drive to the centre of Daylesford, this dog friendly accommodation is sure to please those looking for a tranquil weekend retreat. Cabrito has two living areas, rustic kitchen with Smeg cooktop, claw foot bath and separate shower. Two fire places; one in the original lounge, the other in the rear living area. Wrap around verandas imbue this gorgeous cottage with a sense of space. Take in the forest views from the back veranda, or the rural farm outlook from the front. You will be delighted from the time you walk in the front door.
---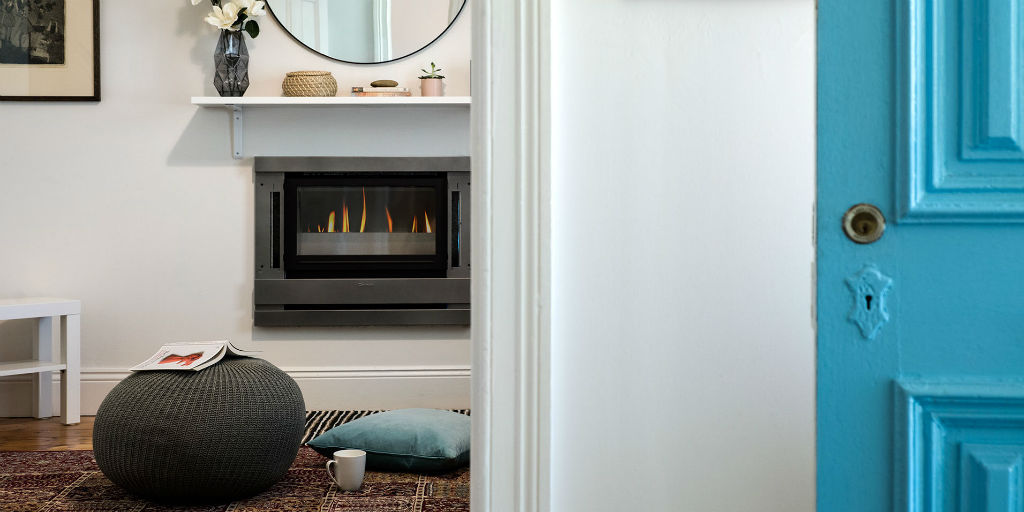 4. Clementine
Guests 2 | Bedrooms 1 | Bathrooms 1
This delightful 1 bedroom dog friendly accommodation epitomises everything you need for a Daylesford break. Large bedroom with queen size bed, open plan living/dining room with kitchenette, gas log fire, flat screen TV and split system heating/air conditioning. Kitchenette has a coffee machine, induction cook-top, mini bake grill and oven and an electric fry pan. Relax in the garden, take a leisurely stroll to town followed by a restorative soak in the bath. Beautifully renovated in January 2019, Clementine is walking distance to everything we love about the area: Lake Daylesford, Vincent St shops and the Mill Markets. Relax, unwind, park the car for your entire stay and take in Daylesford's charm. Pet friendly and secure front yard. (yard is open to the street). Note, small dogs only!
---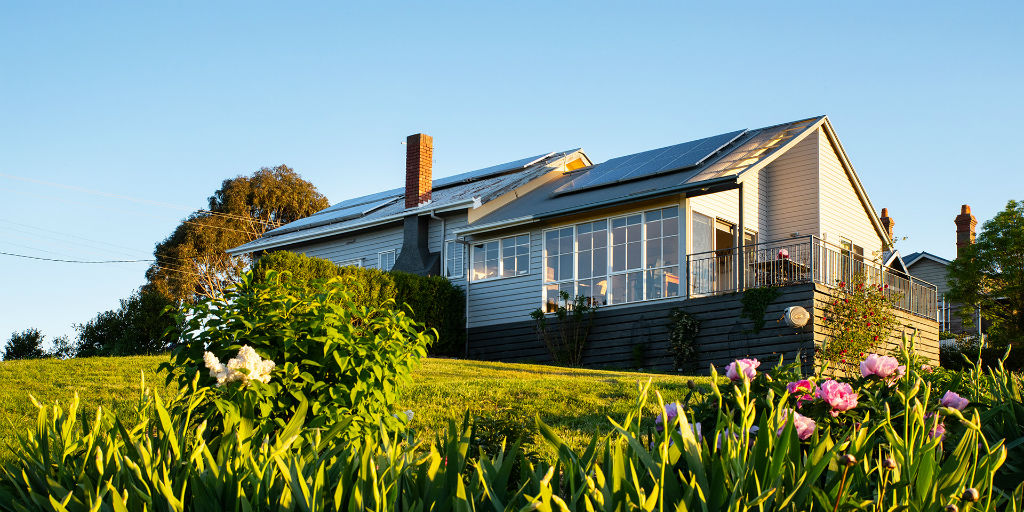 5. Churchills
Guests 7 | Bedrooms 3 | Bathrooms 2
An iconic dog friendly accommodation takes in some of the most outstanding views of Daylesford. Perched up high and boasting its own lake with rotunda, it has to be seen to be believed. Featuring 3 king size bedrooms; master with ensuite, a second king size bedroom with an additional single bed and a third bedroom with king size bed. All beds can be split into singles. Dog friendly (yard is not secure). Living area with gas log fire and smart TV. Kitchen/dining opens out to a rear deck and those wonderful views. Walk down the garden path to 'your' lake, picnic under the rotunda and enjoy what will be a truly unique Daylesford experience.
---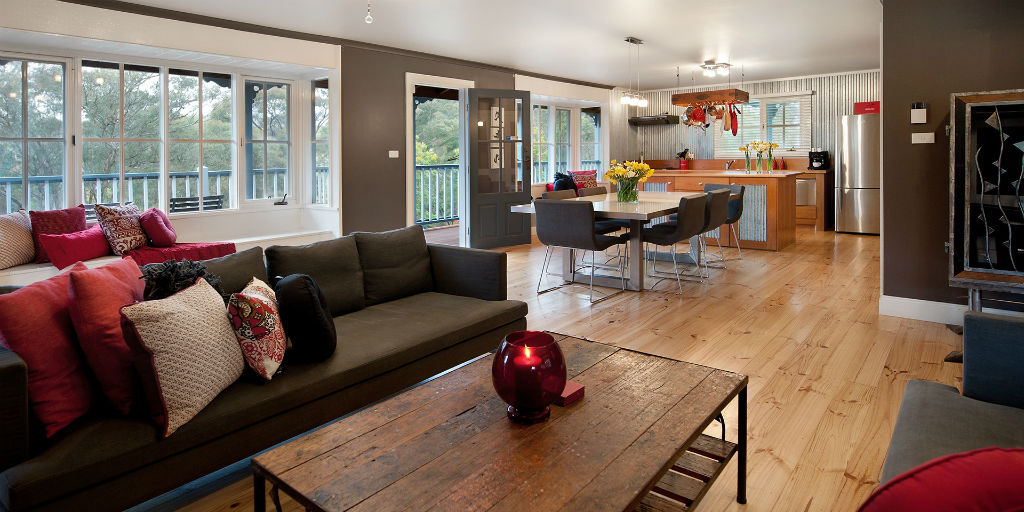 6. Finlie
Guests 2 | Bedrooms 1 | Bathrooms 1
Set amongst the trees in beautiful Lakeside Drive Hepburn Springs, Finlie is a luxurious one bedroom dog friendly retreat with sweeping views over Doctors Gully.
This large home features and upstairs king bedroom with ensuite and walk in shower. Downstairs offers huge open plan living/dining area with an open wood fire, country style kitchen and large bay windows. The property also features a downstairs corner spa, washing machine and is equipped with Wi-Fi.
Relax on the around veranda with a glass of wine, light the BBQ and waste away the afternoon as you take in the wonderful bush views of this exceptional property in Hepburn Springs
Note, small dogs only!
---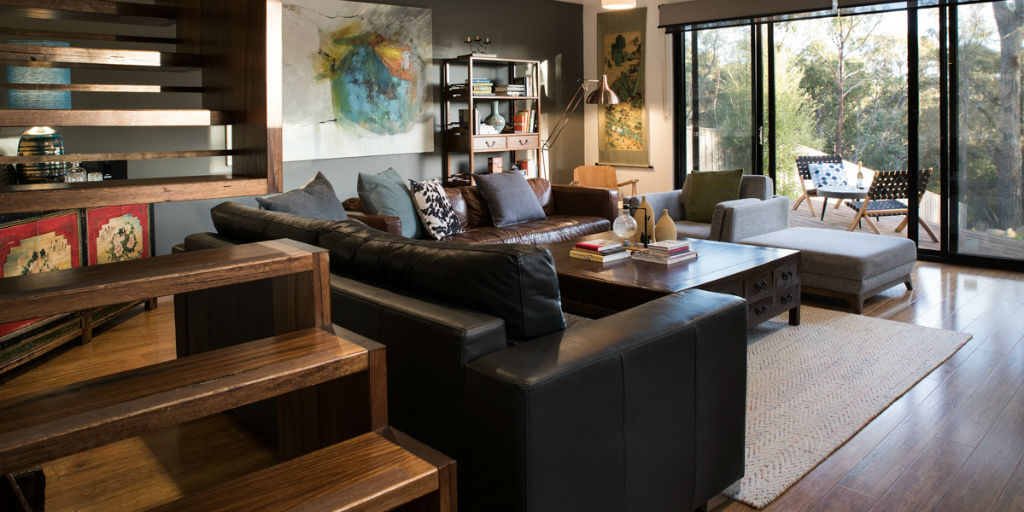 7. Retreat 34a
Guests 6 | Bedrooms 3 | Bathrooms 2
If your dog loves to holiday on a modern house full of funky design, Retreat 34a might just be the pawfect spot for him/her. This spectacular 3 bedroom dog friendly accommodation has dining and living split over two levels; connected by an amazing floating staircase. Large windows afford gorgeous tree top views from every room. Two bathrooms, second with bath. Huge master bedroom with quality linen, walk in wardrobe and ensuite. On arrival, cross an aero-bridge, open the beautiful old fire door and behold an amazing light-filled home with gas log fire.
Fully equipped kitchen with coffee machine and grinder and lots of extras in the pantry to make your stay special. Bose stereo system, large flat screen TV, blue ray discs.
State forest walks are accessible from the rear of the property. This dog friendly property also comes with a secured yard.
Note that the property accepts small dogs only
---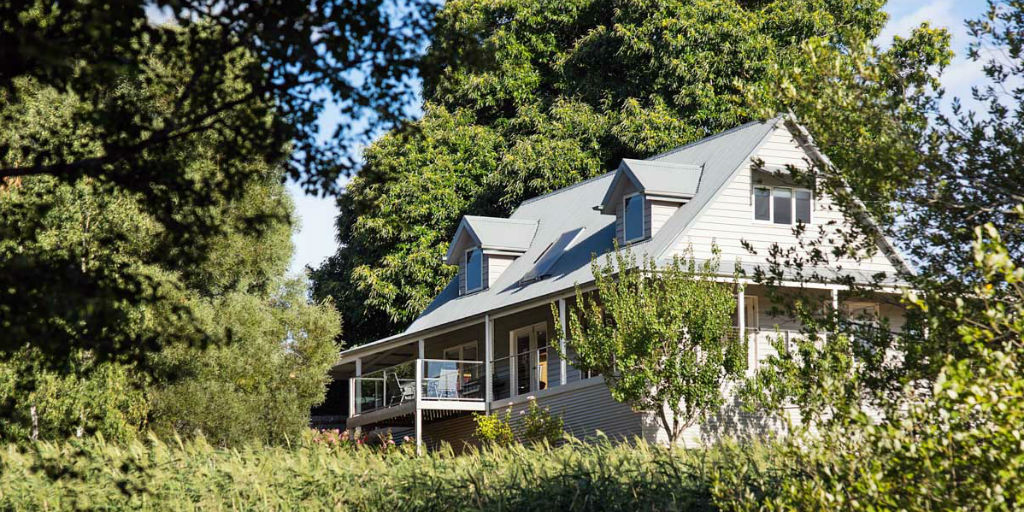 8. Della Fonte
Guests 7 | Bedrooms 3 | Bathrooms 2
Set in quiet rural surrounds down a private laneway, dog friendly accommodation at Della Fonte offers the comforts of home. Wander down to the bottom of the secluded garden and discover a natural spring that will delight guests of all ages. Offering open plan living, full kitchen and a mix of queen and single beds, this accommodation is suitable for families, a group of friends, or couples looking for a bit of space.
The main street is a quick 3 minute drive away, while a hearty walk will take you to the dog friendly Farmers Arms or Wombat Hill House; Alla Wolf-Tasker's delightful café set in the Wombat Hill Botanic Gardens. You'll find all that you need for a short or long stay.
Note, small dogs only!
---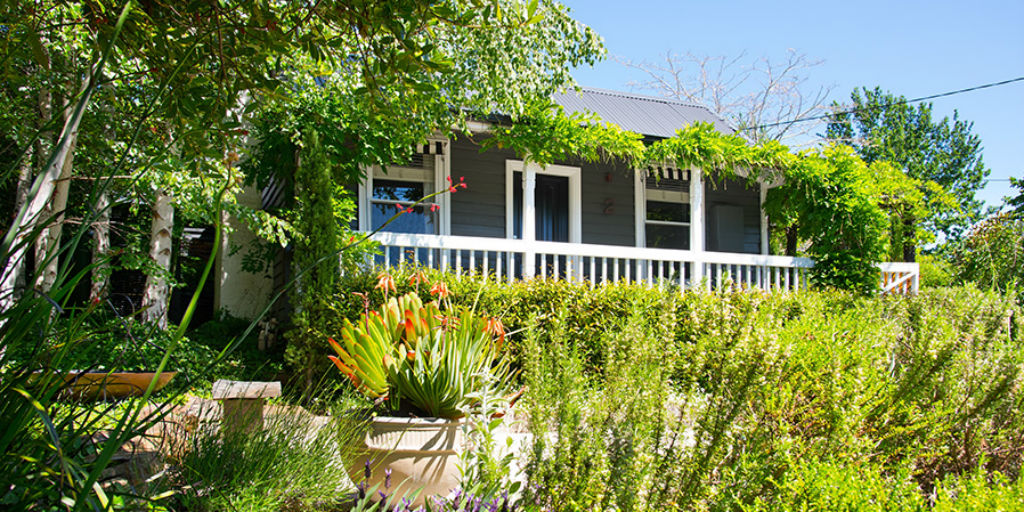 9. Harts Lane Stag Haus
Guests 4 | Bedrooms 2 | Bathrooms 2
Harts Lane Haus is one of the few remaining Welsh cottages left in the region and a unique Daylesford dog friendly treat. The 3 gabled cottage has been extensively remodelled and architecturally laid out to maximise the location of the house and panoramic views of Daylesford and surrounds.
A large gourmet kitchen with polished concrete bench top, Smeg appliances, Mud ceramics and ample cooking utensils will satisfy your desire to utilise the local organic produce.
Designed by interior designers, a large dining table for 8 leads into the lounge area, complete with imported European cast iron fireplace and comfortable retro pieces of furniture, entertainment area – with DVD, Smart TV, record player and 3 meter lounge couch for lazing around watching movies.
Note, small dogs only!
---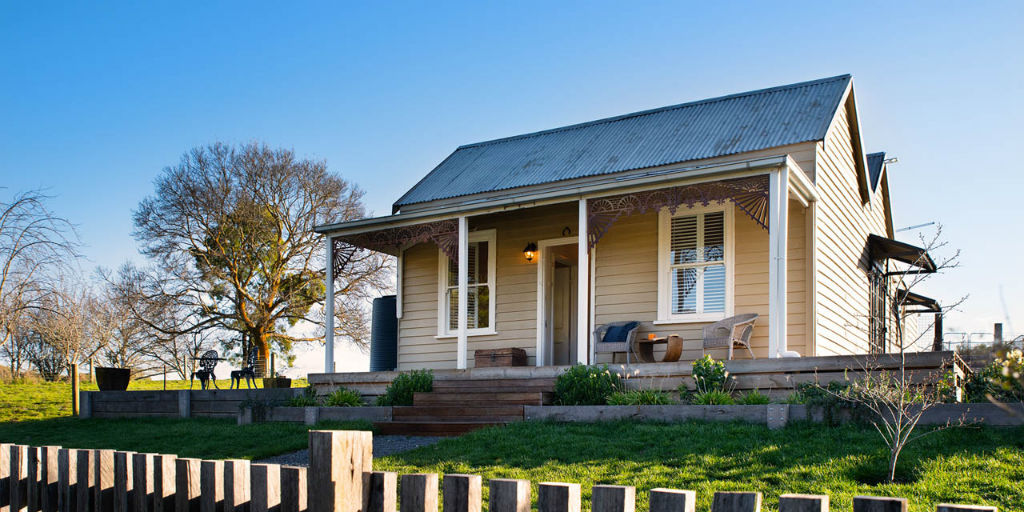 10. Table Hill Cottage
Guests 4 | Bedrooms 2 | Bathrooms 1
Table Hill Cottage is your quintessential Daylesford dog friendly miner's cottage. Lovingly restored, it features a gourmet kitchen with Belling oven, dining room with French doors opening to a side patio and country views. The lounge room has character rich wall panelling made from recycled floorboards and a large flat screen TV and WiFi. A modern bathroom awaits, with a bathtub to soak away the hours. Two fireside lounge chairs complete this gorgeous little property.
Note, small dogs only!
---
Find out places to visit from our Dog Friendly Travel Guide to Daylesford