The Ultimate Guide to Dog Friendly Kangaroo Island
Even though it's minutes from the mainland, Kangaroo Island feels a million miles away from anywhere else in the world. Filled with friendly locals, pristine beaches, perfect sunsets, and an array of local wines and craft beers, the beautiful island will have you coming back again and again. And don't forget your pup because there are plenty of dog friendly cafes, wineries and breweries that love furry visitors.
Before you go…
How to register your dog
Before you leave for your trip, you will need to register your dog with Kangaroo Island Council. You can email them at [email protected] or give them a call on (08) 8553 4500 and provide them with the following information
Dates for your stay on the island
Your full name
The best contact number during your visit
Breed of dog
Registration at which council
Current registration tag number
Microchip number
It is a condition that all pets travelling to Kangaroo Island are registered and microchipped as part of their animal management program.
Getting dogs to Kangaroo Island
Sealink & Kangaroo Island Connect allows dogs on the ferry at no extra charge. Unless your pet is remaining in your vehicle for the duration of the crossing, you must wait with your pet to board the ferry via the car loading ramp. All pets must be on a secure lead or in an approved pet cage provided by you. Passengers with pets are only allowed on the top deck of the vessel (on Sealink) which has an indoor and outdoor area and on the lower deck outdoor area (on KI Connect).
You can find more information on the Sealink and KI Connect websites!
Where to Stay?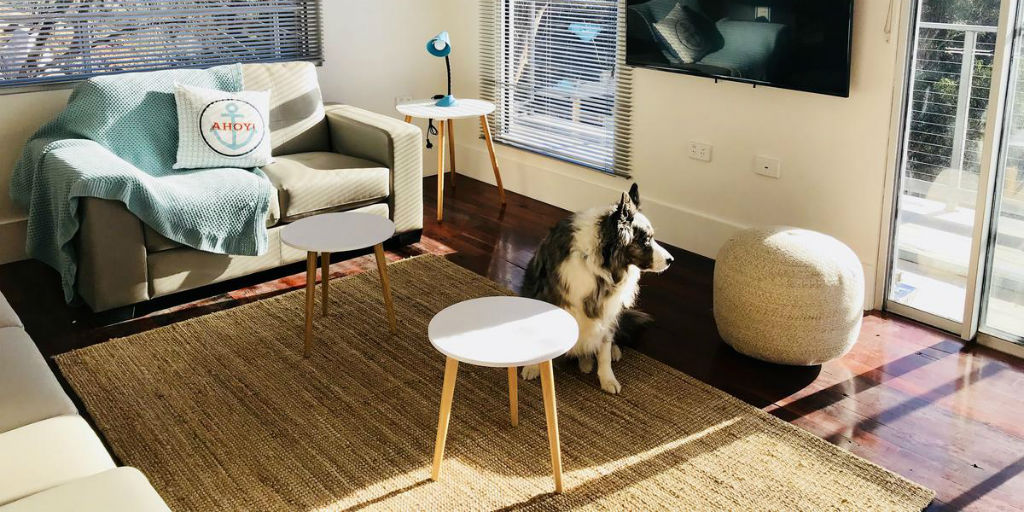 Sunrise on Falie
American River
Experience the beautiful Kangaroo Island with your pooch on one of the dog friendly apartments at Sunrise on Falie! Boasting sea and valley views, Sunrise on Falie Court offers accommodation in American River on beautiful Kangaroo Island. It is just 300 m walk to local beaches. Penneshaw and Kingscote are each a 30-minute drive away.
---
Dog Friendly Cafes
Although the central hub for cafe and bar scene in the island is Cowes, there are other more quiet areas to sniff and explore. We have listed the best dog friendly spots in Phillip Islands for you to chill with your pooch and watch the world go by.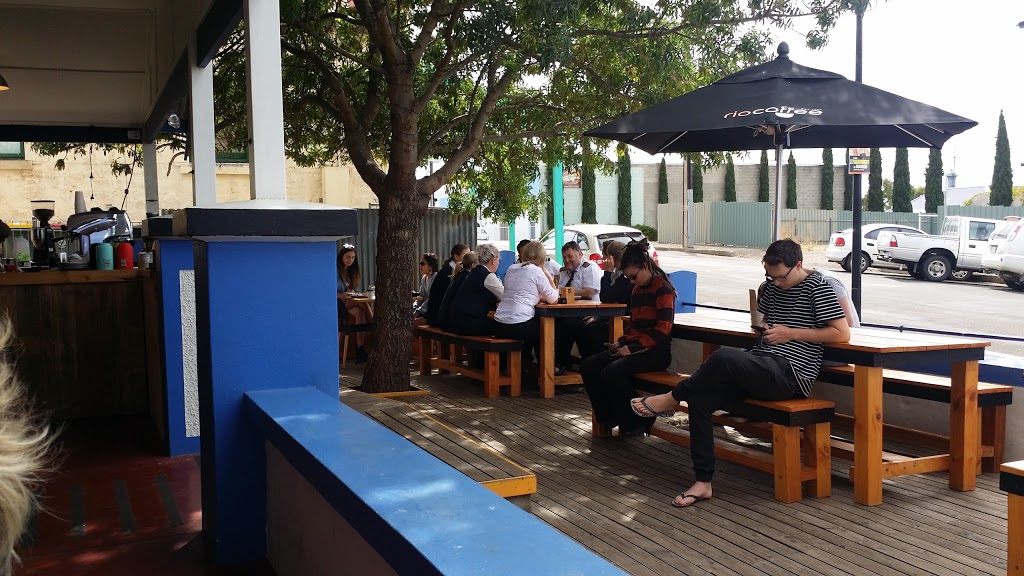 Cactus Kangaroo Island
59 Dauncey Street, Kingscote
Cactus Kangaroo Island is a fully licensed cafe/restaurant with plenty of dog friendly outdoor seating with trees and umbrellas for shade. They serve up tasty simple local produce, freshly baked cakes & tarts as well as great coffee, fresh pressed juices, as well as local wines and beer/cider.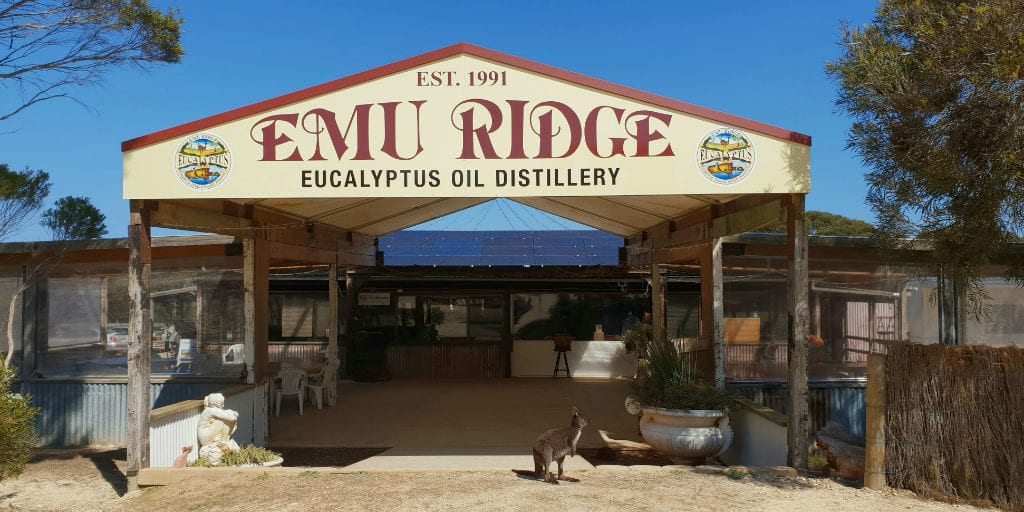 Emu Ridge Eucalyptus Oil Distillery
691 Wilsons Road, Macgillivray
South Australia's only commercial eucalyptus oil distillery, tourist attraction, manufactures, retailers, craft gallery, Cellar Door and Cafe. And the best part, they welcome your dog to join you on your visit.
---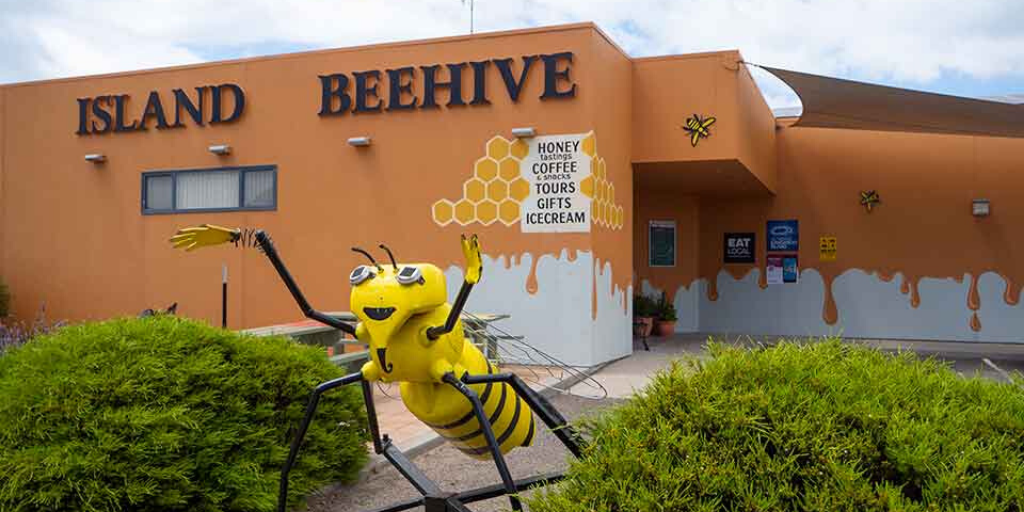 Island Beehive Cafe
59 Playford Highway, Kingscote
Visit Island Beehive to learn about Ligurian Bees. See the production factory, take a guided tour, and enjoy free tastings of organic honey. Enjoy delicious scones in the cafe and visit the shop for bee products, beeswax candles, souvenirs, health products and local arts and crafts. Why not try one of their signature coffees? The Ligurian or Honeycomb Latte – you won't find these anywhere else! Also available is the famous Kangaroo Island home made honeycomb ice cream and honeycomb. A must-try while on the island. They allow dogs on leads outside the cafe and your pup can keep cool in the shade.
---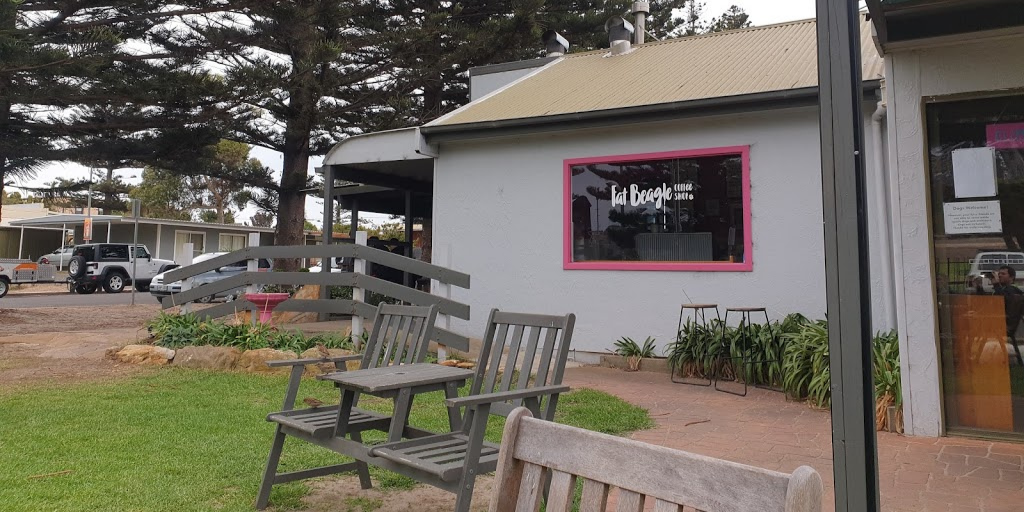 Fat Beagle Coffee Shop
2 Nat Thomas Street, Penneshaw
A small family-run cafe located in Penneshaw, The Fat Beagle Coffee Shop offers all day breakfast, light lunches, great coffee and home-made brownies, muffins and slices. Dogs are more than welcome outside, with an annex area and outdoor seating.
---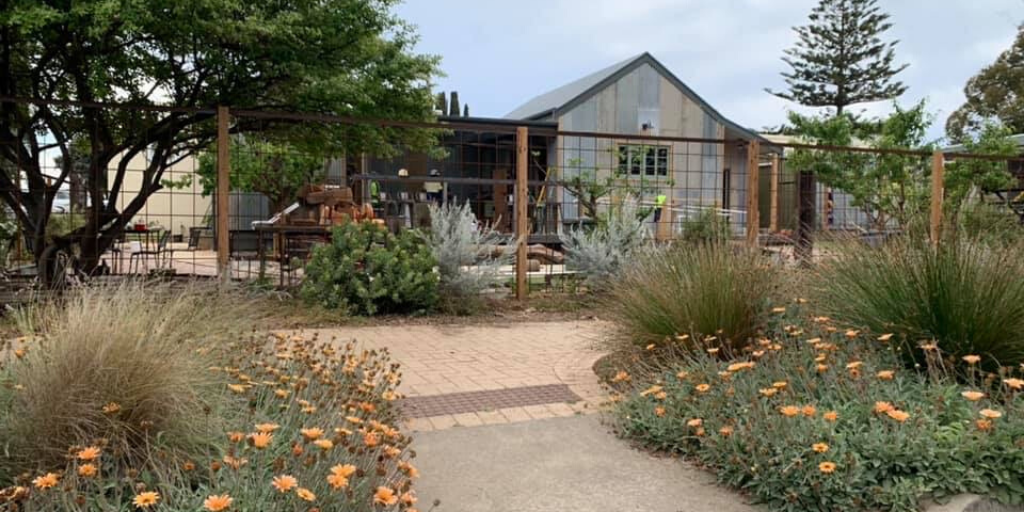 Millie Mae's Pantry
1 Nat Thomas Street, Penneshaw
Millie Mae's Pantry celebrates the local delicacies of Kangaroo Island and serves up breakfast and lunch daily, all from locally sourced produce. They have a wide selection of local products to purchase from their pantry store, including honey, figs, chutneys, olives, oils, lavender products, health food, skincare and much more! The pantry is dog friendly in the garden, which overlooks the beautiful Hog Bay. Make sure you stop here for a bite to eat with your pup when visiting the island.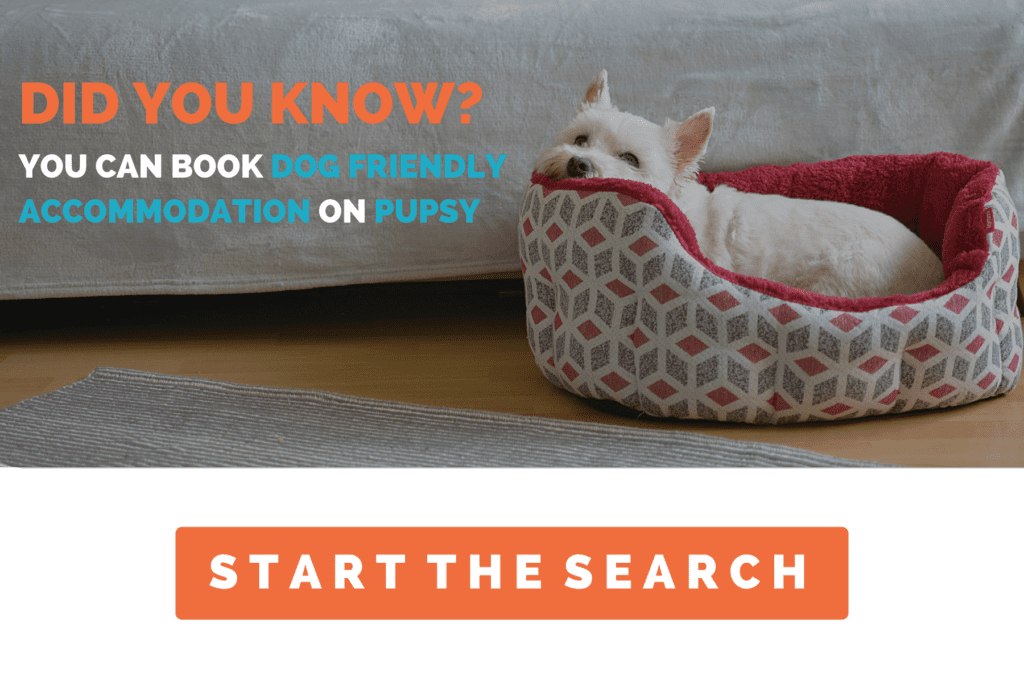 Dog Friendly Pubs, Breweries & Restaurants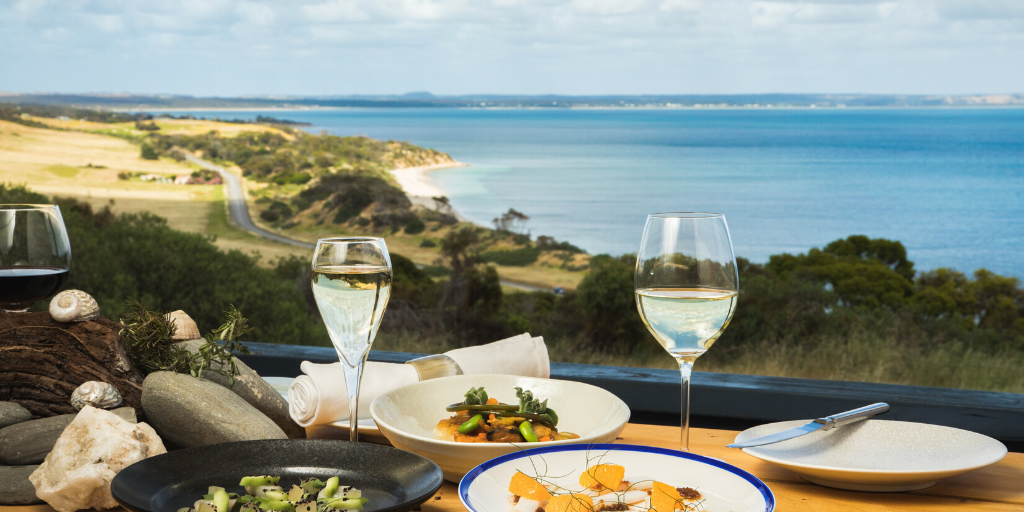 Sunset Food & Wine
4564 Hog Bay Road, Kangaroo Head
Located just outside Penneshaw, Sunset Food and Wine is a modern Australian bistro with a focus on seafood and local produce with spectacular ocean views. It was the first restaurant on Kangaroo Island to be awarded one Chef Hat from the Australian Good Food Guide in 2017 which it maintains today. Stop by for a bite to eat from their exquisite menu and don't leave Fido behind because the restaurant has a dog friendly seating area outside so your pooch can enjoy the sensational sea views too.
---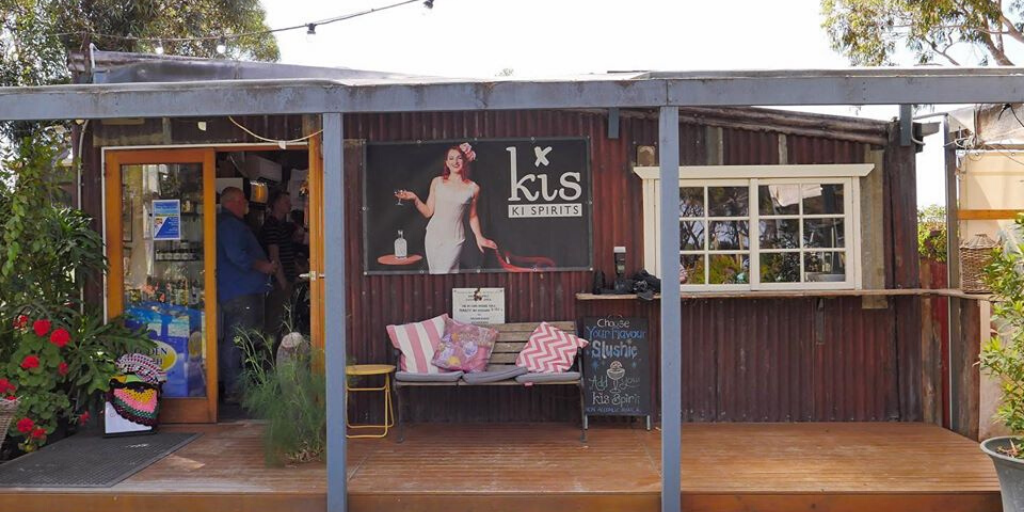 Kangaroo Island Spirits
856 Playford Hwy, Cygnet River
Kangaroo Island Spirits, lovingly referred to by locals as 'KIS', was established in 2006 by Jon & Sarah Lark. Australia's highest awarded, and first dedicated Gin Distillery can be experienced every day in Cygnet River and allows dogs to join owners in the unique and beautiful gardens for a tasting. The handcrafted quality products take inspiration from the unique Kangaroo Island environment that surrounds them and the quirky cellar door boasts rich botanical aromas from the moment you step inside. There's plenty of seating, shade and water in the garden area for your pup to rest, relax and enjoy.
---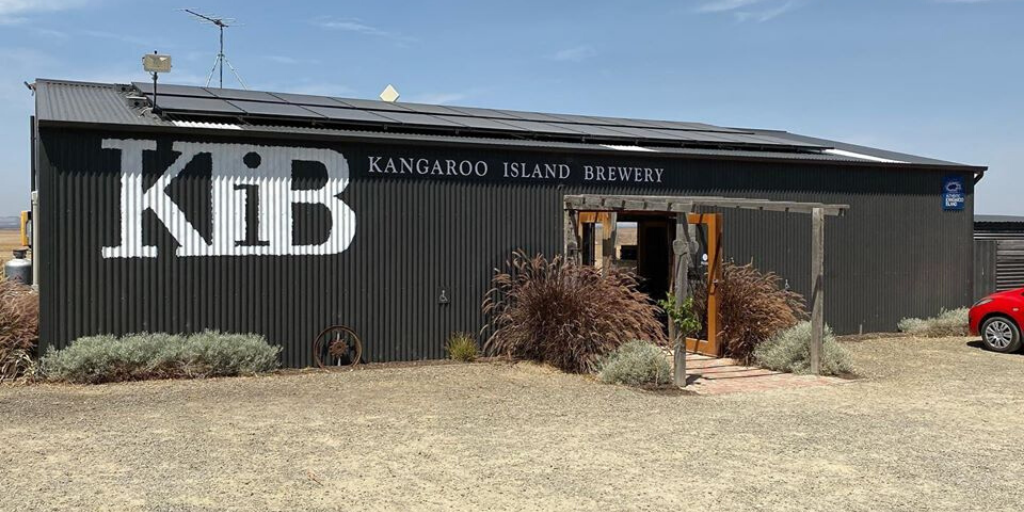 Kangaroo Island Brewery
61 North Coast Rd, Kingscote
Kangaroo Island Brewery is Kangaroo Island's first cellar door microbrewery. Offering great craft beer and excellent food, it's located close to Kingscote. There are eight different craft beers available to sample and an awesome place to chill and enjoy a few hand made beverages. Situated on 20 acres, there is plenty of room for the kids and pups to run around.
---
Dog Friendly Wineries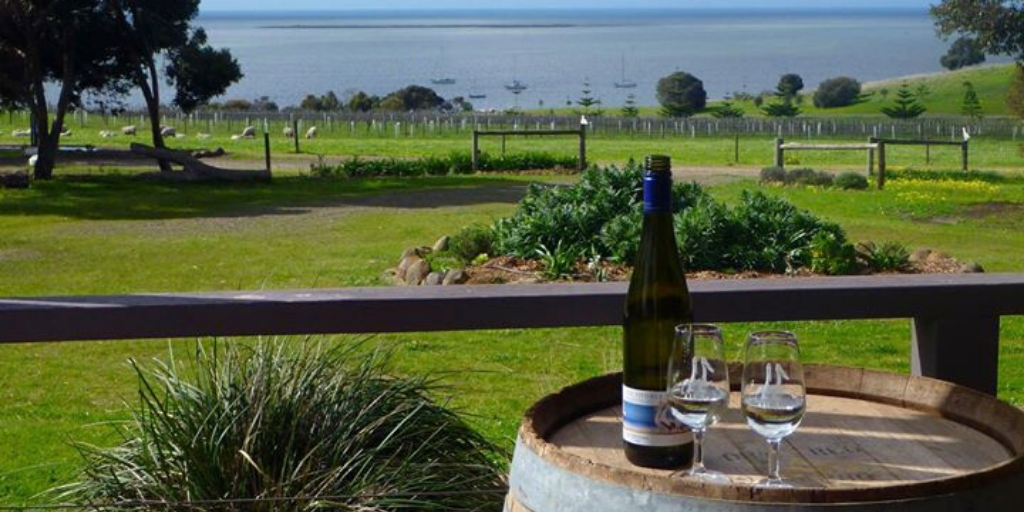 Bay of Shoals Wines
49 Cordes Rd, Kingscote
North of Kingscote and overlooking the Bay of Shoals and Reeves Point, Bay of Shoals Wines offers spectacular views, hamper lunches, cellar door tastings and wine sales. If you're looking for a memorable tasting experience with your pup by your side, then head here to wine and dine. The dog friendly winery has shaded seating outside which overlooks vines and magnificent water views. The first vines were planted on the hillsides in 1993 and their Riesling vines are thought to be the closest to the sea in the Southern Hemisphere, at just 30 metres from the waters edge.
---
The Islander Estate Vineyard
78 Gum Creek Road, Cygnet River
The Islander Estate brings together two vastly different worlds. The history, heritage and finesse of Bordeaux. And one of Australia's newest, most remote and untamed wine regions – Kangaroo Island. By contrast rugged, unassuming and unsophisticated.These two are blended together by Jacques Lurton to create unique, elegant, cool-climate wines. Exhibiting French elegance and finesse, The Islander Estate Vineyards offers four ranges of cool-climate wines to try at their cellar door. The friendly team love when you stop by with your pup. Enjoy tastings on the outdoor shaded deck area where your dog can join you, plus water bowls are available.
---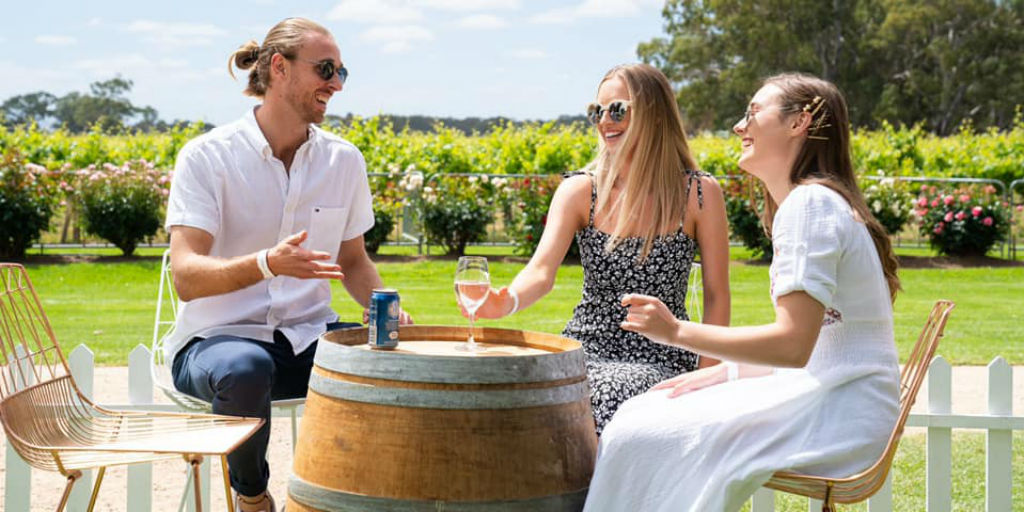 False Cape Wines
1054 Willson River Rd, Dudley East
Named after a nearby coastal landmark, False Cape vineyard on Kangaroo Island was established in 1999 and is located on the banks of the Willson River on the Dudley Peninsula between Penneshaw and Cape Willoughby. The vineyard covers over 60 acres making it the largest vineyard on Kangaroo Island. Their range of wines includes the Kangaroo Island Wine of the Year, Captain Cabernet Sauvignon and Kangaroo Island White Wine of the Year, The Chardonnay. Their is a shaded outdoor seating area that is dog friendly where guests can sit with their pups as they taste delicious wines and enjoy vineyard views.
---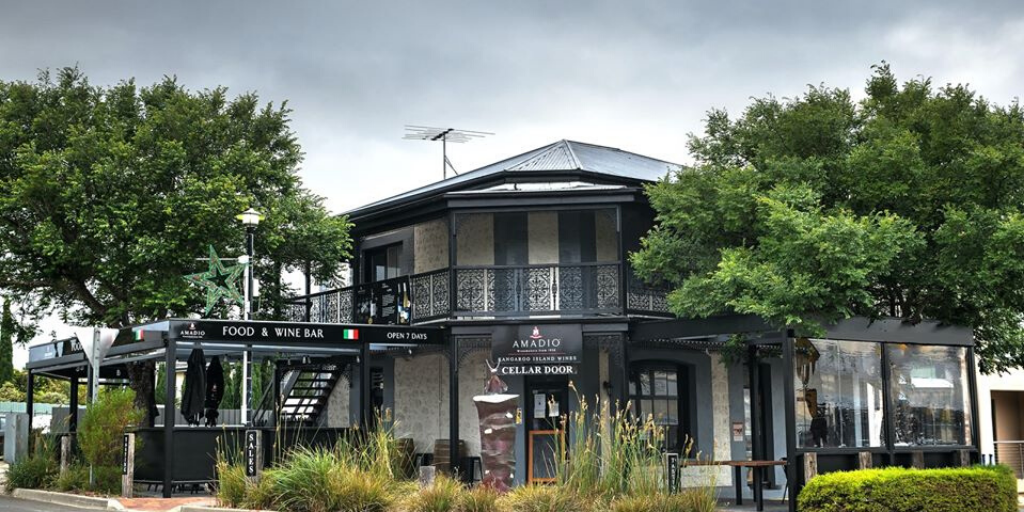 Amadio Wines
1 Commercial Street, Kingscote
Amadio Wines brings together premium win and delicious Italian cuisine. Since 1936, Amadio Wines has prided itself on producing premium quality wines vintage after vintage. Wine tastings are complimentary and the perfect way to choose a wine to enjoy with the cellar door's premium Italian menu. The staff love welcoming dogs and there is shaded seating outside where pups can join you for a tasting, and water bowls are available.
---
Dog Friendly Hikes & Walks
Although a large part of Kangaroo Island is National Parks and hence dogs are prohibited, there are many amazing dog friendly walks (on lead) to explore. We have picked the 5 best dog friendly hikes & walks not to miss out during your visit.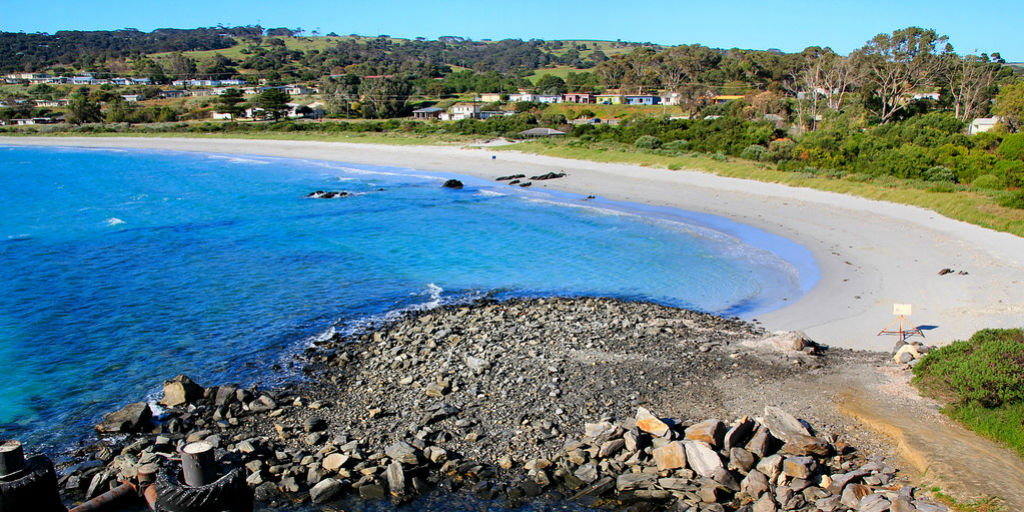 Christmas Cove to Frenchmans Rock
Penneshaw
An easy 30 minute walk starting from Christmas Cove, a unique cove containing the Penneshaw Boat Ramp and a small marina. Continue the walk to North Terrace Gardens. While there are no facilities within this area, it is an ideal place to relax, watch the whales and dolphins watching or stop for a lunch. Then stroll along the Penneshaw Beach to the eastern end. This is where you find Frenchmans Rock, marking the location where Nicholas Baudin found freshwater when navigating the North Coast of Kangaroo Island in 1802.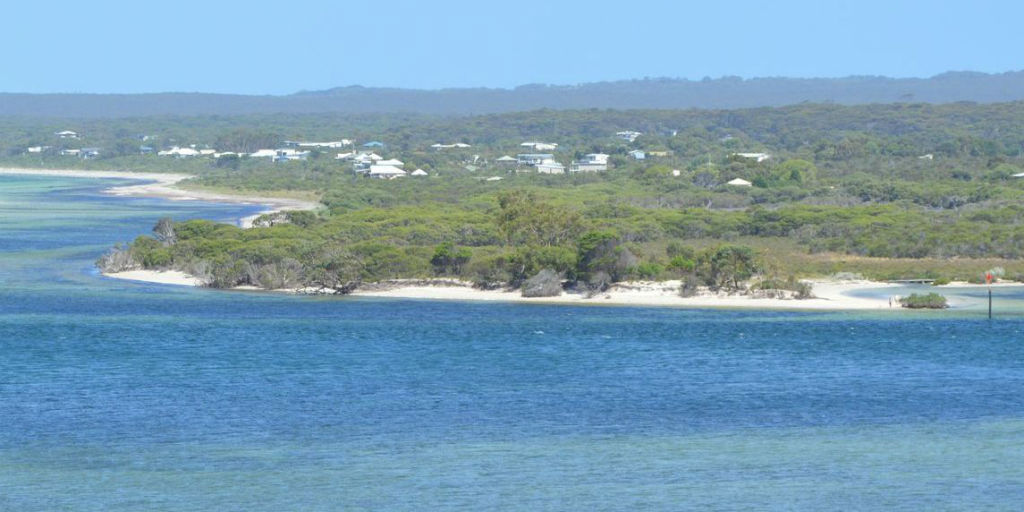 Brownlow to Kingscote Walking Track
Brownlow / Kingscote
Dog friendly walking trail starts in Brownlow and continues all the way to the Yacht Club in Kingscote. Walking distance approx. 2 km. Surface is gravel. You can continue walking along Chapman Terrace and Esplanade all the way to Reeves Point or simply stop for a coffee / drink in one of the dog friendly cafes and bars in the area.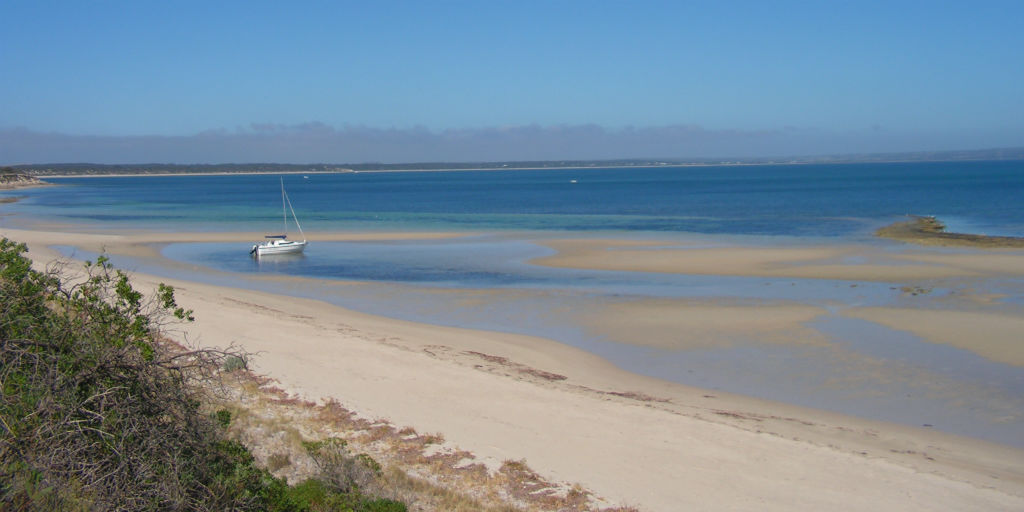 Baudin Beach Foreshore
Baudin Beach
The Baudin Beach foreshore provides a quiet location to have a picnic lunch and a stroll along the beach and foreshore. A lookout provides panoramic views over the bay towards American River.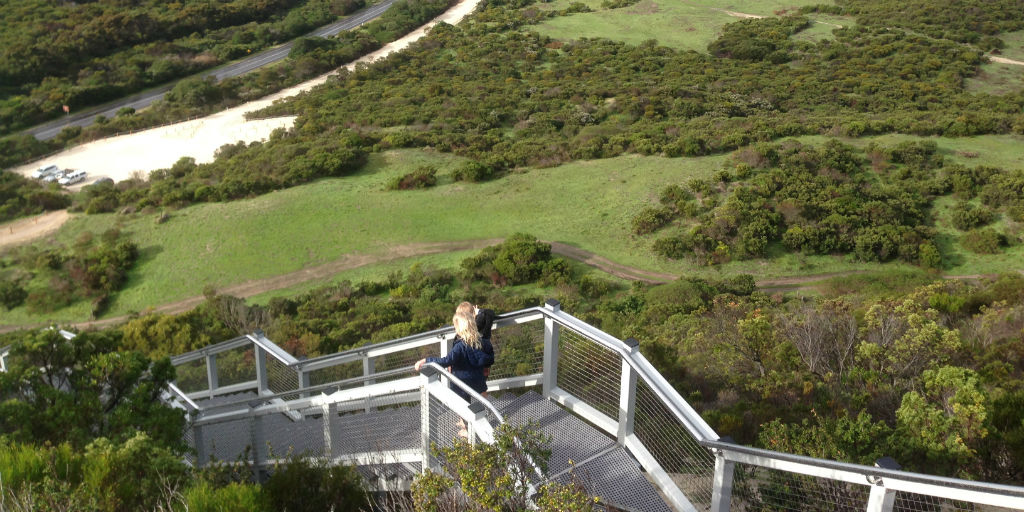 Prospect Hill & Pennington Bay
Pelican Lagoon
Matthew Flinders climbed Prospect Hill when navigating the North Coast of Kangaroo Island to determine his bearings in 1802. Visitors can now climb this steep sand hill via steps. Views from the top include panoramic views of Pelican lagoon and Pennington Bay.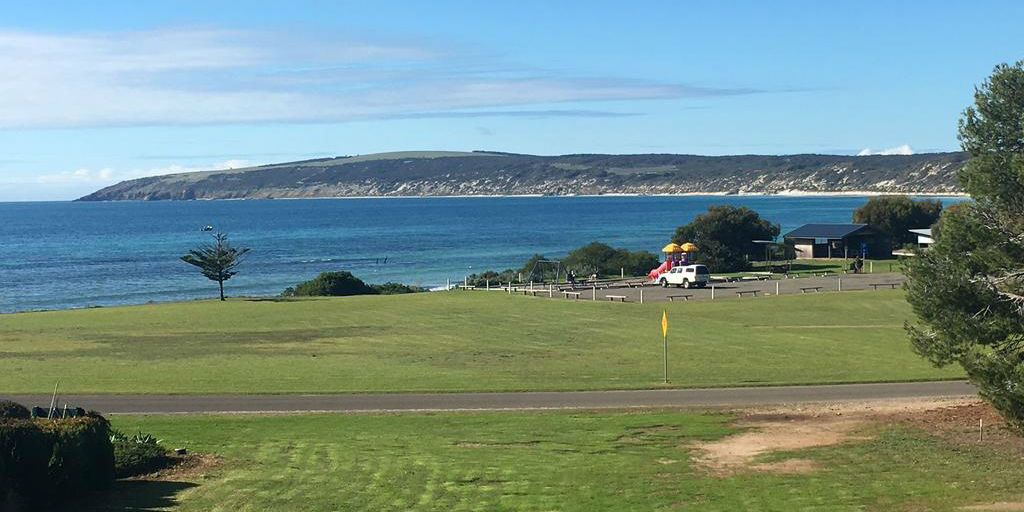 Emu Bay Foreshore
Emu Bay
Emu Bay is a picturesque small town located on a fantastic white sandy beach. The beach is one of the few beaches on Kangaroo Island where driving is permitted. Extreme caution should be taken to ensure the safety of other beach users.

---
We would love to hear from your experience!
Did your dog find his/her new favourite beach or hike? Was the place you visited not as dog friendly as you expected?
Leave a review and help other dog owners to find the best places to visit with their dogs. Your review will also be super valuable for the dog friendly venues to improve their dog friendliness!
You can find other Dog Friendly Travel Guides from pupsy.com.au/dog-friendly-destination-guides