The Ultimate Guide to Dog Friendly NSW South Coast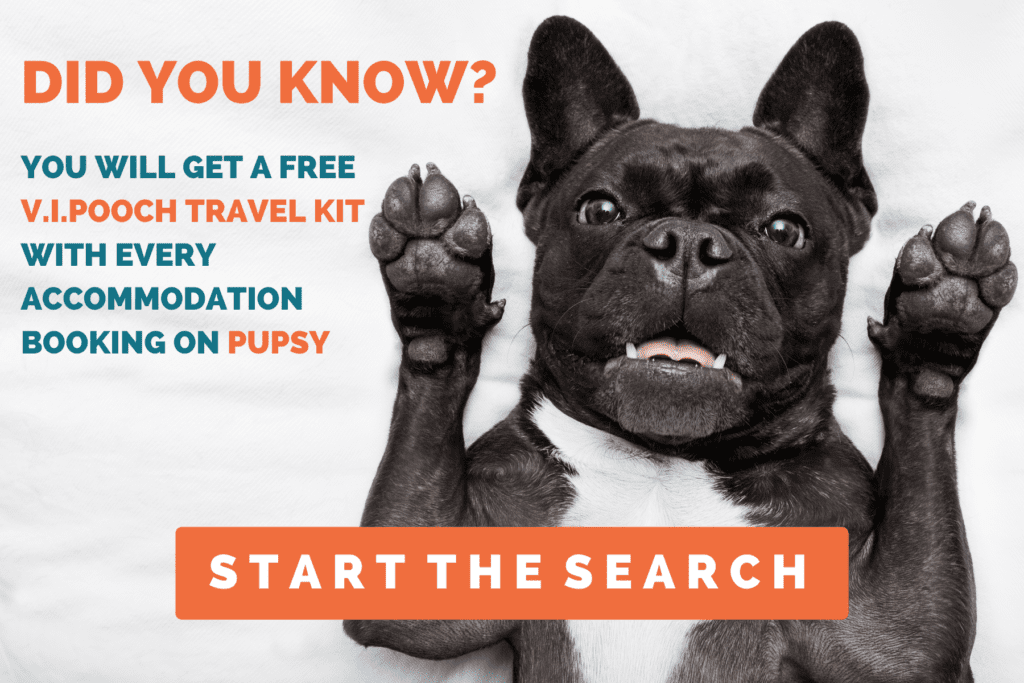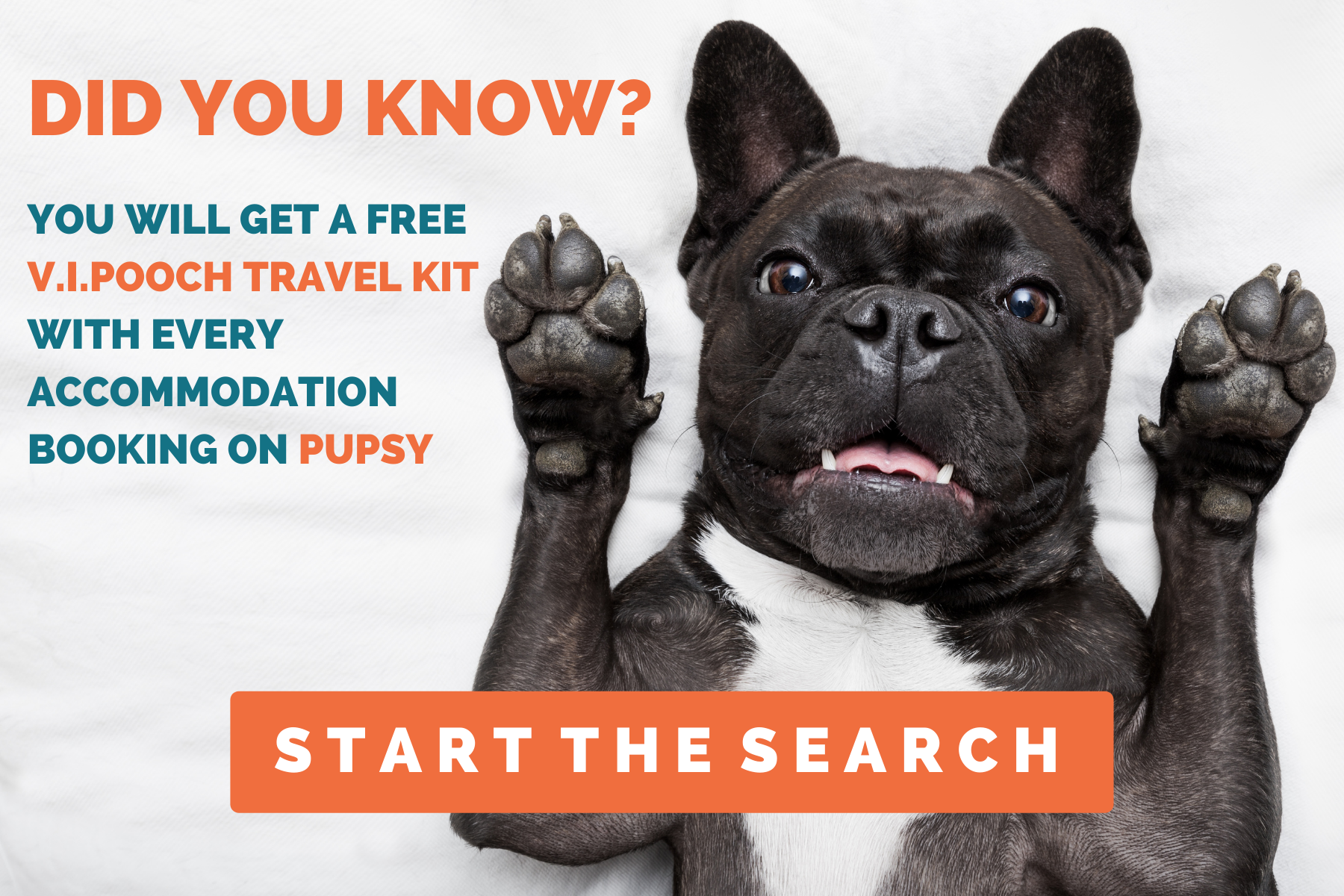 32 Best Dog Friendly Hikes & Walks, Beaches, Pubs, Cafés and Wineries in South Coast NSW
Dog owners around Sydney are blessed with great dog friendly travel destinations. Try wine tasting with your dog in the Hunter Valley, escape from the city to Southern Highlands or go hiking with your dog in the Blue Mountains. But if you are simply looking for some chillaxing time with your pup, travel south from Sydney and discover the beautiful dog friendly NSW South Coast.
We have listed 32 Best Dog Friendly Hikes & Walks, Beaches, Pubs, Cafés and Wineries to make your next visit to this beautiful NSW coastline with your dog a truly memorable experience! But before we dwell into the list, here are some pawsome dog friendly accommodations to stay with your pup in the South Coast.
Dog Friendly Accommodation in South Coast NSW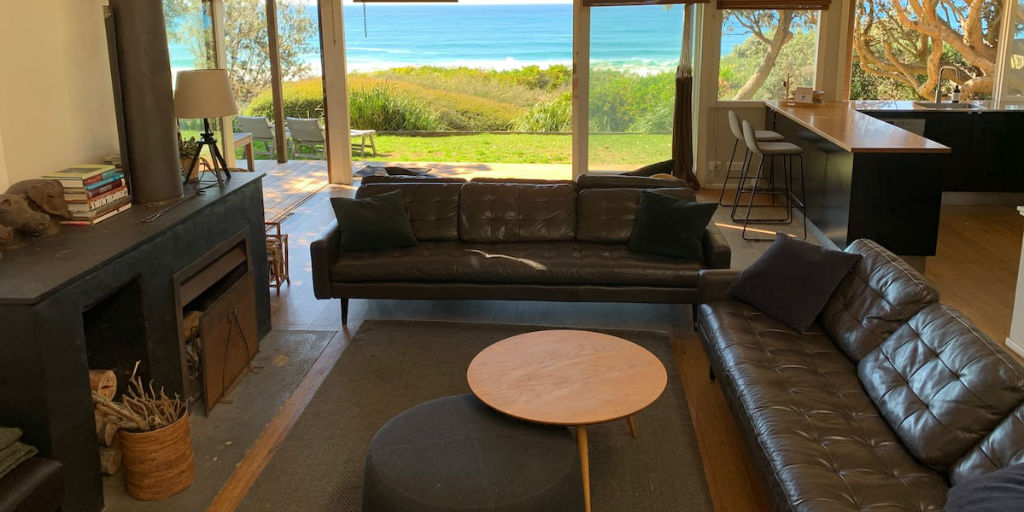 Burra Burra Retreat
Culburra Beach
Guests 2 | Bedrooms 1 | Bathrooms 1
Private, architect-designed, absolute beachfront dog friendly hideaway nestled in a mature native garden by the sea. Guests at Burra Beach Retreat for Two have garden and beach views from every room. The house is peaceful, secluded, relaxing and perfect for two people who are welcome to bring their fur-friend for long strolls along the dog-friendly beach in front of the house.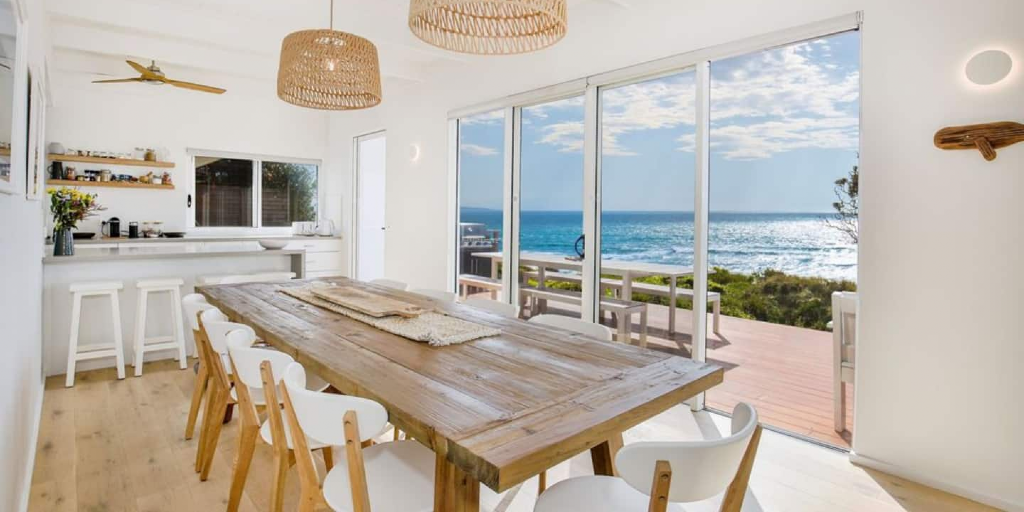 Onshore Culburra
Culburra Beach
Guests 10 | Bedrooms 4 | Bathrooms 2
Located on the sand dunes of the dog friendly Culburra Beach with its own path leading to the crystal blue waters of the Ocean, Onshore is an executive 4 bedroom dog friendly accommodation just 2.5 hours from Sydney. Enjoy the spectacular views from the decking in the garden area, whilst sitting back and listening to the waves crash to shore or enjoy the space with your furry four legged friend within the fully fenced yard.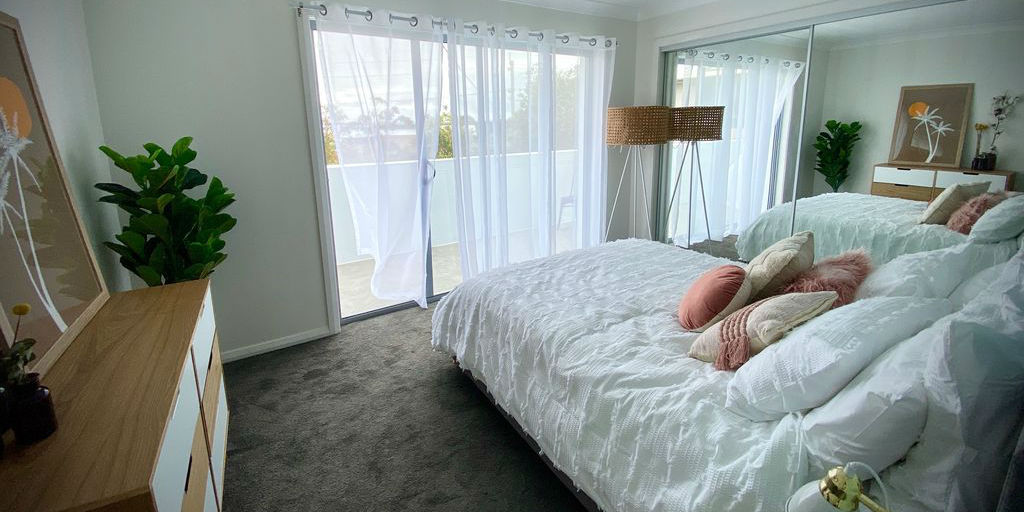 Silvermere Coastal Retreat
Culburra Beach
Guests 7 | Bedrooms 3 | Bathrooms 2
Silvermere Coastal Retreat is a recently renovated dog friendly house designed with family and fur babies in mind. The house has a stunning view of the ocean and the beach. The fire pit in the rear year is a place where you can chill with your family or friends under the tree canopy whilst listening to the waves crash on the beach. Silvermere can house up to 7 adults, with a mega queen bed, queen bed and 3 singles. The garage has been converted to a rumpus room and study (for those of you that are WFH and want some peace). If you prefer to work with a view, you can sit at the breakfast bar on the upper veranda. With a minute walk to the beach and a short stroll to the cafe around the corner, this is the perfect place just to chill and disconnect from reality.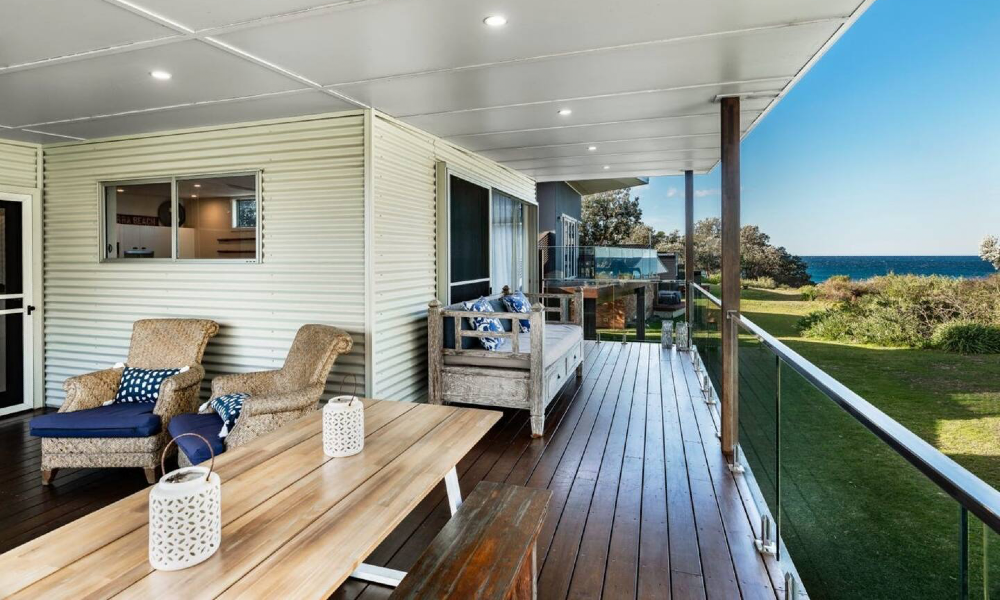 Sea Mist Culburra
Culburra Beach
Guests 9 | Bedrooms 4 | FROM $317
Located in the quaint seaside village of Culburra Beach & situated only 2.5 hours from Sydney, dog friendly accommodation Sea Mist Culburra Beach is just a hop, skip & jump away from the golden sands of Warrian Beach. This family and dog friendly 4 bedroom home has a balcony for entertaining or glancing at the ocean views, open plan living & all the creature comforts of home.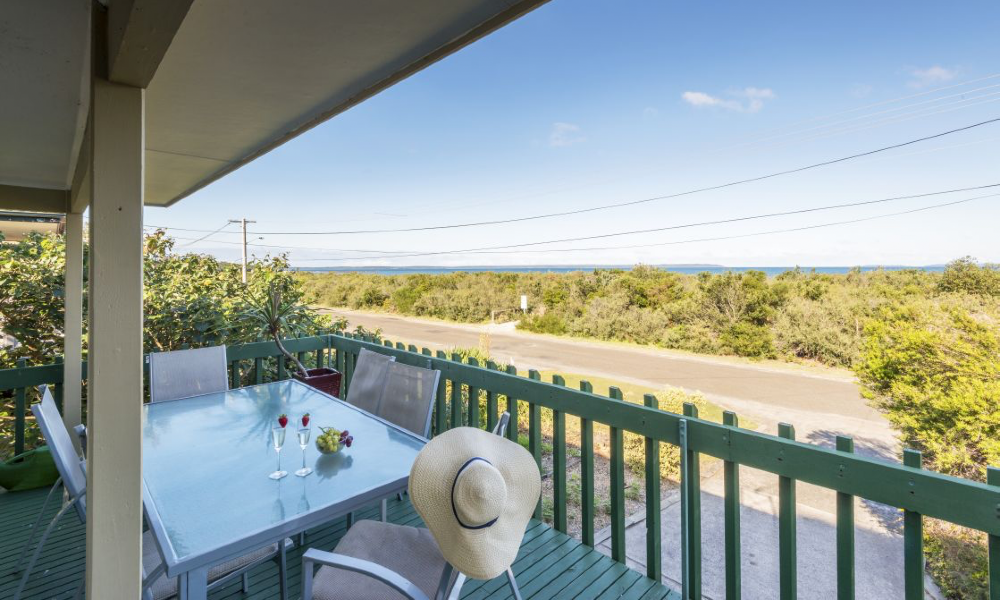 Callala Beachfront
Callala Beach
Guests 8 | Bedrooms 3 | Bathrooms 2
Callala Beachfront is a newly renovated dog friendly holiday accommodation in Callala Beach. The house is 50m from the dog friendly beach with direct access to the beach just across the road. The two-storey house offers open plan living with dining and kitchen area upstairs taking full advantage of the expansive ocean views.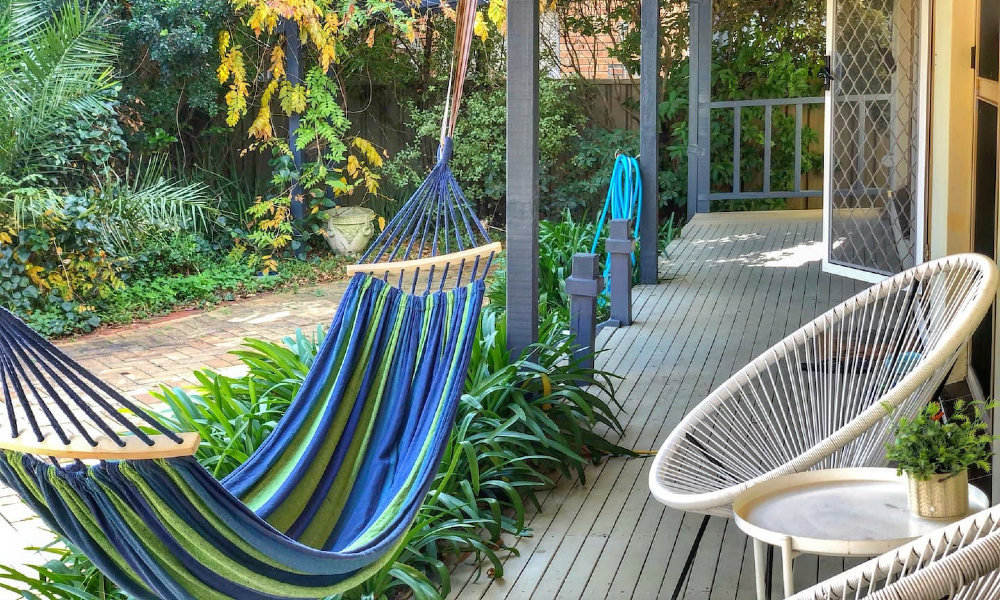 Wrens View
Batemans Bay
Guests 6 | Bedrooms 3 | Bathrooms 2
Wrens View Lodge is a dog & pet friendly holiday accommodation near Batemans Bay. The perfect winter or summer South Coast getaway for your entire family including your pets, only a 400m walk to Maloney's pristine beach/dog beach. You are instantly surrounded by wild life when you arrive. You have complete access to the National park right through the back gate. There is easy level walks and isolated beaches for the family to explore.
---
Kiama & Berry
Approximately after 2h drive south from Sydney, you will arrive to a popular travel destination of NSW South Coast. It offers plenty to explore for you and your dog from dog friendly beaches and parks to beautiful art & craft towns and markets in Kiama and Berry. The climate is also well suited for wine growing so make sure you visit one of the dog friendly wineries in the area.
---
Dog Friendly Beaches
There are plenty of dog friendly parks and beaches to choose from, thanks to a very dog friendly Shoalhaven Council. Here are Lumi the Groodle's (our Head of PR aka Puppy Relations) favourites in the area. For the full list of all dog friendly beaches click here!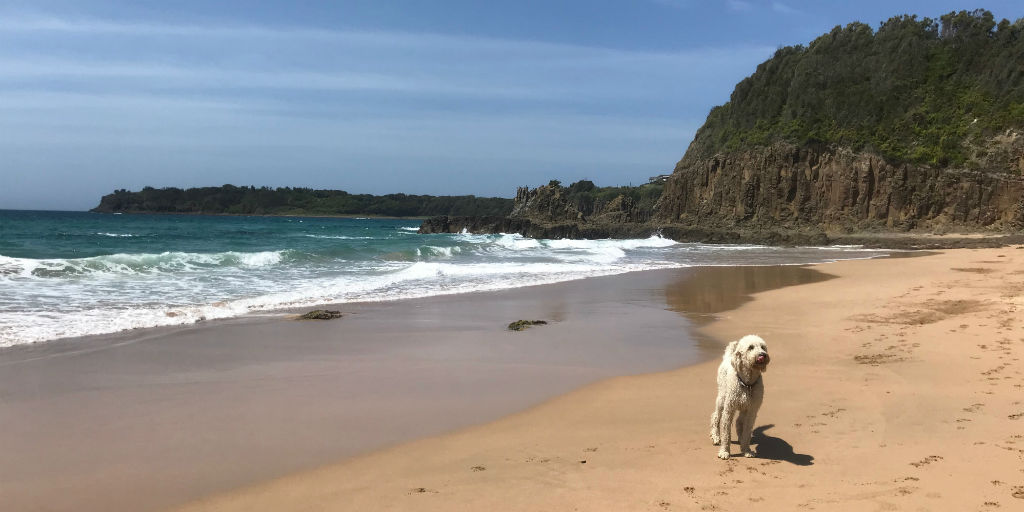 1. Jones Beach
Kiama Downs
Absolutely stunning beach for both you and your dog to relax, run and play. It is ok to go for a swim as well but keep on eye on your dog as the currents in the area can sometimes be rather strong. One of our go to places every time we are in the area!
---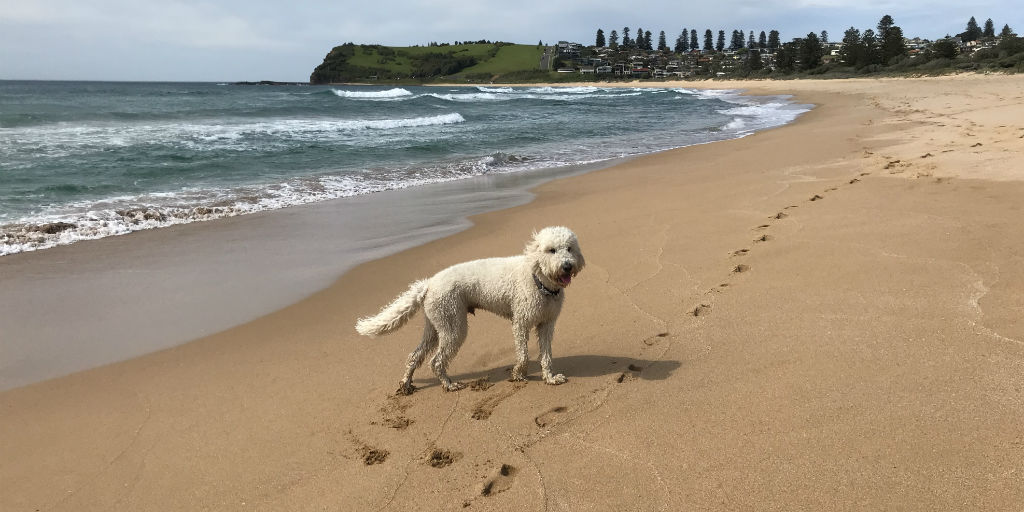 2. Werri Beach
Gerringong
Regularly inviting families, couples, dog owners, surfers and even fishermen to share this wide beach filled with soft sand. Dogs have plenty of place to roam and sniff or have a dip into the surf.
---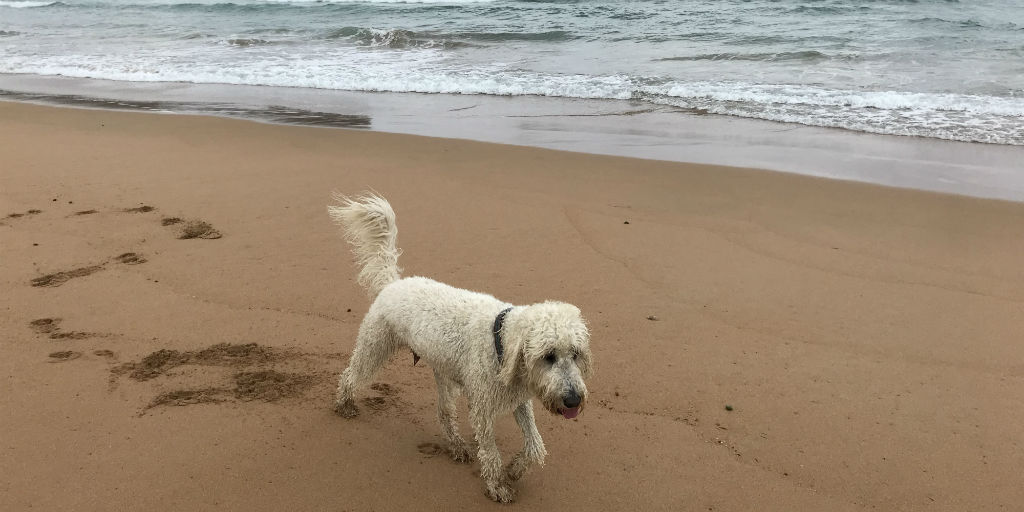 3. Bombo Beach
Bombo
Slightly trickier to find than other beaches, which probably is the reason it is often rather quiet and hence suitable for dogs that might get overwhelmed by busy dog parks. Dog are prohibited from the northern most part of the beach, which still leaves plenty of sand to dig elsewhere 😉
---
Dog friendly Cafes
Berry really is the centre of good food and cafe scene, however also Kiama Farmers' Markets is definitely worth a visit with your dog. And if you are interested in a little scenic drive inland, Jamberoo Pub should definitely be one of your doggie pit stops. We have collected the best dog friendly cafes and pubs for you to choose from.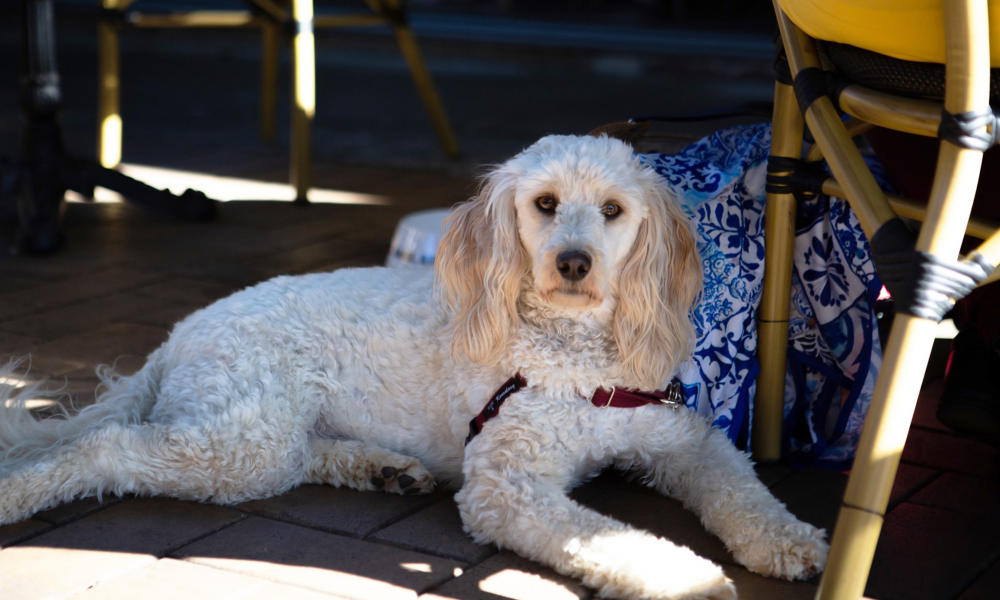 4. Garden Berry
103 Queen Street, Berry
Whether you are after a healthy brekkie, lunch or maybe taste some delicious pastries with your favourite style of coffee, Garden Berry is guaranteed to satisfy you with their menu, setting and location. They are proud to be dog friendly and your pup is surely going to get heaps of attention from the friendly staff. Although dogs are only allowed outside, it offers plenty of cover from sun or rain.
---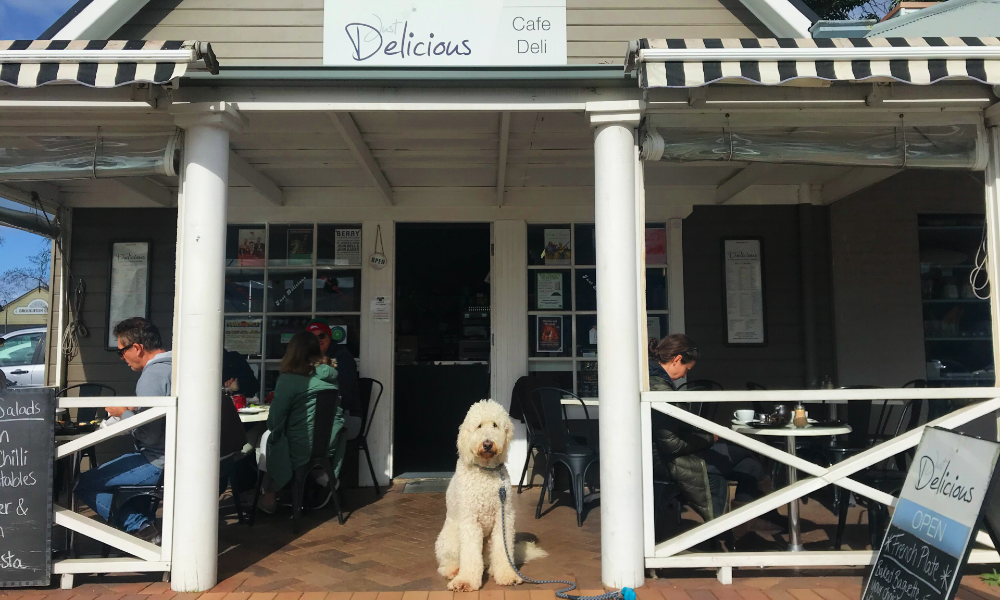 5. Just Delicious
62 Albert Street, Berry
Did I hear Puppycino? That's right, dog friendly Just Delicious has even cute little puppycinos on offer (for your pup that is). Dogs are welcome to join you on the covered verandah. Try it once and we are sure you will return.
---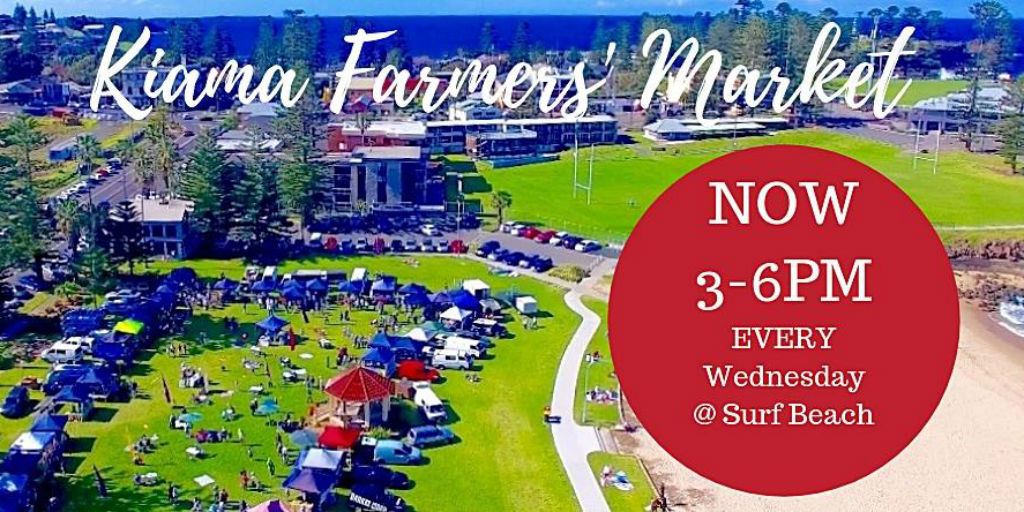 6. Kiama Farmers' Market
Coronation Park, Kiama
If you are passing by or staying in the area during the week, we highly recommend to drop by at the dog friendly Kiama Farmer's Market. Great variety of food is on offer from various local food stands. Or maybe you get your olives, cheese and salami to take with you to enjoy with a bottle of wine at home.
---
Dog friendly Pubs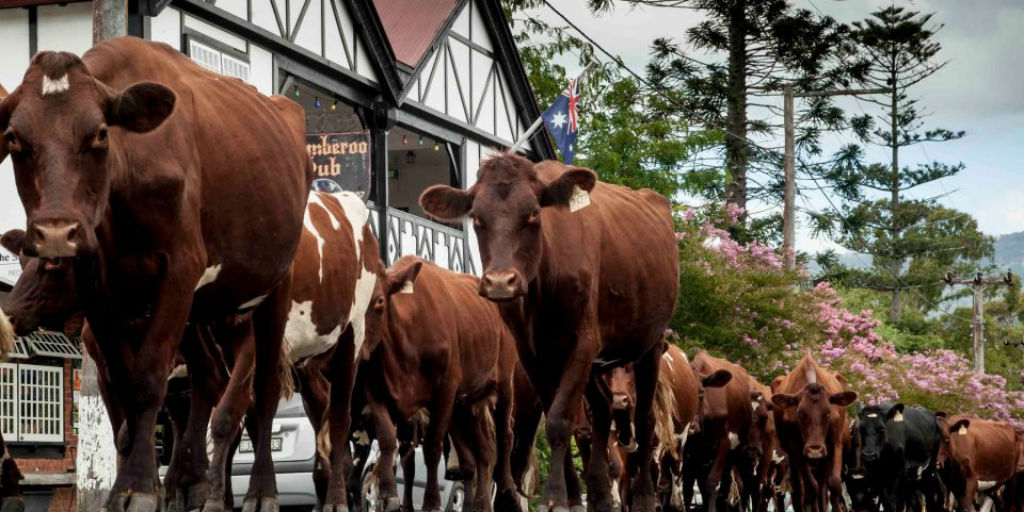 7. Jamberoo Pub
12 Allowrie Street, Jamberoo
Up for a little scenic country side drive with your dog? Don't miss Jamberoo and it's well known locals' and visitors' pit stop, The Jamberoo Pub! Dogs are welcome at the partly covered beer garden or at the fully covered front of the pub, so no need to worry about the occasional drop or two (from the sky or tap!).
---
Dog Friendly Wineries
Wine growing in the region has flourished during the last 20 years or so to become one of the most essential wine areas in the NSW together with Hunter Valley and Mudgee. Luckily several cellar doors are also open for the four legged visitors.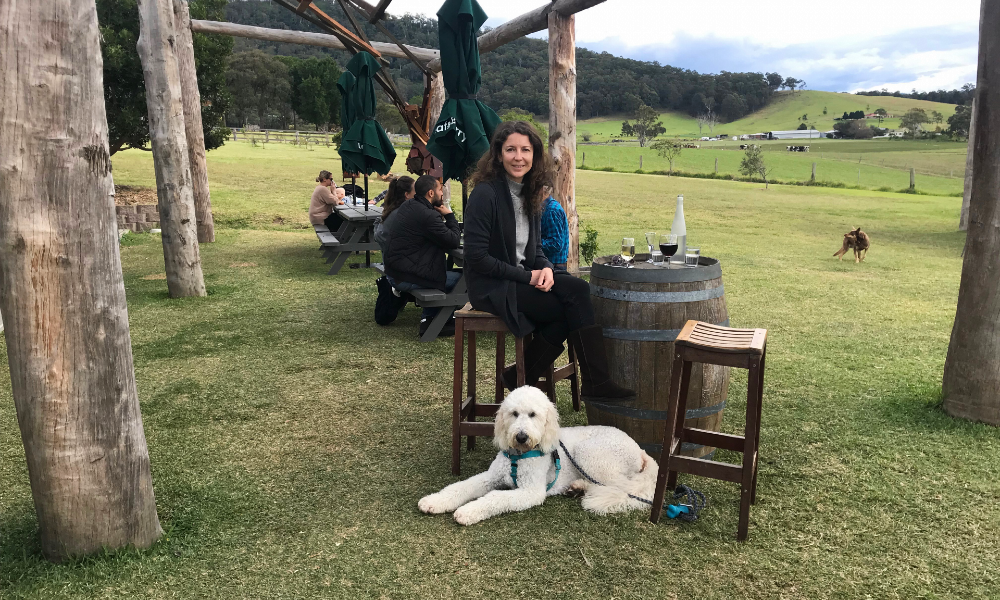 8. Mountain Ridge Wines
11 Coolangatta Road, Coolangatta
Located only a few minutes drive from Berry towards Shoalhaven Heads, dog friendly Mountain Ridge Winery is a great option to stop for wine tasting or some lunch before (or after) hitting the beach. Stunning views of the rolling hills and paddocks forces you to drop any city life thoughts. Dog friendly beach at River Road Reserve in Shoalhaven Heads is only a few minutes away.
---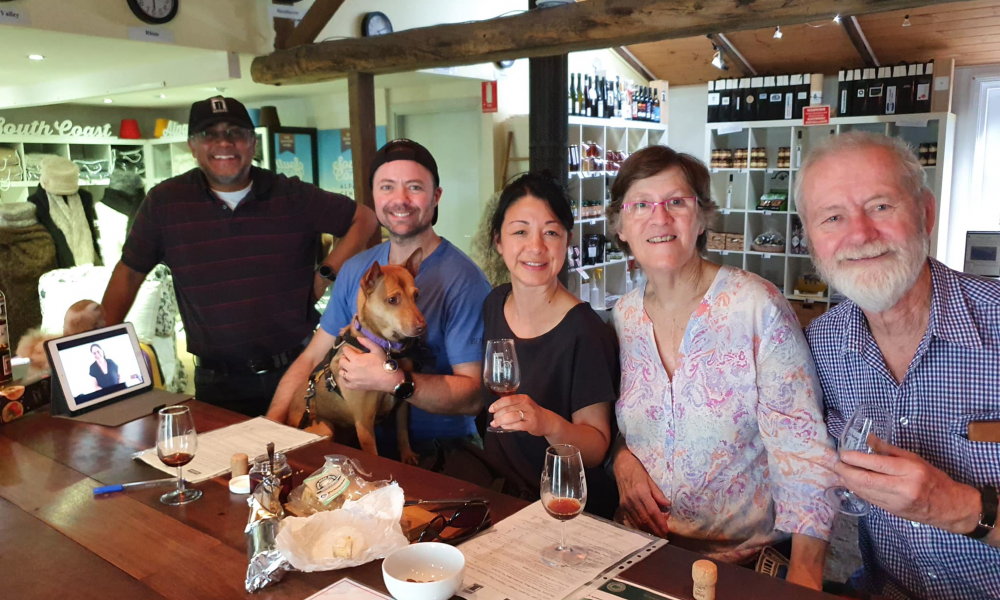 9. Silos Estate
B640 Princes Highway, Jaspers Brush
Take in the fresh country side air and simply chillax. Silos Estate invites pets of ALL kinds to join their human parents for wine tasting in the beautiful premises in Jaspers Brush. They have had dogs, cats, horses and even a python visiting them in the past.
---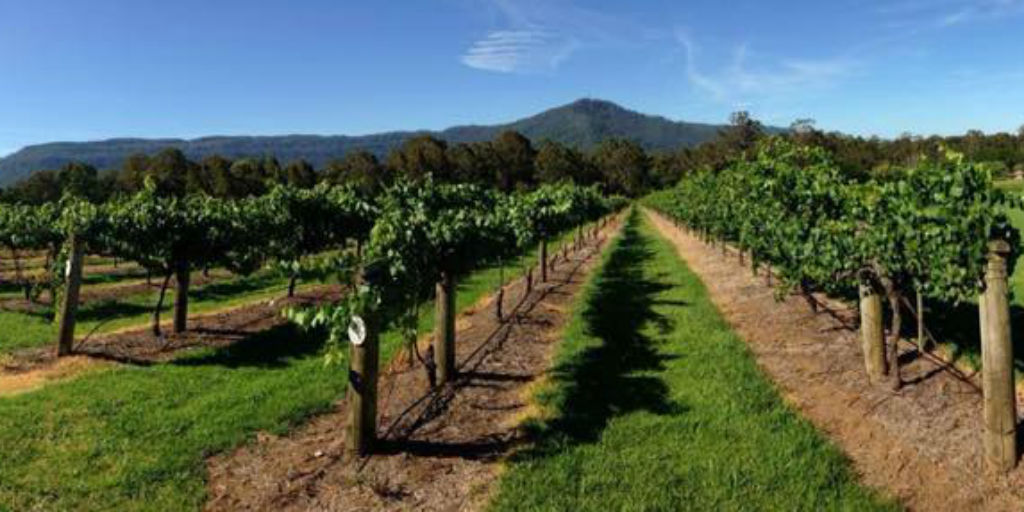 10. Cambewarra Estate
520 Illaroo Road, West Cambewarra
Dog friendly cellar door, outdoor dining, scenic views and world class wines. Combination all wine aficionados travelling with their dogs should be interested in.
---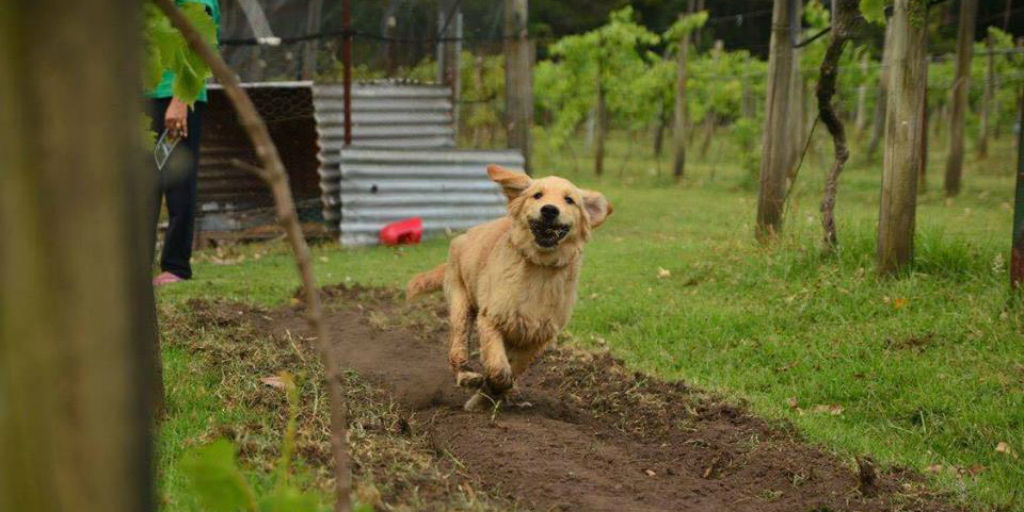 11. Lyrebird Ridge Winery
270 Bugong Road, Budgong
Lyrebird Ridge is a small organic dog friendly winery situated on 40 acres of bushland only 20 minutes from Kangaroo Valley , 25 minutes to Berry and 15 minutes from Nowra. There are 2 acres under vine and 5 dams providing swimming and fishing during the warmer months. There is a natural gully on one side and the vineyard on the other makes a lovely tranquil spot to relax and read a good book. You can wander around the property and the vineyard, feed the chickens, collect the eggs, throw in a yabbie pot in the warmer months and see what you catch.
---
FREE V.I.POOCH TRAVEL KIT WITH EVERY BOOKING
---
Nowra & Jervis Bay
On the banks of beautiful Shoalhaven River, Nowra is a delightful town with full of great coffee shops, dog friendly hikes and close to gorgeous dog friendly beaches. Rich soils support farmlands and vineyards, and the river estuary is part of Australia's Oyster Coast. For breathtaking panoramas stroll along dog friendly Bens Walk and stop at Hanging Rock (feature image above).
Drive less than an hour further south and you will arrive to the beautiful beaches of Jervis Bay. There are several stunning dog friendly beaches and coffee shops in the charming seaside towns such as Huskisson and Culburra for you to enjoy one of the most pristine waters in the NSW coast.
---
---
Dog Friendly Walks & Hikes
Along the Shoalhaven river banks you can find several dog friendly hikes and walks of different lengths and difficulty levels. We definitely recommend you to try Bens Walk and The Grotto as a unique outing opportunity for you and your dog but there are many others as well. Find other dog friendly hikes on Pupsy!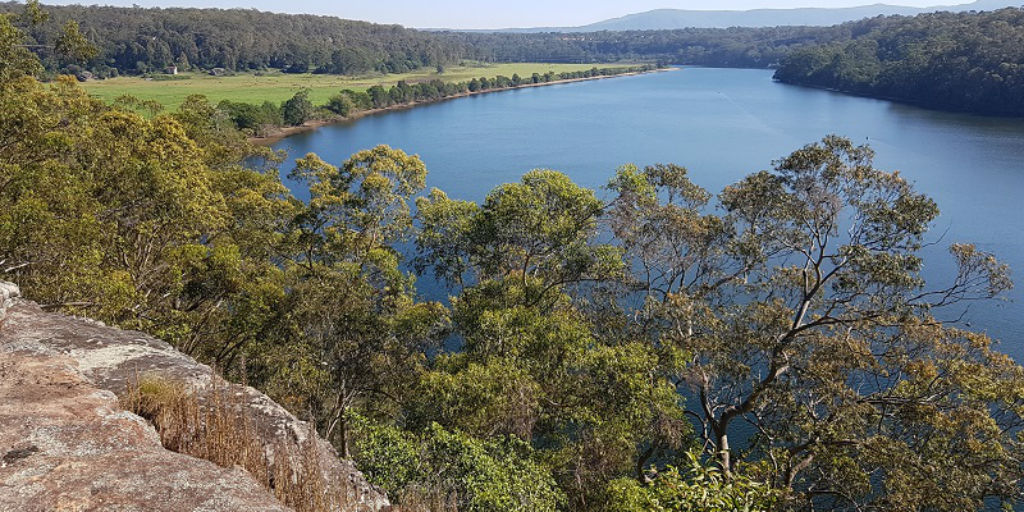 12. Bens Walk
27 West Street, Nowra
Approximately 5.5km in length (you can also walk just parts of it), Bens Walk is one of the most popular walks in the area. It provides access to the famous Hanging Rock Lookout that simply takes your breath away!
---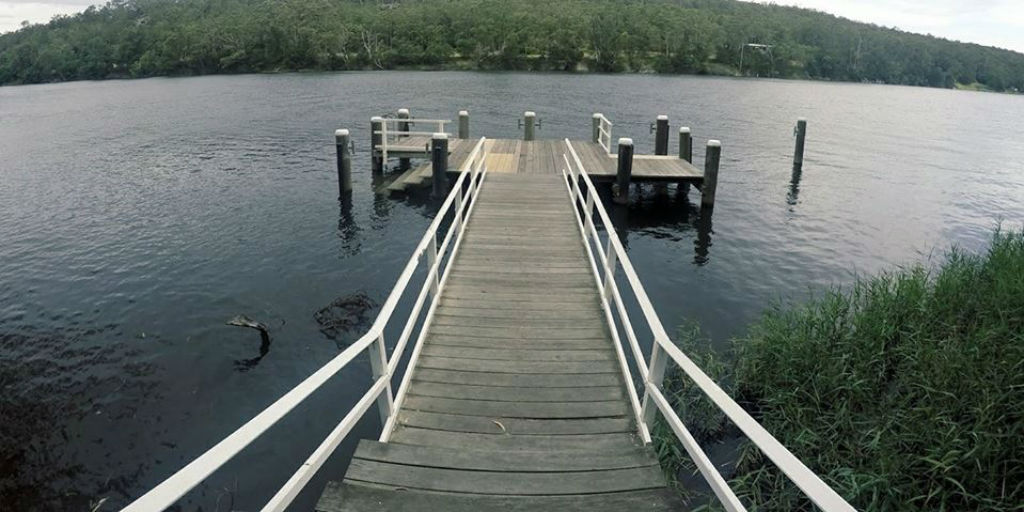 13. Bangalee Reserve
Koloona Drive, Bangalee
If you are looking for an easy grade walking tracks in the native bushland, Bangalee Reserve is a great choice. It also has picnic tables for you and your furry friend to sit and relax and have a bite to eat.
---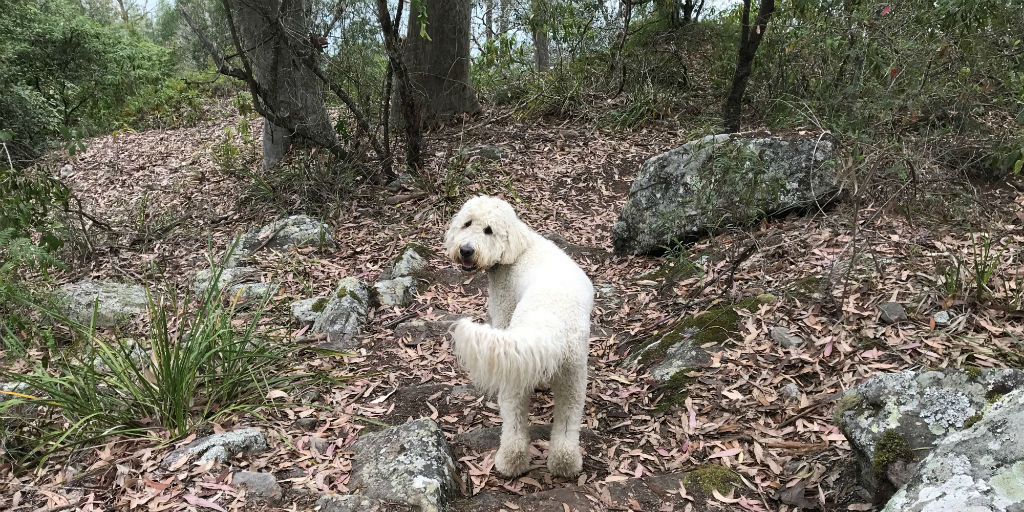 14. The Grotto
Yurunga Drive, North Nowra
Start the walk from the top of the cliff and make your way down to the riverbanks. Listen to the birds and stop around the picnic area before climbing back up to your starting point. Time just disappears and you won't believe how close to town you actually are.
---
Dog Friendly Beaches
A natural wonderland, Jervis Bay on the NSW South Coast is a perfect seaside escape. From the crystal blue waters and resident dolphins to splendid beaches and fun water sports, this coastal paradise in the Shoalhaven region will delight you and your dog with many memorable experiences.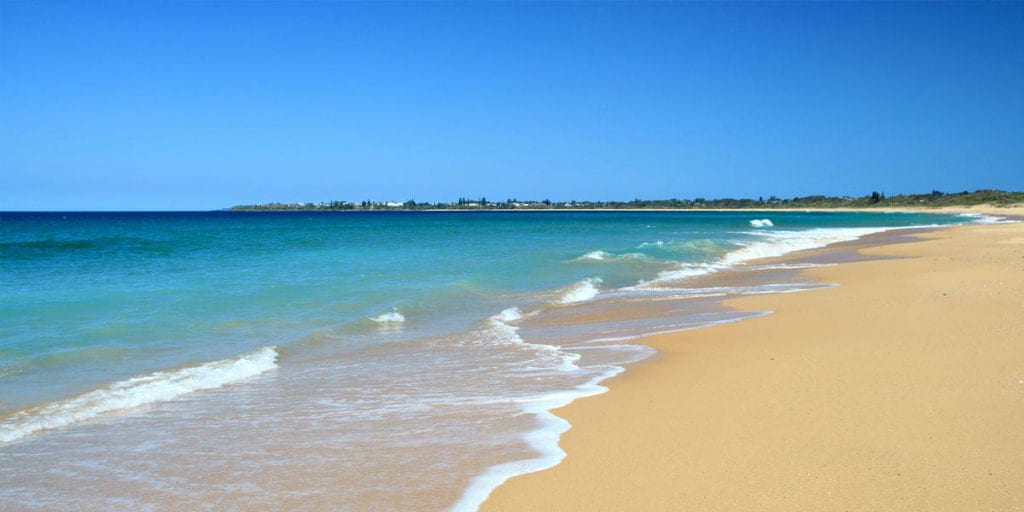 15. Culburra Beach
Culburra Beach
Long stretch of open white sand and clear waters. Culburra Beach is a relaxed small seaside town north of Jervis Bay. On your return from the beach, stop by at the dog friendly cafe The Little Snapper for a quick refreshment before hitting the road again.
---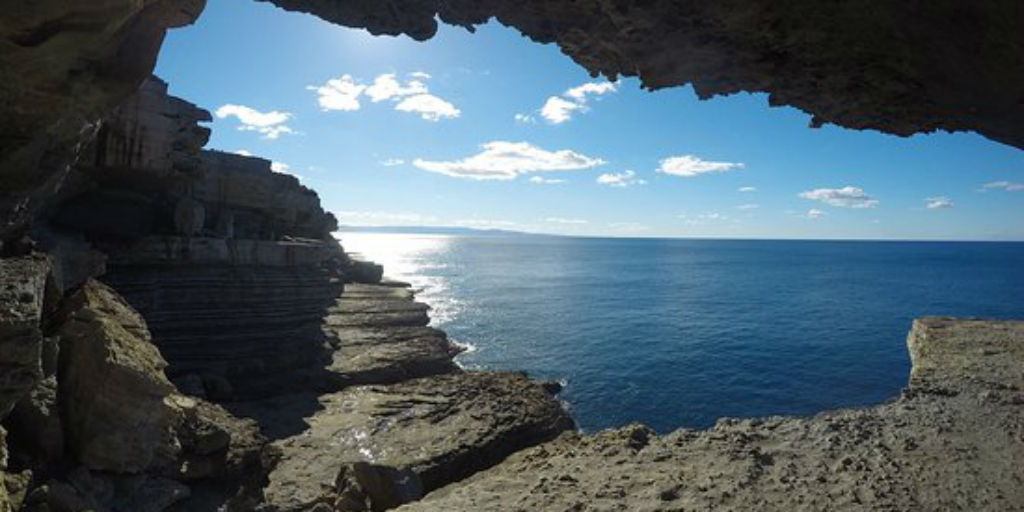 16. Abrahams Bosom
Currarong Beach
In the remote seaside town of Currarong you will find one of the most amazing walks in the South Coast with your dog called Abrahams Bossom. But head first to the dog friendly Currarong Beach for a splash. Wreck Walk is 3km long and takes you to Abrahams Bosom through the famous Gosangs Tunnels.
---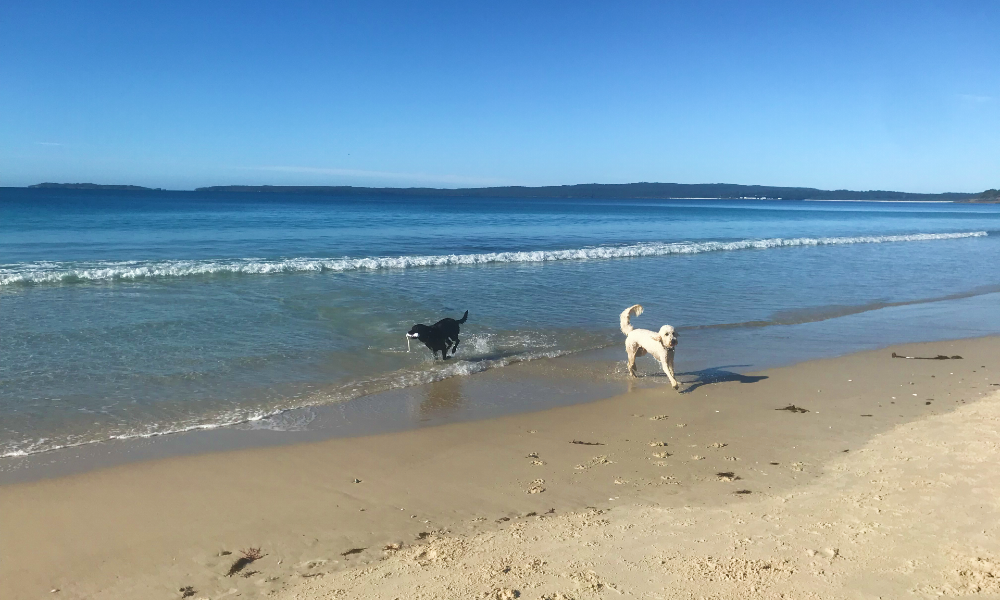 17. Huskisson Beach
Huskisson
Dogs are allowed off leash (restricted times) south from the Caravan Park close to the town centre of Huskisson. Crystal clear waters and white sandy beach is a perfect place to have fun with your dog and meet other dog owners.
---
There are plenty of other dog friendly beaches in the area such as Nelsons Beach, Callala Beach and Swan Lake Beach. Click here to find all dog friendly beaches in NSW South Coast (and beyond)!
FREE V.I.POOCH TRAVEL KIT WITH EVERY BOOKING
Dog Friendly Cafes
There are probably thousands of cafes in the area and many of them allow dogs to join you for a coffee at the outside tables. We have picked the following cafes based on the level of dog friendliness (e.g. outside areas are under cover, water is provided, staff is dog friendly) and their location.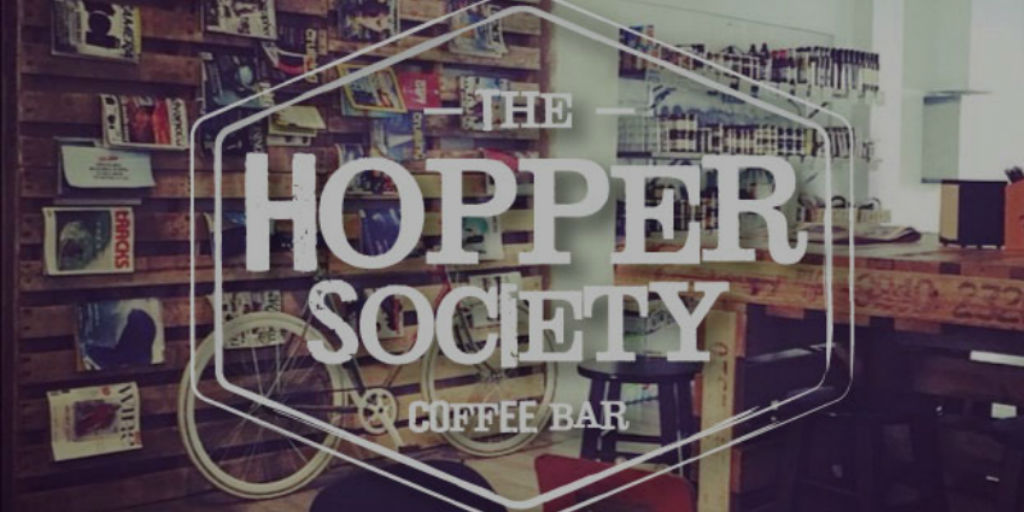 18. The Hopper Society
92 Kinghorne Street, Nowra
Babies and pooches are all welcome to The Hopper Society and very often this in deed is the scene. Dogs are not only tolerated but welcomed by the staff and you really don't feel like an intruder bringing your pup here.
---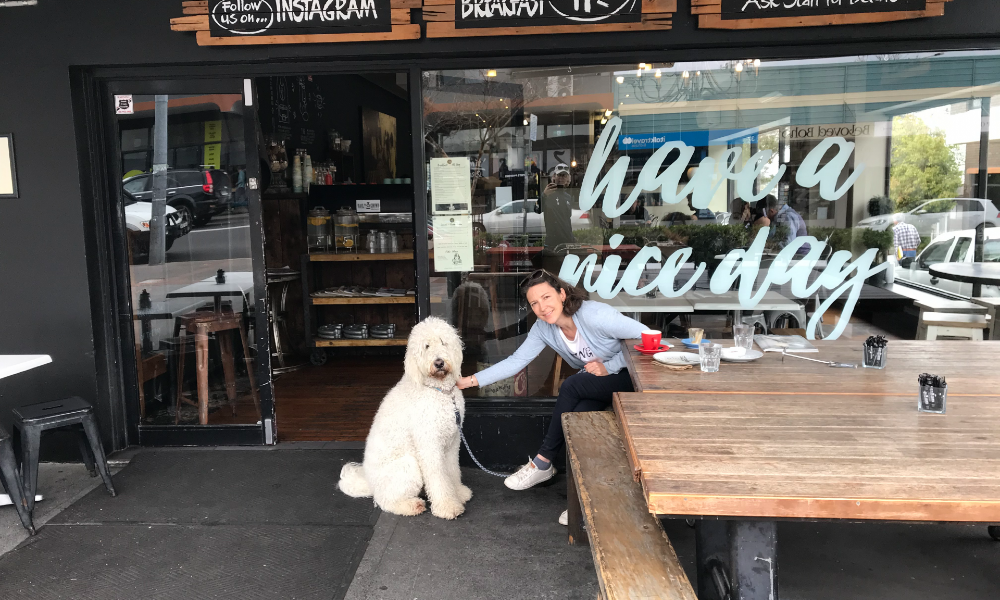 19. The Deli on Kinghorne
84 Kinghorne Street, Nowra
As a dog cafe central, Kinghorne Street has another dog friendly cafe right next door to the neighbouring The Hopper Society. The Deli on Kinghorne welcomes dogs in their outdoor area. Check out their facebook site for heaps of photos of the local loyal four legged visitors. Oh and don't miss the doggy treats on the menu!
---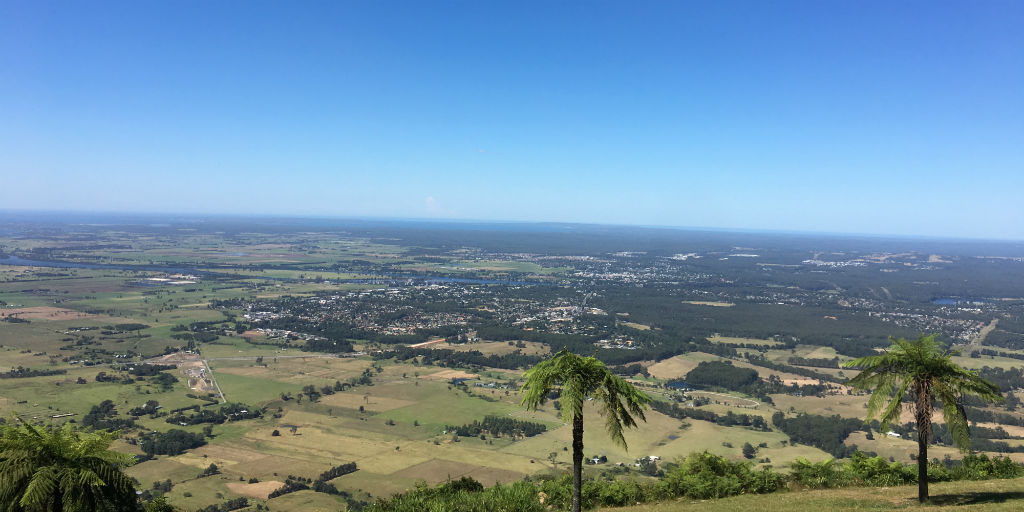 20. The Lookout Cafe
Cambewarra Lookout Road, Beaumont
A little bit out of the way but so worth the drive! Views over Nowra and the entire Jervis Bay are breathtakingly unique. There is no other spot with similar scenery. And that's not it. Dogs are welcome on the viewing deck and remember to ask their irresistable puppycinos!
---
Dog Friendly Pubs & Bars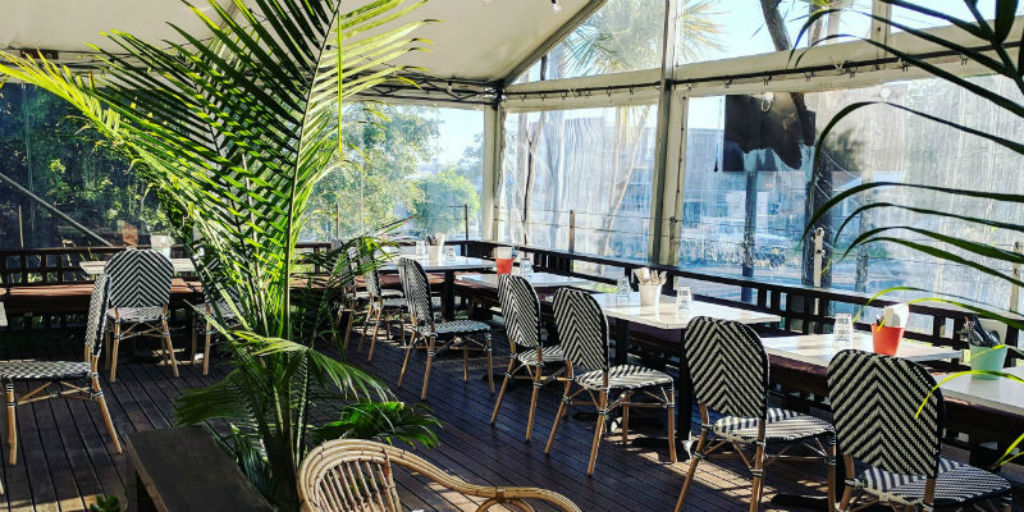 21. The Quarters Huskisson
13 Currambene Street, Huskisson
The Quarters is a great place to visit for lunch, drink or dinner with your dog. Located in a 100 year old coastal cottage just off the main strip it offers a great relaxing experience. Dogs are welcome on the covered and heated front deck.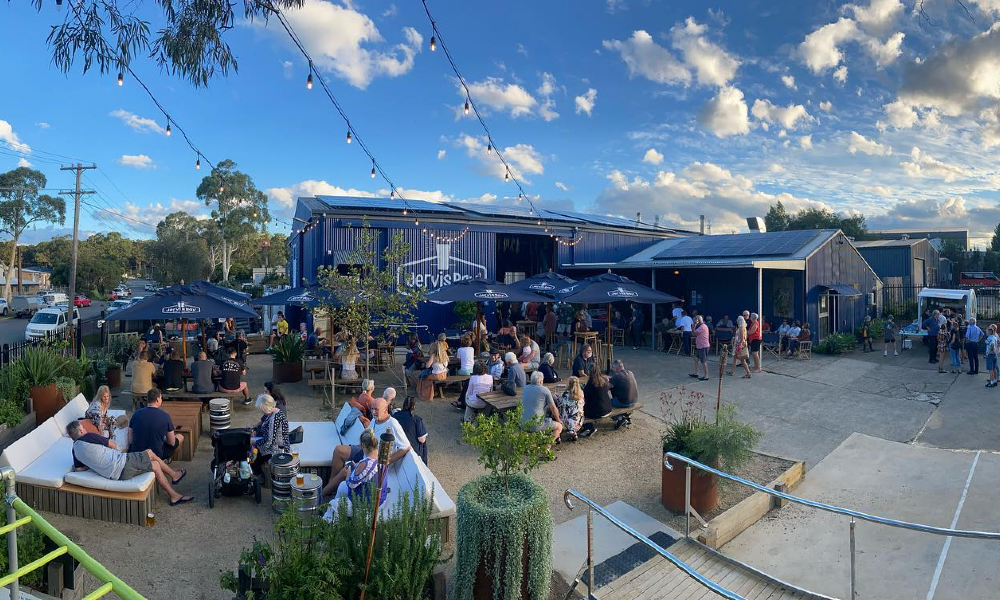 22. Jervis Bay Brewing Co
3 Duranbah Drive, Huskisson
Jervis Bay Brewing is a dog friendly brewery in Huskisson. Good beer, good people and a damn good time. All in the spirit of Jervis Bay. Brewery, beer garden and online store now open!Dogs are welcome everywhere where their two legged companions are.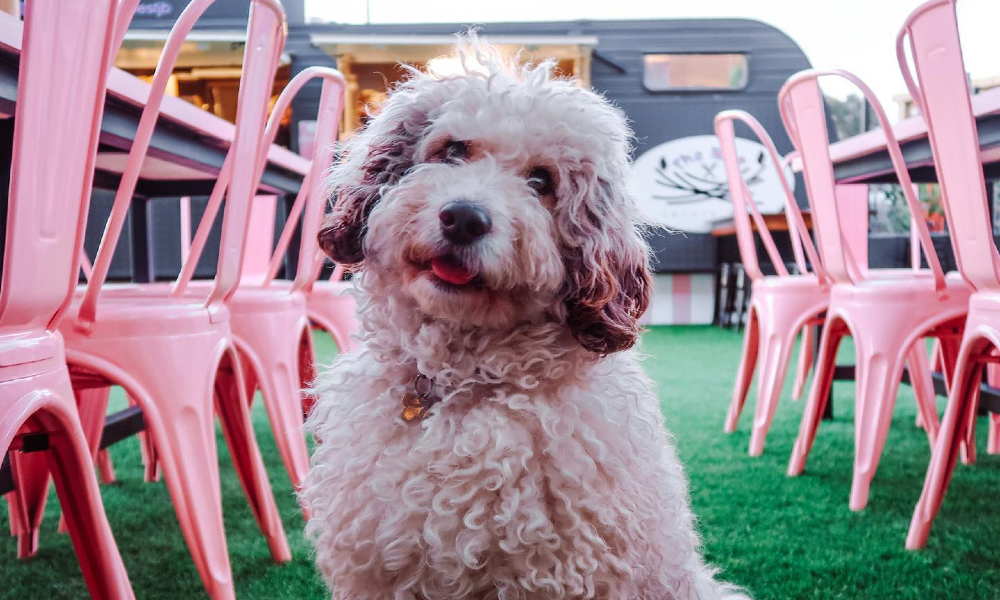 23. Flamin Galah Brewing Co
5 Erina Road, Huskisson
Flamin Galah Brewing Co is Jervis Bays newest hidden gem. Located in Huskisson's industrial estate we have a wide selection of our own craft beers on tap, offering takeaways & serving local wines & cocktails. Dogs are welcome inside and outside as long as they are kept on a leash at all times for OHS reasons and owners must clean up after the pet if they go to the toilet.
---
Dog Friendly Markets
Shop fresh produce from the locals or discover your favourite arts and crafts. Jervis Bay truly offers something for everyone and you are more than welcome to bring your dog along (on the lead for obvious reasons).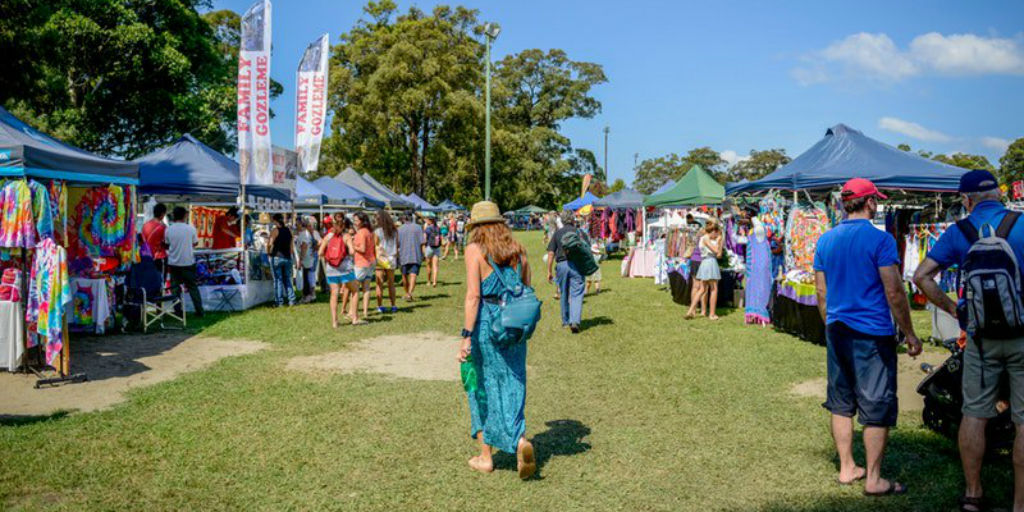 24. Huskisson Market
336 Huskisson Road, Huskisson
The Huskisson Market is a monthly market with something for everyone, right in the heart of the seaside town. You'll find live plants, unique arts and crafts, fresh produce, bric-a-brac and much more.
---
25. Jervis Bay Maritime Museum Market
11 Dent Street, Huskisson
Lazy Saturday afternoon, cold drink, relaxed setting with local stalls and live music. Maybe you have just finished an amazing dog friendly Mangrove Boardwalk, which starts from the Maritime Museum. Market not to be missed when you are in the area.
---
Milton & Mollymook
A short 45 minute drive further south takes you to the historic town of Milton and the surrounding beach destination of Mollymook. Pawfect combination to enjoy beachside activities with your pup and of course relax in the dog friendly pubs and cafes in and around Milton.
Dog Friendly Beaches in Mollymook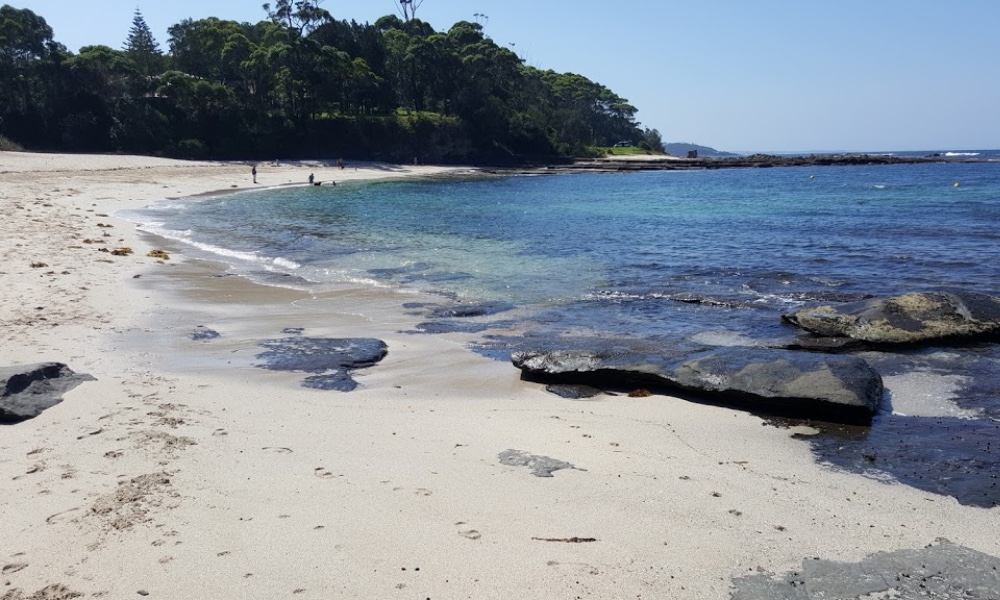 26. Collers Beach
Mollymook
Collers Beach is a dog friendly beach popular with surfers for the reef breaks at either end including the famous 'Golfy' reef. Take your dog for an off-leash walk along the sand while admiring the skills of the local surfers. The rock shelves on this beach also have some fascinating fossils to be explored and rock pools at low tide.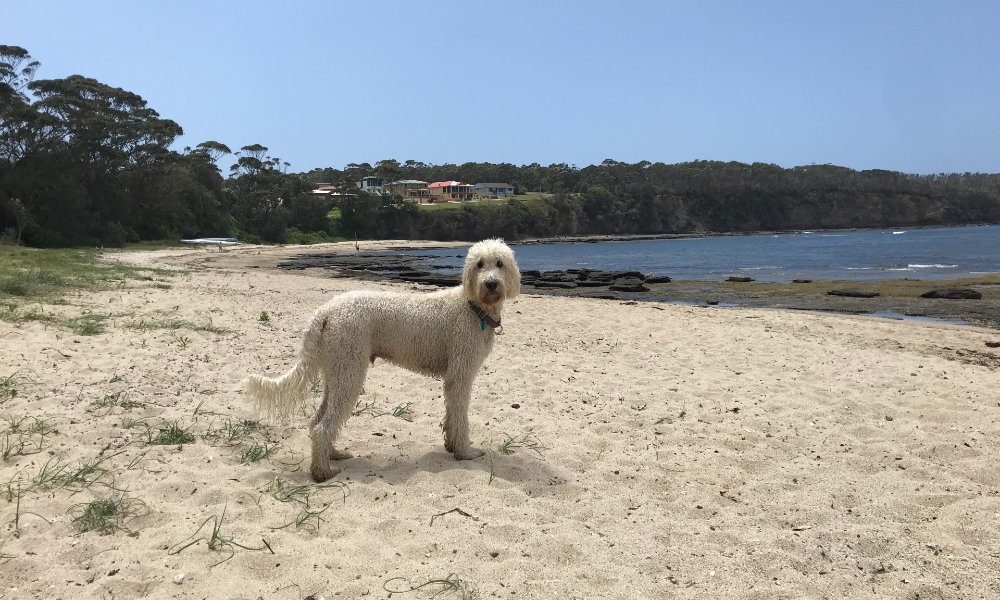 27. Ulladulla Harbour
Mollymook
The beach is not as long as many others around the area but it still provides plenty of space to run, play and dip into the ocean. The resident pelicans are very often at the harbour as well to keep you company.
Dog Friendly Cafes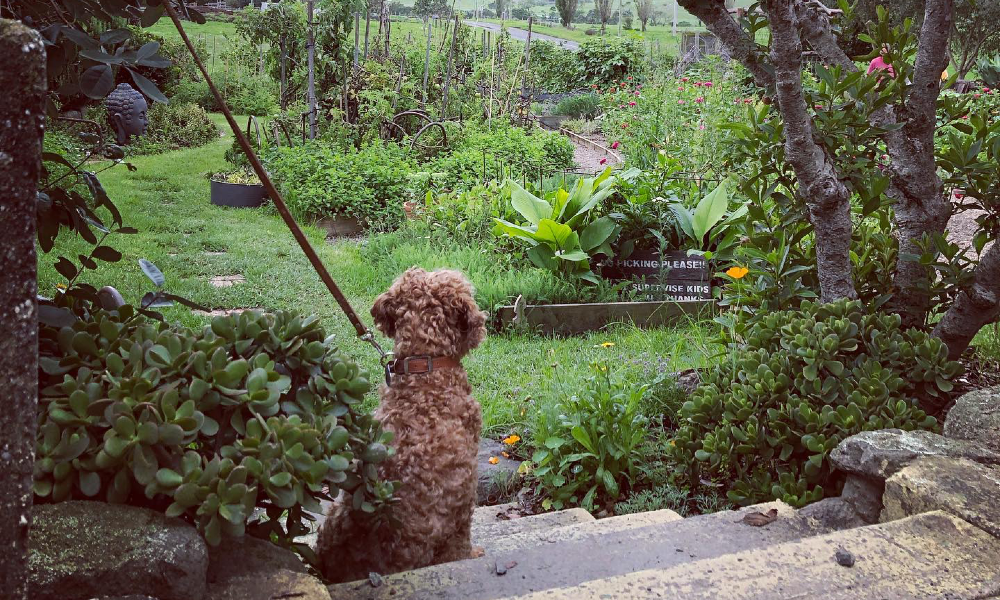 28. Milk Haus
170 Woodstock Road, Woodstock
Dog friendly cafe Milk Haus was dreamed up by passionate people who have an appetite for cooking and love of the earth to create a cafe experience like no other. Beautiful spot just outside Milton. Dogs welcome on the outdoor seating area.
Dog Friendly Pubs & Bars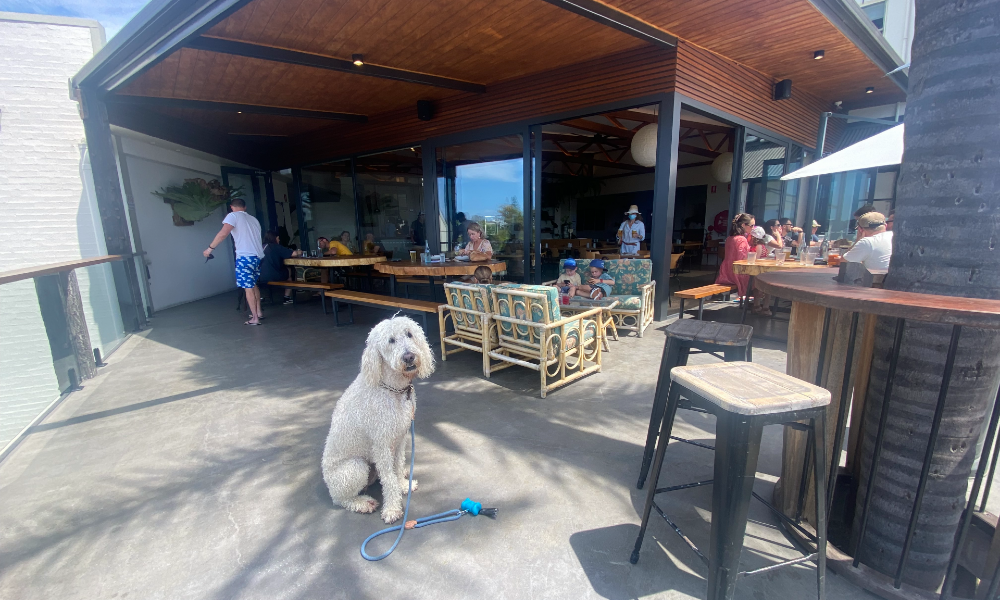 29. The Milton Hotel
74 Princes Highway, Milton
Dog friendly pub, The Milton Hotel, is located in the historic building in the centre of town. It's a place for family & friends to get together. Dogs are always welcome at the partly covered beer garden at the back, just walk through the main bar.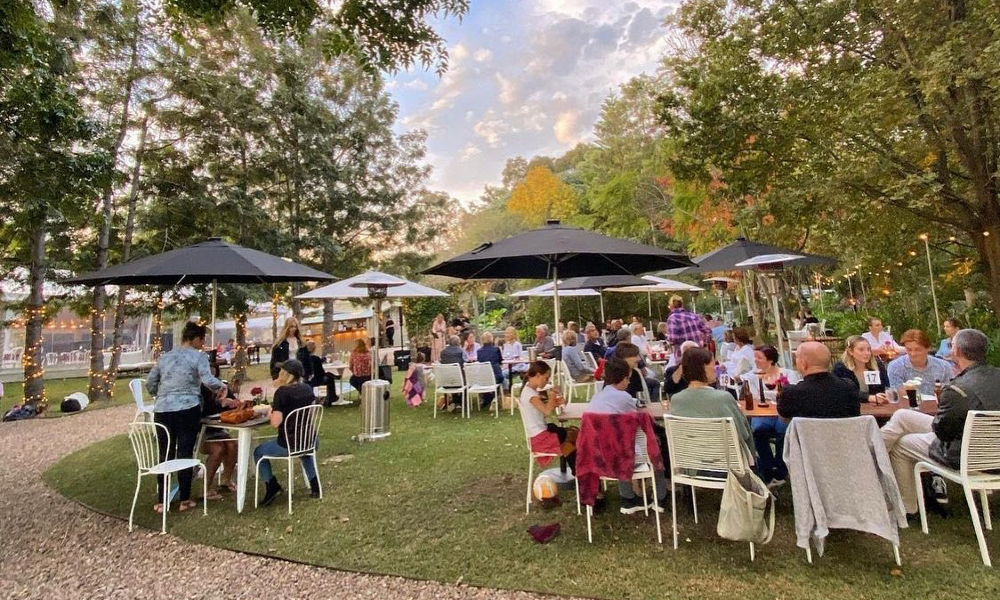 30. The Altar Wine Bar
71 Croobyar Road, Milton
Located in the green grounds of The Old Church at Milton, dog friendly The Altar Bar offers a selection of Australian and International wine, small bites to enjoy and live music. Dogs are welcome at the outdoor seating areas with some shelter provided by the market umbrellas. Dogs to be kept on a lead and supervised at all times.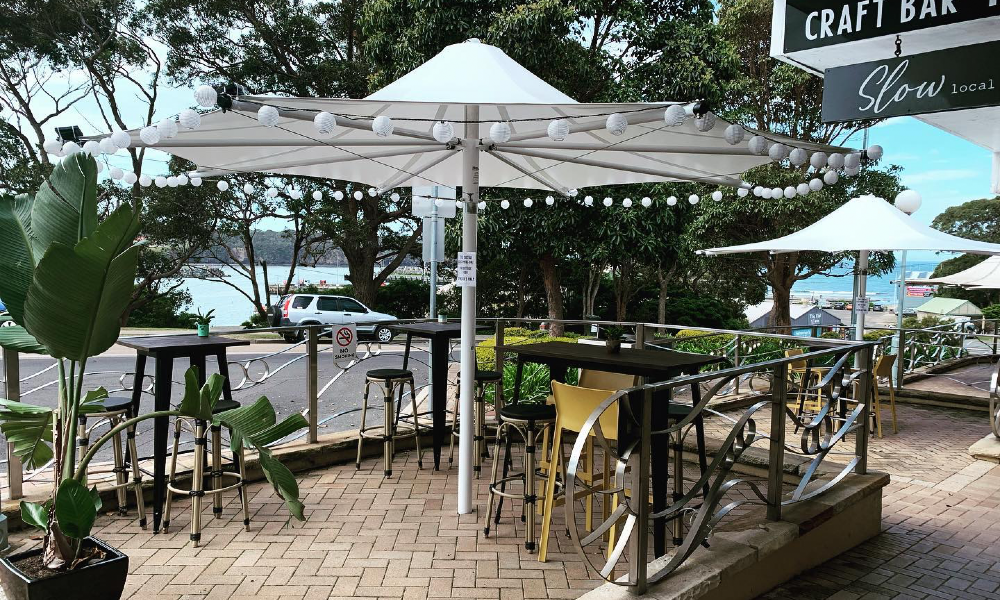 31. The Social Ulladulla
3/22 Wason Street, Ulladulla
Dogs are always welcome at Social. Outdoor seating area is covered with permanent umbrellas and they have a bog bowl, doggy bed and blanket available. Owners are asked to stay with their pooches at all times.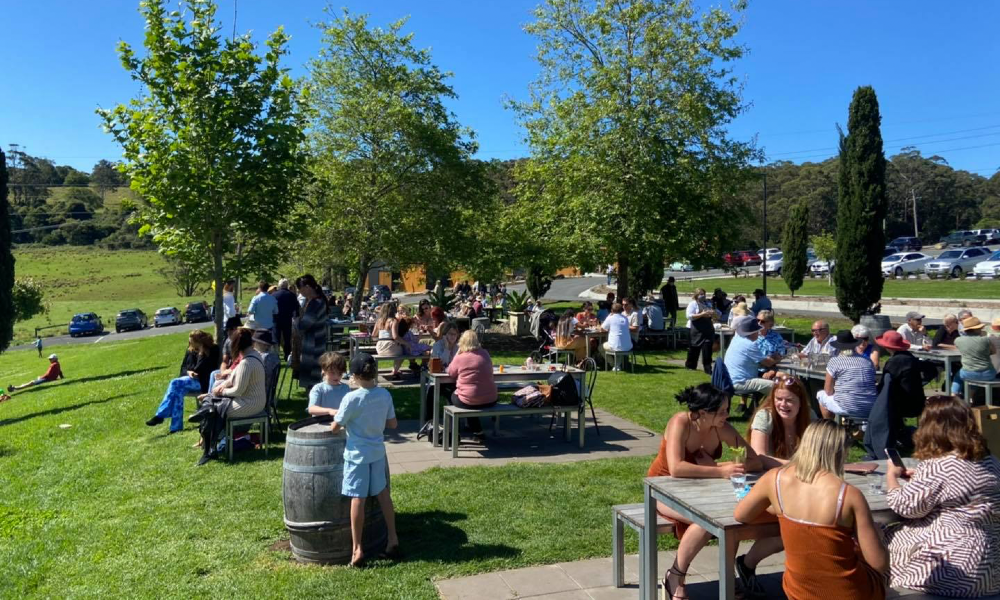 32. Cupitt's Winery
58 Washburton Road, Ulladulla
With spectacular views of rolling green hills and vineyards Cupitt's is a boutique dog friendly winery, microbrewery, fromagerie and restaurant located on the NSW South Coast.
Did we miss an amazing dog friendly place? Let us know about it at [email protected].
Don't forget to leave a review of the places you visit. Reviews help other dog owners to find the best dog friendly places and the venues to know what they are doing right and what needs to be improved!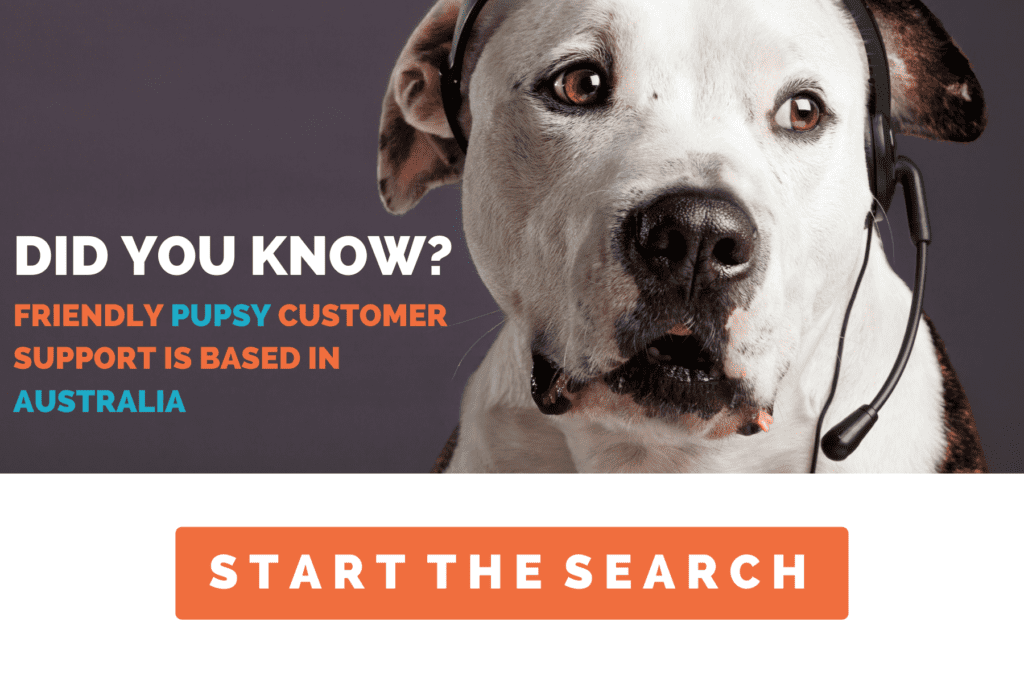 You may also like