The annual Sydney Beer Week is here! The week will be packed with beer events across the town. We have put together your Ultimate Guide for DOG FRIENDLY events during the Sydney Beer Week –> DOGTOBER FEST!!!
This year there is no reason to leave your pup behind. There is at least one dog friendly event on every day of the Sydney Beer Week! Now that's what we call the Pawfect Beer Fest!
For the rest of the year, don't forget our Ultimate Guide to 34 dog friendly pubs, bars and breweries that allow your dog inside !
Sat 27th Oct | Akasha X Bridge Collaboration Party
Two of the countries favourite Hop loving brewer's, Akasha Brewing and Bridge Road coming together to brew two epic beers. Come down to the dog friendly Akasha Brewing with your pup to celebrate the best of Australian and US hops. Food trucks will be providing expertly matched food all day long. Off the lead area at Charles Health Reserve is just around the corner.
10-12 Spencer Street, Five Dock | 12pm-8pm | FREE
READ MORE ABOUT THE AKASHA BREWING COMPANY
---
Sun 28th Oct | SourFest
The first ever sour fest at the dog friendly Batch Brewing Company featuring sour beers from around the world! Enjoy your Sunday with sour beers, sweet tunes and some great food. And maybe even give a go at cornhole! There is a fenced off the lead exercise area at the Sydenham Green, only a few blocks away. Stretch your legs beforehand at the close by off lead Sydney Park!
44 Sydenham Road, Marrickville | 12pm-7pm | FREE
---
Mon 29th Oct | State of Brews Queensland
Tue 30th Oct | State of Brews ACT
Monday 29th
The Welcome Hotel is showcasing the sunshine state's finest brews from the big brewhauses to some that you may not even have heard from yet. 15 taps of glorious liquid amber dedicated to all things QLD, sunshine, good times and quality brews with mates (furry or not). Beers are rotating the whole week, however in our opinion this is a great way & place to start the week with your dog!
91 Evans Street, Rozelle | all day | FREE
READ MORE ABOUT THE WELCOME HOTEL
Tuesday 30th
Redfern's original craft beer venue & and one of the most dog friendly pubs in Sydney, The Woolpack Hotel brings the best of our nation's capital for Sydney Beer Week. Enjoy ACT's best with streetside dining, drinking and rotating beers all week. Why Tuesday? We say why not? Off the lead area at Redfern Park is across the road for a play with your pup before or after!
29 Chalmers Street, Redfern | all day | FREE
READ MORE ABOUT THE WOOLPACK HOTEL
---
Wed 31st Oct |Ale Stars SBW Edition with Moon Dog | State of Brews VIC
Ale Stars return for another special SBW night at The Taphouse featuring Moon Dogs as part of the State of Brews Victorian Take Over. Attracting a mixture of beer lovers, both old and new, it's a fun and interesting way to learn about everyone's favourite beverage. Ticketed event (only for 2 legged beer lovers) at $45 includes beers and food or you can just go for the good vibes (also for 4 legged friends) with some great drops from Victoria on the other two dog friendly levels.
122 Flinders Street, Darlinghurst | 7pm-10pm | $45 (Ale Stars) or FREE (State of Brew VIC)
---
Thu 1st Nov | Fixation "HopFest18"
Fixation Brewing Co, Australia's only IPA dedicated brewer is coming to the pawsome dog friendly The Noble Hops for the inaugural SBW "Hopfest"! 8 IPAs with a series of new and favourite brews straight out of the new Collingwood brewhouse. A new brew launched and tapped every 30 mins until all 8 are flowing and the legend Tom Delmont to guide you through them all. All this while you pup is enjoying the chilling vibes on your feet or greeting all the other guests. Get some energy out of your furry friend at the nearby Prince Alfred Park off lead area
125 Redfern Street, Redfern | 6pm-12am | FREE
READ MORE ABOUT THE NOBLE HOPS
---
Fri 2nd Nov | Wildflower Brewing hosts Garage Project
Wildflower Brewing Co is having their friends over from Wellington to serve their beers and share the evening of hospitality. They are opening their home to curate a list and environment akin to their home in Wellington. Have a little run at the Enmore Park off lead area and head towards the dog friendly Wildflower. The Vic and The Grifter Brewing offer great dog friendly options after meeting with your new best friends from NZ.
11-13 Brompton Street Marrickville | 3pm-8pm | FREE
READ MORE ABOUT THE WILDFLOWER BREWING
---
Sat 3rd Nov | DOGTOWN II
The Grifter Brewing Co presents its annual dog day out in the brewery with Dogtown II! Bring your furry babies down to the brewery for a fun afternoon with lots of doggy treats and prizes to be won & of course specialty beers pouring for the day! Simple an unmissable event for both you and your furry companion!
1/391 Enmore Road, Marrickville | 12pm – 6pm | FREE
READ MORE ABOUT THE GRIFTER BREWING
---
Sun 4th Nov | Inner West Brew Fest BEST
Finish the week in style celebrating the best beers from the Inner West taking over the taps at Beer Deluxe. They'll crown the IWBF Best Brewery, shout a few beers and hand out some give aways. Brewers will be present to find out who is the winner of this years IWBF. Doggies are welcome to join at the large beer garden.
9 Lime Street, Sydney | 4pm – 9pm | $10
---
Check out our full list of Dog Friendly Pubs that welcome your dog inside for a drink with you, not just during the SBW but anytime either of you feel a little thirsty!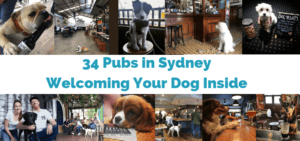 ---
Find dog parks near you or discover new places to sniff on Pupsy!
Choose from dog friendly accommodation, pubs/bars, beaches & wineries just to name a few…
SIGN YOUR DOG UP TO PUPSY NOW AND CREATE A FREE PROFILE!
Unleash pawsome (and free!) Pupsy features for your dog:
Find new mates for your dog & send friend requests | search by council, breed or age
Check in to places so your dog's friends know where to find you
Save your favourites and write reviews to help other dog owners
…and many more

Pupsy is the furriest community on Earth dedicated to make all our dogs feel special!